Review: Rotterdam, Rose Theatre Kingston & National Tour
by Adrian Gillan for Bent  Gay Shop & Magazine
Gender, sexuality, identity! Bent's Adrian Gillan hails this funny, moving and thought-provoking national tour revival of Jon Brittain's immensely clever Olivier-Award-winning play, Rotterdam.
Alice used to date straight Josh but, coming out lesbian, falls in love with Josh's sister Fiona when the latter comes to stay with him. However: when Fiona comes out as a trans man (Adrian), Alice struggles with the 'straight' role she feels expected to then play – still loving Adrian, despite having a lesbian fling with workmate Lelani. Meantime, Josh still loves Alice, despite her seeming split with his newfound bruv.
This ingenious character juxtaposition and situation ignites a spectacularly provocative tragi-comedy, oscillating between high-drama and high-farce – the genre as fluid as the gender identities examined.
The Rotterdam setting functions as a place of both exile and experimentation – a kind of contemporary urban Shakespearian Forest of Arden – allowing Alice to avoid or delay coming out to her parents, whilst exploring her lesbian self. The New Year timing is likewise catalytic to resolutions and discoveries. And, as both Alice and Adrian return to England, at the bitter-sweet close, perhaps like all the best plays, there are no easy or neat answers, if anything yet more questions. Writer, Jon Brittain: take a huge bow!
It is little surprise that a play of such fearless and audacious richness and scope, composed with such theatrical élan, should have won an Olivier Award (Outstanding Achievement in an Affiliate Theatre) in 2017, having premiered at Theatre 503 (2015), then the Trafalgar Studios (2016) and the Arts Theatre (2017). It is equally well-deserved that it now reaches an even wider audience with this major UK tour.
Blessed ensemble! Bethan Cullinane makes a touchingly tense, torn and fragile Alice. Real-life non-binary actor Lucy Jane Parkinson is quite magnificent as frustrated and courageously transitioning, Fiona/Adrian. Ellie Morris is wonderfully entertainingly brash as life-lusting Dutchie, Lelani. And sexily sensitive Elijah W Harris is gloriously companionate and real as Josh. [Incidentally, Elijah: I had zero idea you are a trans man until reading about you on the web, post-play. And, by-the-way, lovely hands!]
Director Donnacadh O'Briain skilfully ensures all of Brittain's theatrical notes and chords are perfectly hit – the momentum sustained at every psychological twist and turn; the narrative fluidity enhanced throughout by a stunning core creative trio… Keegan Curran's upbeat sound aptly helps energise the swiftly unfolding storyline; and Richard Williamson's lights brilliantly integrate with Ellan Parry's box-based set, with its chicly white minimalist nooks and doors, plus spartan movable furnishings.
Big bravoes for increasingly legendary producers, Hartshorn – Hook Productions, for having the courage and vision to continue to unite such an original work as Rotterdam with an ever-larger audience!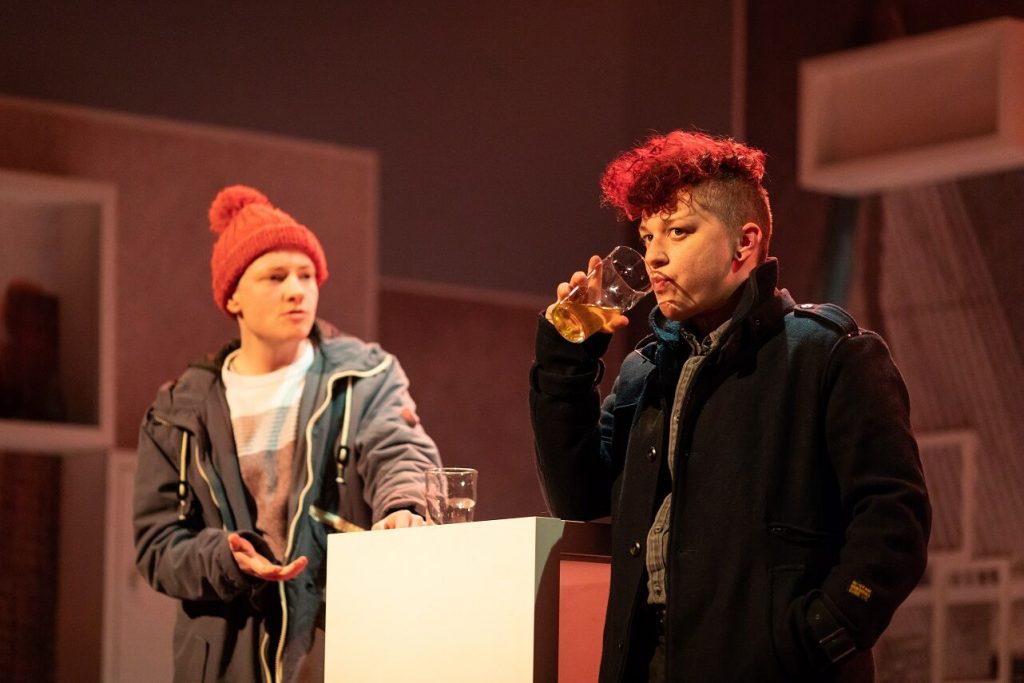 The 2019 national tour of Rotterdam plays at Rose Theatre, Kingston (04 – 06 April 2019); Theatre Royal, Brighton (08 – 10 April 2019); Theatre Royal, York (11 – 13 April 2019); Grand Theatre, Wolverhampton (22 – 24 April 2019); Landmark Theatre, Ilfracombe (25 – 27 April 2019); Haymarket Theatre, Leicester (30 April – 04 May 2019); Glassbox Theatre, Gillingham (09 – 11 May 2019); Northcott Theatre, Exeter (16 – 18 May 2019); Repertory Theatre, Birmingham (20 – 22 May 2019); Festival Theatre, Malvern (23 – 25 May 2019); Yvonne Arnaud Theatre, Guildford (27 – 29 May 2019); Theatre Clwyd, Mold (03 – 05 June 2019); Nuffield theatre, Southampton (06 – 08 June 2019); Devonshire Park Theatre, Eastbourne (10 – 12 June 2019); Opera House, Manchester (13 – 15 June 2019); and Playhouse, Oxford (20 – 22 June 2019). Tickets are available from individual theatre box offices.
– ends –
Note re visuals: jpgs attached.