Review: Romance Romance, Above The Stag Theatre, London
by Adrian Gillan for Bent Gay Shop & Magazine
Love is love is love! And Bent's Adrian Gillan loves this gay version of a clever, witty 'n moving romantic musical double-bill at London's LGBT stage hub – Above The Stag Theatre in Vauxhall.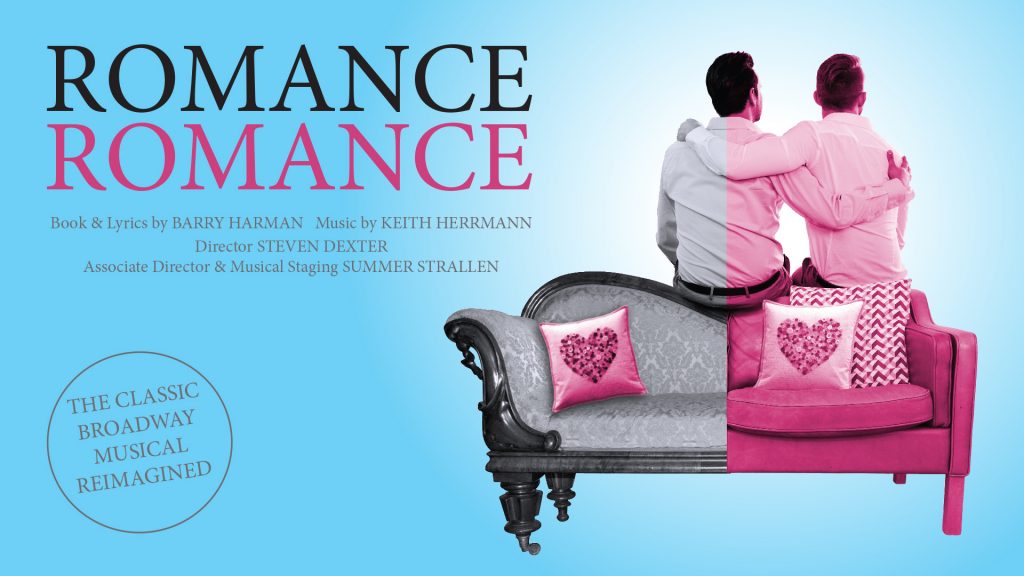 Book and lyrics by Barry Harman and music by Keith Herrmann, Romance Romance is comprised of two pretty much standalone yet romantically-thematically-related one-act back-to-back musicals, with just one of all the songs ("It's not too late") performed in both pieces.
The first work (The Little Comedy) is based on a short story by Arthur Schnitzler, set in fin-de-siècle late 19th Century Vienna, in which two aristocrats – bored by inconsequential relationships, and entirely unknown to each other – both disguise themselves as working class folk, in search of authenticity and true romance. Yet they meet, amidst dazzlingly symmetrical follies and deceits, and end up falling in love as they swiftly revert back to their high-class world – a rather conservative denouement, perhaps, but then the genre is very much pure light comedy and operetta.
The second, more psychologically realistic, work (Summer Share) is based on another late 19th Century play, by Jules Renard, which has been updated to the present day, and in which two married couples rent a beach house on Long Island, where the hitherto platonic college friendship between one half of each wedded pair is in serious danger of igniting into something sexual – thereby potentially shattering both marriages – before a kind of bitter-sweet back-from-the-brink resolution transpires at the very end.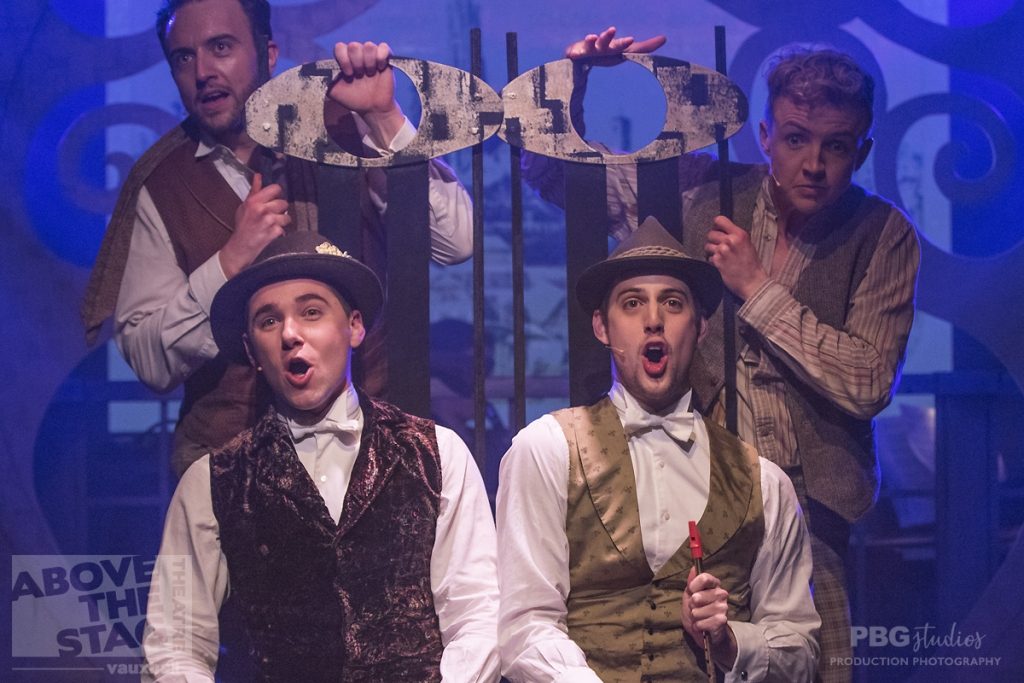 Romance Romance opened off-off-Broadway in 1987 before transferring to Broadway in 1988 where it was nominated for five Tony Awards. A decade later, in 1997, the West End premier had a short run at the Gielgud Theatre, directed by Steve Dexter. Fast-forward another two decades or so, and Dexter returns to this new production, the first gay version, 'tho lyricist Harman says it remains "96% the same".
Under musical director Aaron Clingham at the keyboard, the exquisite four-piece band are onstage, to the rear, throughout what is essentially a "chamber musical" – one with the odd Sondheim taste – and is thus well-suited to a smaller space, such as this magical Above The Stag Theatre, so atmospherically located beneath Vauxhall's railway arches. The constant gently thunderous rumbling of trains passing above even adds an ominous brooding quality – very much in keeping with the second half especially.
Both pieces work perfectly well and naturally in this all-male 'gay' version, but the second piece perhaps gains most from the gender changes because of its deeper psychological sensitivities which resonate marvellously – for any audience, but not least for the predominantly gay male one at Above The Stag.
The four-strong cast is absolutely top-notch: a seeming queer quartet delivering a joyous acting-singing masterclass – their discipline and precision, at every turn, of the very highest professional order. Such commitment is repaid, with interest, since this gem-of-a-piece gloriously showcases their considerable talents. We the audience also get the bonus of seeing the same performers play different characters in contrasting styles – the switch of era and genre post-interval yielding a finely piquant payback frisson!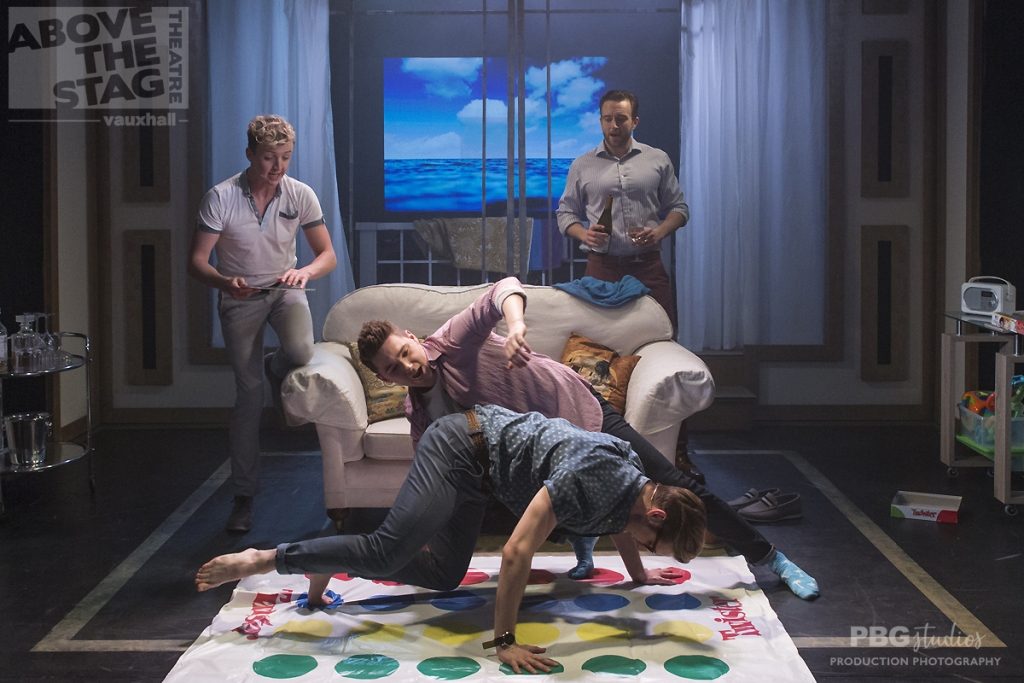 Manly Blair Robertson and here-wonderfully-boyishly-yet-androgynously-effeminate Jordan Lee Davies – the latter, at times, uncannily reminiscent of a young Julia McKenzie – dazzle as aristocrats Alfred and Valentin in the first-half period piece. Sexy and oh-so-talented duo, Ryan Anderson and Alex Lodge, get their chance to more fully shine amidst the second-half's contemporary action as friends Jeremy and Sam, battling to stay faithful to their respective husbands. But all four appear on-and-off throughout. This is gay ensemble galore, and brilliantly cast.
The staging is simple and fluid, dream trio David Shields, Jack Weir and Nico Menghini excelling in design, light and sound respectively. And – hats off again to director Dexter, and his associate Summer Strallen – the blocking is clear, clever and taut as a taxman's arse. Romance Romance? Encore encore!
Romance Romance runs at the Above The Stag Theatre until 6 April 2019.
– ends –