Rock the Pistes in the Gay Valais!
by Adrian Gillan for Bent Gay Sex Shop & Magazine

Where snow meets rock! Adrian Gillan enjoys mountains and music, plus cross-border skiing and sexy Swiss guys at the Rock the Pistes fest around Morgins, Valais, in the Portes du Soleil!
How gay is your Valais? Fresh mountain air and adrenaline-fuelled lifestyles can't be the only thing to give lush locals such a glow! At these high altitudes, it's all enough to make even a straight boy blush!
Just 80 minutes by amazing Swiss rail from Geneva airport, along the north bank of mighty Lake Geneva, followed by a short road transfer from Aigle almost right up to the French border, and you're in little Morgins (altitude 1400m, population 500) – in the Région Dents du Midi area of the French-speaking Valais canton, in far south west Switzerland. Morgins is part of Portes du Soleil – by some measures, Europe's, even the world's, largest linked ski area, spanning both Switzerland and France.
STAY
Famous for its fab views and zero high-rise buildings, Morgins itself exudes a pleasant, rustic aura, whilst still boasting supermarkets, a couple of ski schools and plenty of cafes – from hip to homely! Top tips for nightlife include buzzing T-bar and Yucatan! Side note: fun summer activities hereabouts include hiking, mountain biking and horse riding – so you'll just have to come again!
Nestled in the heart of Morgins, Hotel Chez Jan (Place de l'Église, CH – 1875 Morgins; T: +41 24 477 11 43;) can trace its history of hospitality back to 1880. Owners since 2012, current hosts, Heleen and Jan de Graaf, made extensive renovations in 2015, heralding a fresh new concept – and the current hotel name! Now a modern, luxurious boutique hotel with 11 rooms and  2 suites, the entire ground floor has been remodelled into an invitingly quirky contemporary-meets-traditional lounge where all you have to do is sit back, relax and make yourself completely at home! Up for it?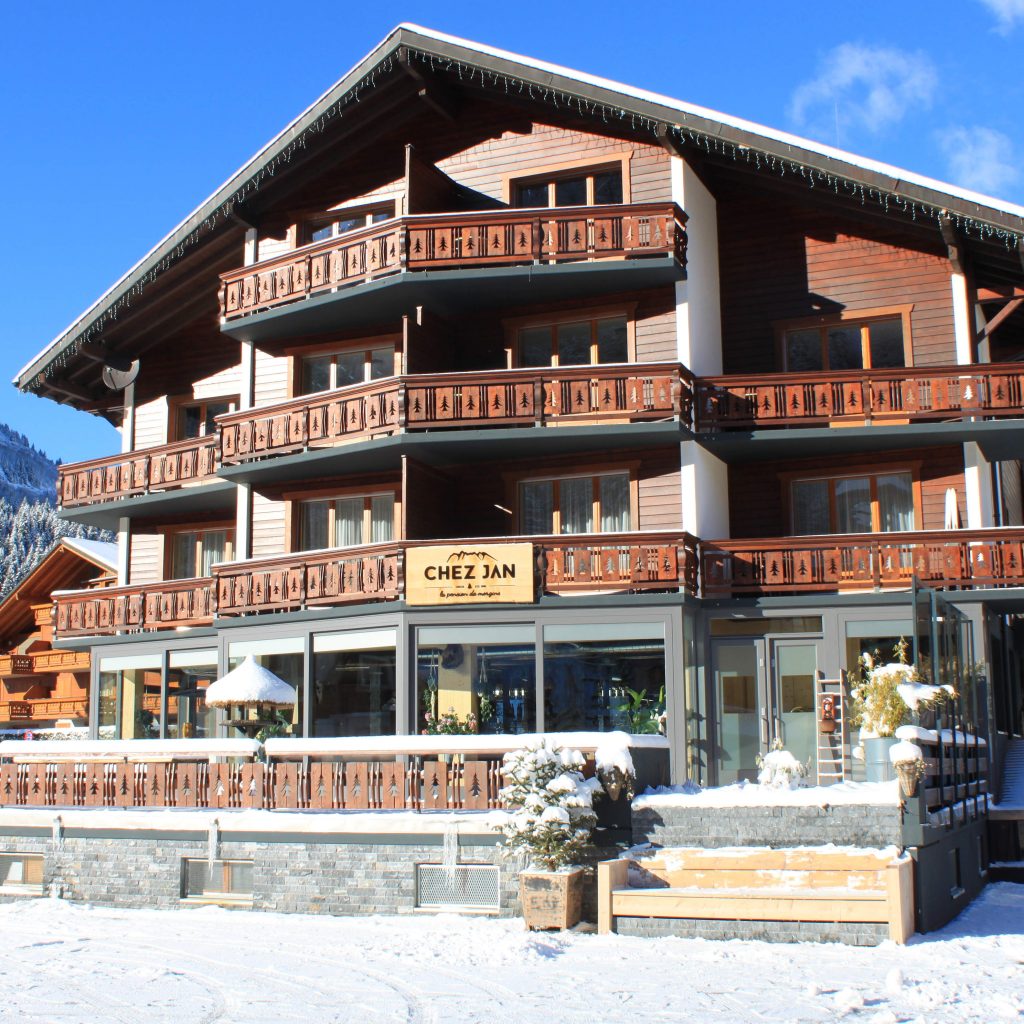 The hotel has free high-speed Wi-Fi, and is smoke-free, throughout. It boasts its own free parking bays plus large ski storage room – complete with boot warmers! Unwind post-piste in the hypermodern wellness facility in the basement featuring sauna, hamam, showers and sizeable rest area!
The kitchen offers guests a wide range of breakfast treats à la carte every morning; prepares snacks and bakes cakes for later in the day, even picnic boxes for summer hikes; and lays on a "happy bubble", with a wide stash of drinks – including fine Swiss wines and 15 different gins – for afternoons and eves!
For a more substantial evening meal, pop next door to sample the hotel's wonderful sister restaurant La Buvette by Chez Jan (Route du Village 17, CH – 1875 Morgins; T: +41 (0) 24 477 12 42;) for regional classics and dishes of the day, plus fab atmosphere and friendly service. Be sure to try one of its fun at-your-table BBQs!
Best of all: Chez Jan itself is located just 50 metres from a ski lift that takes you direct up to the heart of the ski paradise that is Les Portes du Soleil! So: more ski, less sweat!
ON THE PISTE
You can buy ski passes for the whole Portes du Soleil zone; or for just its Swiss part; or, for complete beginners and/or young families, for just the immediate area close in to Morgins.
Snowline (route de France 22, 1875 Morgins;) is a one-stop-shop for all your snowy needs – not least via its equipment rental and ski school! Very sexy staff with eyes that glint!
Les Portes du Soleil is a major Alpine ski sports destination straddling two countries, encompassing a dozen resorts between Mont Blanc in France and Lake Geneva in Switzerland. With well over 600 km of marked pistes spanning 900m-2400m in altitude, served by about 200 lifts, spread over 14 valleys and across 1,000 sq km (400 sq miles), Portes du Soleil ranks amongst the very largest linked ski areas in Europe, if not the world. The lower slopes of the Portes du Soleil have snow-making facilities to extend the skiable season during warmer months. Interesting fact: The name Portes du Soleil originates from the 1,950-metre-high pass of the same name, connecting Morgins to Les Crosets.
ROCK THE PISTES
The big news is that you can mix your skiing with your live music – carving slopes all morning before a lunchtime concert; then more skiing, and still back in time to Morgins for yet more après-ski gigs!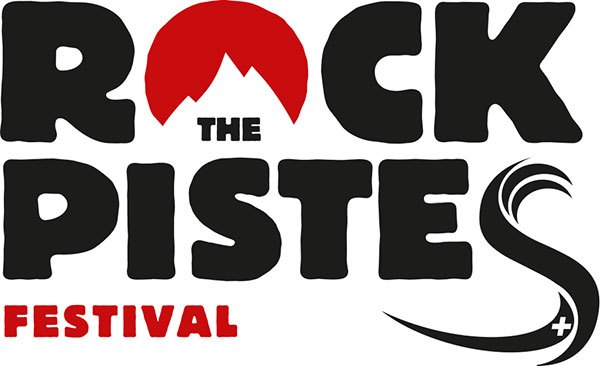 Portes du Soleil's Rock the Pistes is a unique, high-altitude music festival boasting a unique sensory experience, where pure snow plus pure mountain views plus pure sound equals 100% pure pleasure!
Spanning Switzerland and France, its 28,000 festival-goers enjoy a main live concert daily on the ski slopes at 1.30pm (DJ warm up from 12.45pm), held at a different spectacular location each day – so all you need to see these main concerts is your lift pass! Additionally, there are over 30 smaller après-ski concerts held in the various Portes du Soleil resorts throughout the festival period. So: a lot of rock!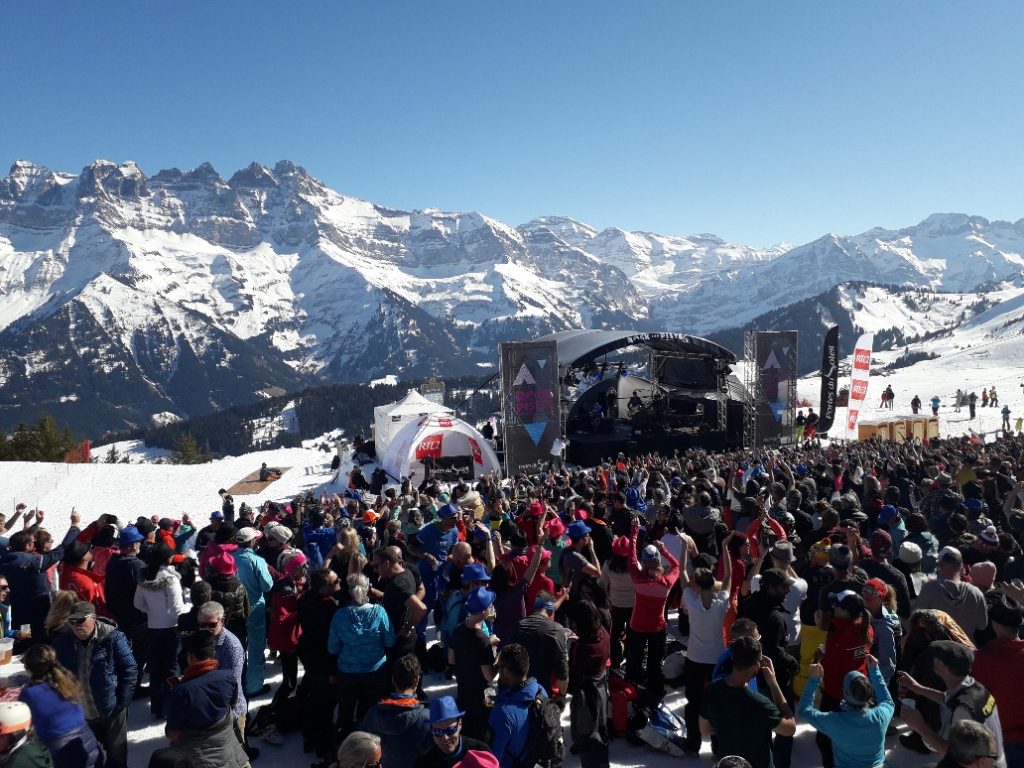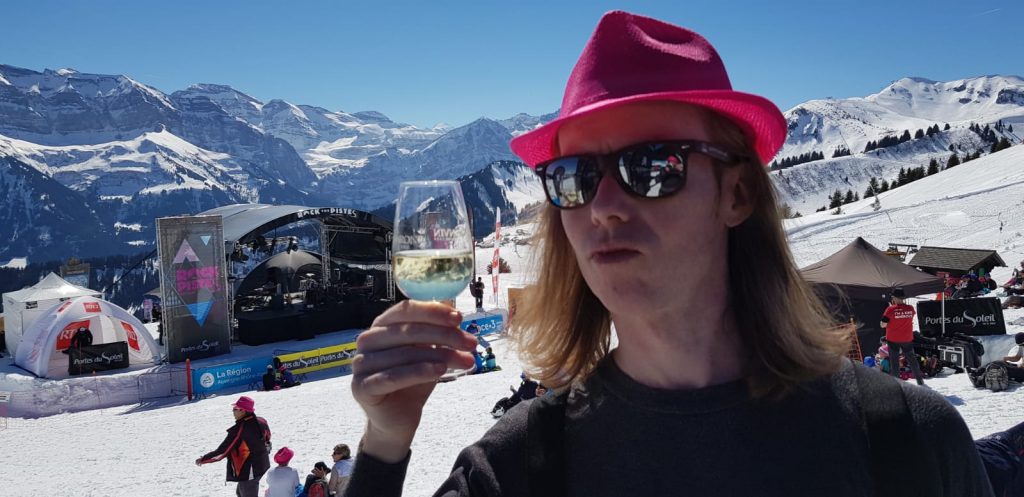 The ninth edition of Rock the Pistes, which has just finished, featured some of the best in French and global pop-rock artists – from quirky, funky Hyphen Hyphen to Britain's own sexy singer-songwriter and guitar geezer, Charlie Winston. The concerts gloriously combine the best in contemporary rock music with stunning scenery, nice booze and food, plus spectacular Alpine theatricals – from aerial smoke-trail art to daredevil wingsuit stunts!
The tenth edition of the Rock the Pistes Festival will run 22-28 March 2020.
OFF THE PISTE
But, of course, even music and skiing's not the whole story! Think of all that drinking and eating!
Enjoy both – choosing from a wide range of fondues and paired wines – at le Di.Vins (Route de la Patinoire, CH-1875 Morgins;) in Morgins.
If making a foray over the border into France, fine-dine in Châtel at the celebrated restaurant of Hotel Macchi (94 Chemin de l'Etringa, 74390 Châtel;) for traditional, local, quality-ingredient dishes.
After all the skiing, rocking, partying and eating, you just have to relax! Thankfully, just along the valley from Morgins, there's the huge Thermes Parc (Route des Crettex 2, 1873 Val-d'Illiez;) with its fun indoor and outdoor pools – both exploding with water jets and fountains – plus a jet-assisted "lazy river", not to mention saunas, steam room and willy-withering ice-cold plunge pot. Mountains of fit flesh on show! Don't forget your Speedos! There's also a great traditional chalet-style restaurant on-site too: La Bergerie offers healthy and tasty fare – to fit in with the character of the baths – with especially fine fish dishes!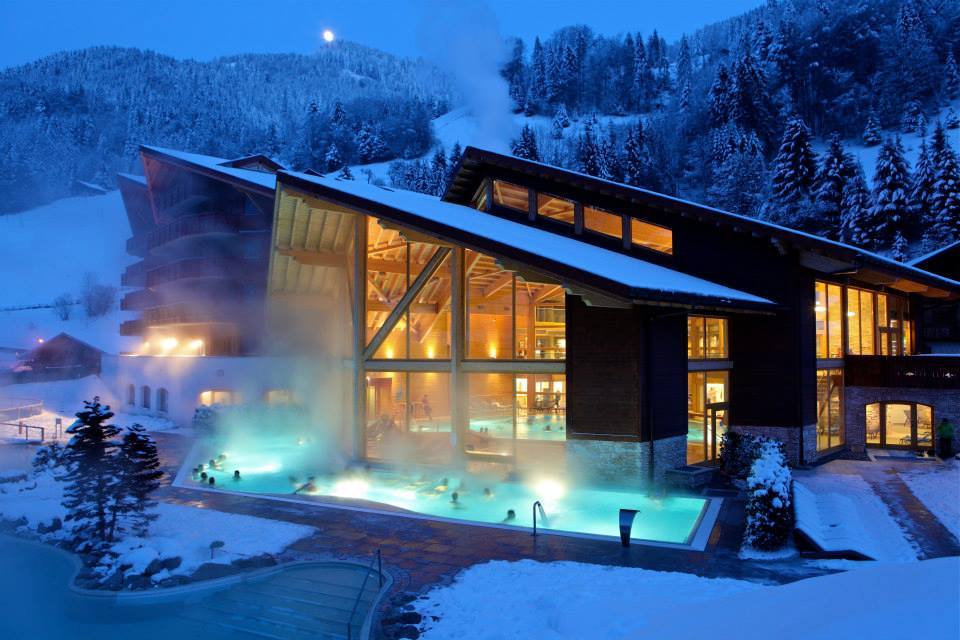 Enjoy a post-spa lunch or dinner at nearby Restaurant Le Communal (Place du Village 1, CH – 1873 Val-d'Illiez; T: +41 024 477 29 31;), with its contemporary interior or spectacular valley-view terrace, and Italian chefs who really know how to put on a show, serving up gourmet treats, with paired wines selected by vastly knowledgeable, immensely charming owner, Per-Henrik Mansson.
FOOTNOTE – TWO SWISS GAY SKI WEEKS: AROSA & LENZERHEIDE
Seeking a more purely pink piste wintery experience? You are spoilt for choice, thanks to recently linked resorts Arosa and Lenzerheide in Eastern Switzerland, hosting the two annual Swiss gay ski weeks!
2020 will be the 16th year for Arosa Gay Ski Week (18-25 Jan 2020, ), attracting hundreds of queer skiers from all over the world every January to an avalanche of wintry sport – both the outdoor and indoor variety! Apart from all the skiing with your new ski-fit pals, enjoy torch-lit sledge-runs; organised walks; drag queen races; concerts; plus dinner, pool 'n peak-top parties galore!
Running for a decade longer than the Arosa Gay Ski Week, GaySki Lenzerheide (8-15 March 2020) well-nigh prides itself on still being a perhaps tad smaller affair than its bigger gay bruv over the hill in Arosa. Hubbed around the Lenzerheide Hotel Schweizerhof, it's a heady mix of skiing, dinners, parties and… that hotel hamam!
SWISS offers more than 170 weekly flights from London City, Heathrow, Gatwick (seasonal), Manchester, Birmingham, Edinburgh and Dublin to Zurich, Geneva or Sion (seasonal). One-way fares start from £67 including all taxes, fees and surcharges, plus one piece of hold and of hand SWISS is also happy to transport your first set of ski or snowboard equipment and boots free of charge in addition to your standard free baggage allowance subject to availability (excl. hand-luggage-only fares).
– ends –