Review: Richard III, Alexandra Palace Theatre, London
By Adrian Gillan for Bent
Bent's Adrian Gillan hails Headlong's gutsy, sexy, bloody and oft darkly funny rendition of Shakespeare's early tragic history, Richard III – at the hauntingly reopened Ally Pally Theatre.
Following on from Henry VI Parts 1-3, Richard III is the final slice of Shakespeare's early tetralogy about The Wars of the Roses – the English civil wars between the Plantagenet houses of York and Lancaster.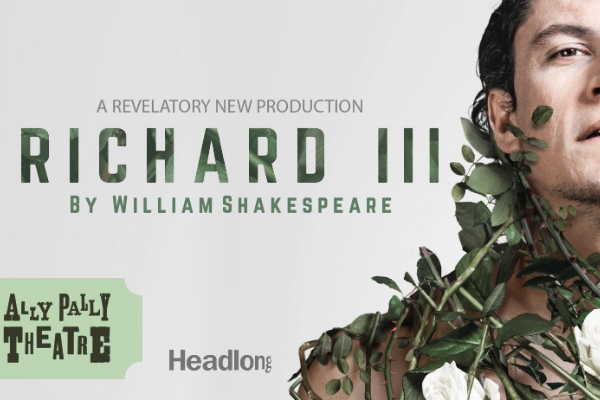 Renowned theatre company Headlong's production leaps in full-tilt with some backstory, briefly prefacing the famous "Now is the winter of our discontent" opening with a final scene from Henry VI Part III which depicts the violent murder of Henry VI by Richard, whose rise and fall as the last Plantagenet king we are about to witness, alongside the coming of the Tudors!
Yet despite the work being shameless, highly historically inaccurate, Elizabethan/Tudor propaganda, it is by no means all mere hisses and boos for Shakespeare's complex villain. The Bard creates a psychologically credible and compelling – albeit largely fictional – ill-starred anti-hero whose underdog status, outrageous audaciousness and sheer vivacity secure our tragic sympathies.
Tom Mothersdale delivers a bravura high-octane performance of an outcast, inferior Richard driven to murderous lengths to achieve revenge and a sense of worth. Loveless yet desperate to be loved, eschewing all self-pity, his ruthless Richard magically commands our at least partial understanding. As soliloquy follows soliloquy, as his intimates, we empathise with his painful and embittering inadequacies and his, in a sense utterly fated, boom-and-bust – Richard almost a helpless victim of his cruel lot, of history and the stars; and this a perverse morality play where his just deserts are tragically unavoidable.
Like Kevin Spacey's 2011 Old Vic portrayal, Mothersdale sports a braced leg – alas distractingly overly squeaky at times, even when he was off-stage in the performance we saw – yet he still athletically and furiously bounds about the stage, anti-heroically refusing to be disabled by his physical limitations. Channelling Johnny Depp as Edward Scissorhands and Heath Ledger as The Joker – even a dash of Sylvester McCoy as Doctor Who – his eccentric Richard bursts with life-force as he inexorably charms, bullies, butchers and wills his Machiavellian way to power.
Mothersdale is joined by a fab ensemble cast, many highly effectively doubling-up roles, who deliver the text with great force and lucidity. John Sackville's dignified, ghostly dead Henry VI haunts proceedings right through, ritualistically gathering up the mounting corpses ahead of Richard's final reckoning.
Michael Matus doubles-up well as Richard's vulnerable elder brother, King Edward IV, and as noble rebel, Stanley. Ditto Tom Kanji as Richard's murdered middle brother Clarence and as child-murdering Catesby. Stefan Adegbola is icily business-like as Richard's loyal henchman, Buckingham, himself still chillingly ruthlessly dispatched, his use served, at the last. Heledd Gwynn gender-bends perfectly as rebel Hastings and murderous Ratcliffe. Leila Mimmack is affecting as Anne, Henry VI's daughter-in-law, who Richard woos, weds, then has killed; Derbhle Crotty is magnificent as Elizabeth, Edward IV's wife, then widow; and Eileen Nicholas is electrifying as Richard's furious mother, the Duchess of York. Caleb Roberts is aptly strong as new-kid-on-block, Richmond – the first Tudor monarch, Henry VII.
John Haidar directs this revelatory new staging – a co-production between Headlong, Alexandra Palace and the Bristol Old Vic, plus Royal & Derngate Northampton and Oxford Playhouse – with decisive clarity and a dramatic, at times unapologetically violent, momentum that makes the 2¾ hours whiz by!
His top-flight design team – Chiara Stephenson (set/costumes), Elliot Griggs (lights) and George Dennis (sound/composition) – conjure a timeless yet contemporary world of political brutality. A crown slowly descends upon Richard throughout the ascending sweeping arc of the production's first half. Onstage mirrors reflect the action and characters, at times the audience, throughout, brilliantly serving the play's themes of appearance and reality, deception and vanity, with Richard finally forced to quite literally confront the ghosts of his past, and his own lonely, loveless self. Smoke and shadows loom effectively during soliloquies. Pulsing music adds ritual to stylised action and fights. Mesmerising stuff!
Alexandra Palace Theatre, Spring/Summer 2019 Season
Opened in 1875, the Alexandra Palace Theatre offered Victorian audiences panto, opera, drama and ballet but struggled to compete with the West End and became a cinema, a chapel and a music hall before a spell as a BBC TV prop store and workshop. For 80 years, "Ally Pally Theatre" was closed to the public, a hidden gem perched high above the city, but has now re-opened after a multi-million-pound redevelopment and preservation in a gloriously haunting state of "arrested decay". Other forthcoming Spring/Summer 2019 highlights include The Magnificent Music Hall, 10 April 2019; Handel's Semele, 2 May 2019; and the English National Opera, with Benjamin Britten's Paul Bunyan, 9-13 May 2019.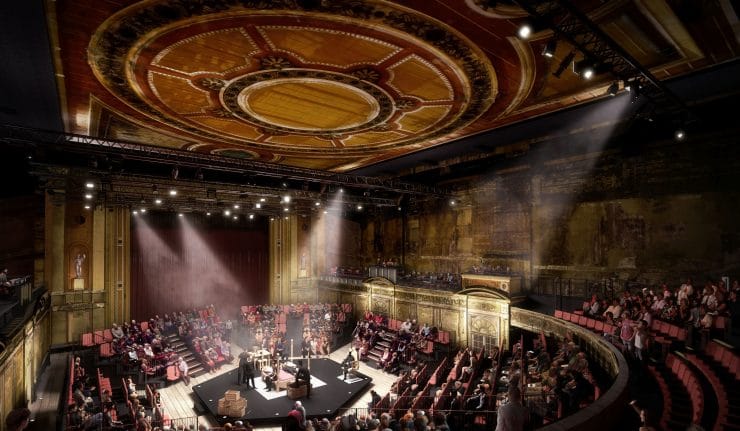 Richard III runs at the Alexandra Palace Theatre until 31 March 2019.
This production of Richard III will then continue to tour, to Bristol Old Vic (2-13 April 2019), Cambridge Arts Theatre (24-27 April 2019), Home Manchester (30 April – 4 May 2019), Oxford Playhouse (7-11 May 2019) and Royal & Derngate, Northampton (14-25 May 2019).