Review: The Pirates of Penzance, Wilton's Music Hall
by Adrian Gillan for Bent
Bent's Adrian Gillan salutes a decade of this gloriously silly-n-merry all-male version of Gilbert & Sullivan classic, The Pirates of Penzance, reprised at the magical Wilton's Music Hall in London!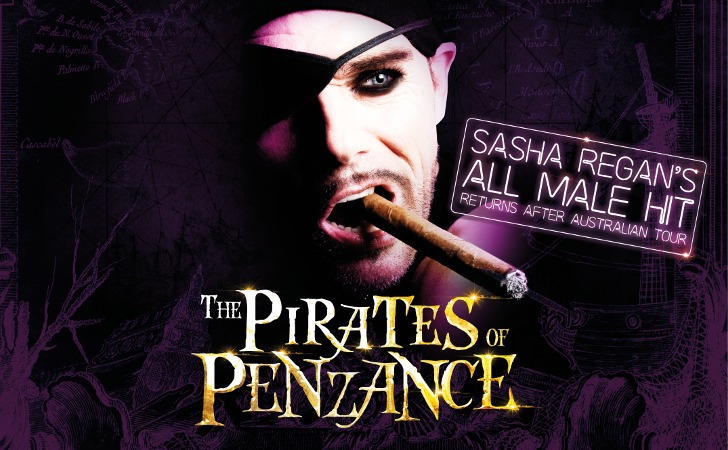 Theatre animal, producer and director Sasha Regan, is arguably the "female Matthew Bourne" of Gilbert & Sullivan, having introduced a string of award-winning, sassy, cheeky, all-male versions of their most popular operettas to a whole new audience, gay and straight, both in the UK and abroad.
It's been a particularly rollicking high-seas ride for her Regan De Wynter Williams Productions' The Pirates of  Penzance! From playing to just 50 people under a railway arch at the Union Theatre (2009) in Southwark, it went on to play sell-out runs at Wilton's Music Hall (2010) and the Hackney Empire, before heading to Australia (2012) for a major national tour, followed by a critically-acclaimed UK tour in 2015, and now docking, again, back at Wilton's Music Hall, in 2019! Sherry cheers to another 10 years!
Silliness and satire mean "all-male" works, even adding an extra layer of gender-bending frisson – not to mention lots of falsetto singing from the ostensible female lead, her sisters and the older comic dame.
Satirical themes and targets – sending up Victorian romantic melodrama and sense-of-duty (the operetta's alternative/secondary title is The Slave of Duty) – are all-the-more rudely and soundly hit; and the razor-sharp discipline of the cast, creatives and production as a whole lend the entire undertaking a well-nigh traditional air, regardless, utterly faithful and committed to the spirit of this 1879 masterpiece!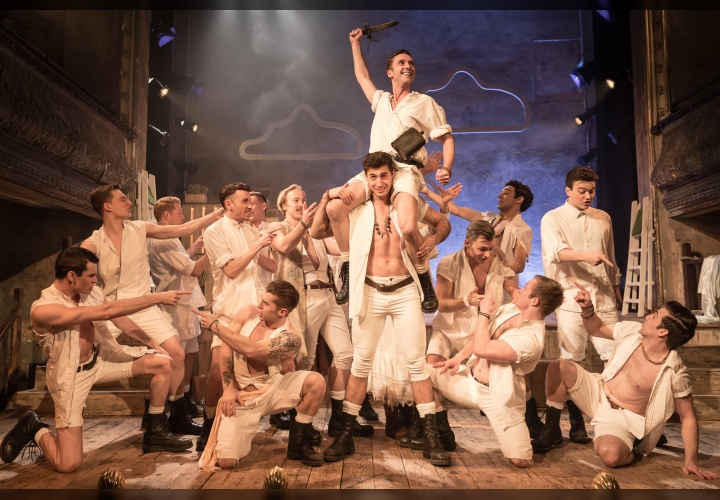 David McKechnie is a lyrical lynchpin as paragon-of-duty, Major-General Stanley, unleashing an almighty volley-of-folly with the famous "I am the very model of a modern Major-General". Blond-bombshell James Thackeray makes a dashing Pirate King, alongside swarthy Benjamin Vivian-Jones as Samuel, his Lieutenant. Duncan Sandilands' rich comic bass oozes testosterone as the Police Sergeant.
Strapping dreamboat Tom Senior is perfectly cast as male-lead Frederic, his teasingly well-fitting costume matched only by a sweetly light rock-tenor voice and a fine pair of… smiling eyes. Puts the male in all-male! Not a dry seat in the house!
It wouldn't be all-male, either, were not the Major-General's coy-yet-lusty daughters played by elegantly understated Tom Bales as Frederic's love-interest, Mabel; Sam Kipling, as earthy bespectacled no-nonsense Edith; Connor Hughes as a blushingly rosy-cheeked and coy-yet-naughty Kate; cheeky, smiley Dominic Harbison as Isabel; and all-male G&S stalwart Richard Russell Edwards as Connie.
Alan Richardson does his very best to steal the show as hapless-yet-crafty maid-of-all-trades, the of-a-certain-age Ruth. Yet, in many ways, the chorus and full ensemble – including Daniel Miles, Adrian Bevan, Tom Duern, Patrick Coulter, Matthew Facchino, Jamie Chidzey and Kyle Anthony, as sundry pirates, fairies, police and merry maidens – are the true stars of this tautly disciplined yet playfully joyful production. Though a seemingly tight team, they are all so blessed with individuality: a jewellery or chocolate box of idiosyncratically sparkling delights! And the climactic choral harmonies are orgasmic.
Yet, to be clear, this all-male affair would be really rather lost without a few very important women. Quite apart from genius director-producer Sasha Regan, the work of choreographer-of-the-moment Lizzi Gee comedically and cleverly bedazzles at every turn; as does Robyn Wilson-Owen's simple set design –complemented by atmospheric lighting from Ben Bull, albehe a man! As is the sine qua non: bulwark musical director Richard Baker, anchoring the ship with his fab solo piano accompaniment throughout!
Great use of the whole Wilton's auditorium too, including its balcony; and we especially loved the physicality of the early ship-at-sea scene, plus the police's hand-held moustache masks, and the way the pirates wield their torches! All in all: the very model of a modern major operetta revival!
WILTON'S MUSIC HALL
Grade II*-listed Wilton's Music Hall is arguably Britain's (hence the world's) oldest surviving "music hall", now saved from the bulldozers, having undergone "conservative repair" to preserve many of its original features, and is now run as a multi-arts performance space in Graces Alley, off Cable Street near Tower Hill in London – offering an aptly contemporary take on its original variety purpose.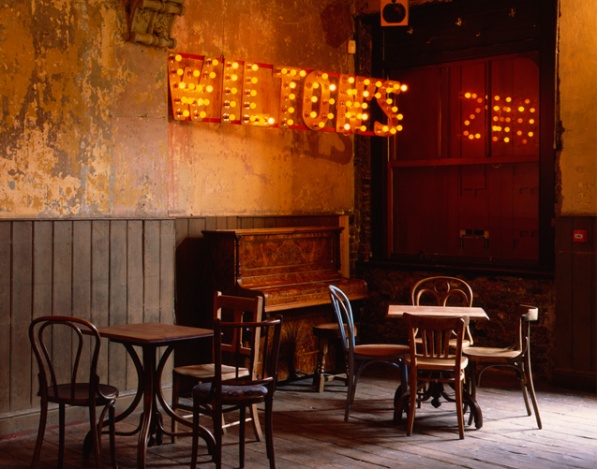 Under various phases of enlargements, the hall was active as one of London's premiere early-to-mid-Victorian music halls, for about three decades, commencing 1839 – attached to a tad older mid-18th Century terrace of three houses, and a pub that acted as both entrance and refreshment house. Many legendary acts of early popular entertainment performed here, from George Ware who wrote 'The Boy I love is up in the Gallery' to George Leybourne (Champagne Charlie).
It was gutted by fire in 1877, rebuilt and then used as a Methodist Mission, to help alleviate surrounding poverty, for seventy years until after WW2. Then, following a brief time as a rag storage warehouse, it was earmarked for demolition until a campaign, fronted by the likes of Sir John Betjeman, Peter Sellers and Spike Milligan, got it listed, in 1971, thus saving it!
Wilton's reopened as a theatre and concert hall in 1997 and has been a producing and hosting space since 2004, at which time it was still derelict and in debt.
Over the next decade, thanks to donations and grants, the building has been restored, including the reinstatement of The Mahogany Bar and wider front-of-house. A new Learning and Participation Studio has also been created. The project was completed in September 2015 leaving the building structurally secure – probably for the first time since the renovations of music hall days.
The theatre is an unrestored example of a 'giant pub hall'. In the theatre, a single gallery – on three sides and supported by 'barley sugar' cast iron pillars – rises above a large rectangular hall and a high stage with a proscenium arch. The hall would have had space for supper tables, a benched area, and promenades around the outside for standing customers. Wilton's was modelled on many other successful London halls of the time. It now remains the only surviving example.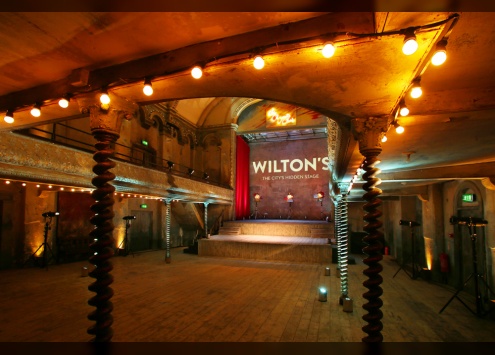 The hall and facilities are owned and managed by the Wilton's Music Hall Trust as an arts and heritage venue. It produces and hosts imaginative, distinctive work that has roots in the early music hall tradition, but reinterpreted for an audience of today, which means presenting a diverse and distinct programme including opera, puppetry, classical music, cabaret, dance, and magic. Situated at the heart of the historic East End, it is a living theatre, concert hall, public bar and heritage site.
Its two bars are open Monday to Saturday, 5pm to 11pm, and also open early for matinee performances where applicable. The Mahogany Bar is a much-loved destination in its own right, serving a carefully selected range of beers, wines and spirits, locally sourced where possible. The Cocktail Bar has been transformed into a gin palace, serving an exclusive menu of specialty gins, plus a range of wines, bottle beers and soft drinks. Caterers, The Gatherers, serve a seasonal menu, including their famous stone-baked pizzas, on show days only from 5pm to 9pm. Food can be eaten in the Mahogany Bar or taken up to the Cocktail Bar. A separate lighter lunch menu – including focaccia sandwiches and a range of delicious salads – is available from 1pm on days with matinee performances.
Other forthcoming productions at Wilton's Music Hall include: The Shape of Pain (19-23 March 2019); Margaret Thatcher Queen of Soho (26-30 March 2019), to coincide with the UK (potentially) leaving the EU; Camille O'Sullivan Sings Cave (9-13 April 2019); and Seven Deadly Sins (8-18 May 2019), world premiere of Kenneth MacMillan's extraordinary version of the Weill-Brecht 'ballet with songs'.
The Pirates of Penzance runs at Wilton's Music Hall in London until 16 March 2019.
– ends –