Review: The Merry Widow, English National Opera, London Coliseum
By Adrian Gillan for Bent
Gender, money, power and true love! Bent's Adrian Gillan hails ENO's provocative, camp and thematically relevant new version of Franz Lehár's timeless 1905 operetta, The Merry Widow!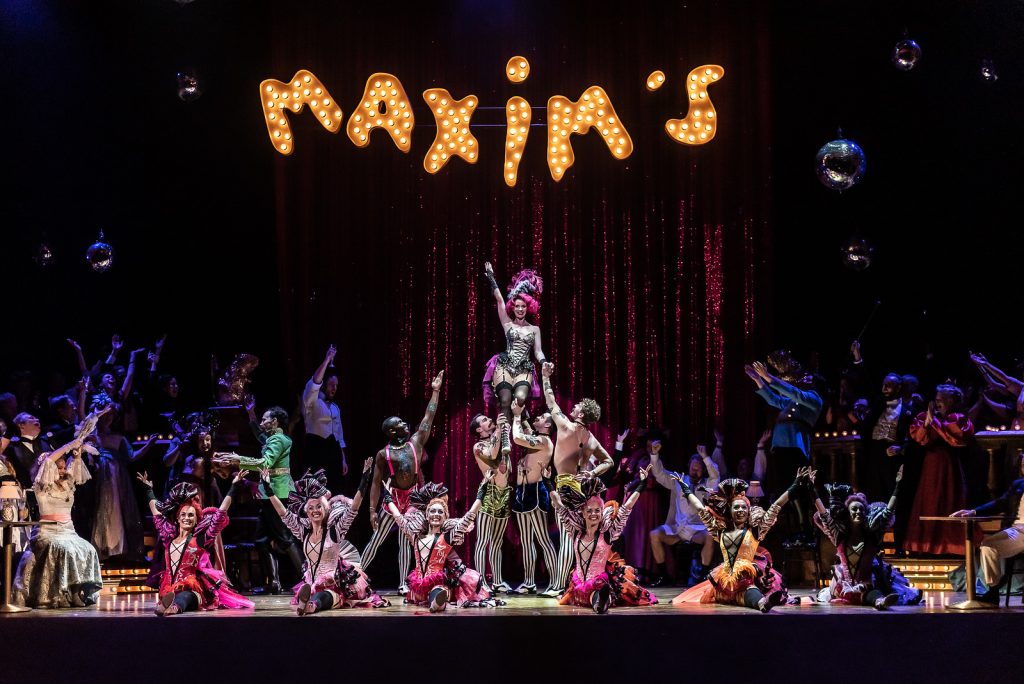 From The Mikado to Iolanthe, ENO is no stranger to reinventing classic operettas, turning them into relevant contemporary classics that can enter the theatrical canon and revive and run and run. With their latest, edgy, cheeky and gloriously daring production of Franz Lehár's The Merry Widow – their first new stab at the most popular operetta of the 20th Century in over a decade, with ENO debutant, Old Vic associate Max Webster directing – they've shown the Midas touch again!
Though still very much set in a haunting, dreamily sleep-walking turn-of-the-century Europe, this new witty, ingenious text – English book by April de Angelis, English lyrics by Richard Thomas – is brimming with tongue-in-cheek, obliquely present-day references, at one point even including Brexit, not to mention a fair sprinkling of swear words!
And it's the men clearly doing the sleep-walking in this radical production – traipsing towards a rude awakening within an increasingly woman's world; shocked into a revaluation of hitherto entrenched patriarchies. Subversive gender-money-power games abound, as men fawn and flirt; and a woman who has it all – looks, wealth, political clout – finds, ironically, that money is an obstacle to true love!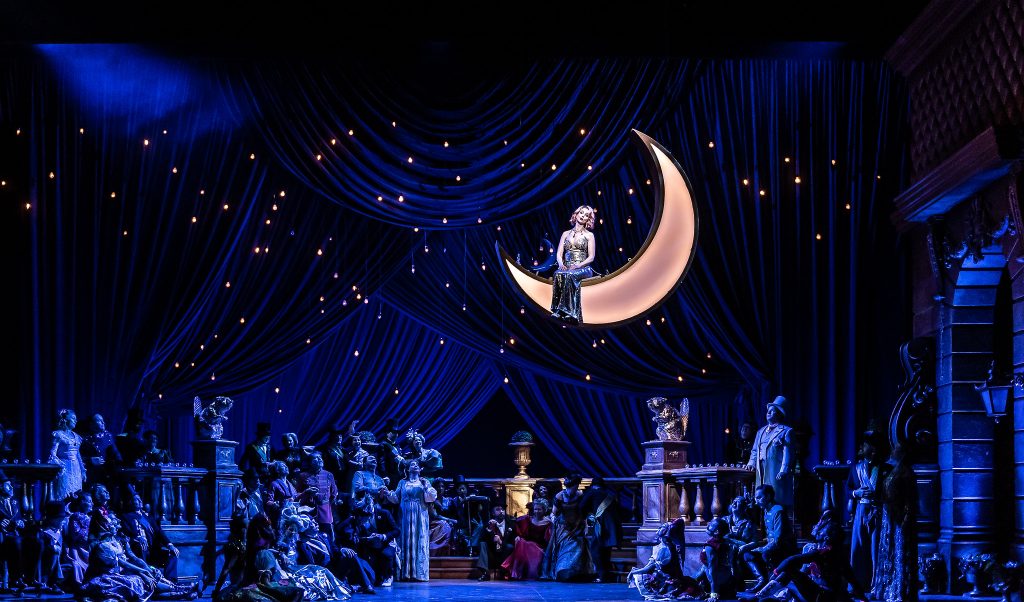 ENO's own home-grown star soprano Sarah Tynan dazzles right from her big stairway start. Her new-money Hanna has been heartbroken in her youth through lack of cash; and now, a rich widow, the tables turned, she is teasingly contemptuous of the constant unwanted male advances she attracts – frustratingly, for her, from well-nigh everyone except the proud man she has always actually loved.
Baritone Nathan Gunn pairs Tynan brilliantly, as Danilo – world-wearily seeking solace and escape at his beloved club, Maxim's – ultimately unable to live sans Hanna, with or without her wealth. The pair's psychologically convincing push-pull jousting indeed make this arguably "opera's greatest romcom"!
Yet amidst all this emotion and "heart", high farce and comedy abound – at fever pitch right from the first bustling scene. Amidst these comic shenanigans – as the top-knobs of tiny bankrupt state Pontevedro try to ensure their wealthy widow marries a fellow Pontevedrin, thus keeping her money within the nation, so avoiding its collapse and humiliating annexation… by Lichtenstein – ENO stalwart, baritone Andrew Shore, is hilarious as vain, witless Zeta; beautifully-voiced ENO protégé, soprano Rhian Lois, is flirty and clever as Valencienne, his bored wife; tenor Robert Murray, is determinedly ardent as Camille, her lover; and non-singing Gerard Carey is shrewd and cynical throughout as secretary, Njegus.
The other supporting characters and chorus are all clearly aptly having a ball – not least the sextet of leggy "grisettes" (can-can dancers); and the joyously hilarious quartet of male dancers (Village People meets Edwardian strong men meets central European folk). Hats off throughout, by the way, to choreographer Lizzi Gee who oft deftly shapes a class act out of sheer silliness – especially the Beavers!
The whole magical 2½-hour English-sung theatrical passage just glides by on a stream of dreamy catchy melodies punctuated by raucous folk tunes, the ENO Orchestra aptly under the baton of much-sought-after female Estonian conductor, Kristiina Poska, making her triumphant ENO debut.
Max Webster's creative team shine. Ben Stones' golden tableau framing the action throughout, complemented by Esther Bialas' colourful costumes and Bruno Poet's atmospheric lights. This design trio help deliver several coups de théâtre during the show, not least Hannah singing her big "Vilja" number seated high up on a suspended illuminated Moon; and a breath-taking all-male "Urinals" septet on the subject of women that makes quite a… splash!
Opera at its most playfully audacious: absolutely reinvented yet still utterly faithful! Waltz along now!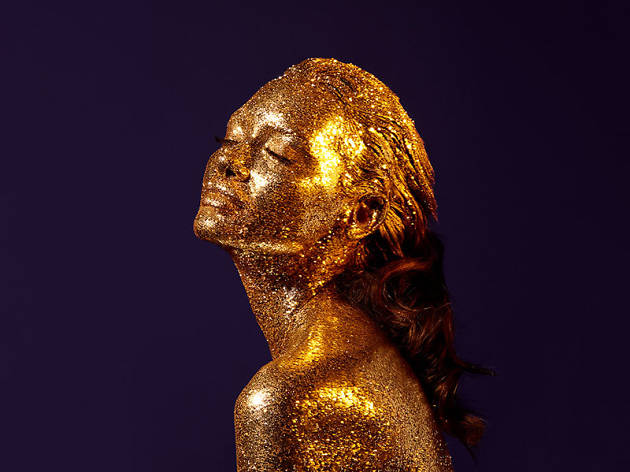 English National Opera 2018/19 Season
ENO's 2018/19 season has featured five new productions and four revivals at the London Coliseum, plus other galas and collaborations. Remaining new productions are this very The Merry Widow (until 13 April 2019) and world premiere Jack the Ripper: The Women of Whitechapel (30 March – 12 April 2019). Remaining revivals are Akhnaten (until 7 March 2019) and The Magic Flute (14 March – 11 April 2019). Over 42,500 tickets are available at £20 or less across the season. Truly a people's opera!
The Merry Widow runs at the London Coliseum until 13 April 2019.
– ends –