Review: Gently Down The Stream, Park Theatre, London
by Adrian Gillan for Bent
A brighter gay future, but don't forget the past! Bent's Adrian Gillan enjoys the UK premiere of Martin Sherman's intergenerational gay romance, Gently Down The Stream, at the Park Theatre!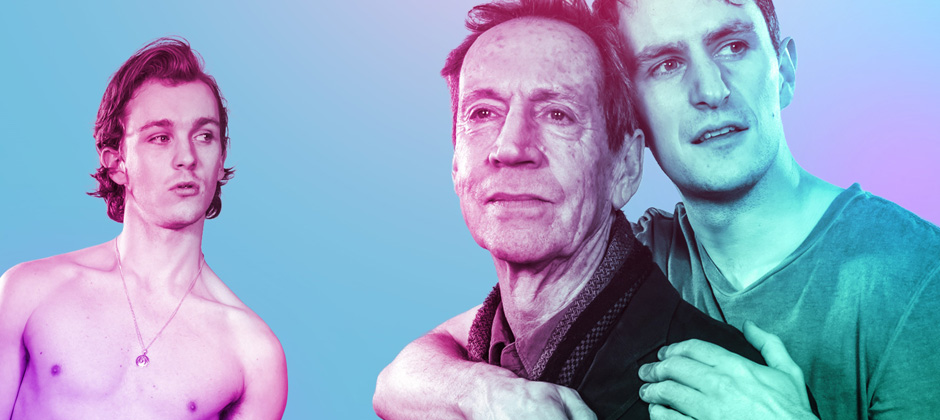 Having opened at the Public Theater in New York back in 2017, 80-year-old Martin Sherman's latest offering, Gently Down The Stream, now makes its UK Premiere – at the wonderful Park Theatre, in Finsbury Park, North London – 40 years after his iconic gay play, Bent, was first performed.
Set in London in the first decade or so of this century, it explores the different romantic perspectives within a mixed-age gay male couple: the historically hurt older man, doubtful and bracing himself for failure, the younger man taking his right to love perhaps a little too for granted. Both achieve a deeper understanding of each other, as their relationship grows, stalls and morphs into something new.
Young British manic-depressive lawyer Rufus fancies, and wants a relationship with, older American cabaret pianist Beau – the two having met online in the early days of Gaydar. Rufus romanticises about Beau's past. But Beau's past is, in fact, painful – exiled by his dad and having lost lovers to both gay hate and AIDS – and he is only reluctantly won over, cautioning Rufus to plan ahead anyway, and find a younger partner. Rufus eventually does meet young performance artist Harry, the pair getting a civil partnership and having a daughter – ultimately with the blessing of a freshly optimistic, by-now-Grindr-using Beau who remains part of the new family, ironically less fettered now than the two young parents!
Sherman intelligently depicts the potential problems faced within any mixed-age relationship, gay or straight – and compounded in a specifically gay male relationship by the very different socio-sexual worlds which the older and younger man have lived through. He also has a fine poetic, lyrical way with words. And the clever plot progression, with its clear twists, plus dramatic structure, with cut-away monologue reminiscences, make the 100 minutes, no interval, pass swiftly, however indeed gently, by.
The play is not without its challenges. The admittedly interestingly eccentric two younger characters are not especially sympathetic, engaging or likeable – bipolar Rufus being moody, childish and self-absorbed pretty much throughout; Harry petulant and vain in the early scenes before becoming almost incredibly sweet later on. There is also little real psychological explanation of Rufus' sudden, presumably genuine, attraction to the younger man; and no backstory, or even mention, regarding any mother of the fresh-from-the-womb new-born baby daughter that arrives onstage – frighteningly realistic, by-the-way… it's amazing what they can do with rubber these days! Moreover, the play's ending could arguably appear just a teeny bit neat and, well, hetero-conformist for some queerer tastes.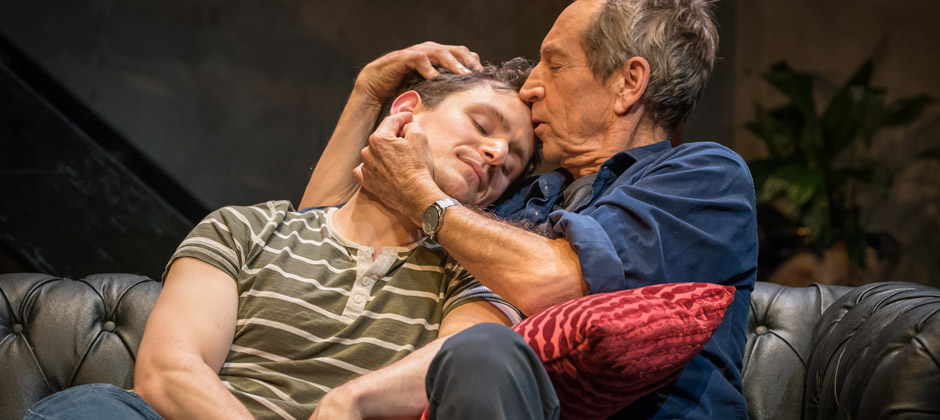 Though all the cast are superb, charismatic veteran Jonathan Hyde's performance as endearing old Beau is the real gem. Aptly gently pitched throughout, Hyde brings the necessary depth, vulnerability and self-effacing humour to this rich role. Often understated, his acting seems technically effortless, not least the charmingly genteel southern accent; and his backstory monologues, delivered in a solitary spot up high above the main stage, are a highlight, as layers strip away and meaning falls into place.
Ben Allen gives a committed and convincing portrayal in the technically difficult role of younger Rufus, well conveying the character's disorder symptoms; and handsome young Harry Lawtey brings out the quirkier aspects of his namesake role, Harry. The fantastic Sean Mathias directs with his usual innate theatrical flair, allowing the story to most directly tell itself. Strong creative work too from Lee Newby (set and costume), Jamie Platt (lights) and Lex Kosanke (sound). Definitely worth the visit!
Gently Down The Stream runs at the Park Theatre in London until 16 March 2019.
– ends –