Review: Follies, Olivier Theatre (National Theatre)
by Adrian Gillan for Bent Gay Sex Shop & Magazine
Facing up to the present whilst coming to terms with the ghosts of the past! Bent's Adrian Gillan hails the National Theatre's spectacular revival of gay great Sondheim's musical, Follies!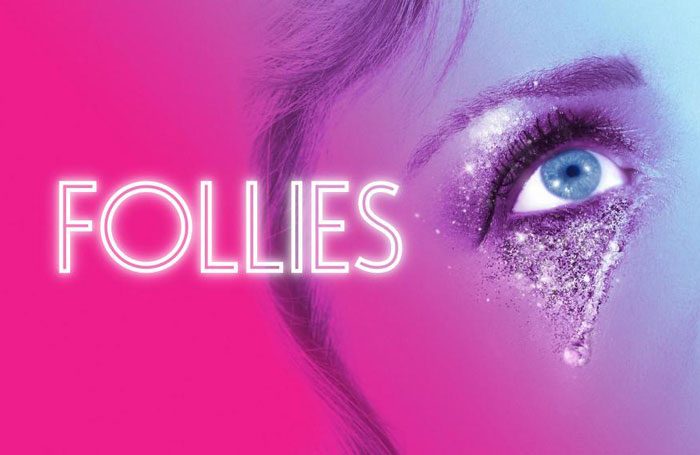 Folly as theatrical fantasy; folly as foolish real-life mistake. One of the most psychologically and emotionally ambitious musicals ever created, Follies is, in effect, one almighty metaphor for a reality-check: to reconcile what, in retrospect, could have been, with what, actually, was; and how to move on. Despite a luxurious, indulgent aura, its message is a caution against crippling and stagnating nostalgia.
Based on a book by James Goldman, and music and lyrics by gay great Stephen Sondheim – not to mention sublime orchestrations by the legendary Jonathan Tunick, and original direction by Harold Prince and Michael Bennett – mega-budget Follies opened on Broadway in 1971, running for over 500 performances, winning seven Tonies, and yet still making a loss!
1971 is also the year in which this fictional reunion of former review performers, and their partners, is set – in their erstwhile workplace, the crumbling Weismann Theatre, on the brink of demolition, 30 years after their last show there. This naturally gave the original production a zeitgeist piquancy, unrepeatable.
Follies received its West End premier in 1987, with a London revival in 2002, and this most recent Olivier Award-winning National Theatre reprise had a sell-out run in late 2017 at the Olivier Theatre, to which it now returns, from Feb 2019 – featuring a cast of 40; an orchestra of 21; at 2¼ hours, no interval.
The show focuses on two couples (two former showgirls and their husbands), Buddy and Sally, and Ben and Phyllis; their memories, as embodied in their younger selves; and the roads they did, and did not, take. Buddy loves Sally, though he does play around; but Sally loves Ben; but Ben loves no one, despite ending up marrying an increasingly embittered Phyllis, who herself starts to play around. As their entwined pasts and presents are worked through onstage, other former showgirls at the reunion also perform their old/pastiche, and even new, numbers – expressing regret and despair, optimism and joy, anger and defiance – likewise oft accompanied by ghosts of their former, younger selves. Sometimes older and younger stare through each other; sometimes shocked younger views older, or vice versa.
The final surreal, stylised "Loveland" finale showcases the psychological breakdown of the leading quartet; segueing into a coda where the two key couples resign to stumble onwards, despite all.
Alexander Hanson plays a charming but ultimately empty Ben ("The Road You Didn't Take"; "Live, Laugh, Love"); Joanna Riding a yearning and unstable Sally ("In Buddy's Eyes"; "Losing My Mind"); Peter Forbes a loving yet insecure and restlessly roving Buddy ("The Right Girl"; "Buddy's Blues"); and Janie Dee a frustrated and resentful Phyllis ("Could I Leave You?"; "The Story of Lucy and Jessie").
Ben and Sally beautifully long-in-song for each other in "Don't Look at Me" and "Too Many Mornings".
Young Ben, Young Sally, Young Buddy and Young Phyllis – played excellently by well-matched-with-older-selves Ian McIntosh, Gemma Sutton, Harry Hepple and Christine Tucker respectively – sing blindly and hysterically optimistically ("Waiting for the Girls Upstairs"; "You're Gonna Love Tomorrow" / "Love Will See Us Through"); and stare aghast at their older selves.
The 70s and pre-70s male chauvinism, and economic dependency of women on men, is reflected not only in the relationships of the main quartet, but also notably in impresario Mr Weismann himself, played with imposing presence by Gary Raymond, as he flirts with his PA and cold-shoulders former showgirl grandee, Heidi (the sublime Felicity Lott, until 8 April; Josephine Barstow, from 6 May onwards), adding another layer of pathos to her big swan-song number, "One More Kiss".
And not forgetting the jewellery/chocolate box confection of cameo numbers that pepper the whole piece – Dawn Hope playing a joyously vain and independent Stella, leading the "mirror girls" and their younger selves in the ingenious "Who's That Woman?"; Claire Moore as earthy Hattie in a gloriously rasping "Broadway Baby"; Geraldine Fitzgerald as wistful Solange in dreamy "Ah, Paris!"; and Tracie Bennett as sassy, irrepressible Carlotta in show-stopping torch-song "I'm Still Here".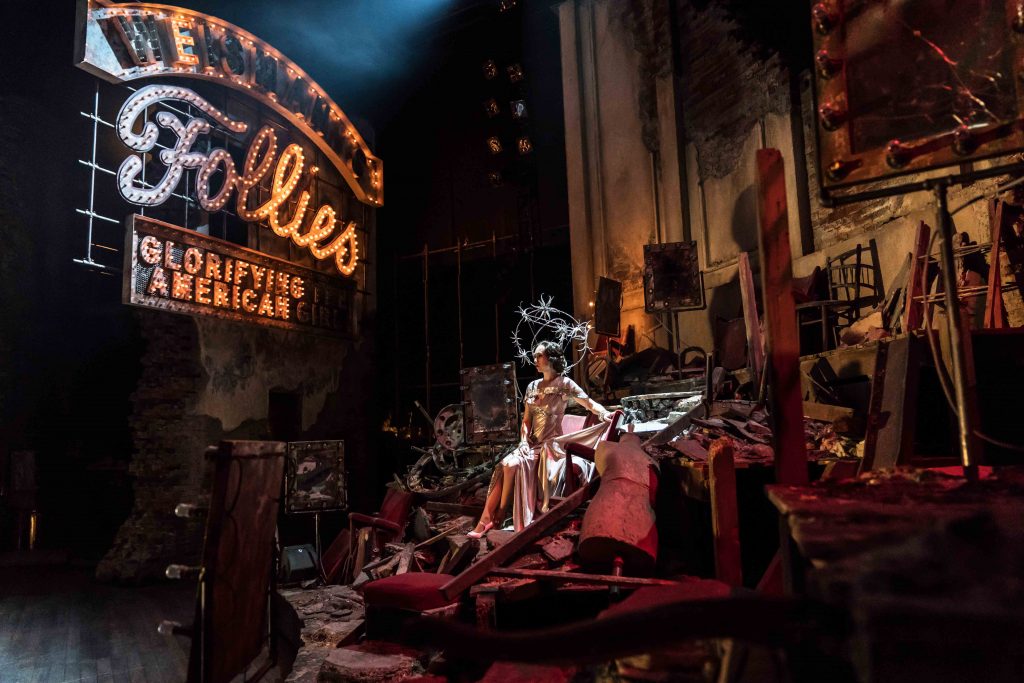 Other more old-school gems include Bruce Graham as stalwart bulwark Roscoe in trumpeted "Beautiful Girls"; and Billy Boyle  and Myra Sands as charming song-'n-dance couple Theodore & Emily Whitman in delightful "Rain on the Roof", movingly and magically accompanied by their sprightly younger selves.
Director Dominic Cooke pulls the whole elegantly decaying edifice together amidst Vicki Mortimer's monumental designs, and atmospheric lights and sounds from Paule Constable and Paul Groothuis respectively; with a vast range of contrasting choreography from Bill Deamer – not to mention gorgeous sounds from musical director Nigel Lilley and his way-upstage orchestra, from prologue to final note.
Follies runs at the Olivier Theatre (National Theatre) in London. For more info and to book tickets, call 020 7452 3000
– ends –