Review: Company, Gielgud Theatre, London
by Adrian Gillan for Bent Gay Shopping & Magazine
 Fidelity or freedom? Bent's Adrian Gillan adores this gender-reversed contemporary take on gay great Stephen Sondheim's musical Company, at London's Gielgud Theatre, until 30 March 2019!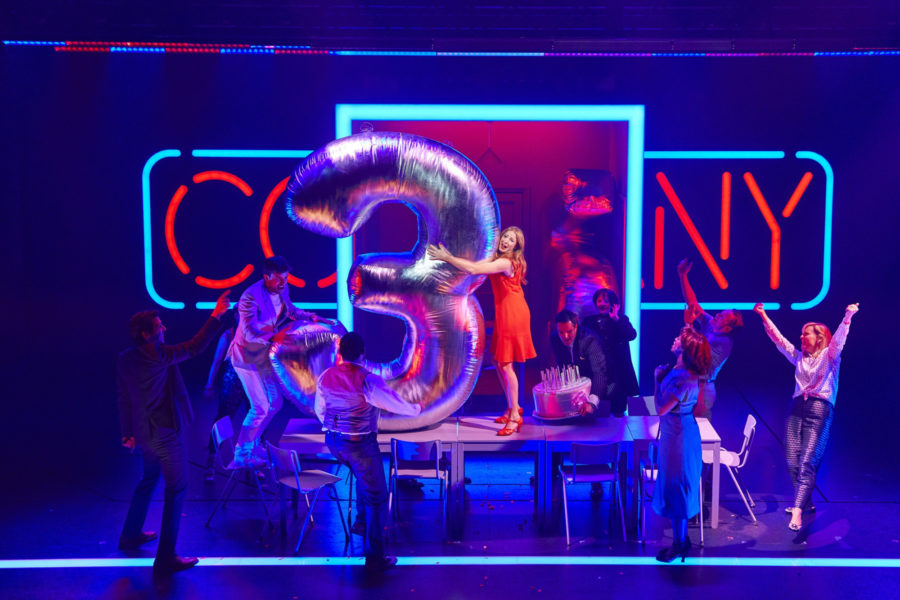 Ushering in a decade of arguably his finest work, Stephen Sondheim's Company wowed its original 1970 Broadway audience (1972 West End premiere) with an essentially plotless, thematic riff on that timeless chestnut – brought more into the open by those liberated times – of squaring love with liberty!
Based on George Furth's book, its infectious tunes, rhythmic energy and sophisticated-yet-structurally-simple exploration of relationships have ensured its frequent revival ever since, on both sides of the Atlantic, and worldwide. Many of its numbers – including The Little Things You Do Together, Side By Side By Side, The Ladies Who Lunch and Being Alive – have become musical standards!
This latest award-winning production at the Gielgud Theatre, from director Marianne Elliott and producer Chris Harper, sees Sondheim official modify, update and bless a truly contemporary version of his classic, featuring a gender-reversal of some of the work's characters, precipitated by the central role of Robert/'Bobby' becoming 'Bobbie'; and a brilliantly effective gay male couple on the brink of marriage.
Bobbie is (now) a single woman who seemingly cannot commit to a steady relationship or getting wed. The show starts on her 35th birthday, her interacting with her best friends – five married couples and three (now) boyfriends – via a series of spoken and musical vignettes. Apart from feeling more contemporary and breaking away from the original's arguably 70s-male-chauvinist subtext, Bobbie's age, combined with gender, also adds an extra urgency to the situation as her biological clock tick-tock-ticks alongside-by-side with career and love-life pressures.
Dressed in stunning red and on-stage pretty much throughout, Rosalie Craig is an extremely believable, sympathetic and affecting Bobbie, perpetually torn between commitment and independence as she is pressured, supported and appalled by her friends in fairly even measures, before a kind-of hinted-at bitter-sweet resolution and affirmation in the final Being Alive number and eye-wink candle-puff-out!
Hats off, too, to her three boyfriends – Matthew Seadon-Young as sensitive Theo; Richard Fleeshman as hunky-but-dull Andy; and George Blagden as vain, cynically honest PJ.
Broadway and West End stalwart Patti LuPone is pure presence and class as indomitable Joanne, bringing the house down with multiple withering one-liners, many aimed at hubbie Larry (suave Ben Lewis), not to mention a final searing The Ladies Who Lunch.
Mel Giedroyc (Sarah) and Gavin Spokes (Harry) are dazzlingly funny as bickering, uptight couple Sarah and Harry. Jonathan Bailey well-nigh steals the whole damn shebang as an unhinged, nervy Jamie, delivering a show-stopping fever-pitched Getting Married Today, about to get gay-hitched to partner Paul, played by the wonderfully warm Alex Gaumond.
Richard Henders plays a letchy David alongside Jennifer Saayeng as his knowing Jenny. And Ashley Campbell and Daisy Maywood play oh-so-happily divorcing Peter and Susan, the latter also doubling up gloriously comically as The Priest in Getting Married Today.
Yet aptly, given its title, "Company" – this whole piece is not just an exploration of loneliness and connection, but it is also very much a genre-homage to the very notion of theatrical ensemble. So all bow! Not least Joel Fram and his sizeable orchestra – on stage, in a gallery slap-bang above the action throughout – ensuring we never forget the overt theatricality of proceedings, and that Sondheim's music is obviously the ultimate star!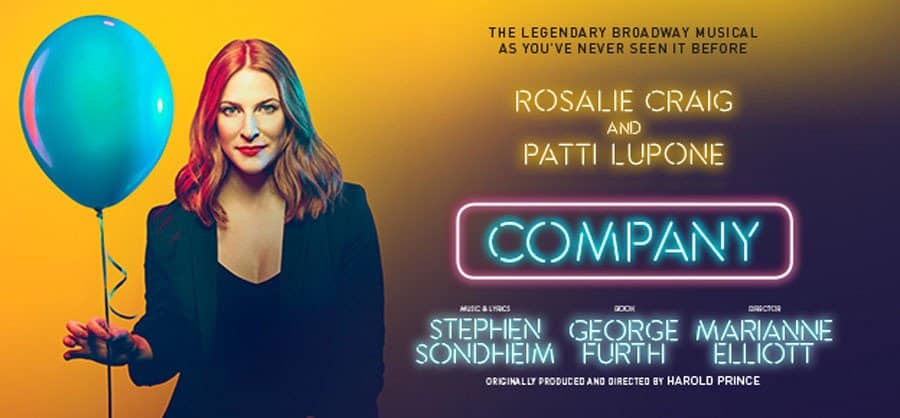 Bunny Christie's inspired design concept of neatly sliding, inter-fitting box-set tableaux, all amidst neon glows, makes simplicity seem perfection. Indeed, the whole creative team – dance, fights, lights, sound, illusions – encore, encore!
Biggest bow of all must go to director Marianne Elliott (former associate director at the National Theatre – War Horse and The Curious Incident of the Dog in the Night-Time), for having the vision to collaborate with Sondheim on this masterly unforced update, that miraculously makes a "revival" seem utterly "new"!
 Company runs at the Gielgud Theatre in London, until 30 March 2019.
– ends –