Review: Coming Clean, Trafalgar Studio 2, London
by Adrian Gillan for Bent Gay Sex Shop & Magazine
 Navigating gay open relationships! Bent's Adrian Gillan hails the worthy revival of Kevin Elyot's Coming Clean, on at the Trafalgar Studios (Studio 2) in London's West End, until 2 Feb 2019!
The King's Head Theatre production of Coming Clean by the late Kevin Elyot – best-known for landmark 1990s AIDS-drama My Night With Reg – has transferred to Trafalgar Studio 2, in London's West End.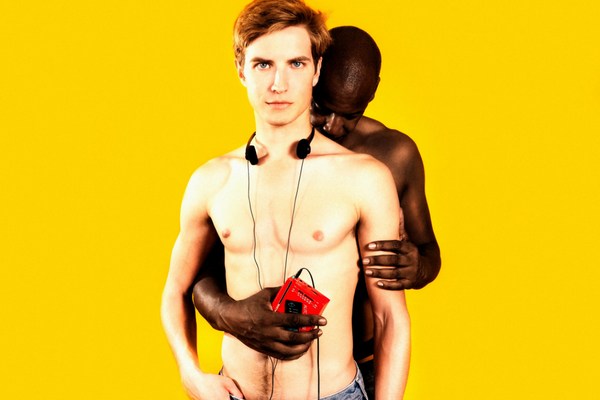 Elyot's first play, the work premiered at the Bush Theatre back in 1982 – when HIV was only a faintly whispered rumour in the UK – with the King's Head's 2017 revival thus marking its 35th anniversary.
Tony and Greg (unsuccessful and moderately successful writers respectively) are about to celebrate five years of being in a committed relationship, albeit one that is "open" on both sides, just so long as any flings are discreet and never go beyond one-night-stands – a happy-if-delicate love-lust balancing act that is only unsettled with the arrival of their new sexy, young cleaner, "resting" actor Robert, forcing them to honestly re-evaluate their lives and needs, "coming clean" with themselves, and with each other.
It would be all-too-easy to critique and question some aspects of Elyot's impressive, yet clearly early, writing – what Tony sees in such a charmless, humourless man as Greg; why posh young cultured Robert has such a passion, or need, for commercial domestic cleaning; and whether the play's ambitiously fluid genre is best seen as drama, black comedy, rom-com, sit-com or the whole darned lot!
But that would be churlish, given all that works so well on stage here, both in terms of the writing and its execution. The play achieves its core universal aim: to question the nature and limits of fidelity, and how love relates to lust – in actual fact, regardless of one's sexuality.
And the four-strong cast deserves a huge ovation.
Lee Knight shows a laser-like lightness of touch as Tony – perhaps the most fleshed-out character to manifest in front of us – flitting deftly between glib camp banter, emotional insecurity, bitchy one-liner, caring friend and heart-broken lover. Stanton Plummer-Cambridge is strong, if understated, as Greg – perhaps the hardest, since least sympathetic and openly expressive, role to actually pull-off.
Spitting image of a young teenage Prince William, gorgeous and talented young Tom Lambert is a definite star-of-the-future, successfully conveying Robert's endearing combination of youthful awkwardness and confidence in the first-half; and brave, and beautiful, in his big second-half stark-bollock-naked nude scene. Hats off to you, young sir.
Yet the undoubted plumb role of the whole piece, prompting scene-steals aplenty, is Tony and Greg's uber-camp friend, William – brilliantly played by an electrifyingly energized Elliot Hadley, hilariously, manically and intensely filling every single moment when he is on stage, yet also moving and cautionary when he becomes the victim of a vicious homophobic attack. Hadley shines too as the coda-scene character of Jurgen, a German SM-beleathered, classical-music-loving clone pick-up of Tony's, affording a surprisingly tender and fittingly open-ended close to proceedings.
Crackling with one-liners, Coming Clean is just as relevant today as in the early-80s, albeit that apps like Grindr have now largely, if by no means totally, replaced parks, clubs and cottages as the major cruising catalyst. And, although laws may have changed, homophobic attitudes and behaviours alluded to in the piece, still have a way to go. Plus, the fact that HIV/AIDS is scarce on the horizon at the time the action is set may even add, with hindsight and through modern eyes, a certain elegiac, nostalgic quality to the situations depicted – a sad frisson of extra challenges and complexities as yet to come.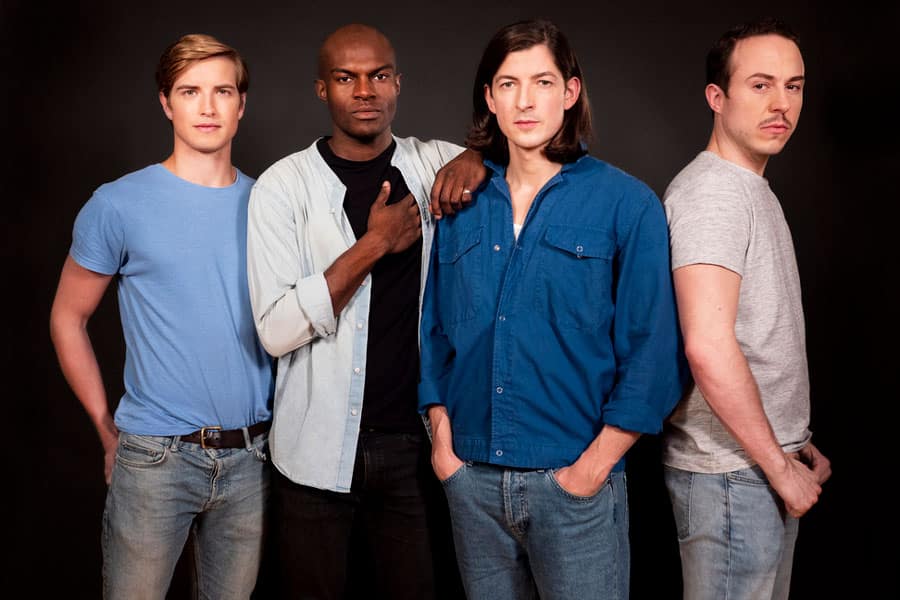 Incidentally, Elyot himself passed away while preparations were underway for the Donmar Warehouse's 2014 revival of his My Night With Reg, having suffered poor health for the previous two decades, ever since contracting pneumonia whilst on holiday in Italy.
 Design (Amanda Mascarenhas), lights (Nic Farman) and sound (Yvonne Gilbert) all evoke the era well – 'though the onstage appearance of a modern plastic ten-pound-note was a bit of a jaw-dropping clanger!
King's Head Theatre's vibrant artistic director, Adam Spreadbury-Maher, deserves enormous credit for championing and reviving this play and indeed for making the King's Head such a queer theatre beacon.
Coming Clean runs at the Trafalgar Studio 2 in London, until 2 Feb 2019.
– ends –