Review: Summer & Smoke, Duke of York's Theatre, London
by Adrian Gillan for Bent Gay Sex Shop & Magazine
Lofty love versus lower lusts! Bent's Adrian Gillan hails the revival of gay great Tennessee Williams' Summer & Smoke, at the Duke of York's Theatre in London, on until 19 Jan 2019!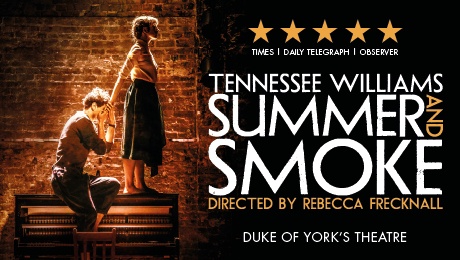 This Almeida Theatre production of gay great dramatist Tennessee Williams' Summer and Smoke – written just after his masterpiece A Streetcar Named Desire, whilst at the height of his powers, yet relatively rarely staged – has rightfully enjoyed a West End transfer, to the cute little old Duke of York's!
Set in Williams' home state of Mississippi, the play revolves around an initially sexually repressed and hysterically neurotic minister's daughter, Alma (Patsy Ferran), who becomes entangled in an impassioned, complex relationship with her young, wild and initially sexually abandoned neighbour-doctor, John Buchanan (Matthew Needham). With some of Streetcar's themes, plus a dash of Ibsen and Strindberg, we witness what happens when two bits of diametrically differently damaged goods collide!
When Williams finished his innovative Summer and Smoke in 1948, it flopped on Broadway, only eventually gaining recognition as an Off-Broadway hit; and it was almost 60 years until its West End premiere, in Adrian Noble's 2006 production at the Apollo Theatre, which closed early due to poor sales!
Not a worry for this current production and smash-hit transfer! The Almeida's associate director Rebecca Frecknall very much embraces the poetic, fluid, experimental spirit of Williams' own oft-stated stagecraft philosophy, to create a spartan yet atmospheric space for the drama, and language, to play out in.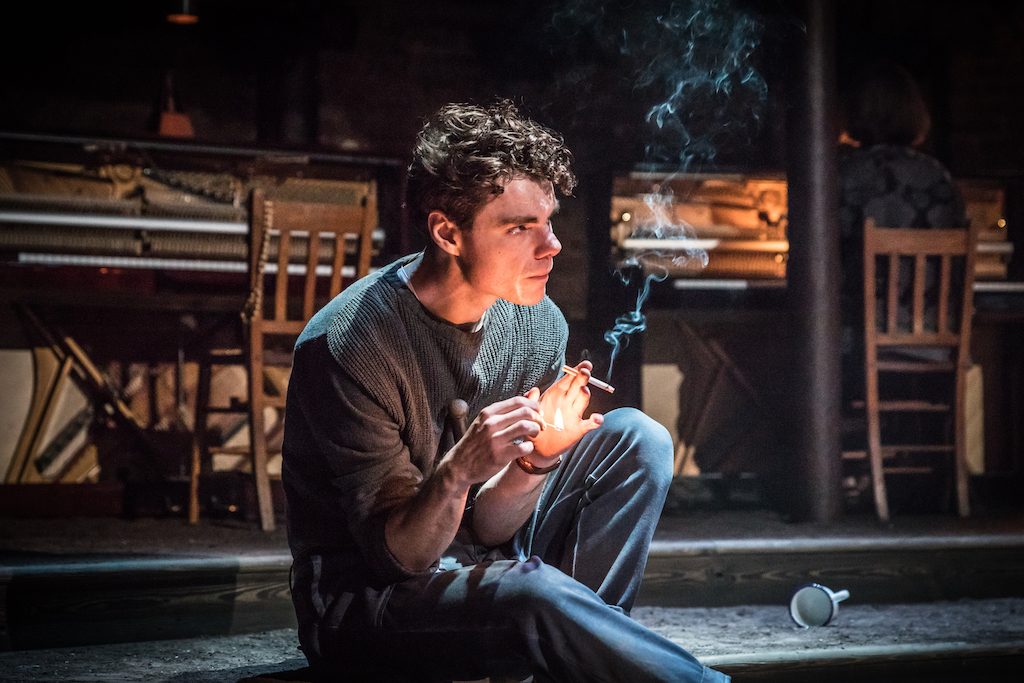 Designer Tom Scutt provides a vast brick stage rear wall, in front of which seven open-case upright pianos pen in the intensely claustrophobic psychological arena. Backs to the audience and scarce leaving the stage, the overtly ensemble cast take turns to tickle the ivories, altogether or in various combinations, when not acting in scenes; playing Angus Macrae's discordant chorus-like chamber keyboard compositions to evoke tension, atmosphere and narrative effects throughout, mirroring the highly-strung, and increasingly unhinged, characters as their interactions unfold. Lee Curran's lighting integrates well, making full use of that rear brick wall, those open piano frames plus a fair bit of… smoke!
Slap bang at the centre of it all, Patsy Ferran is simply staggering as Alma, her physicality a tragi-comic cross between Olive Oyl and Mr Bean; her technical portrayal of mental fragility – bottled, with sporadic searing outbursts of distressed desire – a mesmerising acting masterclass and rare privilege to watch.
Matthew Needham is no less brilliant as Alma's object of piteously pent-up passion – the raw, sexy, brooding, loveless young doctor, John Buchanan – goading Alma on whilst in fact playing the field, before himself calming and settling down, tragically just as she is herself starting to unblock!
Forbes Masson cleverly doubles up to play both of the protagonists' fathers; Anjana Vasan likewise cleverly enacts John Buchanan's non-Alma love interests, amongst other roles; Nancy Crane is funny yet moving as Alma's vindictive, demented mother; Eric MacLennan all-too-fleetingly menaces as the brutal casino owner who almost becomes John Buchanan's father-in-law; and Seb Carrington sweetly endears as the young rookie travelling salesman that a broken and resigned Alma chats up at the end.
As ever with Williams, the piece is significantly psychologically autobiographical – strained parental relations; the burden of being carer to the mentally ill or damaged; sexual and emotional repression, as experienced by many a gay man, not least in early 20th Century America; and, crucially, the broader human quandary of how to balance one's all-too-often-unaligned lower and higher needs. Go see.
Tennessee Williams (1911 – 1983)
Generally considered to have been one of the three giants of 20th Century American drama, alongside fellow playwrights Eugene O'Neill and Arthur Miller, Tennessee Williams wrote perhaps his three best-known plays within a decade, from mid-1940s to mid-1950s – The Glass Menagerie (1944), A Streetcar Named Desire (1947) and Cat on a Hot Tin Roof (1955). Many of his works were made into films.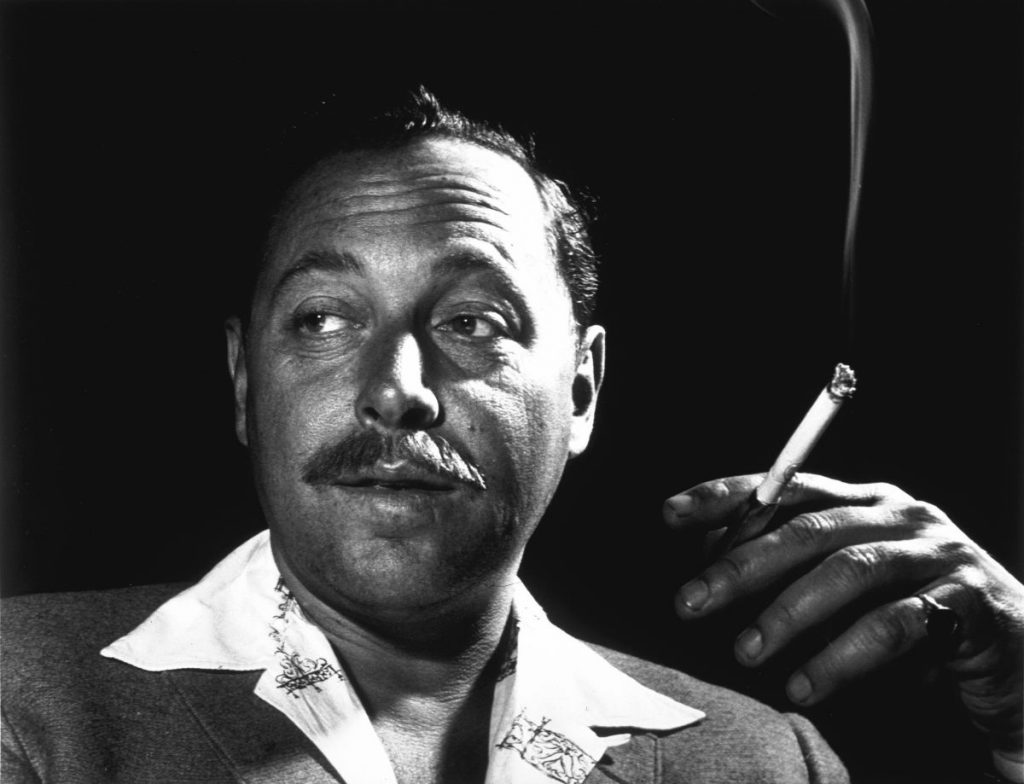 He had a violent, drunken travelling salesman for a father and a difficult relationship with his mother; but he adored and financially supported his institutionalised schizophrenic and lobotomised sister. He had as series of gay affairs, oft with significantly younger men, many drink- or drug-dependent – as Williams himself increasingly became, suffering from anxiety and depression. Some were attracted by his fame and burgeoning wealth. Occasional actor Frank Merlo was the enduring, 14-year, romantic relationship of his life, the pair living in both New York and Key West during his most artistically productive years.
Williams choked to death on a plastic bottle cap in his Manhattan hotel suit in 1983 and was buried in St. Louis, Missouri, despite the express request, stated in his will, that his body be disposed of at sea.
Summer & Smoke runs at the Duke of York's Theatre in London, until 19 Jan 2019.
– ends –