Review: Nine Night, Trafalgar Studios
by Adrian Gillan for Bent Gay Shopping & Magazine
Grief and mourning yields drama and healing within a British Jamaican family! Bent's Adrian Gillan laughs and cries his way through the National Theatre's award-winning co-production of Nine Night, now transferred to the Trafalgar Studios in London's West End!
Actress Natasha Gordon became the first black British female playwright to have a play staged in the West End, winning herself an Evening Standard Theatre Award in the process, with this, her debut work – a rich, multifaceted, moving and ultimately uplifting comedy-drama about a British family of Jamaican heritage dealing with the death of its unseen matriarch, via the ritual of nine nights of farewell partying.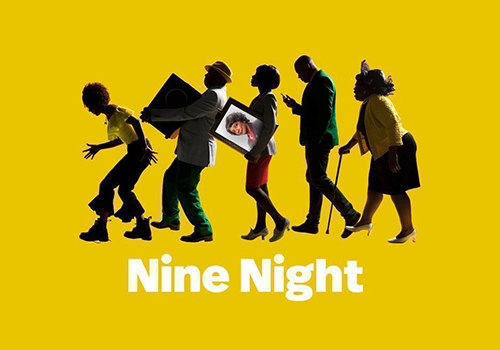 Family tensions arise and erupt as the rum-fuelled wake unfolds, against a backdrop of wider themes including British and cultural identity, racism, mixed relationships, plus social and societal pressures.
Anchoring a talented seven-strong cast, the dramatist Natasha Gordon herself takes on the lynchpin role of Lorraine, one of the deceased Gloria's three children, trying to keep things together as strains and conflicts build.
Oliver Alvin-Wilson relishes playing her brother Robert, grief-stricken though dealing with poor self-esteem and financial woes, and judgmental of Lorraine's feisty single-mum identity-crisis daughter Anita (well-played by Rebekah Murrell), whilst himself struggling to embrace the surprise pregnancy of his white partner, Sophie (rendered by a sprightly yet one-the-edge Hattie Ladbury).
Michelle Greenidge is electric as Lorraine-and-Robert's-older-half-sister Trudy, over from Jamaica for the wake, embittered that their mother had left her behind in the Caribbean to start a new life in England.
Meanwhile, indomitable Aunt Maggie (played hilariously by understudy Jade Hackett the performance I saw) stirs up a storm with her Christio-Jamaican beliefs and rituals, acting as a spiritual conduit for her dead-and-departing cousin Gloria's spirit in the very final scene; despite apparently having originally been a love rival with Gloria for her own now-husband Uncle Vince – the latter played with dignity by an aged-up Karl Collins, still very much in love with dead Gloria, much to the chagrin of said wife Maggie!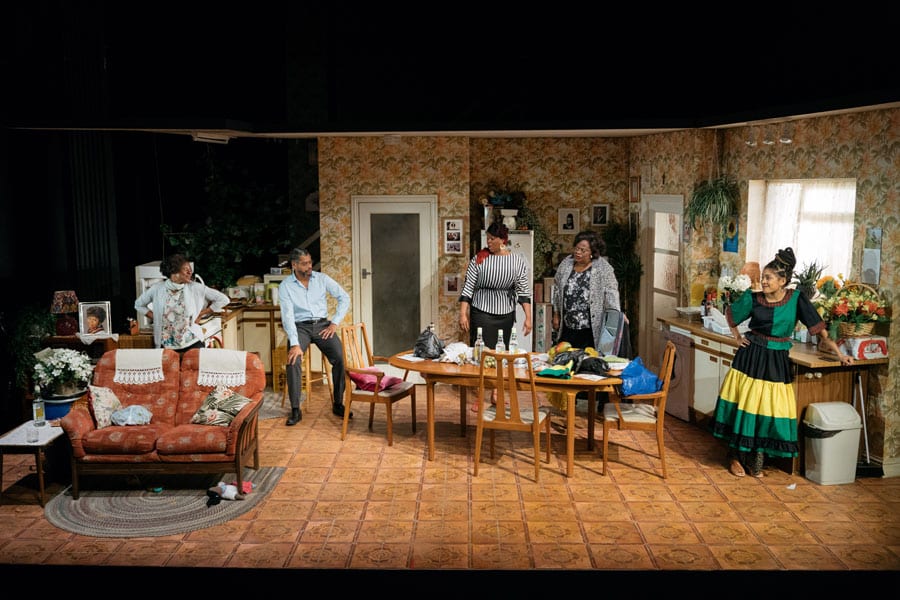 Designer Rajha Shakiry's simple kitchen-lounge setting transfers well from the Dorfman at the National Theatre. Director Roy Alexander Weise's pacey production runs 1¾ hours, without an interval, helping ensure the ritualistic spell of the wake is never broken. A rare must-see.
Nine Night runs at the Trafalgar Studios until 23 Feb 2019. For more info and to book tickets, call 020 7452 3000
– ends –