Review: Briefs: Close Encounters, Spiegeltent, Leicester Square London
by Adrian Gillan for Bent Gay Adult Store & Magazine
Sexy parody with a message! Bent's Adrian Gillan loves the circus skills, dragged-up comedy, hunky guys and general goodwill beamed down from the motherf***ingship in Leicester Square!
It's gay-all-the-way with this manly "boylesque" subversion of traditional burlesque, over from Oz – a kind of Cirque meets Full Monty, via Mardi Gras and the Jumbo Centre in Gran Can! World-class circus talents are glitter-glued together through multiple cheeky male-stripper teases plus a space-age Close Encounters we-come-in-peace-let's-fix-this-sh*t-together message, largely delivered through the edgy lips of sassy drag host Shivannah, a.k.a. Fez Fa'anana, Artistic Director of the troupe, Briefs Factory. Perfect for absolutely any human aged 16+!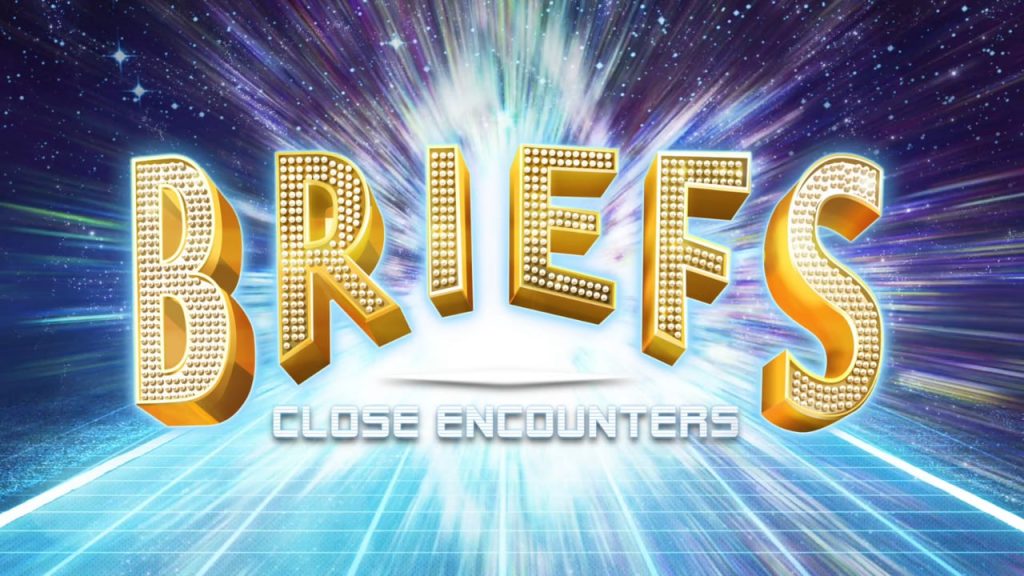 The timely seasonal-yet-universal message will grab you by the baubles from the off, in the spacious, disarmingly comfortable and atmospheric wooden Spiegeltent structure that dominates the classy winter market that has taken over the very centre of Leicester Square throughout Christmas and the New Year!
"Insanely uplifting" and "genre-defying", boasting a "trademark punkish swagger", Brief Factory rightly claim their latest offering is "Christmas with a glitter ball on top"! And, although you don't actually see any full-frontal nudity in the main show, rest safe in the knowledge that you get pretty… damn… close!
Your emcee, Shivannah, is rightly proud of her boys… one of Australia's leading circus showmen, Captain Kidd (2011's Las Vegas King of Burlesque); acrobat and clownish time-hopping rabbit, Dale Woodbridge-Brown (proud of his Aboriginal heritage); superstar aerialist, Thomas Worrell; dazzling dancer with body-of-a-god, Brett Rosengreen; Brief's youngest (pardon-the-pun) member, the loveable rogue and general boy wonder, Louis Biggs, who will make you both blush and sigh throughout. And finally, a Brit: Blackpool's anarchic performance artist, Harry Clayton-Wright!
Act after breath-taking act will tease, mesmerise and delight, highlights including stunningly athletic aerial ballets on both rope loop and metal ring; a saucy raffle that'll blow more than just your mind; synchronised illuminated hoop dancing; a spoof slogan-bearing striptease; and – my own personal favourite – a science lesson, cum ball-juggling "boner-anza", cum damn-near perfect strip!
And you'll be pinching yourself all through, when intermittently reminded by your host that this is all happening in the middle of Leicester Square, slap-bang in the middle of the known queer cosmos!
As if all this wasn't enough, Briefs Factory also presents an XXX late-night show, Club Briefs, Fri and Sat nights (until 29 Dec 2018) in the Spiegeltent, described as a "seriously X-rated, sexcellent, weekend trash glamour disco circus cabaret club", complete with special guests and "debaucherous disco after party". Contains nudity: Strictly 18+! This show even climactically morphs into Club Briefs: NYE Extravaganza! on Mon 31 December 2018, 10pm – 2.15am!
And, to show just how authentic, human and rounded Brief Factory are as a company, they also offer Brat Kids Carnival, a 45-minute "high-octane super fun variety show for all the family from tots (4+) to teens", playing daytimes in the Spiegeltent until Sat 30 Dec 2018. So: start 'em young!
Whichever show you go to, you will enjoy "Christmas in Leicester Square", as this iconic space is transformed into a wintery haven – complete with Santa's Grotto, Christmas market, bars and food!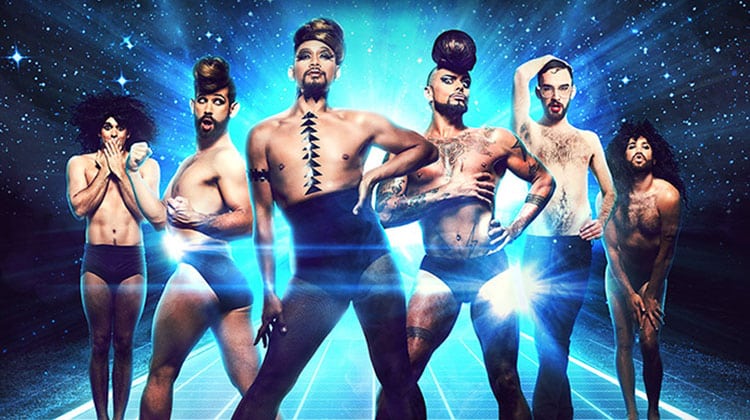 Briefs: Close Encounters runs at the Spiegeltent in London's Leicester Square, until 3 Jan 2019.
– ends