Review: Hot Gay Time Machine, Trafalgar Studio 2, London
by Adrian Gillan for Bent Gay Shopping & Magazine
 It's like being hit by a megaton G-bomb! Bent's glitter-blitzed Adrian Gillan salutes the outrageously sexy and audaciously intelligent high-octane queer cabaret review that is Hot Gay Time Machine, on at the Trafalgar Studios (Studio 2) in London's West End, until 5 Jan 2019!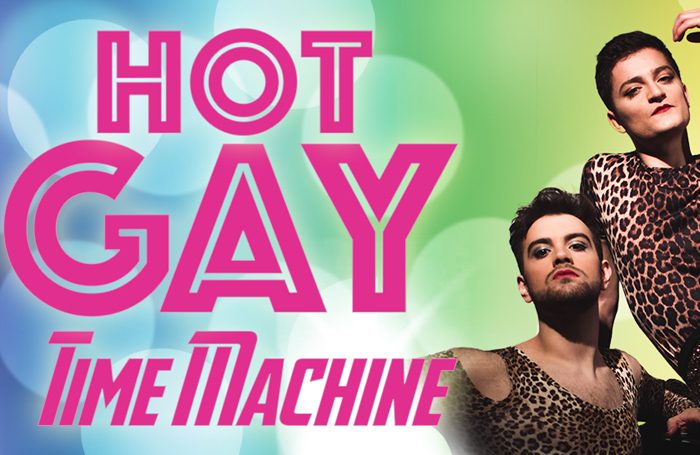 From the moment they hustle and chivvy their audience in from the foyer bar to the moment they coda with an impromptu night club bop, the star review duo, Zak Ghazi-Torbati and Toby Marlow (co-writer, SIX), variously command, charm, shock 'n amuse for a non-stop 75 minutes, never leaving the stage – oft twice nightly. There can surely be no harder-working performers in the West End; few more talented.
Flush from sell-out award-winning triumphs in Edinburgh and Brighton, this queer kaleidoscopic roller-coaster ride through gay life landmarks – being born; realising you are gay; coming out to your mum; school shower scenes; handling homophobia; platonic gay relationships; navigating the sensitivities of gender and LGBTQI politics, and so much more! Sometimes it feels like you're at the epicentre of a camp, category-10 earthquake with a giant, gaping and ever-spreading crack!
Our two male stars, who met whilst at Cambridge University, have unbridled energy and enormous chemistry, complementing each other brilliantly – Toby, acid, randy and hot on the keyboard; Zak, a tad more soft and genteel, and with a megawatt smile. Quite apart from all the "aggressively enthusiastic" hi-nrg dance routines, delightfully frequent lewd puns and innuendoes, plus running Christmas festive gags, the core comic songs are of a very high order – heaps of spoofs, a few doffs to Victoria Wood.
Sexy, funny, provocative. Director and co-writer Lucy Moss deserves huge credit for helping tame and shape the boys' obvious well-nigh primordial queer verve!
Warning: brace yourself, or self-sedate with a few choice drinks, if you dare sit in the front row! Then again, given the intimate nature of the venue, you're not entirely safe anywhere!
Yet the true joy of this whole classy comic cabaret review is the fact that – though brimming with brains – it refuses to take itself too seriously and, in so doing, all the more deserves to so be. Go see.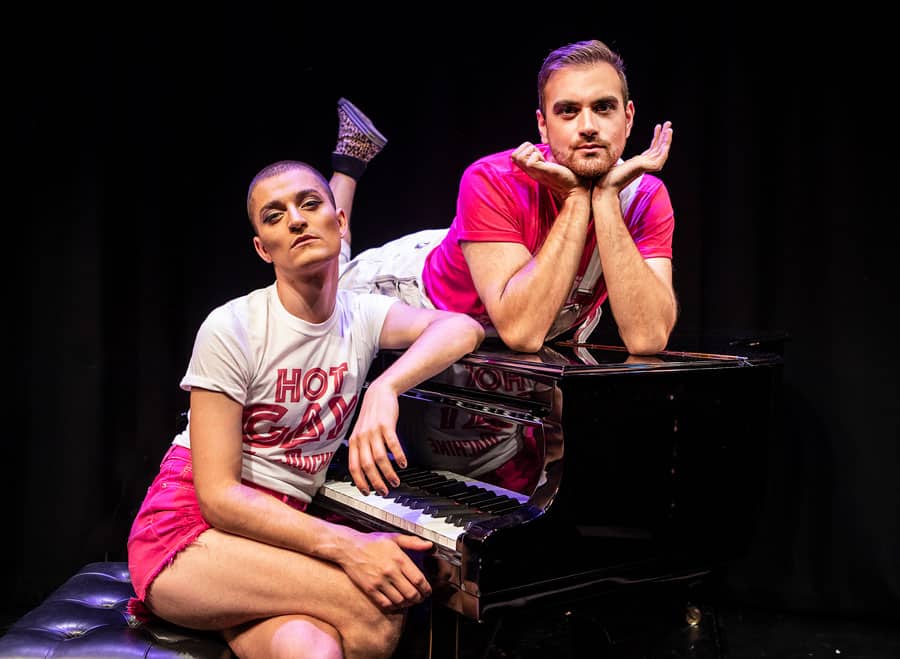 Hot Gay Time Machine runs at the Trafalgar Studio 2 in London, until 5 Jan 2019.
– ends –