Lest We Forget, English National Ballet, Sadler's Wells, London
by Adrian Gillan for Bent Gay Shop & Magazine
Seared into the emotional memory! Bent's Adrian Gillan hails English National Ballet's reprise of its powerful contemporary WW1 centenary reminder, Lest We Forget, at Sadler's Wells, London!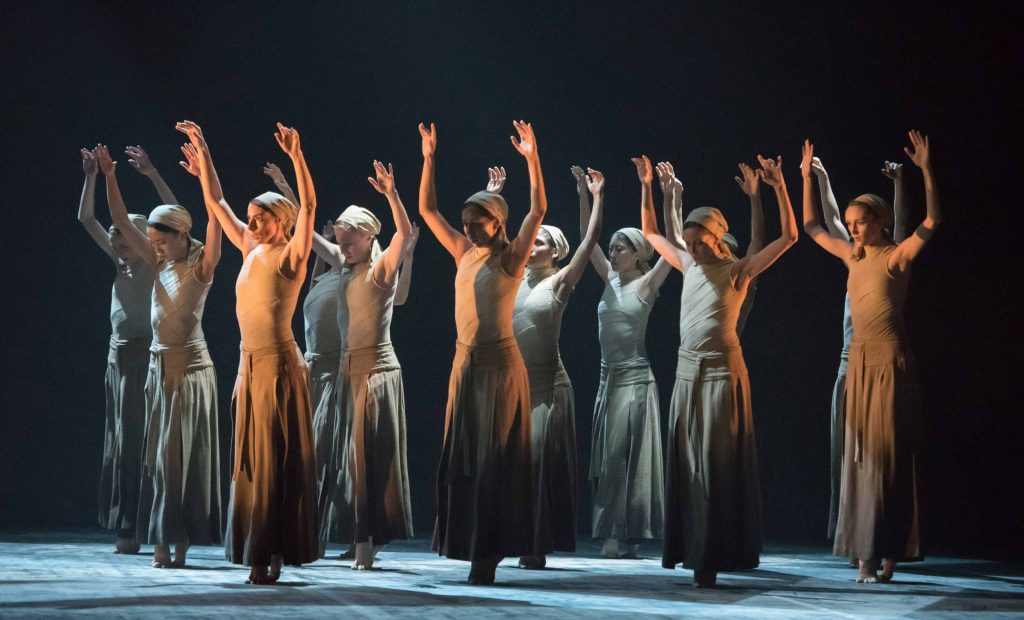 Commissioned by English National Ballet to mark the centenary of WW1 (1914-1918), using three of the finest British contemporary/modern choreographers around, Lest We Forget moved audiences at its start-of-war anniversary premier in 2014; and fittingly returns to round off proceedings, four years on.
Its three beautiful yet profoundly poignant core works – from Liam Scarlett, Russell Maliphant and Akram Khan – create genuinely unforgettably haunting images, aided by simple design and evocative scores; exploring experiences, both of those who fought in the conflict and of those who stayed behind.
Lead parts are impressively shared between members of the company in different performances and there is a fittingly strong ensemble ethos to all works, in keeping with the "everyman" nature of events and suffering being evoked, which left almost no life or family untouched, on all sides of the conflict.
Liam Scarlett's hypnotically measured No Man's Land examines the parallel yet entwined destinies of the women working at home in munition factories and the men fighting, in fact not so very far away, in trenches just across The Channel. Highly-charged pas de deux are set to excerpts from Liszt's Harmonies Poétiques et Religieuses, arranged and orchestrated by Gavin Sutherland, also here conducting the exquisite ENB Philharmonic. Action is set against Jon Bausor's clever step-ramp design; under dramatic yet subdued lighting by Paul Keogan. Featured artists Begoña Cao, Junor Souza, Angela Wood, Skyler Martin, Francesca Velicu and Fernando Carratalá Coloma all magically conjured the sombre dignity, constrained duty and fearfully prescient elegiac longing of those home and abroad.
Twenty dancers in semi-darkness tilt and sway, rise and fall, ebb and flow in Russell Maliphant's fluidly organic and abstracted Second Breath, boasting a score by Andy Cowton, orchestrated by Ben Foskett, incorporating vivid recordings of the now, alas, no-longer-surviving; plus atmospheric lighting (Michael Hulls) and costumes (Stevie Stewart). Featured dancers Anjuli Hudson and Joshua McSherry-Gray, along with the whole ensemble, seemingly effortlessly executed Maliphant's, in fact devilishly difficult, shapes and moves dazzlingly, conveying the awful poetry of mass mechanised death, as well as the spiritual elements of resurrection and memory.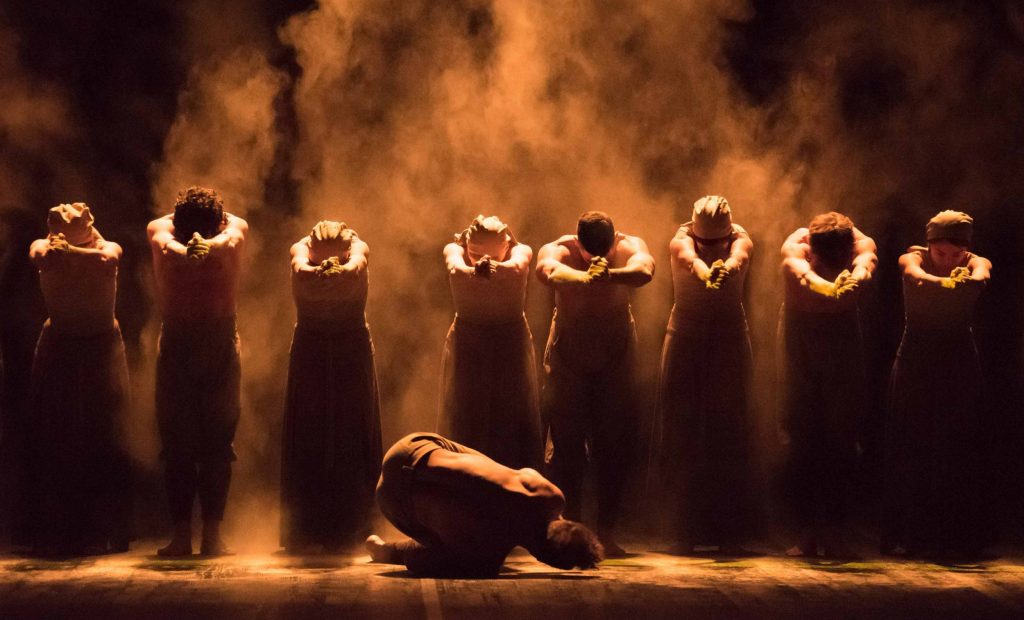 Using Jocelyn Pook's pounding, throbbing soundtrack, Akram Khan's Dust mesmerises from the start; enhanced by moody lighting (Fabiana Piccioli), trench backdrop set (Sander Loonen) and design (Kimie Nakano), plus snips of WW1-related words. Featured male soloists, Jeffrey Cirio and James Streeter, evoked the angular spasmodic death throws of a human animal still desperate to cling to life, before it surrenders to the fluid background hum of the earth, whence it came, as manifested by a gyrating ensemble, giddily embodying Khan's underlying classical Indian existential fabric and vital force.
The core trio of Lest We Forget's works are aptly complemented, at selected performances, by Vera, choreographed by Stina Quagebeur, and inspired by Vera Brittain's WW1 memoir, A Testament of Youth. Featured soloists Crystal Costa and Giorgio Garrett, alone on the stage throughout, moved from clinging yearning to the lingering, knowing farewell of a fated separation – the man entranced, detached and helpless, and finally resigned to his eternal solitary destiny, exiting towards the light as it fades.
So: three – if you are lucky, four – moving memorials. Sincerely respectful. Beautifully and sublimely sad.
Keep 'em peeled too for other English National Ballet productions, both in London and on tour. Forthcoming highlights include Akram Khan's Giselle (28 June 2018 – 29 June 2019, International Tour); and Manon (17 Oct 2018 – 20 Jan 2019, National Tour). Plus: gay great Tchaikovsky's ballets, Swan Lake (21 Nov 2018 – 13 Jan 2019, National Tour) and Nutcracker (13-30 Dec 2018, London Coliseum).
Lest We Forget runs at Sadler's Wells in London until 29 Sept 2018.