by Adrian Gillan for Bent  Gay Shop and Magazine

Brat pack now! Adrian Gillan savours history, culture and scene in the compact Slovak capital!
450,000-populated Bratislava is the largest city in Slovakia, and one of the smallest capitals in Europe.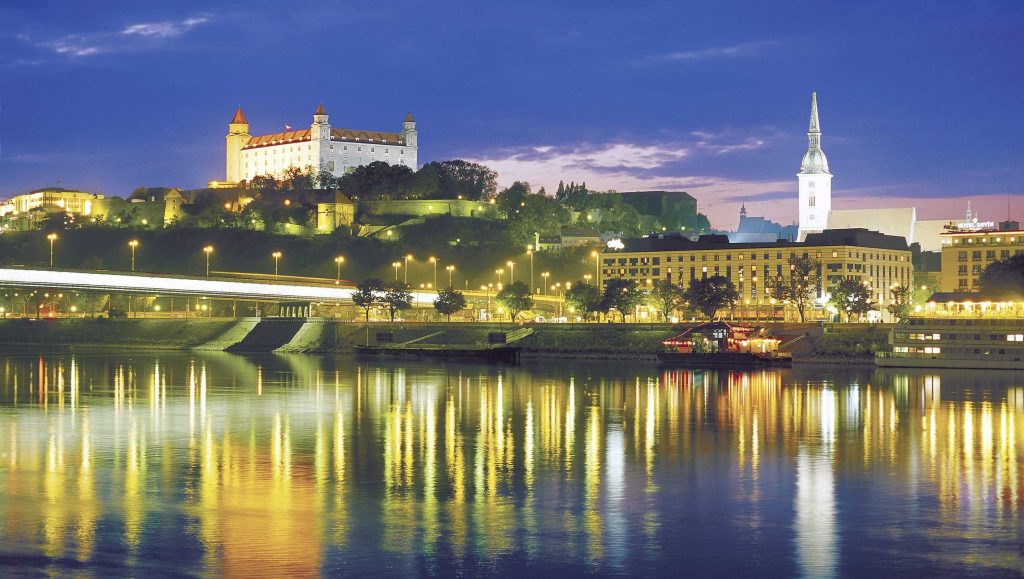 Being at a central continental cross-roads, long coveted by rival powers, present-day EU member Slovakia is steeped in history – Neolithic settlements; Celts; Romans; Slavs; Hungary, and its waxing and waning within the Austro-Hungarian Empire; WW1 and the creation of Czechoslovakia; WW2 and Nazi annexation; Eastern Bloc; 1989 Velvet Revolution, then Velvet Divorce in the early 1990s when it became the capital of the newly-formed Slovak Republic in 1993. Enough to make any boy dizzy!
Bratislava lies in the southwest of the country, at the start of the Carpathian mountain range, occupying both banks of the River Danube and the left bank of the River Morava; and bordering Austria and Hungary – thus being the only national capital to border two sovereign states.
It is the political, cultural and economic heart of Slovakia, and the seat of the Slovak president, parliament and executive. It boasts several universities, plus numerous museums, theatres, galleries and other cultural institutions. Many of Slovakia's large businesses are based here.
The city has developed a bit of a reputation as a stag party destination. However, a high police presence, on weekend nights especially, helps ensure this does not spoil it for others. It was recently ranked third richest EU region by GDP per capita. Currency: Euros. Time difference from UK: 1hr.
Public transport throughout the city region is free with a Bratislava Card (see below). 9km north east of the centre, Bratislava Airport is served by regular buses during the day, hourly at night – journey time, 20 minutes. The centre is great for walking since compact and largely pedestrianised. For longer journeys or in bad weather, there is an efficient, integrated network of modern trams and buses.
Stay
Stay at 4-star Austria Trend Hotel Bratislava (Vysoká 7490/2, Staré Mesto 811 06 Bratislava; T: +421 (2) 527 758-18;), where historic Old Town ambiance and contemporary architecture meet. The hotel's unique facade – with its 26 illuminated stamps – immediately impresses, even before you are dazzled by the gigantic sparkling 3-metre-high chandelier in the lobby! An atmosphere of effortless style and luxury pervades throughout – modern, spacious rooms; top-notch service; relaxing wellness zone; and fine food and drink. Perfect for fun or business. And thanks to its central location, slap-bang next to all scene and sights!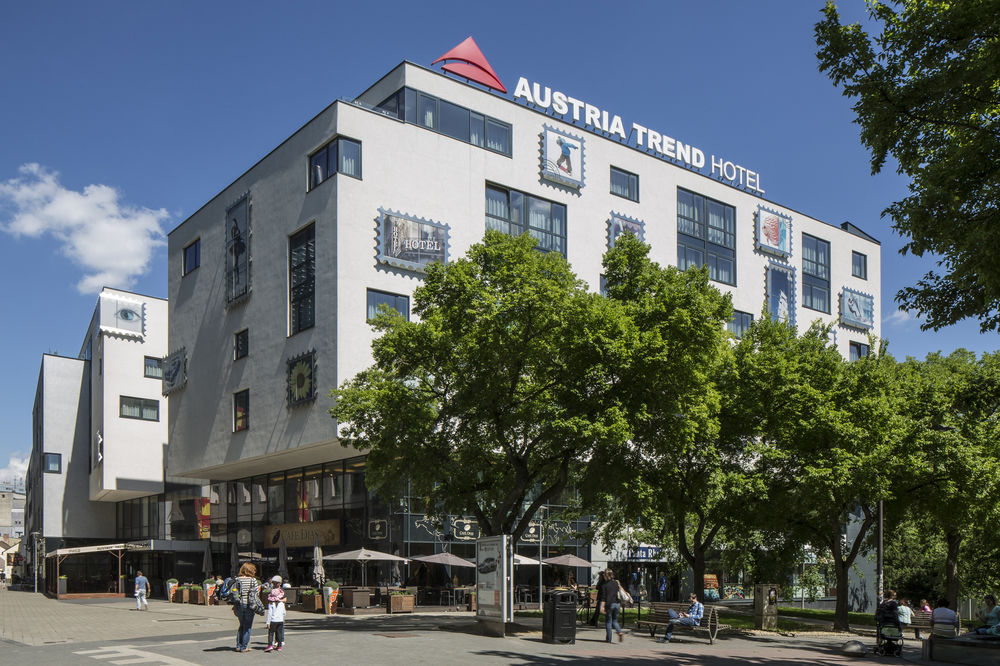 Its 199 rooms come in three different categories. Deluxe rooms offer Queen-size or twin beds; adjustable air conditioning; flat screen TV with integrated radio; free Wi-Fi and additional LAN port; laptop safe with a power plug inside; electric kettle with teas and coffees; plus free access to the hotel wellness area. Executive and Executive Deluxe rooms also available.
Enjoy a "Morgenstund" breakfast buffet, including fresh fruits, freshly baked pastries and bread, and a wide selection of regional delicacies. The kitchen can also spoil you with lunch or dinner upon request. Enjoy a coffee, cocktail or snack in the cosy, exclusive café-bar, open daily 9am-11pm.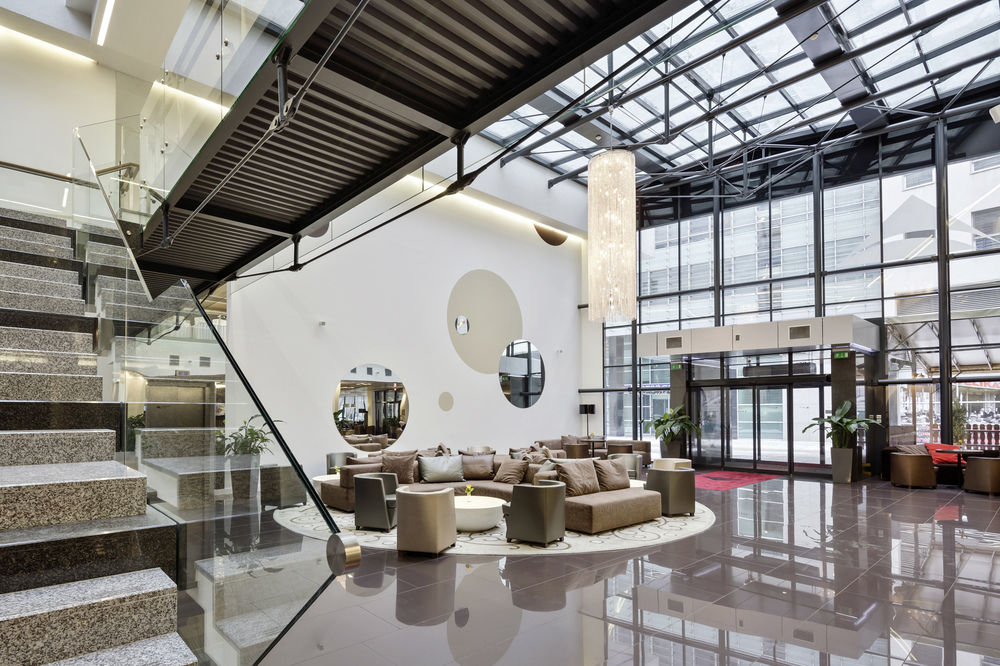 See
Make the most of your time with a 24/48/72-hour Bratislava Card, granting free admission to 14 museums and galleries in the city and region; discounts of up to 50% on many other outlets and attractions; a free hour-long guided group walking tour in English at 2pm daily; plus complete freedom aboard local public transport in the region, including to/from the airport! On sale online, at tourist information offices and other partner outlets throughout the city!
Bratislava's rich cityscape combines Medieval, Baroque, Art Nouveau, Soviet and modern buildings.
City highlights include:
Bratislava Castle – 85m above the Danube, inhabited since pre-Bronze Age but mainly developed in Medieval, Renaissance and Baroque times before being left in ruins by fire in 1811 and restored only since the 1950s. Its walls offer amazing views of the city – you can see Slovakia, Austria and Hungary from up here!
Devín Castle – Ruined and recently renovated, on top of a rock on the border with Austria, where the Morava enters the Danube. An important Slovak archaeological site, with its own museum.
St Martin's Cathedral – Bratislava's largest church, built in the 13th – 16th Centuries, in Gothic style. Numerous Hungarian monarchs were crowned here, between 1563 and 1830.
SNP Bridge (Most Slovenského Národného Povstania ie Bridge of the Slovak National Uprising) – Divisive Danube bridge with "UFO" observation deck and restaurant. €7.40 to go up if not dining.
Church of St Elizabeth (a.k.a. The Blue Church, or 'Smurf Church') – Art Nouveau masterpiece.
Primate's Palace – Neo-classical residence of the Mayor of Bratislava, with famous Hall of Mirrors.
Grassalkovich Palace – Baroque residence of the Slovak president.
Michael's Gate – Last gate surviving from medieval fortifications, affording fab views from its tower.
Slovak National Theatre – Housed in two buildings – firstly a fine old theatre at the end of Hviezdoslav Square; secondly, a newer site on the riverfront. The company boasts three ensembles: opera, ballet and drama. A top opera tip would be their amazing Don Giovanni (29 Nov 2018, 31 Jan 2019 & 12 April 2019), whose tragic protagonist is his own worst enemy, his vanity and inability to love ultimately damning him; played in repertoire alongside other Mozart (Così Fan Tutte, The Magic Flute, The Abduction from Seraglio), plus Bizet (Carmen), Verdi (Don Carlos, La Traviata, Rigoletto, Nabucco, Macbeth), Puccini (Tosca, Turandot), Rossini (The Barber of Seville), Smetana (The Bartered Bride), Janáček (Jenůfa) and many others! Current ballet repertoire includes The Nutcracker, Swan Lake, Giselle and Le Corsaire. There is a vast drama repertoire too, all done in Slovak, including Shakespeare!
Slovak Philharmonic Hall – Home to the Slovak Philharmonic, Slovak Philharmonic Choir & Slovak Chamber Orchestra. Music in Bratislava flourished in the 18th Century, linked to Viennese musical life. Mozart visited aged six. Among other notable composers who visited or lived here were Haydn, Liszt, Bartók and Beethoven. It is also the birthplace of composers Hummel and Schmidt; and home to top chamber group, Capella Istopolitana.
Slovak National Gallery – Extensive network of galleries throughout Slovakia. Main home in Bratislava is on the Danube waterfront near the Old Town.
Slovak National Museum (Slovenské Národné Múzeum) – Founded in 1961, has its HQ in Bratislava, again on the riverfront.
Bratislava City Museum (Múzeum Mesta Bratislavy) – Oldest museum in continuous operation in Slovakia, housed in Bratislava's Old Town Hall, a 3-building complex built in the 14th – 15th Centuries, offering great views from its lofty tower.
Gay Life & Scene
Same-sex activity was legalised in 1962, with an equal age of consent (15) set in 1990. Anti-discrimination legislation is in place including a 2013 amendment classing homophobia as a hate crime. That said, Catholic-dominated Slovakia is still a tad conservative on gay issues. A bill to recognise same-sex marriage was voted against in 2012; and a 2015 referendum on amending the constitution's definition of marriage failed due to low voter turnout. However, there has been an increased tolerance in attitudes in recent years too, not least amongst the young. While anti-gay violence is rare, it can happen, so use your nod. The annual Bratislava Pride every July is supported by many foreign embassies in the city, and is generally peaceful, despite the odd counter-protest.
Bratislava's small but beautiful gay scene is compact and central – a few bars and clubs, with additional regular club nights, plus a sauna. The rest of Slovakia has almost no gay scene.
Cafés & Bars
Tepláreň (Zámocká 7074/30;) – Cool, friendly central LGBTQI café-bar serving fab coffee and homemade lemonade, plus wine and other drinks. Non-smoking (outdoor seating available) with queer books and mags to browse. Hosts 'Queer Beer', with DJ, house music and beers, on selected Saturday nights. Open Mon-Sat 3pm-midnight.
W Café (Grosslingova 62;) – Gay-friendly morning/daytime café, east of centre.
Clubs
Apollon Gay Club (Panenská 663/14;) – Long-running gay nightclub, hosting dance parties and themed events. Open Tues – Sat from 8pm until 3am/5am.
Parties
Tutti Frutti @ HSC (Vysoká 5219/14;) – Gay pop party held most Friday nights at the High Street Club (HSC).
Shame @ Undead Arena (Kopcianska 20;) – Popular party on some Sats!
Homomat @ Re:FRESH (Ventúrska 5;) – Busy gay dance party held every other month at Re:FRESH in the city centre, attracting a largely muscle crowd with its house music, and welcome drinks served by hot, shirtless staff!
Tepláreň Club – Biggest gay party in Slovakia, held every other month in the cities of Bratislava and Košice, attracting LGBTs and friends, with house, deep house and techno.
Saunas
Club Sauna Expert (Živnostenská 4;) – Founded in 2005, the only overtly gay sauna in town, featuring dry sauna, steam room, showers, cabins and bar. Themed events include Young Wednesdays (discounts for under-24s); plus Naked Sundays every two weeks. Open Sun-Thurs 5pm-midnight; Fris/Sats 3pm-1am.