A Brief History of Gay Porn
by Adrian Gillan for Bent Gay Shop and Magazine              
From Greek vases to Victorian photos; from American physique mags to R18 DVDs, the web and beyond: Adrian Gillan guides you through three millennia of gay porn in the "Western World".
Pornography — from the Greek πορνογραφία (pornographia) — literally means writing about, or drawing, prostitutes. Informally known as "porno" or just plain "porn", it has evolved to mean the representation of the human body – in whole or in part – or of human sexual activity, with the specific aim of sexual arousal in the porn consumer, though not necessarily to the point of orgasm.
Porn achieves this ancient aim via a variety of media means such as written and spoken text; sculpture, painting and drawing; cartoons and animation; live performances, whether in the flesh or on webcam; or even through mere sounds alone – like heavy breathing emitted during masturbation or intercourse.
Today, however, the most common, easily and cheaply produced and transmitted pornographic media are, obviously, photographs or recorded moving images – mainly relayed via magazines, videos, DVDs and, of course, the internet.
This feature briefly examines visual manifestations of Euro-American homosexual porn, both static and moving; and how evolving depictions of eroticised masculinity reflect – and even help shape – society throughout the ages.
It is helpful to divide Western pornographic history into five loosely-defined periods: classical (Greek and Roman); neoclassical (including Renaissance and subsequent "takes" on classicism); Victorian (notably homoerotic painters); modern (early photos with classical themes; American athletic model publications); and post-Stonewall (explicit sex depiction legalised, along with technological advances – from porn mags and cinemas, to videos and DVDs, and now the worldwide web).
You will note how – in some ways – this historic tour takes us full circle. The Greeks – like many Western states of late – neither criminalised homosexual acts nor shied away entirely from their explicit depiction. Moreover, the intervening two and half millennia of criminalisation and taboo did spawn, and not just in retrospect, their own "legit", implicit homoerotic representations.
Interestingly, these relatively "dark ages" often based their homoerotic representations on a somewhat idealised, sanitised and socially-sanctioned reading of classicism: untouchable, timeless, idealised and solitary Adonis-type figures, beautifully limp – where not thinly veiled – and staring wistfully at the stars. Like their beholders – in whose eyes they were indeed homo-beauties – these objects of unattainable desire gazed teasingly over the rainbow towards a distant horizon, waiting for laws and times to change.
(1) The Greeks: Porn to be proud
It cannot be overstated how seminal Ancient Greek homoerotic art is to visual homosexual history in the West, right up to the present day. It, in part, records a culture whose upper-class adult males engaged in socially accepted, even celebrated, pederasty with younger male striplings.
Many surviving artefacts – mainly painted pots and vases – illustrate the pleasures and rituals of an older mentor's seduction of his burgeoning young muse. Moreover, countless Greek sculptures disclose a broader, core cultural admiration of the athletic male form; and explicit homoerotic mythical themes abound, from lowly satyrs to the very gods.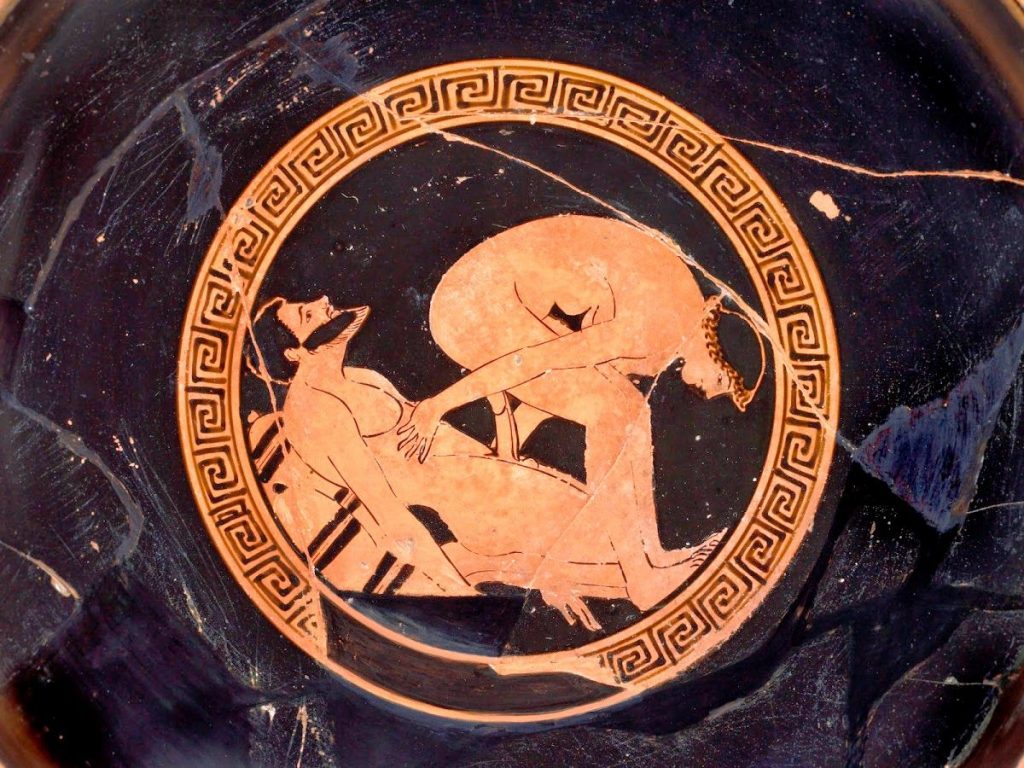 Greek ideals of gay male beauty persist in the West to this day, albeit now with legal age restrictions, in the duality of older hunk versus younger twink – from the all-American body-sculpted beefcake; to the smooth, toned boyish charms of the BelAmi brigade – via the long interim centuries of more closeted, yet still classically-inspired, representations. Other really quite different categories of male beauty were emerging, in parallel, in Africa, Asia and elsewhere.
(2) Renaissance and beyond: Classics revisited
During the Renaissance – following long, dark Christian-repressive eons when buggery spelt death – classical themes were drawn upon and reinterpreted by many artists, including queer ones like Leonardo and Michelangelo.
Michelangelo's sculpture David (1501-1504) and – over three centuries later – Flandrin's Figure d'Étude (ca 1835), like many in between, offer homo-resonances. Both depict a lone male figure – naked, muscular, sensual and youthful. David stands in a strong but elegant twisted pose, exposing his entire muscled body to inspection, elegant and noble in repose as he awaits – or perhaps already triumphs over – his nemesis, Goliath. By contrast, Flandrin's depicted boy sits, head between folded legs, concealing – perhaps even closeting in shame – his undoubted manhood.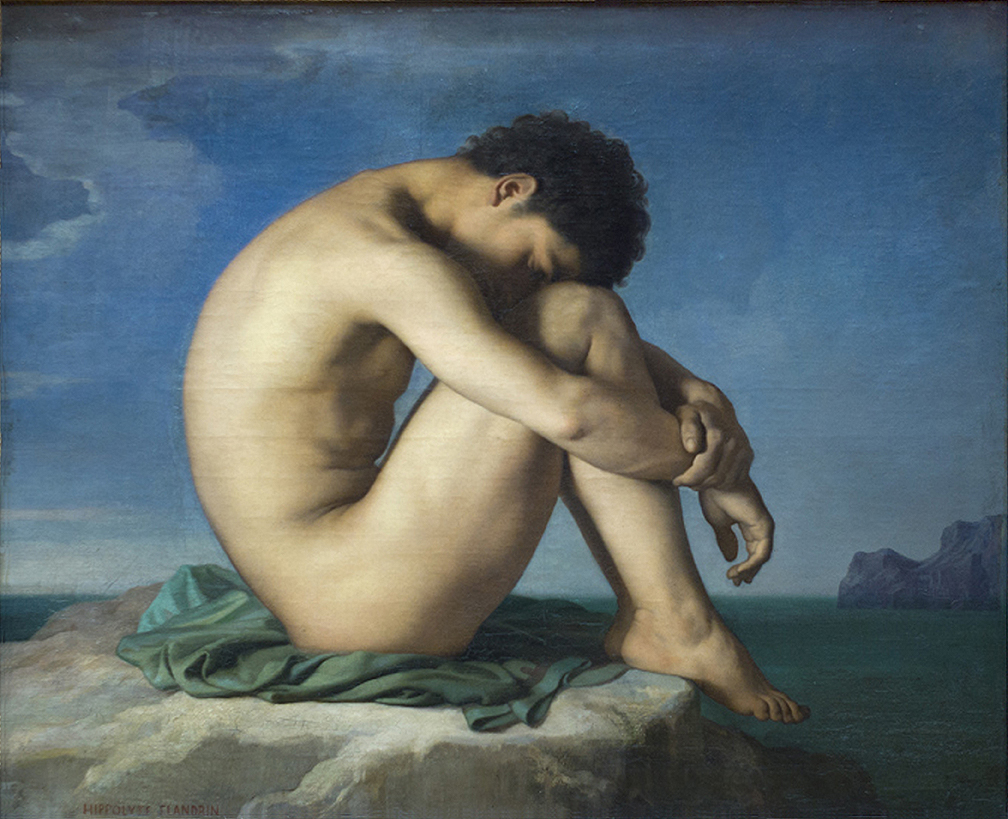 There is no overt suggestion that either works are solely or even primarily intended for the erotic gratification of other male beholders. However, both works now register – admittedly partly through retrospective reinterpretations – as major icons of homoerotic desire. Moreover, pictures like these also came, and still come, with an inbuilt alibi – "classy art, not closet porn" – a ruse ensuing gay painters and early photographers would, increasingly shamelessly, deploy.
(3) Victorian & Edwardian era: Arcadian depictions
In the mid-nineteenth century, mythological compositions and renditions of men in wholesome Arcadian or pastoral scenes – bathing and lounging around in nature's midst – were de rigueur, fusing classical themes with homoerotic potential.
English painter Henry Scott Tuke (1858-1929) would loll on his jetty in Falmouth, Cornwall whilst endeavouring, in his own words, "to capture the truth and beauty of flesh in sunlight by the sea." In other words: he loved painting naked boys as they bathed – as his vast output of local fisherboys, schoolboys and frankly all manner of boys well demonstrates — all set against a romantic background of rocky coastlines and sailing boats. He became attached to several of his favourite young models, whilst successfully tapping into the sentimental middle-class values of the Victorian and Edwardian eras.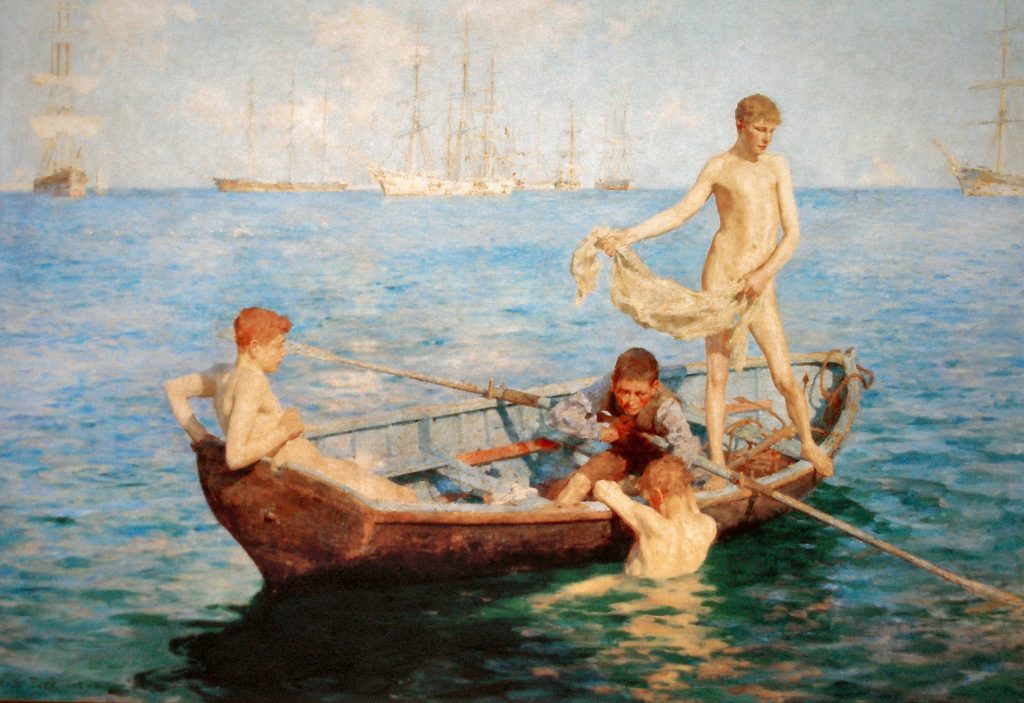 A near contemporary of Tuke's, American realist painter Thomas Eakins (1844-1916) likewise flaunted a keen – yet culturally acceptable – interest in nude boys and virile athletic males. And the works of later American painters Charles Demuth (1883-1935) and Paul Cadmus (1904-1999) became increasingly bold and explicit. The former's Three Sailors Urinating (1930) leaves little to the imagination.
(4) Modern: Photos and sketches
From the 1890s to the 1960s – from Wilde to Orton – there was a renewed crackdown on homosexuality, combined with the emergence of increasingly organised, if underground, gay scenes and cultures in many parts of the Western World. Indeed, the shift from sexual subterfuge to erotic openness was well underway in the decades leading up to the Stonewall riots of 1969.
German photographer Baron Wilhelm von Gloeden (1856-1931) employed "the Grecian excuse" more literally than any homoerotic artist since the Renaissance – staging local Sicilian nude boy models in "classic" poses, rarely even bothering with skimpy togas. Painters like Tuke could not keep up with von Gloeden's full-frontal bromide outpourings. Von Gloeden's nudes – often in suggestive group compositions, some even featuring arguable semi-erections – were avidly collected.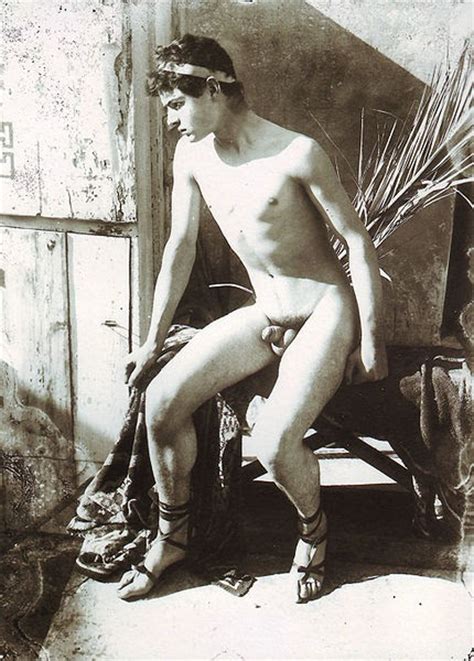 His images also appeared in many of the German "physique and health" magazines spawned by the Korperkulture (physical health, naturism and nudism) and Wandervogel (boy scouts and hiking) movements of the 1930s and 40s. But the big leap towards porn magazines began across The Pond.
Bob Mizer was only 23 when he started AMG (Athletic Models Guild) and its photographic catalogue in 1945. He scouted for models – mainly straight, and nearly all chiselled, muscular and white – at Californian gyms and along Venice Beach; and distributed resulting photosets by mail-order. As business boomed, Mizer looked for another way to distribute his images. In 1951, he started publishing Physique Pictorial – the world's first mass-produced magazine created specifically for gay male readers.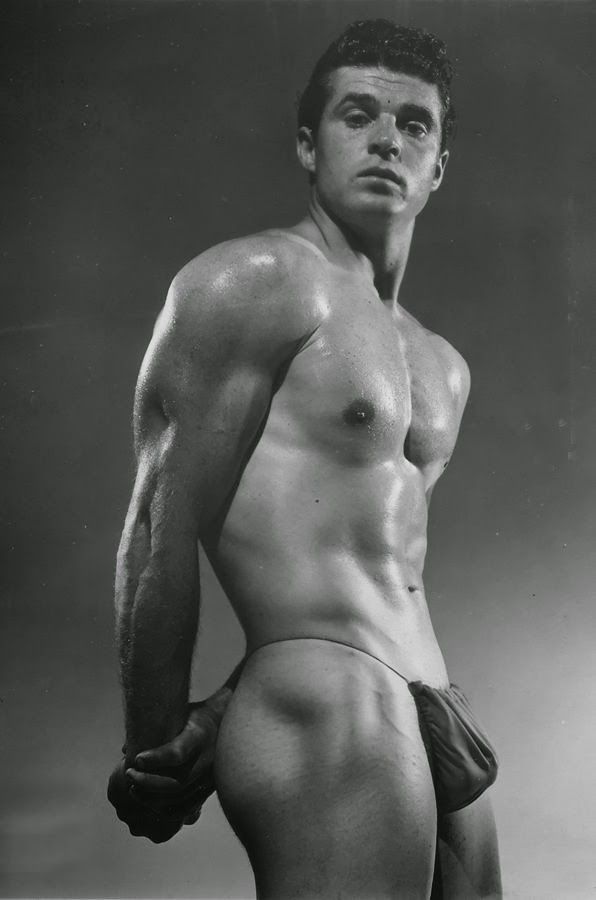 Unlike relatively inaccessible painting or sculpture, photography and illustration are far better geared towards cheap, swift and easy production and mass distribution – beating the oppressive American 1950s censor, and ready to feed the newly emerging hoard of gay consumers, mainly closeted, happy to buy such thinly veiled soft porn, either via mail-order or even direct from an unsuspecting newsstand.
By the late 1950s, there were several dozen such US physique mags, serving over 70,000 readers. Many also included illustrations and launched the careers of erotic artists such as Tom of Finland (Touko Laaksonen, 1920-1991) – arguably the most widely celebrated maker of homoerotic art to date – whose hunky, "reproportioned" creations – unlike many of the discus-wielding neoclassical athletic photo poses they accompanied – harked very much forwards, not backwards. Mizer and Tom of Finland – combined with the sports-obsessive US collegiate system – helped shape the hunky (some might even argue, at times, slightly grotesque) notion of gay masculinity still prevalent across America, and beyond.
As the 1960s began to swing, US court decisions finally paved the way for what we would now recognise as "gay porn", complete with full frontal nudity. Physique magazines were too tame by comparison and either fizzled out or adapted to meet the new opportunity and demand.
(5) Post-Stonewall: Birth of an industry, challenge of the internet
The modern concept of a gay porn "industry" has tended to mirror and trail mainstream "straight" porn, rather than lead it – often, naturally, kept lagging behind by restrictive anti-gay laws. Starting in the 1970s – in the wake of the 1969 Stonewall riots in New York and basic decriminalisation in the UK – LGBT groups on both sides of the Atlantic began to lessen the stigma long associated with homosexuality and images of it – as adjudged by watchdogs and censors interpreting the very meaning of "obscenity".
Although there had always been an invisible audience for homoerotic images, a commercially lucrative demographic of gay men emerged in the 1970s – enough to support a porn "industry" proper. This was supported by simultaneously evolving technologies of mass distribution, plus a more liberal social milieu.
The early gay porn "industrialists" were men who had an interest in, or connection with, photography. The advent of 8mm film cameras in the late 1960s and early 70s enabled these photographers to produce underground gay sex movies, distributed either through mail-order or discrete word-of-mouth.
The seventies saw the rise of gay/adult porn cinema clubs – where men often had sexual encounters – as well as the ballooning of overtly gay print publishing. Indeed, most gay men who bought porn did so via gay mags, lacking access to such gay porn cinemas, or fearful of frequenting them, lest "outed".
Gay male movie porn proper took off in 1971 with the US theatrical release of The Boys in the Sand – a hardcore, ironic take on the innovative play and film The Boys in the Band. Grossing more than $800,000 in the first few weeks alone, the film's success helped boost the fledgling industry.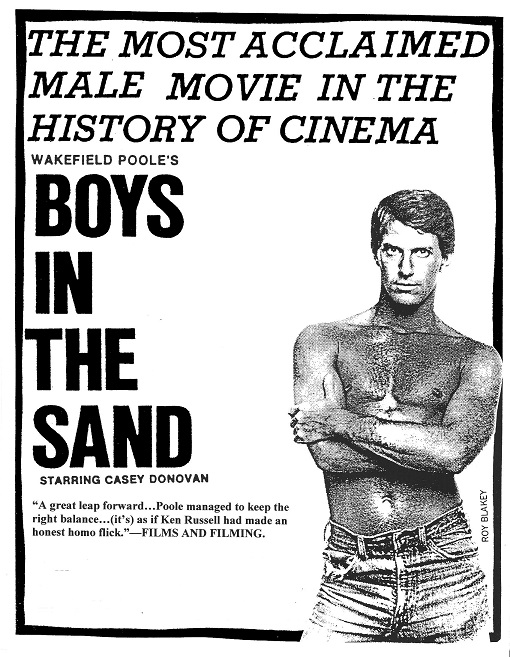 Such theatrical products were, however, soon to be surpassed by a new medium: video. As prices of home VCRs fell during the 1980s, the video market became increasingly lucrative and more and more producers shot straight-to-vid, for direct home use. Simultaneously, the old gay/adult porn cinema clubs largely disappeared – though still highly popular in some countries, largely doubling up as darkrooms.
During the 1990s gay male porn productions became more experimental, utilising a slightly less cloned, more diverse, body type and age of model – not just Falcon's queer coterie of All-American, corn-reared studs. In the UK, more liberal censors – and the lifting of archaic laws banning group sex in England and Wales – paved the way, first for erections, and then for man-on-man action. The UK could then start to properly compete with the US and mainland Europe in the production and export of more marketable porn. Simultaneously, Eastern Europe and South America became new centres of porn production with stunning models forthcoming at a fraction of the cost.
Recently available HIV, and then PrEP, drugs for models has also started to transform, if not entirely halt, the HIV-era porn barebacking debate. And as for taking Viagra, too, before the cameras roll!
As gay male pornography enters yet another millennium, the internet has now, of course, become the route to market, creating a profound new challenge for any porn producer: how to make money amidst the seemingly bottomless ocean of free porn, amateur and pro, available online. And in a cyber realm at times seemingly well-nigh beyond laws.
Will professionally-produced immersive, interactive, virtual reality porn spear a fightback and prove more than a mere minority fad? Or ironically, is porn, in fact, at its most fulfilling when it, instead, goes back to basics, leaving just a little up to our increasingly spoiled, yet perhaps underestimated, imaginations?