Top Ten Gay Artists, Ever…
By Adrian Gillan as he surveys the Top Ten queer artists of all time – from da Vinci to Hockney.
Leonardo da Vinci (1452 – 1519)
The late Renaissance painter, inventor, designer and architect, Leonardo da Vinci, is generally acknowledged as one of the most influential artists, scientists – and minds – in the history of Mankind.
Speculation into his sexuality started, naturally enough, after his arrest, aged 24, on charges of sodomy – deemed a heinous crime in 15th Century Florence. Thankfully for him, charges were dropped when no witnesses materialised to support allegations he'd romped with his 17-year old male model.
Leonardo kept his personal life very much to himself, thereafter, in order to preserve the all-important support of patrons and Church. Yet rumours continued, fanned by his studio's coterie of young males, his almost non-stop outpouring of depictions of young men and his lack of then-requisite wife and kids.
His most famous works include the iconic spread-eagled Vitruvius Man; the Last Supper, with its effeminate John; and the Mona Lisa, with its timeless, enigmatic smile.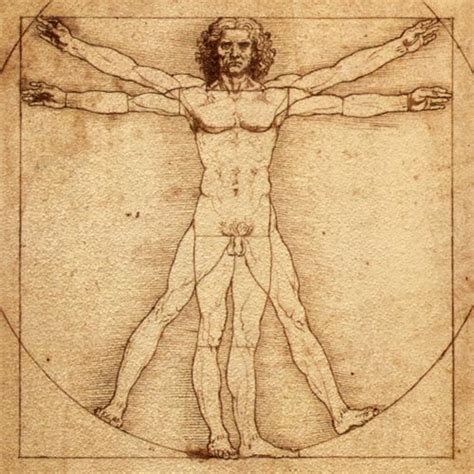 Michelangelo (1475 – 1564)
After a succession of apprenticeships in Florence, the 21-year old Michelangelo was eventually summoned to Rome by Cardinal San Giorgio, impressed by his marble Cupid. After four years, he returned to Florence to execute his most iconic sculpture, the marble David.
Thereafter, he divided his time between Rome – most famously painting the ceiling and frescoes of the Sistine Chapel, plus working on St. Peter's – and a besieged Florence, working on its fortifications.
Michelangelo's sonnets' homoeroticism was obscured when first posthumously published, with pronoun genders changed – only reclaimed when more truthfully translated into English, in Victorian times.
As with fellow poet Shakespeare, details of Michelangelo's love life remains shrouded in mystery, although it seems evident from correspondence that he developed affectionate yet seemingly non-sexual relationships with at least two males – Tommaso de'Cavalieri and Vittoria Colonna.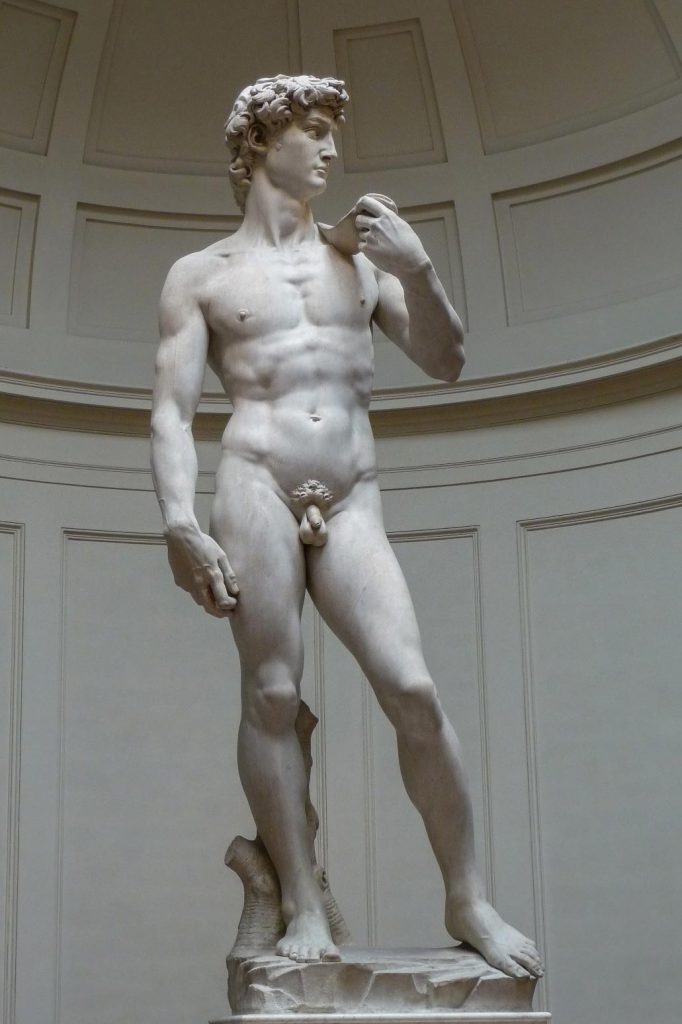 Caravaggio (1571 – 1610)
A celebrity for the last ten years of his life, Michelangelo Merisi da Caravaggio was almost completely forgotten after his death, until "rediscovered" in the dying decades of the 20th Century.
Despite this, in the intervening epoch, his influence – notably of painting only directly from life, often using high-contrast light-and-shade – was immense, as witnessed in the subsequent output by Rubens, Vermeer, Rembrandt and Velazquez, to name a few.
Scant direct evidence of Caravaggio's sexuality survives, yet remarks made by contemporaries, and his undoubted high-impact representation of male eroticism, have fuelled obvious speculation.
His most famous "homoerotic" works include commissions by Cardinal Francesco Maria Del Monte, generally featuring young male models: The Musicians, The Lute Player and Bacchus. Some apologists, however, claim such pieces reflect the tastes of the patron rather than of the artist.
Apparently hot-blooded and prone to fights, Caravaggio eventually killed a man in Rome in 1606, leading to his exile in Naples, where he successfully lobbied powerful patrons to secure a pardon. Details of his death remain sketchy and contested; but it was probably simply the result of a fever.
Salvador Dali (1904 – 1989)
After training in Madrid, Salvador Dali moved to Paris where he joined the Surrealist movement in 1928, soon establishing himself as one of its leading lights. He studied dream psychology in his spare time, which soon became a central theme of his work.
He settled in the USA during WW2, becoming a Roman Catholic and devoting most of his energies to painting works incorporating religious symbolism.
Despite marrying a Russian aristocrat, Dali was primarily interested in men, with lovers including Carlos Lozano and the young Spanish poet, Federico Garcia Lorca. He also famously painted a 1929 self-portrait entitled The Great Masturbator – a habit he seems to have had an especial penchant for.
Famous works include Lobster Telephone and The Persistence of Memory. He was the most celebrated Surrealist; and – with his moustache and eccentricities – a 20th Century icon in his own right, as instantly recognisable as his works. In his final years, ill-health kept him a virtual prisoner in his castle home.
Francis Bacon (1909 – 1992)
Francis Bacon is widely acknowledged as one of the 20th Century's greatest painters of the figure. He captured sexuality, violence and isolation in his unflinching depictions of the anxieties of the modern condition, expressing his philosophy that man is simply another animal in a godless world, subject to the same natural urges of ferocity, lust and fear.
Aged sixteen, in 1927, Bacon was chucked out of his family home for wearing his mother's knickers and for sleeping with his father's stable boys. In the 30s, he moved in with an older established painter, Roy de Maistre, becoming both prentice and lover.
He met his most famous amour, George Dyer, in 1964 – reputedly whilst the petty East End criminal was burgling his flat. Dyer thereafter became Bacon's favourite painting subject. Their turbulent relationship ended with Dyer's suicide in 1971. In 1974 Bacon met John Edwards, an amateur photographer, who became the muse for many of his later portraits – and also his heir.
His most famous paintings include Three Studies for Figures at the Base of a Crucifixion (1944), Study after Velázquez's Portrait of Pope Innocent X (1953), and In Memory of George Dyer (1971).
Bacon was offered both a knighthood and the Order of Merit, refusing them both. He died in April 1992 in Madrid, in the arms of a Spanish banker, his latest love interest.
Andy Warhol (1928 – 1987)
Born Andrew Warhola Jr., to Czech parents in Pennsylvania, USA, this truly iconic artist, writer, photographer and filmmaker moved to New York, dropping the "a" from the end of his surname.
After a long period of experimentation, he finally settled on a mix of blown up newspaper images; large block-coloured screen-printed images of historic figures and screen stars; plus pop representations, such as his Campbell's Soup can – thereby amply securing his more-than-"fifteen minutes of fame".
In the 60s, he mixed with other artists from the American Pop Art movement, like Rauschenberg, Lichtenstein and Johns; and established The Factory – a large churn-'em-out studio in downtown Manhattan, filled with druggies, trannies, models, rent boys, painters and the like.
He also made ground-breaking films such as Blow Job, Chelsea Girls and Lonesome Cowboys; and snapped away constantly, distilling a slice of New York life from the mid-70s to early 80s.
Once seen as strangely asexual, albeit voyeuristic, biographers have subsequently sought to highlight Warhol's homosexuality, as especially evidenced in his earlier homoerotic male nude drawings.
A member of SCUM (Society for Cutting Up Men) shot and seriously wounded Warhol in 1968. When he died, in 1987, following complications with surgery, his estate, even then, was valued at $500+ million.
Jasper Johns (1930 – )
The largely self-taught American Pop Art painter, sculptor and printmaker was best-known for depicting targets, flags, maps, numbers and such; and for his love of richly layered or textured surfaces.
He forged a professional and personal relationship with fellow painter, Robert Rauschenberg, although the two separated in the early 60s – some say in part due to Johns' greater successes.
Johns also collaborated with composer John Cage, acting as artistic adviser to the dance company fronted by Cage's male lover, Merce Cunningham.
He made scant reference to his sexuality in his own work, adjudged "closeted" by many.
Now in his late eighties, Johns still receives frequent accolades, his work fetching astronomic sums.
Howard Hodgkin (1932 – 2017)
The British painter and printmaker was born in London; evacuated to New York during WW2; studied art at Camberwell and Bath; and taught at Chelsea and the Slade in London for several years.
Hodgkin is best-known for his vibrant prints featuring blocks of colour and wide brush-textured streaks.
Despite marrying and having kids in the 50s, he later came out "gay" and, in 1983, settled down with the music writer, Antony Peattie.
He was awarded a CBE in 1977; represented Britain at the Venice Biennale in 1984; won the Turner Prize in 1985; was knighted in 1992; and made a Companion of Honour in 2003.
David Hockney (1937 – )
A Yorkshireman, perhaps most oft associated with California, David Hockney was never closeted, privately or professionally, and was even out whilst at school.
After studying at the Royal College of Art and mounting a one-man show in London, he moved to California in 1964, teaching at various universities; and starting the sun-drenched "swimming-pool" pictures that were to help make his name.
The 1974 British TV documentary A Bigger Splash explored his relationship, break-up and subsequent friendship with the artist Peter Schlesinger, who features in many of his paintings and drawings.
Some of his most famous works include: We Two Boys Together Clinging (1961), A Bigger Splash (1967) and Mr & Mrs Clark and Percy (1970-71).
Constantly and tirelessly experimenting with new techniques, from portraits to prints to photo-montages, he has also designed for opera productions, embraced digital art and published numerous books; and is well known for his outspoken views on a range of topics, from artistic censorship to smokers' rights.
Hockney was knighted in 1990, made a Companion of Honour in 1997 and an Order of Merit in 2012.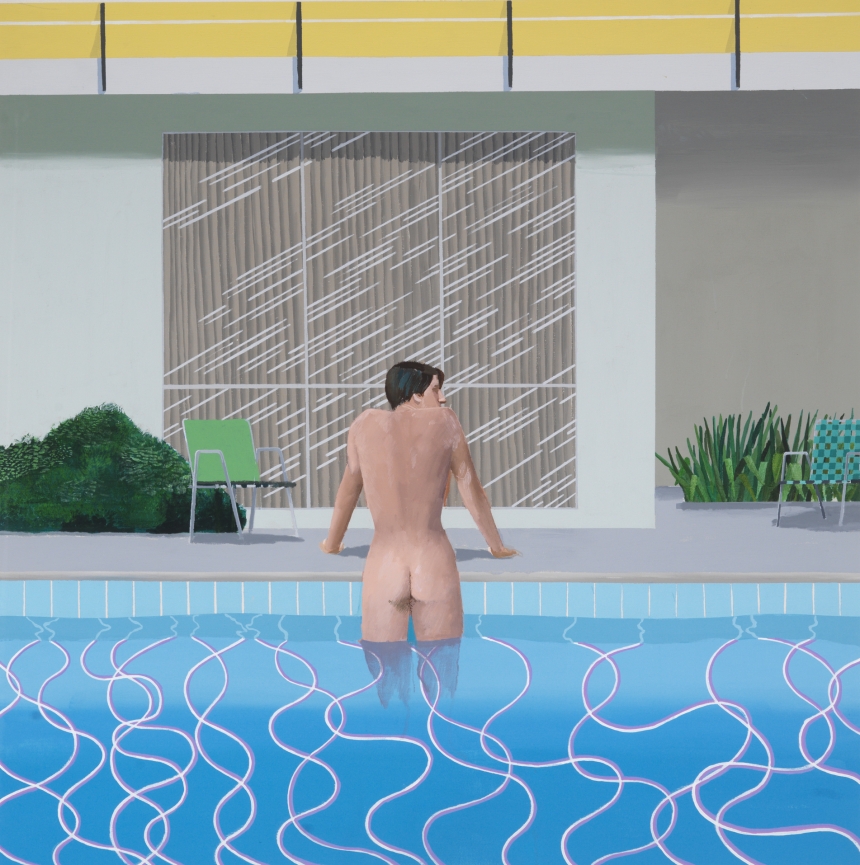 Gilbert (1943 – ) & George (1942 – )
Gilbert and George first met in 1967 whilst studying sculpture at St Martins School of Art in London, and have worked – as visual and performance artists – almost exclusively as a pair, ever since. Though they never talk about their sex lives, they've made veiled references, and became married in 2008.
They are famous for wearing suits and ties in many of their works, and whenever out in public, where they are inseparable – insisting that everything they do is art, and that they are "living sculptures".
The twosome are perhaps best known for their large-scale photo-montages, tinted in bold colours, back-lit and overlaid with black grids, thus resembling stained glass windows; and often featuring themselves, along with young men, nudity, sex, bodily fluids, flowers, friends and Christian symbolism.
The duo won the Turner Prize in 1986; and represented the UK at the 2005 Venice Biennale.
For many years, they have been residents of Spitalfields in East London. They are firm monarchists.