Review: Home, I'm Darling, Dorfman Theatre (National Theatre)
How far would you go to escape reality inside your own sweet fantasy home? Bent's in-house neurosis, Adrian Gillan, hails Laura Wade's unsettling riff on insecurity, nostalgia and gender!
There's no place like home… no place like home… not in today's fast-changing, web-wired world of unnerving socio-technological flux, where expectations and pressures pile in incessantly 24/7, and longed-for certainties elude. It's enough to make anyone want to take back control, blotting out a hysterically demanding, oft-fake outside world via an even stronger fantasy behind closed doors!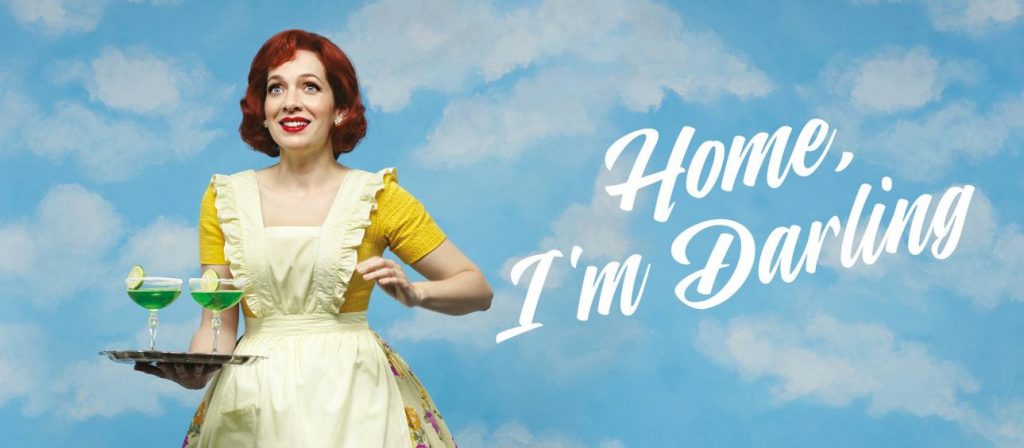 When Judy quits her male-dominated finance job she escapes into a reactionary rose-tinted world of 50s nostalgia, devoting herself to the creation of a domestic bliss for her and her at-first-willing partner, Johnny – much to the disbelief of Sylvia, her former-hippy feminist mum, who grew up in the 50s and doesn't want a re-run! Friends Fran and Marcus enjoy dipping into the 50s aesthetic and lifestyle too 'tho, unlike Judy, only so far! But Marcus' underlying chauvinism becomes apparent, and when Johnny is overlooked for promotion by his new go-getting female boss, Alex, money gets tight and the whole pseudo-retro-retreat unravels, leaving Judy's neurotic insecurities exposed, her life at a crossroads! Is she brave or strong enough to break out of her escapist prison?
Humans have always relied on rituals and habits – both socially and individually, from the religio-superstitious to the obsessionally neurotic – to help them cling on amidst an unknown and oft alarming, or meaningless, reality. However, by making protagonist Judy's particular coping-crutch a 50s role-play reverie, Posh writer Laura Wade's new sophisticated kind of play-within-a-play can go beyond this basic existential theme and riff wildly, richly ironically and tragi-comically on gender issues, raising questions that are still hugely relevant today. Multi-layered, thought-provoking, entertaining. Gloriously theatrical.
Irony upon irony, Judy's fantasy is only enabled via a hidden laptop by which she discovers 50s items, fellow fans and events; and is ultimately dispelled when her male partner is overlooked by a female boss, and her own mum refuses to financially support her with money left by a deceased hippy friend!
In a play partly about the ultimately futile insecurity-driven quest for escapist perfection – and the well-nigh aggressive at-all-costs projection of a semblance of happiness, to make even Facebook or Instagram charades looks sane – the razor-sharp precision of the performances, and not least of the whole production design, is all. And the entire cast and creative team duly dazzle!
Tamara Harvey's taut direction makes this 2½-hour co-pro with brilliant Theatr Clwyd fly by.
Katherine Parkinson creates a fragile, controlling, neurotic, paranoid, emotionally-anorexic Judy – an iconic role, up there with the likes of Hedda, Blanche and Abigail in the female character pantheon.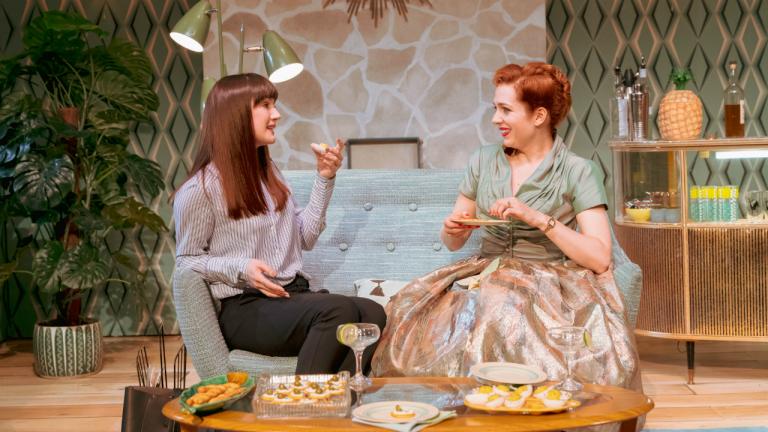 She is matched by requisitely exact performances from charismatic Richard Harrington as her increasingly disempowered, trapped and frustrated male partner, Johnny; Sara Gregory as Johnny's ruthless yet fair female boss, Alex; Kathryn Drysdale as friend Fran who can't quite go the whole 50s hog; and Barnaby Kay as Fran's partner Marcus whose dark sexism gradually becomes apparent. Sian Thomas at times almost steals the show as Judy's disbelieving mum, Sylvia, whose searing monologue inditement of the 50s and denouncement of Judy's wrongly idealised dad ultimately burst the bubble.
Anna Fleischle's domestic cartoon gingham wonderland set is a backdrop metaphor for the play as a whole, also ingeniously facilitating a brilliant explanatory flash-back scene at the start of the second half. Deliciously pristine costumes to match, the whole sugar-coated picture is perfected by Lucy Carter's lighting, Tom Gibbons' oft toe-tapping sound and Charlotte Broom's break-out choreography jives.
Theatre at its very best. Sophisticated yet direct. Timely yet timeless. A triumph.
Home, I'm Darling runs at the Dorfman Theatre (National Theatre) until 5 Sept 2018. For more info and to book tickets, call 020 7452 3000