We are Family, especially in Canterbury!
More and more gay families now include children – adopted, biological, maybe even from previous heterosexual relationships. So where better to take the wee sprogs than for a fun few days out in historic Canterbury? Perhaps for Pride! All a wee chug away on super Southeastern!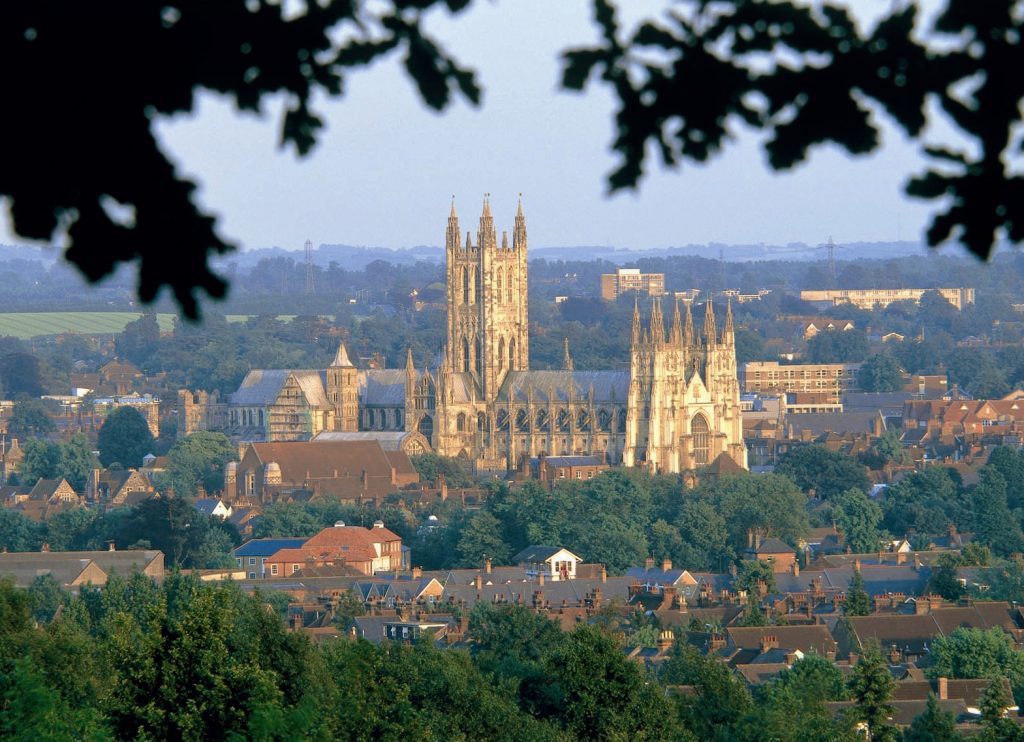 The Canterbury Males: Roll over, Chaucer! We've our own tale to tell! Brimming with ancient heritage and heavenly student hoards, kids – of all ages – will love surely the most historic town in Kent!
Resting on the River Stour, little Canterbury (population 55,000) boasts a UNESCO World Heritage Site (Canterbury Cathedral, plus St. Augustine's Abbey, plus St. Martin's Church, the oldest church in the English-speaking world); and is the seat of the Archbishop of Canterbury – primate of the Church of England and the worldwide Anglican Communion. So already sounding pretty gay!
Called Durovernum Cantiacorum in Romano-Celtic times, by the early Middle Ages the town had become known by the Anglo-Saxon name of Cantwarebyrig – "fortress of the men of Kent". In 597, Pope Gregory sent Saint Augustine to convert Britain to Christianity, after which Augustine became the first Archbishop of Canterbury, prompting an economic revival, notably in pottery, textiles… and leather! The town was then ravaged by Vikings, then conquered by Normans, becoming a shrine and place of pilgrimage after the murder of Thomas Becket in 1170 – the backdrop to Geoffrey Chaucer's Canterbury Tales. Then came the Black Death, the Dissolution of the Monasteries and the English Civil War.
The Canterbury and Whitstable Railway became arguably the world's first passenger railway in 1830 – now the aptly-called Crab & Winkle Way, just for walkers and cyclists, along its pleasant cloisters-to-oysters route! After World War Two, when the city was extensively bombed, a ring road was built in stages outside the city walls to alleviate growing traffic congestion, and the city centre was later pedestrianised. But then another gay explosion: huge numbers of young students appeared from the 1960s onwards, with the arrival of the big new unis – the University of Kent, Canterbury Christ Church University, the University College for the Creative Arts, and the American University!
Colourful most-likely-gay Elizabethan dramatist Christopher Marlowe was born/baptised and studied here. Other famous people born in Canterbury include actor Orlando Bloom, cricketer David Gower and writer Somerset Maugham. Author Joseph Conrad is buried in Canterbury Cemetery.
See & Do
Canterbury boasts a trove of history and culture, much of it penned inside large surviving oft-walkable fragments of the lofty old city walls…
The Beaney House of Art & Knowledge – houses Canterbury's brill Visitor Information Centre, plus an art gallery and museum, the latter well-nigh a 'cabinet of curiosities', with its vast and varied collection of objects from across the globe. Free.
Canterbury Roman Museum – remarkable museum of Roman Canterbury, including an in-situ mosaic pavement dating from around 300 AD.
Dane John Mound – once a motte-and-bailey fortification, it was then landscaped into the Dane John Gardens in the 18th Century, with a memorial placed on the mound's summit, from which there are fantastic views. Free.
Canterbury Castle – ruins of a Norman castle keep built in the 11th Admission free – from morning until dusk.
Canterbury Cathedral – seat of the Archbishop of Canterbury, Chief Primate of the Church of England! Let the Welcome Centre orientate you, then book yourself on a guided tour, to see the tombs of King Henry IV and Edward the Black Prince, plus the site of Thomas Becket's murder in 1170. Fab grounds/precincts too!
Canterbury Tales Visitor Attraction – one of Kent's most popular attractions inside historic St Margaret's Church, bringing to life 14th Century England and, notably, five of the most colourful characters in Geoffrey Chaucer's Canterbury Tales (1387-1400) – a bunch of highly diverse pilgrims passing the time between London and Canterbury with an informal story-telling contest, the winner to get a free meal back at The Tabard Inn in Southwark on their return!
Canterbury Punting Company (depart/land end of Water Lane, Canterbury CT1 2NQ) – how better to see Canterbury than from the comfort of a classic hand-built punt on its historic River Stour? There's no safer way to take a punt than on a peaceful yet atmospheric, educational yet humorous guided tour through, and at times even beneath, the city's historic heart, under the skilled watch of a fantastic and knowledgeable crew! Relax and even learn for 45 minutes on any of a wide variety of tours, including shared, private, romantic, wedding, ghost, corporate, hen and even school!
Canterbury Tourist Guides – entertaining and enjoyable fab-value 90-minute guided group tours for visitors around the city centre, perfect for families, couples, individuals or even schools! A great way to see all the main sights – even the Cathedral precincts – in a limited amount of time; and learn some history in a fun way too! Led by knowledgeable, entertaining guides who can respond to questions and personal interests, tours in English depart from the Buttermarket daily at 11am and 2pm from 1st April to 31st October; and daily at 11am during the rest of the year. Tickets available from Canterbury Visitor Centre at the Beaney in the High Street, the Roman Museum in Butchery Lane or online; but no pre-booking is required.
Kent Cycle Hire – healthy, environmentally responsible tourism, that is both safe and fun, largely on designated, traffic-free cycle routes! Come and explore the beautiful countryside and coastal scenery of the North Kent Coast plus some of the county's most ancient landmarks! Services offered range from a leisurely "pick-up and ride" day-hire to more extended trips combining The Crab and Winkle Way (former rail route), The Oyster Bay Trail (coastal) and The Blean Wood Trail (forest). Enjoy the seaside at lovely Whitstable, Herne Bay and/or Reculver, mere miles north of Canterbury. Routes can be tailored to suit all requirements with pick-up and drop-off available between any of three cycle hubs (Canterbury, yard behind House of Agnes Hotel; Whitstable; Herne Bay) so you can go One-Way, Loop or Return; or simply decide as you go along where to end your journey. Over 70 bikes to choose from, including children's and teens' bikes, tagalongs and trailers – so perfect for individuals, couples, families and groups! All come fully-equipped with helmet, stand, lock, spare inner tube, reinforced tyres, pump, puncture repair kit, tool kit, rack, luggage strap and bottle cage. All bikes must be booked in advance. All are expertly adjusted at pick-up to ensure the correct riding position, with the basics of brakes and gears explained if necessary; and a map and directions are provided to set you on your way!
Theatre
Named after colourful local gay great Elizabethan playwright, Christopher Marlowe, the redeveloped, landmark Marlowe Theatre (Box Office on 01227 787787) is now the largest such venue in the region, hosting touring productions and concerts – including musicals, drama, ballet, contemporary dance, classical orchestras, opera, children's shows, pantomime, stand-up comedy and more besides. A second, smaller performance space, The Marlowe Studio, is dedicated to creative activity and new work. The Marlowe's fab-looking forthcoming seasons include Adam Buxton's Bug: David Bowie Special (26 July 2018); tribute shows Killer Queen (12 Aug 2018) and Fastlove (21 Aug 2018); The Greatest Show: Live in Concert (22 & 27 Aug 2018); Iconic: A Brief History of Drag (14 Sept 2018); Thriller Live (24-29 Sept 2018); Les Ballets Trockadero de Monte Carlo (19 & 20 Oct 2018); Kinky Boots (14-26 Jan 2019); Matthew Bourne's Swan Lake (26-30 March 2019); feel-good 80s-hits musical Club Tropicana (17-22 June 2019); and much, much more! If you just missed the amazing production of Shrek: The Musical, you might still catch it on tour!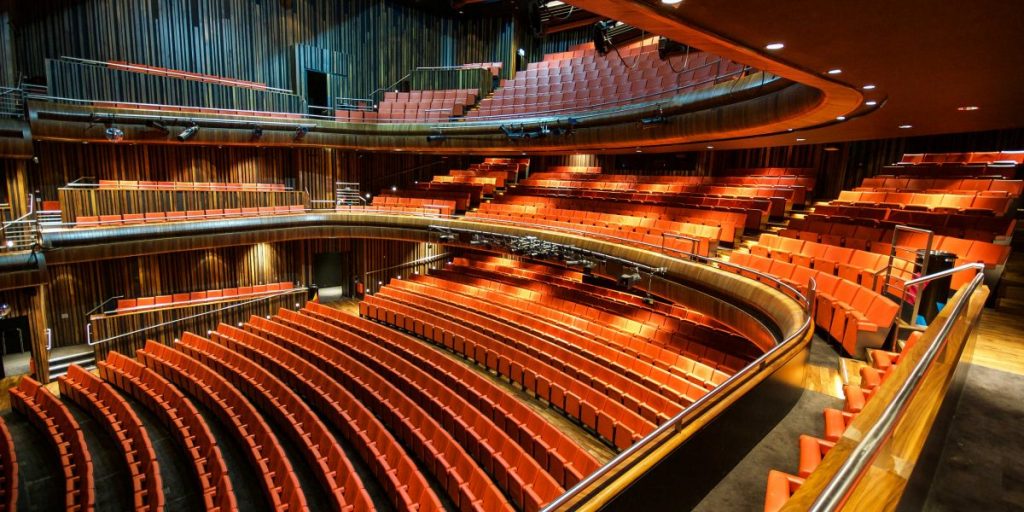 Enjoy a pre-show drink at one of the theatre's stylish, spacious and lively bars, on three levels, all with stunning views of Canterbury.
And savour the friendly atmosphere in the theatre's relaxed, cosy and informal café-bar-restaurant, The Green Room, which serves freshly-cooked locally-sourced food. The Green Room is open for snacks, lunch and pre-show meals Monday to Saturday, 9am – 8pm – only closed on Sundays (unless a show is on) and Boxing Day. Reservations can be taken for both lunch and pre-show meals, and the pre-show menu (with an option to have the desert at the interval) is available from two hours before the performance. A special family menu is available during pantomimes and family shows. In summer, you can even dine alfresco out on The Sunley Terrace overlooking the lovely River Stour and Cathedral. To book a table, call 01227 862485.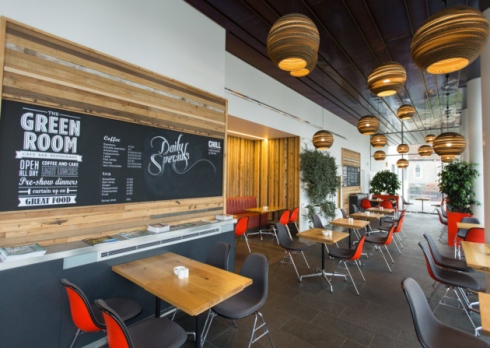 The vibrant Gulbenkian Theatre, at the University of Kent campus, just north west of city centre, also houses a great cinema and café.
Scene & Pride
Of course, you're unlikely to sneak your sprog or sprogs past the bouncers at many bars or clubs, and – even where a licence permits – that could prove a bit of a bore in a child's bigger scheme!
However, when strolling the narrow lanes just south of the High Street, you're bound to stumble upon the only LGBT bar in town – it's definitely quality, not quantity, in Canterbury! Thankfully, bright and modern Limes Lounge (13 Rosemary Lane; T: 01227 455164;) is always abuzz with lots of cute young students, all too keen to throw some shapes on the dance floor!
Indeed, everyone loves a party! And few are quite such fun as Canterbury Pride (normally every June) – a spectacular celebration of identity for the whole family, led by the LGBT+ community, set in the city centre, featuring a parade through the High Street, followed by live entertainment plus food and drink in the Dane John Gardens!
In such a student-dominated town, it's hard to miss fellow openly gays bods at almost every turn, as one's own organic gaydar begins its crackle-and-twitch! And, of course, these days you're rarely more than a metre or two from even the most closeted queer life, thanks to the usual apps and social media!
Stay & Eat
Stay at wonderfully central Premier Inn Canterbury City Centre (1-7 New Dover Road, Canterbury), just outside the city's walls, yet still close to all sights. The perfect base, to recharge in its tasty restaurant and/or relax in its spacious rooms with their extra-comfy beds!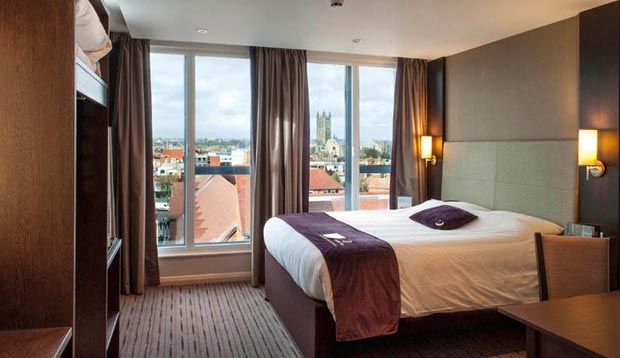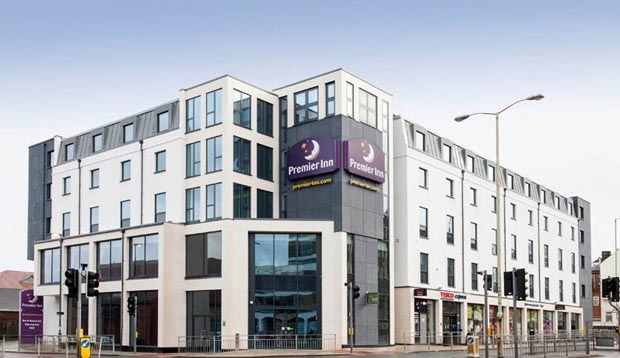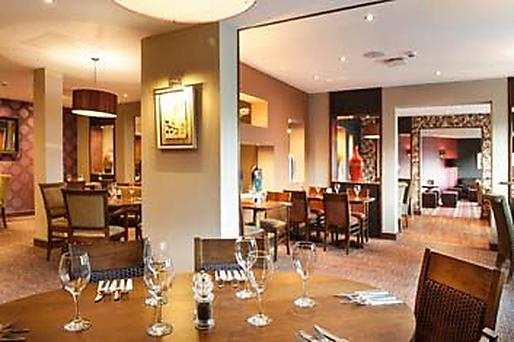 The new luxury king-size Hypnos bed is indeed the stuff of dreams, boasting an ultra-comfy, pillow-top mattress supported by over a thousand pocket springs for the soundest sleep ever, plus lightweight yet toasty duvet and choice of firm or soft pillows! No wonder the hotel's happy to offer its famous money-back "Good Night Guarantee"! Rooms also offer powerful showers, with baths at most hotels; Freeview TV with 80 channels; free Wi-Fi and a handy desk and chair; tea and coffee making facilities; cocooning blackout curtains; and adjustable room temperature settings!
Peckish? Thyme, the hotel's in-house restaurant, has a fab new contemporary British menu, from gourmet burgers and steaks to salads and delicious desserts, all freshly prepared using quality ingredients. Great kid's menu too! With even more tempting choices, the 'Premier Inn Breakfast' eat-as-much-as-you-like buffet is bigger and better than ever, with up to two under-16s eating breakfast free per fully paying adult. Keep 'em peeled for the 'Meal Deal' too: a 'Premier Inn Breakfast', plus any 2-course dinner with a selected drink!
Getting Here
All parts of Kent, including Canterbury, are easily and swiftly reached by Southeastern out of central London. And you can even "catch the #trainbow" this summer, as the rail company demonstrates its commitment to the diverse communities that help make up its own staff, and that it serves across south east London and Kent, by giving a "rainbow makeover" to Britain's fastest domestic passenger train!
Southeastern is well-nigh literally bringing the love to LGBT+ Pride events throughout the region, with its specially-liveried train – the brainchild of its own employees – delivering a splash of colour not only to London Pride (Sat 7 July 2018), but also to Margate Pride (Sat 11 Aug 2018) and Folkestone Pride (Sat 18 Aug 2018). It will also be running on the same day as Tunbridge Wells Pride and Hastings Pride (Sun 26 Aug), connecting with other Southeastern train services between Kent, East Sussex and London.
The train – one of Southeastern's iconic Class 395 'Javelin' trains, used on the Highspeed service that travels at up to 140mph and connects London St Pancras with destinations across Kent – will run on all of Southeastern's Highspeed routes until September, during which time passengers and photographers alike are invited to share their pictures of the train using the hashtag #trainbow on social media including Twitter, Facebook and Instagram.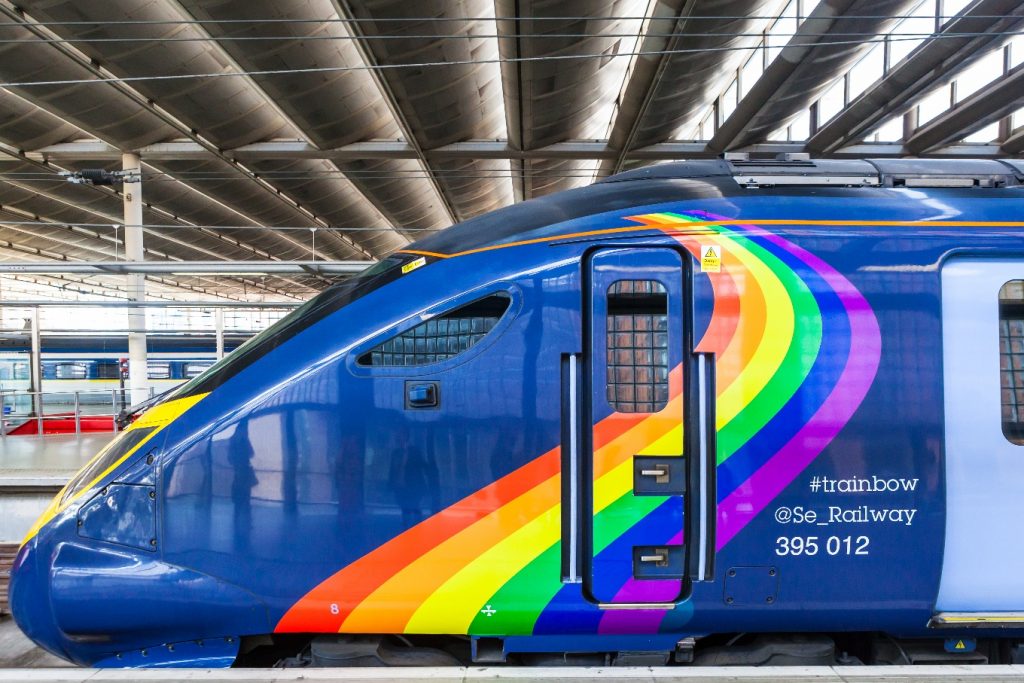 By Adrian Gillan for Bent Gay Shop & Magazine