Southeastern catches the #trainbow for LGBT+ Pride season
Britain's fastest domestic passenger train has been given a rainbow makeover demonstrating Southeastern's commitment to the diverse communities that it serves across south east London and Kent.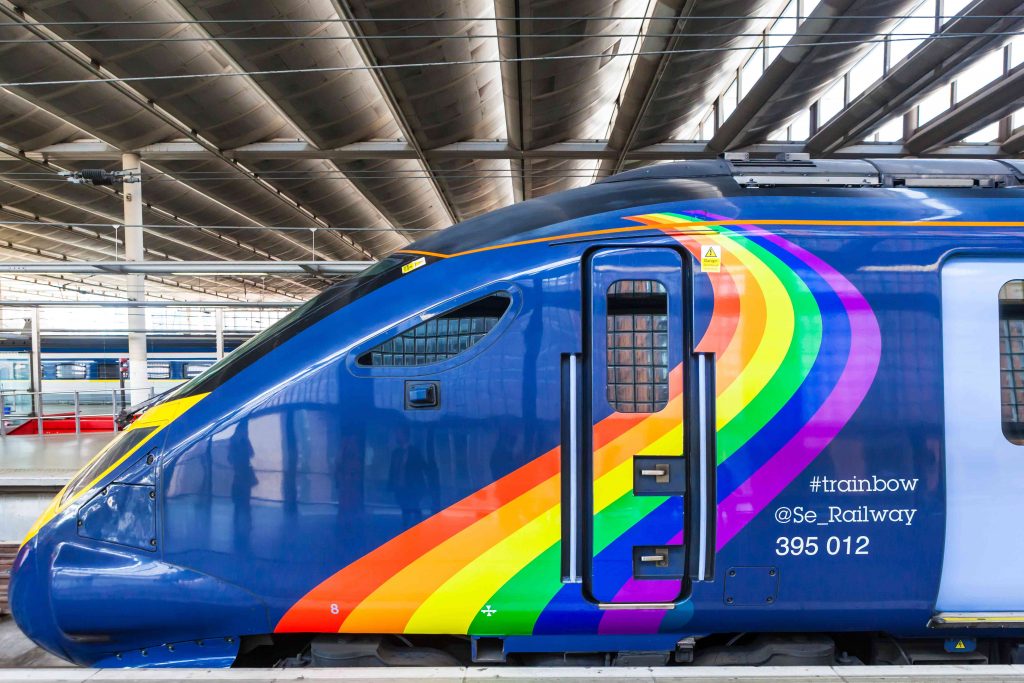 Ahead of London Pride (Sat 7 July), Southeastern unveiled a specially-liveried train at St Pancras International station, accompanied by Southeastern employees. The train will run on all of Southeastern's Highspeed routes until September, during which time passengers and photographers alike are invited to share their pictures of the train using the hashtag #trainbow on social media including Twitter, Facebook and Instagram.
The train is bringing the love to LGBT+ Pride events in London and Kent throughout the summer, bringing a splash of colour to London Pride (Sat 7 July), Margate Pride (Sat 11 August) and Folkestone Pride (Sat 18 August). It will also be running on the same day as Tunbridge Wells Pride and Hastings Pride (Sun 26 August), connecting with other Southeastern train services between Kent, East Sussex and London.
The idea for the #trainbow livery came from Southeastern's own employees. It has been applied to one of Southeastern's iconic Class 395 'Javelin' trains, used on the Highspeed service that travels at up to 140mph and connects London St Pancras with destinations across Kent.
David Statham, Managing Director of Southeastern, said:
"I'm delighted to unveil Southeastern's first-ever Pride-liveried train. It's important for us, as a train company, to demonstrate our commitment to the diverse communities that we serve – and what better way to support the LGBT+ community across our network by bringing this special train to the Pride events taking place across Kent and East Sussex this summer."
Scott Maynard, Human Resources Director at Southeastern, said:
"Our colleagues wanted to do something that demonstrated Southeastern's proud championing of equality and inclusion, particularly among those who identify as LGBT+. We're always keen to do even more to create a working environment that encourages all of our colleagues to bring their whole self to work – and this specially-liveried train is a fantastic symbol of that ongoing commitment."