Stratford Revisited: 10 new reasons to re-explore Will's home town!
Think you've seen and done gay old Stratford-upon-Avon?! Bent's own little Bard, Adrian Gillan, uncovers a new Explorer Pass, fresh attractions and hotels plus dazzling upcoming performance seasons and festivals. Ten more excuses to take a closer look!
Still abuzz with recent celebrations of the life and still-very-living work of its most famous son, over 400 years after his death, you scarce need another reason to visit Stratford-upon-Avon. Yet here are ten!
Shakespeare's England Explorer Pass – a brand new great-value pass, with adult/child and 1-/2-/3-day options, granting free access to up to 19 top attractions – plus fab discounts at the best shops, hotels, and restaurants – all throughout Shakespeare's England! Participating attractions include Shakespeare's Birthplace, Shakespeare's New Place, Hall's Croft, Anne Hathaway's Cottage, Mary Arden's Farm, the Royal Shakespeare Company's The Play's The Thing exhibition, Warwick Castle, Ragley Hall, Compton Verney, Avon Boating, Kenilworth Castle, St Mary's Church, Lord Leycester Hospital, Stoneleigh Abbey, Hill Close Gardens, British Motor Museum, Magic Alley, The MAD Museum and Shakespeare's Schoolroom & Guildhall. Fuller details can be found in the Explorer Guide which accompanies the pass, as well as on the Explorer Pass website.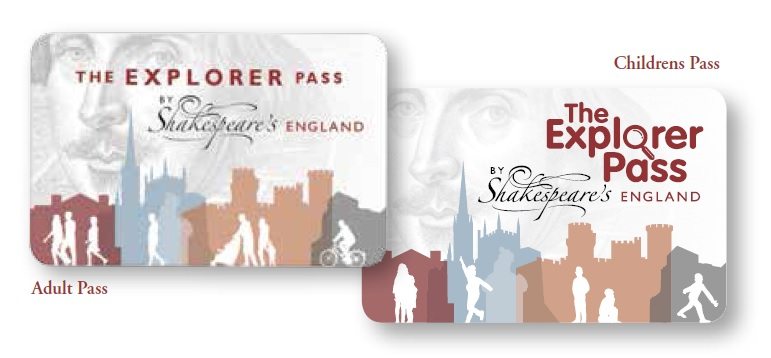 A couple of oft-overlooked gems (both included on the Shakespeare's England Explorer Pass)…
Magic Alley – recently rehoused in more spacious central premises, you'll discover a magical world based on the bestselling Chronicles of Wizard's Thatch by local author Dave Matthews, unravelling the lost years of William Shakespeare when The Bard apparently became a… time-travelling wizard! How else could he have penned such amazing stuff?!? In Magic Alley you can enjoy the view of the real-life alley outside from the lofty Golden Broomstick Café, or browse the large Magic Alley Store of mainly magic-related books, artefacts, curiosities, wands, gifts and vintage toys. Hugely helpful, welcoming and entertaining staff too! You can also pay to explore the atmospheric Enchanted Manor, a magical blend of fairy-tales, time-travel and twistory that brings the spellbinding Chronicles to life with costumes, exhibits, behind the scenes extras and sneaky peaks at what's still to come! Can you solve the mystery? Never too old for this!
3. The MAD (Mechanical Art and Design) Museum – fun, quirky and unique attraction, slap bang in the centre of Stratford- upon-Avon, housing around 60 interactive mechanical contraptions. Perfect for kids of all ages, including the adult kind, especially if you like art, design, science and/or engineering! Rolling ball machines, water clocks, interactive light walls, 3D faces, giant rocking birds and so much more!
A couple of new or relaunched attractions (again both on the Shakespeare's England Explorer Pass)…
New Place – where Shakespeare lived with his family, writing many of his late great plays including The Tempest – from 1597 until he died here in 1616. Although the original structure was demolished in 1759, it is only now that recent archaeological excavations have been completed that the site has reopened so that visitors can glean the new findings in displays, plus make their own personal connection with Shakespeare as they enjoy the freshly landscaped gardens and commissioned artwork. Follow in Shakespeare's footsteps through a new entrance on the site of the original gatehouse and enjoy a contemporary landscape that reveals the footprint, and scale, of the Shakespeare family home. Elements include the restored sunken Knot Garden, with its traditional plants and shrubs; and remnants of the splendidly peaceful Great Garden. Superb indoor exhibition, too, of artefacts found on site or nearby – including what is almost defo The Bard's very own previously-thought-lost gold signet ring!
Shakespeare's Schoolroom & Guildhall – only recently open to the general public for the first time, learn about Shakespeare's education (1571-1578) and explore the building and very room where this bright Midlands schoolboy learnt to read and write, first enjoyed touring professional theatre, and became inspired to become the world's greatest playwright! King Edward VI School, in Church Street, is where The Bard was almost certainly educated – where else? – when aged 7-14; and where his writing skills doubtless emerged – at the West end of the upper room of the old timber-framed Guildhall, next to the wonderful Guild Chapel where he most likely previously attended pre-school! Enjoy an immersive, atmospheric and authentic experience that will give insight into how Shakespeare's outlook and ambitions were formed by the lessons he attended in this very room – English (obviously!), the classics (which influenced many of his plots), the Christian faith (though no regular Churchgoer he), and music (many of his plays have songs); plus the plays he saw here. Watch a short film! Try Tudor homework! Even take part in a live Tudor lesson under the watchful eye of a 'master'! Long-overdue, this new gem on Stratford's 'Shakespeare Trail' provides a crucial missing chapter: The Bard's education and his inspiration!
RSC 2018-19 season – The Royal Shakespeare Company has been attracting some of its best reviews in years under openly gay chief, Greg Doran, who even sometimes directs his partner – the great actor and longstanding RSC stalwart Sir Antony Sher! STOP PRESS: If you just missed the fab production of King Lear (ends 9 June 2018, Royal Shakespeare Theatre), Doran directing Sher in the title role, just pray for yet another revival! And rave critiques look set to continue throughout 2018. In the Royal Shakespeare Theatre, Christopher Eccleston takes on the title role in Macbeth, alongside Niamh Cusack as Lady Macbeth (ends 22 Sept 2018, RST); Erica Whyman directs Romeo and Juliet (ends 22 Sept 2018, RST); David Troughton plays Falstaff in The Merry Wives of Windsor (ends 20 Sept 2018, RST); Evelyn Glennie makes music for Troilus & Cressida (12 Oct – 17 Nov 2018, RST); and smash hit A Christmas Carol (4 Dec 2018 – 20 Jan 2019, RST) returns. In The Swan Theatre, the productions are a stunning, blood-splattering rendition of John Webster's The Duchess of Malfi (ends 4 Aug 2018, Swan); The Fantastic Follies of Mrs Rich (or The Beau Defeated) by Mary Pix (ends 14 June 2018, Swan); Miss Littlewood, a new musical about anarchic theatre-maker, Joan Littlewood (ends 4 Aug 2018, Swan); Christopher Marlowe's Tamburlaine (16 Aug – 1 Dec 2018, Swan); Molière's Tartuffe (7 Sept 2018 – 23 Feb 2019, Swan); and Shakespeare's Timon of Athens (7 Dec 2018 – 22 Feb 2019, Swan).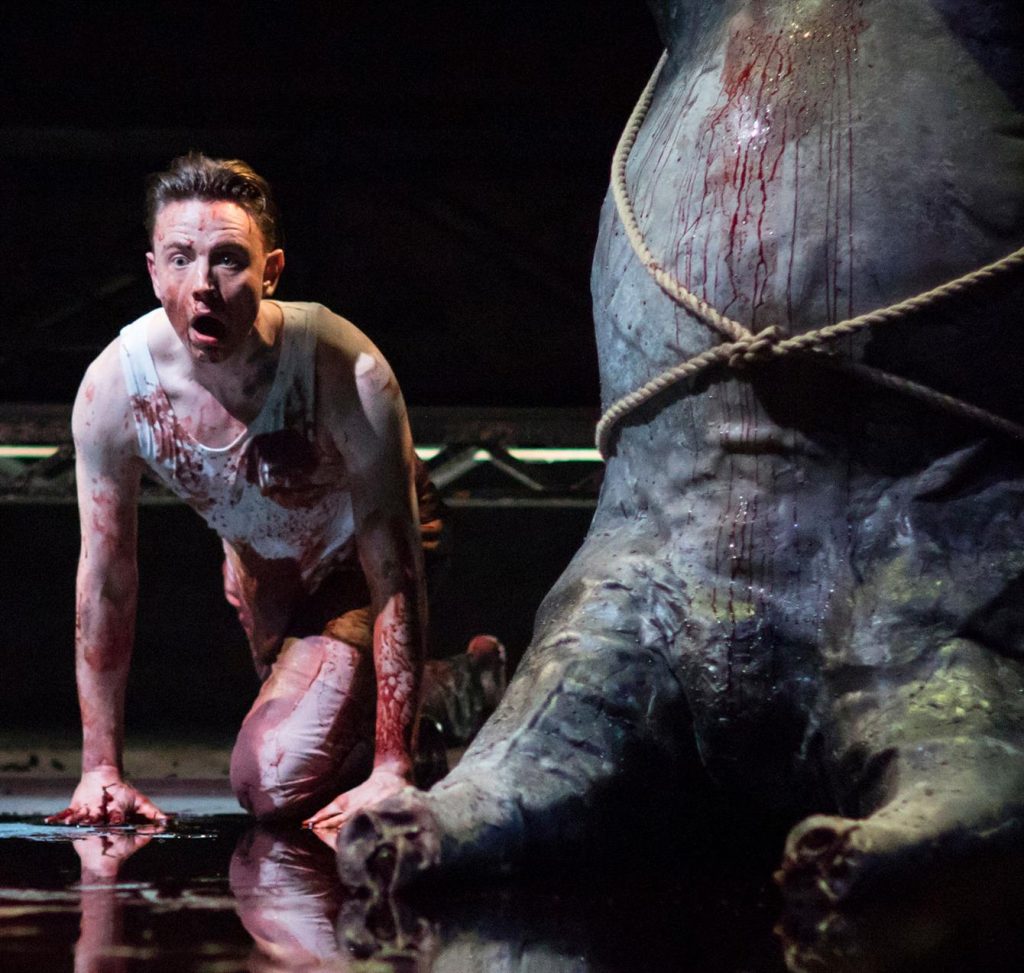 Other RSC developments – Additionally, the RSC's first ever permanent exhibition, The Play's The Thing (included on the Shakespeare's England Explorer Pass), can be enjoyed in the newly restored Swan Wing, showcasing rarely-seen and constantly changing costumes, props and other theatrical treasures from the archives, with plenty of interactive hands-on fun for all the family, to see how the RSC makes theatre at its best, including an amazing virtual wardrobe to try on and a virtual experience starring in a Shakespeare play in front of an audience, on stage at the RST itself! Also: ascend the 36m-high RSC Tower, for panoramic views of town and surrounds; go on back-stage theatre tours; dine at the RSC's Rooftop Restaurant; or sip 'n snack at the Riverside Café (RST) or Swan Café (Swan), or even at the new Susie's Café at a gloriously revamped The Other Place – this latter venue also offering its own behind the scenes tours, workshops, studio theatre festivals, plus fascinating, constantly changing foyer exhibitions. Check out multi-talented actor Sir Antony Sher's fabulous free art show Mad King / Fat Knight in the RST's upper PACCAR Room exhibition space, proceeds from which go to the Stitch in Time campaign to restore and redevelop the RSC's costume workshop. All in all, what with its London seasons, national and global tours, cinema screenings, and vast youth outreach work, the truly world-class RSC has simply never had more for us all to be really rather proud of!

Stratford RSC Macbeth 2018
Orchestra of the Swan 2017 season – Remember: the RSC, stunning though they are, aren't quite the only show in town! Despite ongoing uncertainly over funding and base venue, and a change of conductor, Orchestra of the Swan still calls Stratford home too! OOTS is also Associate Orchestra at Town Hall Birmingham, with other residencies elsewhere, giving dozens of concerts annually, not just regionally, but throughout the UK and overseas. Recordings have been well reviewed and are frequently aired on radio, as are many concerts live. World class soloists include violinist Tasmin Little and cellist Julian Lloyd Webber.
Stratford Town Walk – entertaining, informative and award-winning guided sightseeing walking tours around town, led by a team of enthusiastic, dedicated, professional local guides so knowledgeable even lifelong locals come along. The main 2-hour Stratford Town Walk itself runs literally every day of the year (Mon, Tues, Weds, Thurs, Fri at 11am; Sat & Sun at 11am and 2pm; Christmas Day at 10.30am), meeting close to the Swan Fountain on Waterside, near the Royal Shakespeare Theatre. Suitable for all, it is dog and wheelchair friendly. Pricing: Adults £6; Over 65's and students £5; Children (under 16) £3; and Under 8 years FREE! The Stratford Town Ghost Walk, led by guides who are pro entertainers or actors, explores tales of ghosts, witches, murder and mayhem and likewise starts by the Swan Fountain on Waterside, every Sat, 7.30pm. Pricing: £7 adult, £5 child (must be accompanied by a parent or guardian; and may not be suitable for kids under 8yrs). Be afraid, yet up for a laugh!
A fistful of fests in 2018-19! – The 65th Stratford-upon-Avon Poetry Festival takes place 17-24 June 2018, around the theme of peace and reconciliation, with readings from classic war poets alongside some of the best contemporary poets. The award-winning 10th Stratford River Festival returns to the banks of the Avon, 30 June & 1 July 2018 – the largest family-friendly free event held in town, with over 70,000 visitors expected for events on and off the river, including market stalls, entertainment and fireworks. The Stratford Food Festival takes place 22-23 Sept 2018, with over 100 stalls across 3 town centre areas. To name a few!
But naturally, it doesn't all have to be brand new! You can still – as ever – enjoy the rest of the town's main 'Shakespeare Trail', taking in key sites connected with the great writer's life, and death… mostly featured on the Shakespeare's England Explorer Pass! For many, Stratford's heart and soul will always be Shakespeare's Birthplace, the half-timbered house-with-garden where he was born in 1564, and which stayed first in his family and then in his sister's 'til 1806 – complete with more recent biographical exhibition attached, and even actors performing famous speeches and scenes from the plays! Hall's Croft, where Shakespeare's eldest daughter, Susanna, may have lived, is mere streets away.
Anne Hathaway's Cottage (where Shakespeare's wife-to-be lived before marrying him) and Mary Arden's House (where Shakespeare's mum lived before marrying his father) are both easily reached via the CitySightseeing bus, with its ace audio commentary. Tranquil riverside Holy Trinity Church is where both William Shakespeare and Anne Hathaway are buried, and where Shakespeare was baptised – its gardens bordering the lovely swan-filled Avon.
For an earthy, multisensory slice of Tudor life, visit the vividly atmospheric, ghoulishly entertaining (think 'Horrible Histories') and highly informative Tudor World – housed on the site of an inn whose lusty landlord reputedly inspired Shakespeare's great comic character, Falstaff! For something absolutely – arguably well-nigh refreshingly – unconnected with Shakespeare, visit the UK's biggest Butterfly Farm, just over the river.
A mere minutes' walk from the Swan Theatre, down some pre-show pub grub in the "Dirty Duck" (a.k.a. 'The Black Swan', Waterside, Stratford-upon-Avon; T: 01789 297312;). What with all the theatre crowd, not least post-show, it's probably the closest thing Stratford-upon-Avon has to a gay venue!
Moreover: what's definitely not new in Stratford is the ongoing debate around Shakespeare's sexuality. What a tease: that the private life of the world's most famous and feted writer should remain, 400 years on, so stubbornly shrouded in mystery! But was The Bard bent? Dark horse or Dark Lady – we'll probably never get to the bottom of the ongoing mystery of Will's sonnet-teasing sexuality! The debate will doubtless rage on, and the best, surely only, answer we can hope for, at this distance of time, lies in the sonnets themselves. So read some of the finest poetry ever written, and place your bet!
Stay & eat
For something truly special, stay and/or eat at The Townhouse (16 Church Street, Stratford-upon-Avon; T: 01789 262222;), housed in a recently refurbished 400-year-old Grade II Listed building directly opposite Shakespeare's old school, slap-bang in the town centre. Its bustling bistro is open all day, whether for a fab breakfast, light lunch, simply delicious afternoon tea, quick pre-theatre set-menu supper or more relaxed dinner – all locally-sourced and freshly-prepared! Its charming bar offers an amazing selection of wines, whiskies, craft beers, champagnes, cocktails and gins throughout the day too – plus live piano played by extremely talented students from King Edward's School over the road every day, Mon – Sat, at 5.30pm! The Townhouse is, moreover, a small boutique hotel with 12 luxury en-suite bedrooms, sporting chic décor, elegantly and effortlessly combining the old and the new – all with king/queen-sized beds, drench showers, Temple Spa toiletries, Nespresso machines, iPod docks, TV/DVD players, free Wi-Fi and even a small decanter of free port! Don't forget to ask about the wonderful ghosts! Rooms from £130 per night midweek and £165 per night at the weekend for B&B. Two-night bookings only at weekends (Fri and Sat nights).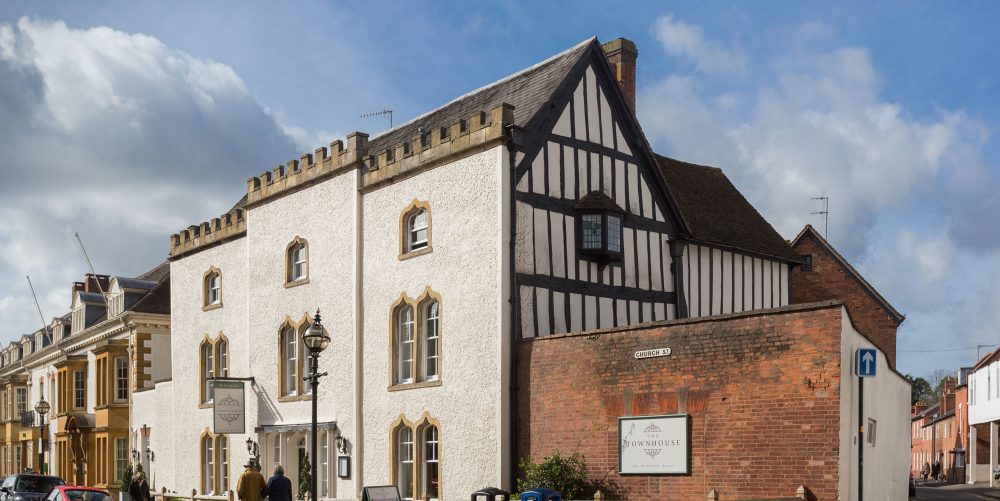 Alternatively, just a five minute stroll over the Avon, across from the theatres, stay at the spacious 4-star Macdonald Alveston Manor Hotel, (Clopton Bridge, Stratford-upon-Avon; T: 0344 879 9138 / 01789 205478;), boasting many original 16th Century Tudor features, complete with 113 fab en-suite rooms and suites, both in the old building itself and in the modern wing, with flat-screen TVs and Elemis toiletries; meeting and event facilities; attractive landscaped gardens; and a luxurious spa, with 18-metre heated swimming pool, sauna and steam rooms, state-of-the-art gym, treatment rooms and experts on hand. All set amidst pleasant luscious lawns. Peckish? Enjoy fine wines and a classic seasonal British menu with a modern twist in the award-winning AA-rosetted Manor Restaurant, with its attentive and friendly service, amidst beautiful oak beams and mullioned windows; or, for something more informal, relax in the oak-panelled Blue Lounge, or out on the garden terrace, for a coffee or tasty snack. Fab breakfasts too.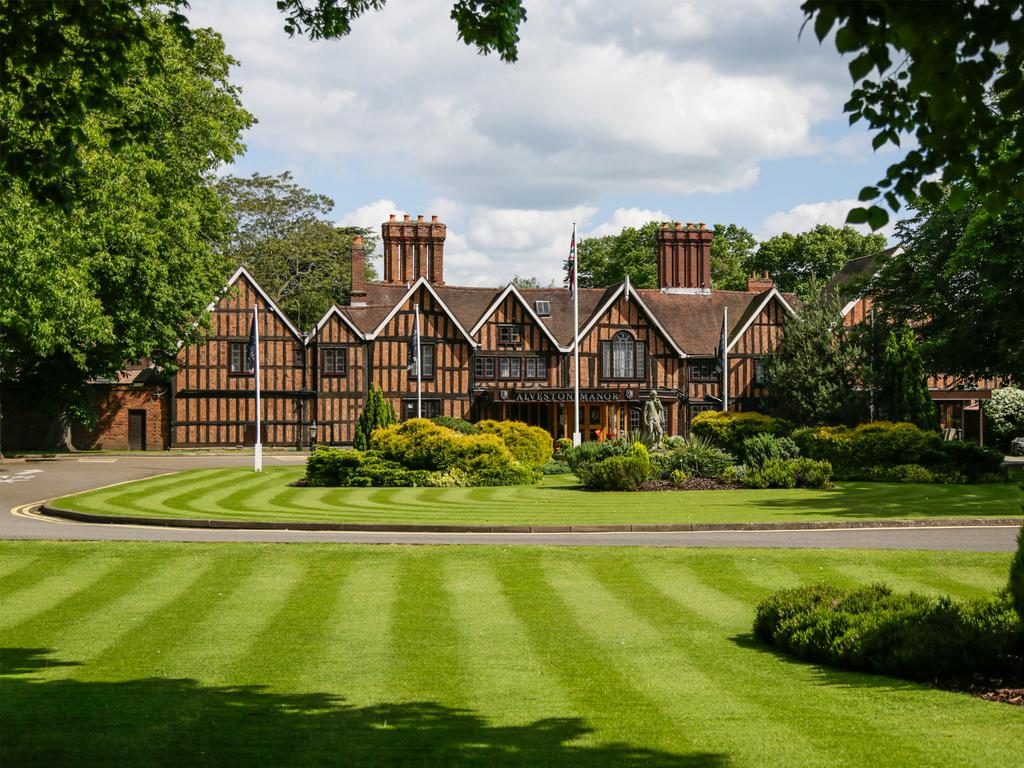 Eat some more
Just across the parkland from the theatres, why not pop into the Crowne Plaza (Bridgefoot, Stratford-upon-Avon; 01789 279988;) for a nice drink or bite. Set amid landscaped gardens beside the River Avon, enjoy breakfast, lunch or dinner at the Riverside Restaurant, buffet or á la carte; or relax with a drink or light bite in the Terrace Lounge & Bar. Brill!
Over the road from the theatres, drop into The Arden Hotel (Waterside, Stratford-upon-Avon; T: 01789 298682;) for an afternoon tea, served daily 12 noon – 3.45pm, offering a variety of cream teas, full afternoon teas and – for a touch of luxury – sparkling afternoon teas with a glass of fizz!