Secret Hearts, Jermyn Street Theatre
In the mid-1930s, great gay icon, playwright and wit, Noel Coward, wrote a series of one-act plays to showcase his versatility and talent, as both writer and performer. Bent's Adrian Gillan hails the first ever complete London revival of Tonight at 8.30, at bijou Jermyn Street Theatre!
Singing and dancing, comedy and drama: "The Master", Noel Coward, does it all in a series of nine one-acts play – ten, if you count Fumed Oak, dropped from this revival – within his Tonight at 8.30 cycle, which are normally performed, at any single sitting, in various combinations of three.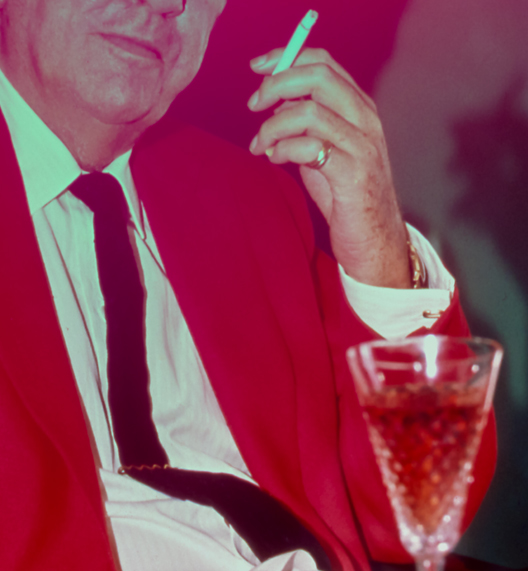 This splendid full Jermyn Street Theatre revival – in the heart of London's West End, just off Piccadilly Circus – is the capital's first since the original West End opening way back in 1936, and choses to cluster and name the plays into the following trio of triplets: Bedroom Farces (We Were Dancing, Ways & Means, Shadow Play); Nuclear Families (Family Album, Hands Across the Sea, The Astonished Heart); and – here reviewed – Secret Hearts (Star Chamber, Red Peppers, Still Life).
All of which means a lot of work from a top-notch bunch of just nine fine actors, cast as different characters across all nine plays, like in some hot-house rep, and including the high-calibre likes of Sara Crowe, Rosemary Ashe, Miranda Foster and Nick Waring. An ensemble for sure, but one performing a well-balanced kaleidoscope of cameos and star-turns, as you'd expect from Coward!
Secret Hearts' first offering, Star Chamber, is a particular treat since not performed, even on its own, since 1936, when it was withdrawn after a single matinee – for fear of causing offence to the theatrical community! Here, it takes the place of Fumed Oak which has, as said, been axed from this revival. Star Chamber affectionately yet effectively satirises the pretentions and vanities of a group of actors attending a committee meeting for a charity that aids "destitute" theatricals, supposedly held backstage in a West End theatre. Wonderfully modulated by the director and cast, the unruly thesps ebb and flow like a herd of preening theatre cats – the show largely stolen by Sara Crowe's highly emotional charity president, not to mention her little dog; and by Ian Hallard's chirpy, chatty theatre manager!
Also set backstage, apart from two music hall song-and-dance numbers played 'out front', Secret Heart's second item, Red Peppers, is a far more scathing, nay well-nigh viciously bitter, romp, which more fully rips into theatrical egos, giving Rosemary Ashe and Jeremy Rose the chance to vitriolically shine as the husband and wife variety turn who hate not only each other but also pretty much their entire profession. Insults riotously ricochet around the stage, or backstage, like bitchy bouncing bombs: fab!
The final offering in the Secret Hearts trio is perhaps really the only one of the three to make sense of the revival's chosen title Secret Hearts, and has – as its film adaption Brief Encounter – become the best known. As a story of shame, repressed love and stoical sacrifice, Still Life is, although not without ample humour, the saddest and most complex of these three one-acters, and arguably subliminally the emotionally gayest, given the situation for queer folk back in Coward's day. Miranda Foster and Nick Waring convince as Laura and Alec, but they are comically counterpointed throughout by the rest of the cast in that famous railway junction café – not least by Rosemary Ashe, Boadicea Ricketts, Stefan Bednarczyk and Ben Wiggins, plus by a final comic cameo from Crowe as Laura's unwitting friend.
The Jermyn Street Theatre's Artistic Director Tom Littler and his entire creative team must be congratulated, along with the cast, for putting this "trilogy of trilogies" on, and for pulling it off – a bijou theatre delivering a jewel box of gems. As if not ambitious enough, the theatre has also commissioned and staged three contemporary plays, under the banner Tomorrow at Noon, as a present-day reaction to Tonight at 8.30. With only a week left of the run (until Sunday 20 May), beg, steal or borrow for any tickets to Tonight at 8.30 shows you can get! Failing which, pray for a reprise – or even a transfer!
 The Noel Coward cycle, Tonight at 8.30, runs at Jermyn Street Theatre until Sunday 20 May 2018. For more info and to book tickets, for this or other shows there, call 020 7287 2875
Written for Bent Magazine and Bent Gay Shop