Absolute Hell, Lyttleton Theatre (National Theatre)
Desperate decadence in London's post-war Soho! Bent Magazine and Bent Gay Shop's Adrian Gillan enjoys queer goings-on in the National Theatre's rare raucous revival of Rodney Ackland's intoxicating Absolute Hell!
Bomb-blitzed Soho. A decaying den of damaged goods and lost souls – brash and brazen yet full of despair and longing – booze, bicker and bonk their escapist ways towards an uncertain future. Amidst flickering lamps, rubble and mental wreckage, the realities of their self-deceptive, self-destructive lives, and the outside world, begin to strain and crowd in!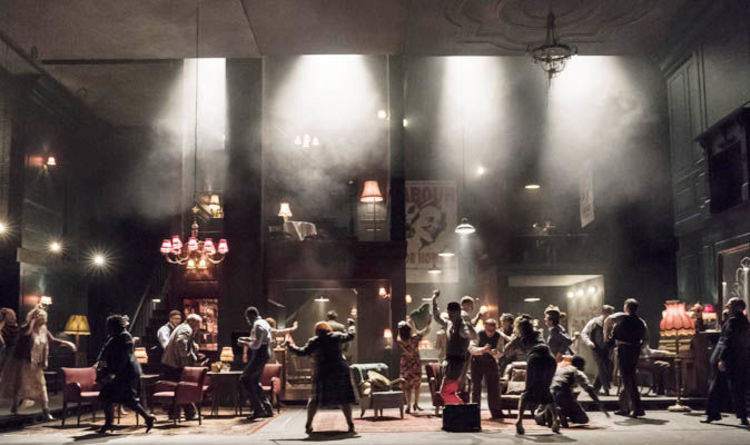 A prolific writer of now largely forgotten plays and film scripts in the 1930s and 1940s, bisexual actor, director and writer Rodney Ackland well-nigh gave up writing altogether following the dismal reception, in 1952, of his provocative and perhaps then-all-too-raw account of life on-the-edge in post-war hangover f**k-the-pain-away Soho – condemned, at the time, as "a libel on the British people". Even great gay playwright Terrence Rattigan – Ackland's financial backer for The Pink Room, as the work was then called – pretty much deserted him thereafter!
Almost four decades pass until Ackland, by then dying of leukaemia, yet aided by more permissive censorship laws, revisited and updated The Pink Room, massively upping its queer volume, renaming it Absolute Hell and staging it at the Orange Tree Theatre in Richmond, near where he lived. Shortly before his death in 1991, the BBC aired the revamped piece to acclaim, starring Judi Dench, with Bill Nighy as the gay male lead; and the National Theatre staged it soon after in the mid-90s, again with Dench, who even won an Olivier Award for Best Actress in her role.
Who better, then, that the National Theatre to revive Absolute Hell, a second time, over two decades on? In the work's favour: an atmospheric, intriguingly on-the-brink now-lost world, rarely remembered; and a clutch of mainly larger-than-life (and self-obsessed) characters, many of them gay. The challenge: three hours (including one interval plus a short seated 'pause') and not a lot of plot.
So, all credit to this 28-strong ensemble cast and director Joe Hill-Gibbins, plus the wonderful creative design team, that they succeed in pulling it off – with a constantly carefully modulated dramatic ebb-and-flow amidst the anarchy of the bitchy and selfish inter-relations on display, pulling focus here there and everywhere amidst the swirl, as a lone ghostly prostitute sporadically circulates the stage throughout.
La Vie en Rose proprietor Christine Foskett (Kate Fleetwood) overseas and somehow chaotically orchestrates her many colourful club members, many of whom are of a gay hue, who seek to nightly forget their immediate post-war problems – she herself enjoying a fetishised gang-bang just pre-interval!
Openly queer yet chaotic protagonist, scriptwriter Hugh Marriner (Charles Edwards, excellent) – doubtless in no small part modelled on Ackland himself – falls out with his more focussed yet closeted costume design partner Nigel (Prasanna Puwanarajah) who is starting a sham straight affair, triggering Hugh to have a one-off fling with hunky US soldier, Butch (Aaron Heffernan). Hugh's loving mother, Mrs Marriner (touchingly played by Joanna David), just wants Nigel and her son to reunite and be happy!
Nasty, letchy film producer Maurice (played strongly by Simon Hepworth on the night I attended) lusts after anything young in trousers, leading them up the garden path to his bed with promises of stardom, whilst also bullying and abusing his camp young assistant, Cyril (Esh Alladi).
Harsh, eccentric lesbian arts critic R B Monody (Jenny Galloway, brilliantly funny) riles Hugh – Ackland again, after decades of silence, confronting his own demons – accompanied by her attentive female carer, 'Bill' (Anita Reynolds). Other stand-out cameos include unhinged and sporadically violent artist Michael (Lloyd Hutchinson); arch pseudo-aristocrat, Lettice Willis, a.k.a. The Treacle Queen (Liza Sadovy); and crazed Northern Irish bible-basher, Madge (Eileen Walsh). Tragi-comic gems all.
As tempers flare and the club itself starts to physically disintegrate, characters are eventually forced to face reality, exiting – staggering, and oft alone – into new worlds, frighteningly as-yet-unknown. Magic.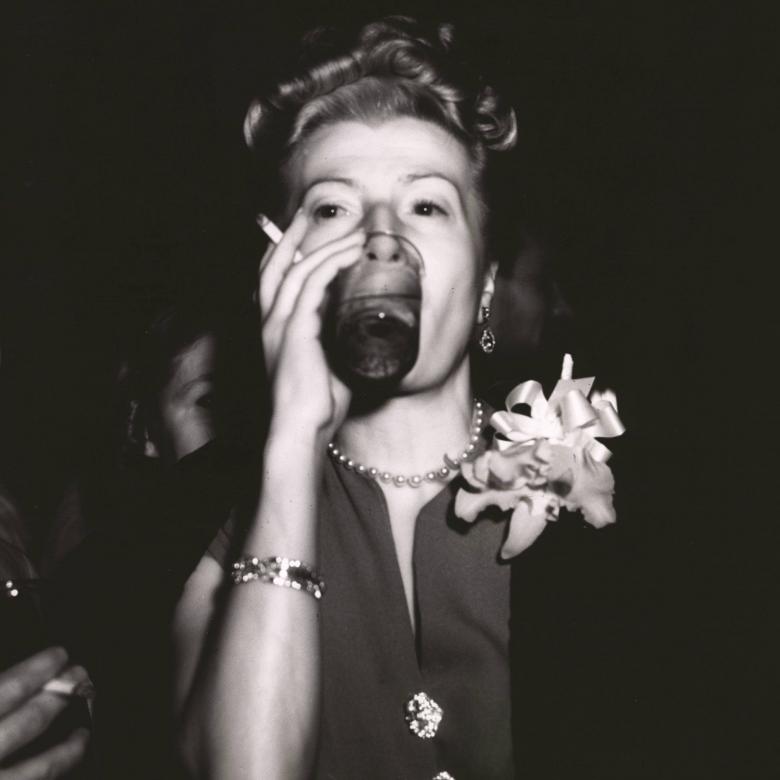 Absolute Hell runs at the Lyttleton Theatre (National Theatre) until 16 June 2018.