Ruthless! The Musical, Arts Theatre London
How far would you go to get a ticket? Bent's own harshest critic – devious deviant and cold calculating queer, Adrian Gillan – would urge you all to go to hell and back to see this West End premiere of Joel Paley's award-wooing cult camp killer-bitch of a musical!
by Adrian Gillan for Bent Magazine & Bent Gay Shop
Teachers, family, critics, rivals: no one and nothing's going to stop 8-year old Tina Denmark from starring in the school play! She'll charm, manipulate, string-pull and back-stab her sweet little way!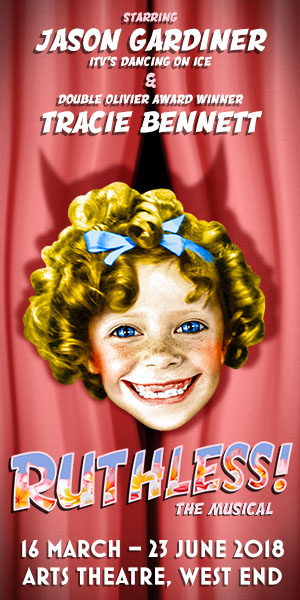 A quarter of a century after it wooed New York's Off-Broadway crowds (then-unknown wannabe Britney Spears was even an understudy, need we say more?), Ruthless! The Musical – book/lyric writer Joel Paley's searing spoof of Broadway shows like Gypsy and Hollywood movies like All About Eve – finally reaches London's West End, lighting up the bijou little Arts Theatre off Leicester Square. And – drop the Kinky Boots and jilt that Jamie – it's by far the gayest show in town! Music by marvellous Marvin Laird!
You'll soon get caught up in a merciless web, as Tina (played by four alternating young actresses, including the fittingly precocious Anya Evans when I saw it) fends off her dull-housewife-cum-closet-prima-donna schizoid mother, Judy/Ginger (a superbly neurotic Kim Maresca); her frustrated-yet-resigned alcoholic teacher Myrna (a wonderfully brassy Harriet Thorpe); her murdered rival's mum, Betty (Lara Denning, having a ball disguised as Ginger's assistant, Eve); her agent-cum-closet-grandma Sylvia/Ruth (Dancing on Ice judge and showbiz veteran Jason Gardiner, camping it up in drag throughout, well-nigh stealing the show as the only male on stage); plus her fiercest-critic-cum-adoptive-grandma, Lita Encore (two-time Oliver Award winner and six-time Olivier nominee, Tracie Bennett, adding sheer class to proceedings, bringing the house down with her big number, "I Hate Musicals") to get her little 8-year-old way! Got all that? "You better goddam muther-f***** had!" as Tina might say!
After one final mass on-stage shoot-out to make Tarantino look tame, director Richard Fitch's near spoof-of-a-spoof has you toe-tapping away to the finale's "Ruthless!" title-number (big cheers to the excellent live musicians under Gareth Valentine, plus choreographer Rebecca Howell), pre standing to hand the cast a worthy ovation and rushing out into an unsuspecting West End to wend your wicked ways! Fab sets by Morgan Large too, switching between prim home and swish kitsch Broadway lair!
Show no pity! Jump that queue to secure your ticket! Do just about whatever it takes!
Ruthless! The Musical runs at the Arts Theatre, London, until 23 June 2018.