An Ideal Husband, Vaudeville Theatre
Wilde about the boy! Bent's Adrian Gillan loves the social satire and moral dilemmas in gay icon Oscar Wilde's penultimate play, An Ideal Husband – featuring a star turn from sexy Freddie Fox!
It is ironic that gay great Oscar Wilde should have been arrested for "gross indecency" during the first run of his penultimate comic gem, An Ideal Husband – a social satire with a sympathetic treatment of ethical quandary, past mistakes, the grace of forgiveness and the tension between public and private!
The plot revolves around themes of blackmail, political pragmatism, reputation, hypocrisy, the role of women in society and social pressures. The psychological aspects are portrayed in a remarkably modern manner, quite possibly influenced by the Norwegian playwright Ibsen. By the end of the play, moral compromises have been struck, lessons learnt and all issues resolved happily. In sharp contrast, within weeks of his arrest during that inaugural run in 1895, Wilde himself had begun a 2-year prison sentence, to be followed by a 3-year impoverished physical and social exile, before his death in 1900.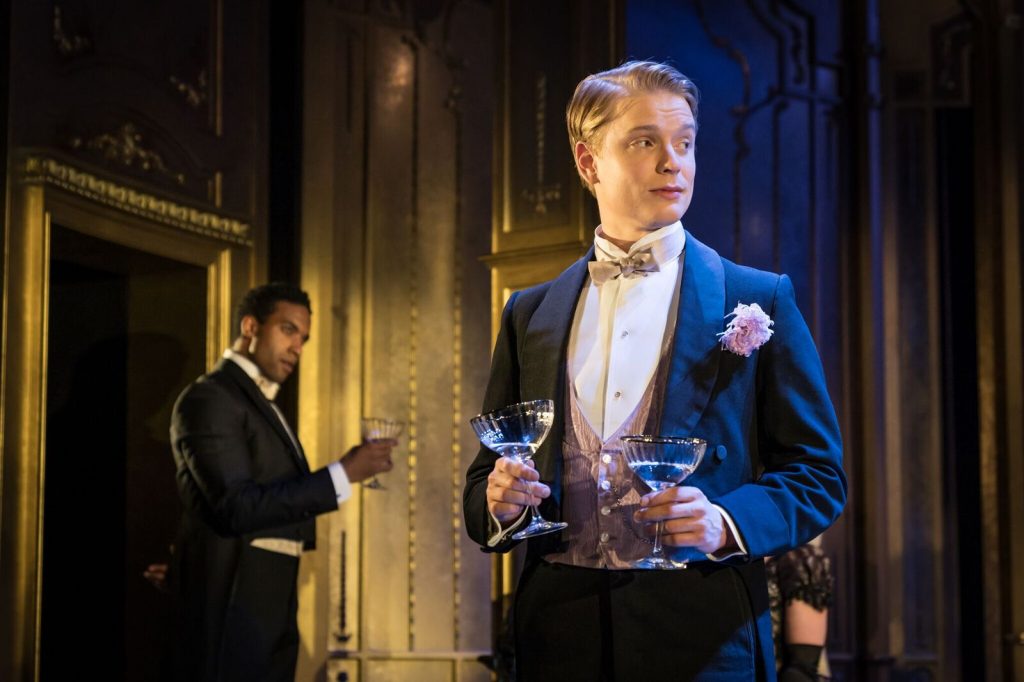 This latest production is itself the penultimate offering in an ambitious year-long celebration of Wilde's work, at London's Vaudeville Theatre, the brainchild of former Shakespeare's Globe director Dominic Dromgoole whose Classic Spring company aims to explore the work of "proscenium playwrights" in the architecture they wrote for – the "traditional" through-the-arch set-up of most older West End theatres.
And what a triumph! A well-nigh all-star cast of the highest calibre put on a spectacular masterclass, combining assured charm and period etiquette with razor-sharp intelligence and comedic technique.
A typically superlative Nathaniel Parker plays the eponymous "ideal husband" who falls short of the high moral standards set by his wife (Sally Bretton, excellent) – both of them fending off blackmail attempts by the seductive, ruthlessly wily baddy of the piece, played by a delightfully minxy Frances Barber.
The couple are helped by a young, aristocratic Wilde-like dandy, pitched to perfection by the luscious-of-mind-body-and-voice Freddie Fox – himself no stranger to playing gay/bi characters on stage or screen! His camp, cheeky, somewhat self-absorbed role is shown to be fundamentally decent, brokering the eventual happy ending. He himself ends up, like Wilde, married to a female love interest, played here by talented black actress, Faith Omole – yielding a timely social frisson, given the recent royal wedding – much to the delight of his pressurising father, played with joyful repartee by Freddie's real-life daddy, veteran actor Edward Fox. Radiant Susan Hampshire's cameo is an added thrill, were one needed!
Director Jonathan Church ensures that his stars, indeed the whole cast, shine; and that Wilde's text – both its dazzling wit and its moral agony – conveys clearly across the proscenium. Church, having recently finished a highly successful decade at Chichester Festival Theatre is now in charge of the summer season at Theatre Royal Bath, where this production transfers shortly after its Vaudeville run.
 An Ideal Husband runs at the Vaudeville Theatre until 14 July 2018 and then at the Theatre Royal Bath, 18 July – 4 Aug 2018. The Importance of Being Earnest, the last main offering in this year-long Wilde celebration, runs at the Vaudeville Theatre, 20 July – 20 Oct 2018.
by Adrian Gillan for Bent Gay Shop & Magazine