Central Swiss Winter: Lucerne & Engelberg!
Ski and carnival – all in just one short break! Adrian Gillan is far from neutral about the piste-party combo that is Engelberg ('Angel Mountain') and nearby Lucerne, in central Switzerland!
A mere 1½-hour flight to Zurich, and short hour-long Swiss train ride on, and you're in the luscious lakeside town of Lucerne, famous for its winter Carnival and its other festivals, plus compact scene; and just another hour on again by train, and you're in the stunning Alpine resort of Engelberg, an area of outstanding natural beauty – both mountains and men! So: one of the few places in the world where you can be skiing in the mountains one day and be experiencing carnival in the city the next, or vice versa!
Half of all Swiss are men. And nearly all of those are gorgeous! And, in Switzerland, you can expect the gay-friendliest of welcomes: not just in vibrant city hubs like Lucerne, but also in an extreme non-scene Great Gay Getaway like nearby Engelberg – high up in the central Swiss Alps, and perfect for gay group jaunts, queer solo detox or remote romantic retreat. Besides: even in a remote Alpine valley, with modern dating aps, the pretty boys are rarely too far away! Fresh air, and even fresher guys!
SKI IN ENGELBERG
Set amidst icy glaciers, sheer rock faces and lofty peaks, Engelberg is just an hour's spectacular train ride from Lucerne, and easily reached from Zürich airport. Visit June-September for a summer sizzler with luscious green mountains and walking trails ablaze with riotous wild flowers. However, come December-April for some serious fun on the white stuff – slopes and ski instructors to suit and please all! Caution: The thin air up here could make you dizzy, not least because of all the hot, hunky locals!
"Angel Mountain" was so-named after a 12th Century nobleman – doubtless aided by said thin rarefied air – apparently had a vision of angels and was inspired to found a monastery in the foothills of 3000-metres-and-counting whopper, Mount "Titter Yee Not" Titlis. Both ancient mountain and redeveloped Baroque Benedictine monastery (complete with – steady – the largest organ in Switzerland; plus an adjoining cheese and fondue factory) still dominate this 4000-populated mile-high commune-cum-club – most recently largely sustained on a history of 19th Century health spas, and 21st Century skiing.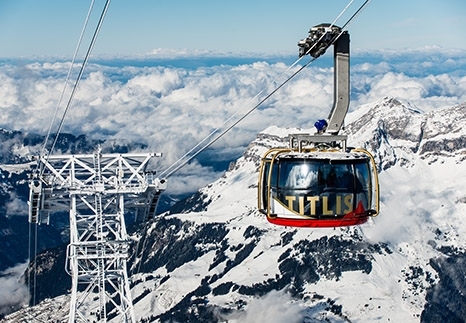 Stay at the fully renovated gay-owned/run Hotel Spannort (Dorfstrasse 28, Engelberg; T: +41 (0)41 639 6020;) on Engelberg's main pedestrianised, boutique-lined street – now fusing woody cosiness with contemporary chic, all designed to soothe and calm. Soak up mountain views from its chalet-style rooms, all with the comfiest of beds, and private balconies; gorge at its superb restaurant for top-notch nosh; or relax in its spacious lounge area, or sauna suite, post-piste! You will always get the warmest of welcomes from its charming, friendly, hard-working young owner – the truly lovely Stefan! Also: check-out the hotel's nearby budget sibling, the modern and trendy Spannort Inn (Bahnhofstrasse 7; T: +41 (0)41 637 03 06;), not least its fab light and airy daytime café-bistro!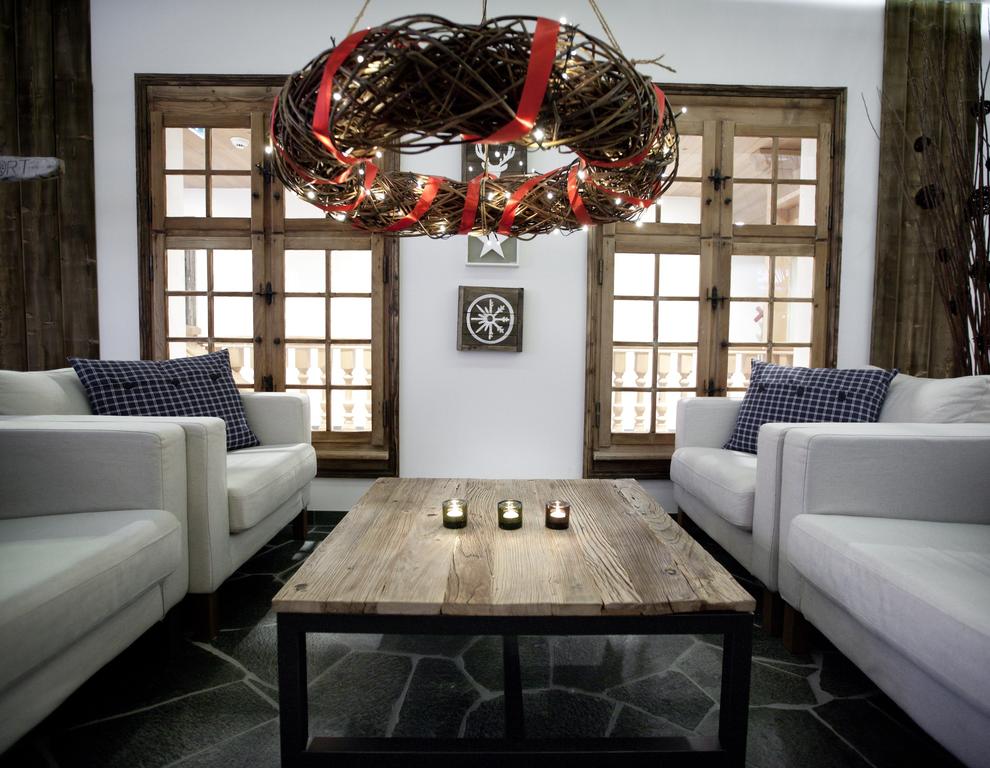 Ski rental is easy at Intersport at Engelberg's basecamp cable car station!
Ascend Titlis (3020m) via a series of gondolas, culminating in the amazing rotating Rotair cable car that glides and spins you through the final leg, over the glacier, to the highest point in central Switzerland! As you rise, the air clears and the temperature drops! After a dash around the glacier grotto with its weird ice formations you'll be glad of a coffee liqueur in the peak café. Then: enjoy those runs!
Take lunch at Titlis favourite, Stand – a traditional ski hut boasting a friendly, quaint and cosy restaurant with lots of wood, tiled stoves and a roaring open fire! Warm up with a barley soup or cottage pie! Stunning views from its terrace too!
Over the valley, across from Titlis and the main ski drags, gentler slopes can be found on Fürenalp (1850m) and Brunni (1600m), ideal for tobogganing, snow-shoeing etc; the latter hill boasting restaurant Flühmatt, furnished in typical Engelberg style and serving up famous local dish "Engelberger Älplermagronen" (Swiss cheese macaroni) – all topped off with a café kirsch or similarly laced tea!
Wherever and whatever you're up, descend as darkness falls to enjoy top après-ski crack, with several buzzing gay-friendly or gay-frequented haunts to sample in Engelberg. Check out stylish Alpenclub (Dorfstrasse 5;); Irish The Core (Titlisstrasse 2;); or buzzing Yucatan (Bahnhofstrasse;). The abundance of fresh Swiss hunks and cuties makes this a droolsome homo-haven, wherever you land.
And anyone craving the odd purer queer fix need only flit the short distance down-valley to Lucerne…
PARTY AT CARNIVAL IN LUCERNE
An hour from both Zurich and Engelberg, perched on its eponymous lake, Lucerne is known as the 'City of Lights' and is home to several annual festivals (notably Easter/Summer Fests; Summer music), including its wintry Carnival!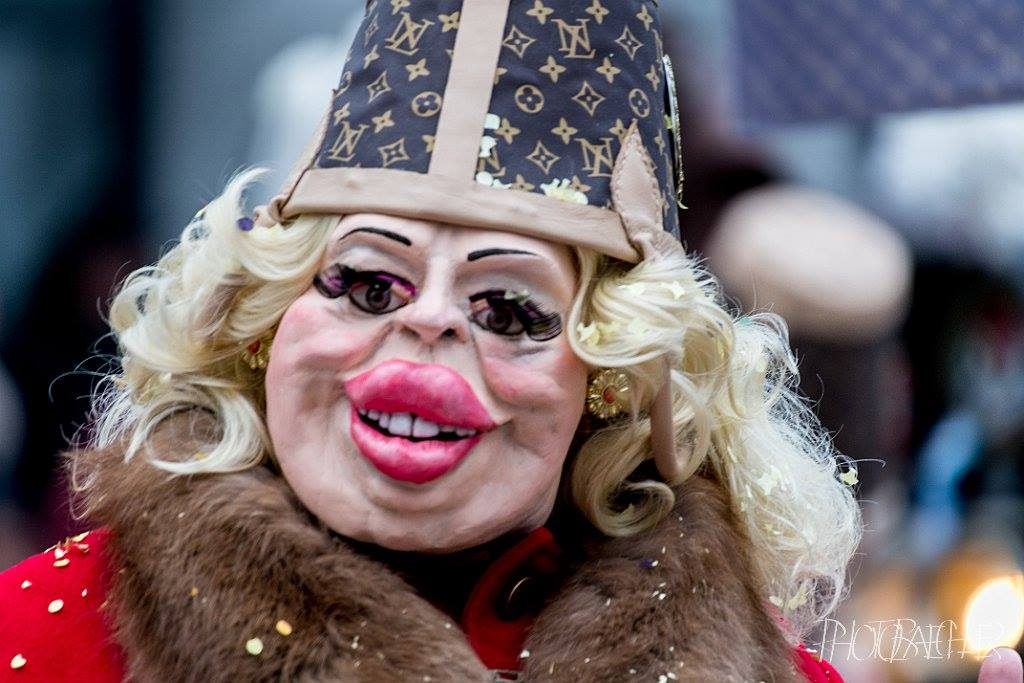 Whenever you are here, be sure to explore the Old Town with its historic covered wooden bridge crossing the lake inlet, plus lofty city walls, old town squares and lakeside promenades, Then browse the amazing Rosengart Collection with its Picasso and Klee; KKL music and arts complex; plus 19th Century indoor panorama and Lion Monument. Ascend nearby mountains, Rigi (1800m) and Pilatus (2120m) for fun all-year-round!
Boasting probably the very best location in Lucerne – right on the lakeside and a great place to watch parades and get caught up in the Carnival atmosphere – follow in the footsteps of Wagner and Churchill, Armstrong and Twain, and stay at 5-star "festival hotel" Hotel Schweizerhof (Schweizerhofquai, Luzern; Phone +41 (0)41 410 0 410;) with its 170 years of history spanning five generations of charming Hauser family tradition. 19th Century splendour. 21st Century service and style. Each of its 101 rooms are themed around a prominent person who has stayed at, or is linked to, the hotel! Fab regional seasonal speciality restaurant Galerie, plus rooftop sauna, too!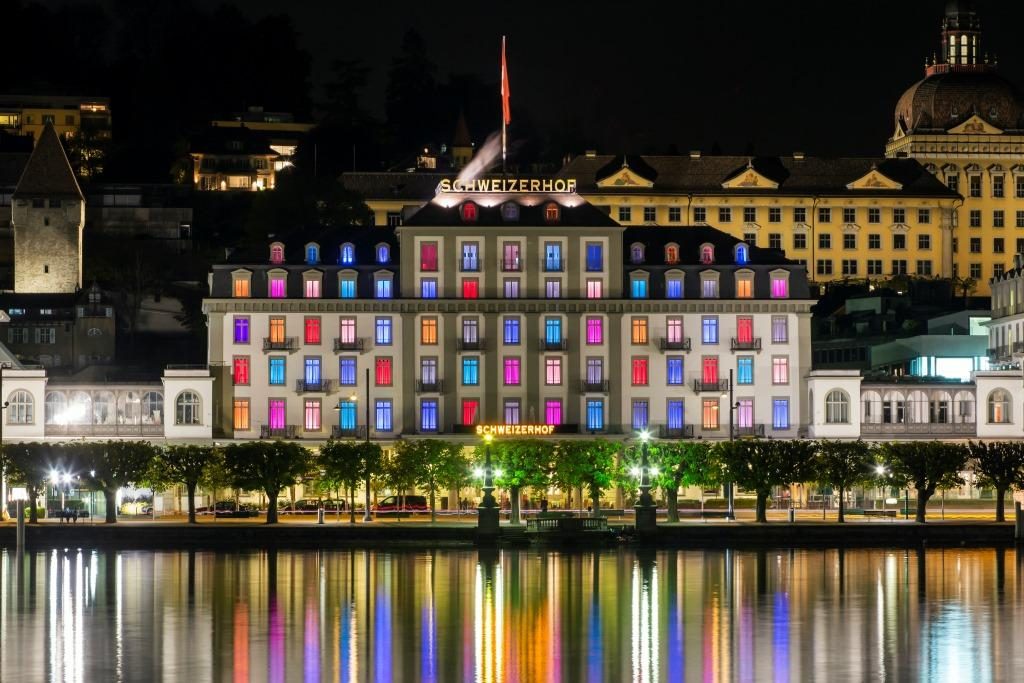 Wintry Carnival ("Fasnacht"): leading up to Shrove Tuesday, a last pagan fling pre-Easter abstinences! This peaceful city lets loose its demons in an epic act of social therapy, as garish masked figures roam, parading along narrow streets whilst carnival musicians ("Guggenmusigen") beat and blow instruments and hordes of weirdly clad revellers dance away the icy spirits of winter! Only the un-dressed-up get stared at! Crazy is the norm! If you miss this year's (8-13 Feb 2018), there's only another year to wait!
Highlights… the grand pre-dawn "Big Bang" ("Tagwach") opening when a semi-mythical 'Fritschi Family' land off the lake amidst a blizzard of "paper rain" ("Fötzeliräge"), and the afternoon Fritschi Parade, both on the opening "Dirty Thursday" ("Schmutziger Donnerstag"); then the afternoon Wey Parade, on "Fat Monday" ("Güdismontag"); and the final climax evening Monstercorso Parade on the Shrove Tuesday. So: dress up and party at parades and stages! Gorge at street stalls and markets!
The guilds historically form the backbone of Carnival organisation: guilds like "Fidelitas Lucernesis" with their amazing social club up the Rathaus Tower, overseen by real-life Carnival character Roland Barmet – whose lofty realm is available for private hire! Visit a Bakery Kreyenbühl, whose delightful owner Josef is a former president of the "Safran" guild, to try authentic tasty carnival dessert specialities like "Schenkeli", "Zigerkrapfen" and "Quarkbällchen".
Enjoy supper at restaurant Lapin (Museggstrasse 2; Luzern;) trying traditional carnival dish 'Lucerne Fritschi-Pastete' – a decorated puff pastry casing filled with a red wine sauce of diced veal and pork, veal sausage, mushrooms, apple and raisins – followed by strudel! Or try Spanish BOLERO (Bundesplatz 18, Luzern;) at the CASCADA Hotel in the New Town behind the train station to heat yourself up – with tapas and a warm welcome! Buffet 'n à la carte!
Scene-wise, check out gay-friendly trendy joints like Blue Bar Lounge (Pilatusstrasse 15;); or Penthouse Roof Top Bar (Hotel Astoria; Pilatusstrasse 29;) for great views. It's even full-on Frigay every third Friday of the month at El Cartel! Also check out Discus Sauna and Cruising World; plus the week-long Pink Panorama LGBT film fest every November.
FOOTNOTE – TWO SWISS GAY SKI WEEKS: AROSA & LENZERHEIDE
Seeking a more purely pink piste wintery experience? You are spoilt for choice, thanks to recently linked resorts Arosa and Lenzerheide in Eastern Switzerland, hosting the two annual Swiss gay ski weeks!
2019 will be the 15th year for Arosa Gay Ski Week (19-26 Jan 2019), attracting hundreds of queer skiers from all over the world every January to an avalanche of wintry sport – both the outdoor and indoor variety! Apart from all the skiing with your new ski-fit pals, enjoy torch-lit sledge-runs; organised walks; drag queen races; concerts; plus dinner, pool 'n peak-top parties galore!
Running for a decade longer than the Arosa Gay Ski Week, if you get your skates on you might just get there in time for GaySki Lenzerheide (3-10 March 2018) which well-nigh prides itself on still being a perhaps tad smaller affair than its bigger gay bruv over the hill in Arosa. Hubbed around the Lenzerheide Hotel Schweizerhof, it's a heady mix of skiing, dinners, parties and… that hotel hamam!