by Adrian Gillan for Bent

History, culture and sexy guys! Adrian Gillan hails city sights and Hampshire Pride – in classy Winchester! All just a short chug away on super South Western Railway!
This key Roman town, which fell into decline before resurging in the Middle Ages as England's ancient capital, is linked to King Alfred the Great and is famous for its Cathedral, Great Hall with 'King Arthur's Round Table' and Winchester College public school. Plus: heaving homo hordes of sexy uni lads!
And you too can be here in little more than one hour direct from London Waterloo on South Western Railway, whose £1.2bn investment plans include an as-new fleet of trains between Portsmouth and London, by December 2018; a brand new fleet of 90 trains, with a massive increase in overall seating capacity, into and out of Waterloo, by December 2020; a £90m investment in improving stations; a refurbishment of the entire existing train fleet; quicker and more frequent journeys generally; and an enhanced info and ticket-buying experience!
Sights
And there's so much to see in this small-yet-beautiful 45,000-populated county town of Hampshire…
Winchester Cathedral – This 11th-16th Century masterpiece is the longest Gothic cathedral in Europe, and the final resting place of many luminaries including King Canute and writer Jane Austin! Ace male nude Antony Gormley sculpture in the flooded crypt too!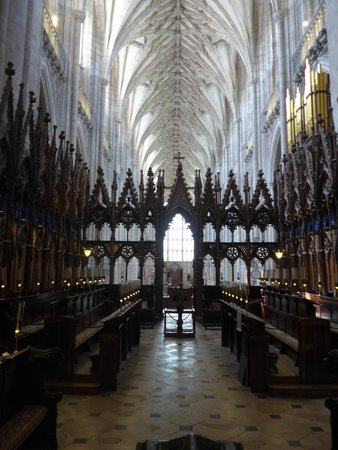 Great Hall & Round Table – The 12th Century Great Hall is all that now remains of Winchester Castle! It is most famous for its 'King Arthur's Round Table', although this is actually 13th Century (later decorated in the 16th Century by Henry VIII) and thus dates to well after any supposed-nay-legendary Malory-embellished Arthurian period!

Winchester Great Hall

City Museum – Tells the story of Winchester through the ages, boasting a Roman gallery, with its exquisite mosaics, plus period High Street shop interiors! Amazing 3D city models through-the-ages 'n all!
The Discovery Centre – Fab library, exhibition, gallery and performance venue! Enjoy the A Remarkable Man exhibition of modern British art, on 'til 20 March 2018, and thereafter see genius cartoonist Gerald Scarfe's Stage & Screen 'til 27 June 2018!
Winchester Great HallThere's even lots of art out-and-about – including statues of Queen Victoria, by Sir Alfred Gilbert, in the aforementioned Great Hall; sword-raising King Alfred, by Hamo Thornycroft, on The Broadway; and Horse & Rider, by Elizabeth Fink, in front of the Law Courts. Plus: lots of decorated artist-themed bollards near The Square, opposite the Cathedral.
Oh, and John Keats wrote To Autumn, and many other famous poems, whilst staying here!
Theatre Royal Winchester
No trip to Winchester is complete without a visit to its beautiful jewel-box 400-seater Theatre Royal that opened as a cine-variety venue back in 1914, having developed out of an existing hotel building, and which narrowly escaped demolition back in the 1970s – now offering a dynamic programme of quality drama, music, dance, comedy, children's theatre and pantomime! Highlights of its Spring/Summer 2018 season include Judy & Liza (1-3 March 2018), The Importance of Being Earnest (5-10 March 2018), Jason Donovan (16 March 2018), On the Town (25 March 2018), Iolanthe (3 Apr – 5 May 2018) and much, much more! If you missed the excellent recent production of prolific John Godber's Scary Bikers – starring great man-of-the-theatre Godber himself, plus wonderful wife – you might still catch it on tour at a theatre near you until the end of April 2018!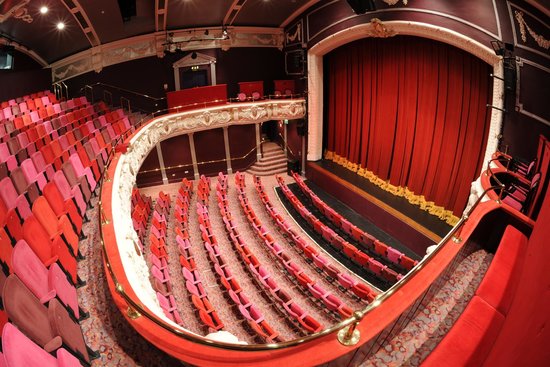 Hampshire Pride
There mightn't now be a single gay bar in town – you'll need a short ride to Portsmouth or Southampton for that! Indeed, this isn't Soho, Kemptown or Canal Street, that's true, but gorgeous young locals and uni students abound and, with modern dating aps, the pretty boys are rarely far away!
You've just missed a fab Hampshire Pride (Sat 24 Feb 2018) with a Parade through Winchester, followed by an Indoor Street Festival, and an evening After-Party at the Student Union hosted by DJ Thunder Pussy, featuring live acts like local boy Adam All! Here's to next year's!
Meantime, don't forget nearby Southampton Pride on Sat 25 Aug 2018, preceded by its warm-up Boat Party on Sun 6 May 2018!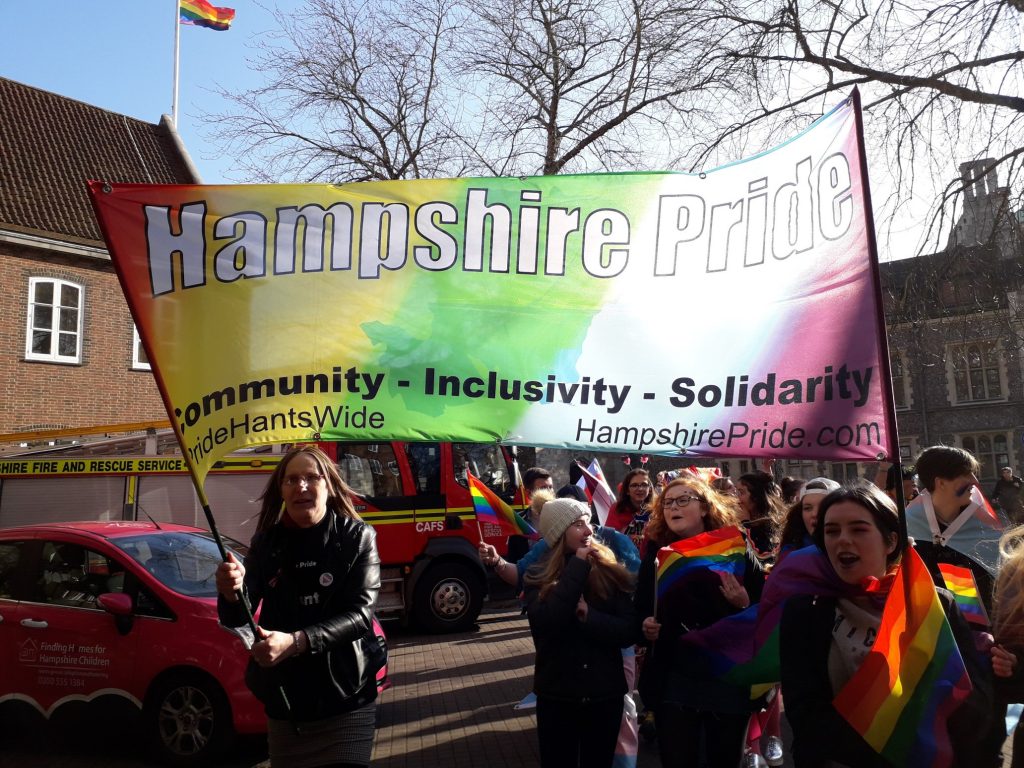 Winchester is scarce more than one hour direct away from London Waterloo by wonderful South Western Railway.
– ends –