We are Family, especially in Poole!
More and more gay families now include children – adopted, biological, maybe even from previous op-sex relationships. Where better to take your little sprogs than for a fun few days out by the water in and around Poole, Dorset! All just a short chug away on South Western Railway!
Nestled in Europe's largest natural harbour – worldwide, only Sydney's is bigger – Poole is a Dorset jewel on the glorious south coast of England, well-nigh adjoining Bournemouth just to its east.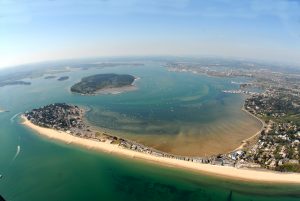 Formed out of flooded valleys after the last Ice Age, Poole's sheltered waters have attracted human settlements since before the Iron Age but its name dates back to the 12th Century when it began to emerge as a significant port, climaxing in the 18th Century through lucrative trade links with North America. In WW2, due to its location and setting, Poole was one of the main D-Day departure points.
In recent decades, the town has emerged as a top tourist resort, luring visitors with that majestic natural harbour, Sandbanks peninsula spit with fab sandy Channel beaches, Brownsea Island, attractive Old Town and Quay, plus Lighthouse arts centre. Poole also boasts the Royal National Lifeboat Institution (RNLI) HQ and a Royal Marines base; and is home to Bournemouth Symphony Orchestra.
And you too can be here in around 2 hours direct from London Waterloo on South Western Railway, whose £1.2bn investment plans include an as-new fleet of trains between Portsmouth and London, by December 2018; a brand new fleet of 90 trains, with a massive increase in overall seating capacity, into and out of Waterloo, by December 2020; a £90m investment in improving stations; a refurbishment of the entire existing train fleet; quicker and more frequent journeys generally; and an enhanced info and ticket-buying experience!
STAY
Bored of hotels and B&Bs? Fancy something different, connecting you more to the great outdoors, and especially fun for kids? Look no further than South Lytchett Manor Caravan & Camping Park (Lytchett Minster, Poole BH16 6JB; T: 01202 622577; open 1 March 2017 – 2 Jan 2018) – a 5-star, multi-award-winning, dog-and-kid-friendly campsite, a short car, bus or bike ride just 3-miles west of Poole. Set in 25 acres of idyllic parkland, this camping, glamping, caravanning and motorhome wonderland was adjudged the AA's UK Campsite of the Year 2016, and has also been named Best Site in Britain for Camping, Caravanning and Motorhomes for 2017!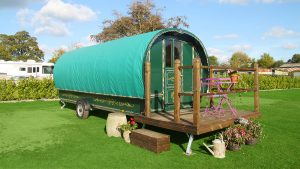 Family-run by Dave, Jo and their top-notch team, the site is immaculately maintained in its scenic location, amidst a friendly, relaxed atmosphere. Hats off to its sustainable tourism ethos too!
Enjoy the luxury heated amenity blocks, with fresh flowers, piped music and pro hairdryers, plus dish/laundry washing/drying facilities; the deluxe fully-serviced pitches, with free TV and electric hook-ups; Wi-Fi across the whole site; "info shack" brimming with leaflets; shop; games room with pool table and table football; kids' play area and recreation field; and 2½-acre off-lead mowed dog-walking field!
If you don't have a car, regular buses into Poole town centre run to/from a stop just outside the main gates; or high-quality hire bikes are on hand for all ages. Fab eating options: a stroll away (see below)!
If you're canvas-averse, treat yourself to a spot of glamping in any of four traditional Romany Caravans – Anastasia, Maggie, Esmerelda and Matilda. Experience the adventure or romance of staying in a traditional, beautifully-painted, Dorset-handcrafted, bowtop gypsy caravan – cool and open in the summer, warm and cosy in the winter – featuring a full-size double bed and two single beds, insulated oak floor, heater, TV and DVD player, refrigerator, sockets with USB points, two-ring electric hob and hob kettle. Lovely outdoor wooden deck with garden furniture too! Pets not allowed in Romany Caravans, alas. Don't forget your own bed linen, cutlery and the like. Welcome pack and personal introduction to both the site and your Tardistically spacious gypsy glam-van await!
EAT
If staying at South Lytchett Manor Caravan & Camping Park, two fab eateries are a short stroll away.
For breakfast, lunch or daytime snacks, it's a 2-minute walk to family-run and fully-licensed Dylans Restaurant (The Courtyard Craft Centre, Huntick Rd, Lytchett Minster, Poole; 01202 631030; with its convivial ambience and scrummy home-cooked food. Nice terrace deck looking out onto an attractive courtyard too! Open daily from 9.30am 'til late afternoon. From all-day breakfasts through cream teas to Sunday roasts, you'll love it!
For a hearty pub-restaurant, especially cosy of an eve, St Peters Finger (Dorchester Road, Lytchett Minster, Poole; 01202 622 275;) is a mere 5-minute stroll away from the camp site, in the quaint little village of Lytchett Minster itself. Camp site guests get a free bottle of wine if two main courses are purchased! Expect a warm welcome plus excellent food, drink and company! Dog and child friendly! Free Wi-Fi and parking!
TOP 10 THINGS TO DO FOR KIDS (OF ALL AGES!) IN & AROUND POOLE
Many of Poole's top lures – sea, beach, harbour – are free! Those that aren't offer great value…
Tower Park Leisure Complex (Yarrow Road, Poole;) – two miles north of Poole Quay, the South Coast's leading entertainment centre, offering activities for all the family all year round, including cinema, bingo, bowls and a wide range of eateries.
Lemur Landings Soft Play (Tower Park, Poole;) – inside Tower Park, one of Dorset's largest indoor soft play centres, providing a safe, stimulating adventureland for under-12s with huge multi-level playframe, ball-blasting cannons, climbing walls, low ropes, role-play village (under-7s), baby/toddler sensory area and a fab, fully-stocked café!
Splashdown Poole (Tower Park, Poole;) – inside Tower Park, flumin' good fun at the South's favourite waterpark! 13 nerve-jangling indoor and (seasonal) outdoor flumes, plus under-5s splash zone and toddler 3D effect reef! Are you ready for The Screamer, Velocity, Baron's Revenge, Infinity, Zambezi Drop, Dragon's Lair, Grand Canyon, Mississippi Drifter, Tennessee Twister, Louisiana Leap, Colorado Coaster, Black Thunder or Red River Roller?
Sandbanks – a small peninsula or spit (just 1 square kilometre in area) crossing the mouth of Poole Harbour on the English Channel coast – with the harbour water on one side, the sea on the other. It boasts the glorious sandy Sandbanks Beach, the Sandbanks Ferry across to Studland and the fourth highest land value in the world, attracting wealthy residents like the Redknapp footie dynasty!
Watersports Academy (Sandbanks Hotel, Sandbanks, Poole; 01202 708283;) – Sandbanks' premier water sport hire and tuition centre, providing first-class tuition (group, solo, taster, short courses, holiday clubs/camps) for people of all ages, novices to experts alike. Teaching is on award-winning Sandbanks Beach and in the safety of the shallow depths of Poole Harbour. Changing facilities, hot showers, shop and cafe all on site. Try kayaking, paddle boarding, windsurfing, sailing, kitesurfing, wake boarding, water skiing and more.
Brownsea Island (Poole Harbour, via Ferry from Poole Quay) – National Trust site, famous for its pleasant walks and thriving red squirrel population, and as the birthplace of the Scout Movement following Baden Powell's original experimental Scout Camp back in 1907. Reached by regular twice-hourly boats from Poole Quay, the return ferry includes a 40-minute harbour cruise. Note: There is a ferry fee, plus a landing fee for non-National Trust members. The Island is open daily to the public from mid-March – late-October, with Winter Weekend opening for a month across Feb/March. The island is closed to public Nov-Jan inclusive.
Upton Country Park – over 140 acres of free-access beautiful award-winning gardens, open parkland, woodland and shoreline. Highlights include Upton House itself, Woodland Play Trail, Walled Garden, summer Splash Fountain, Tea Rooms plus Art Gallery.
Poole Museum – in the centre of the Old Town, illustrating the story of the area and its people from the Iron Age to today. Poole Pottery floor too! Free entry; open daily.
Lighthouse Poole (Kingland Road, Poole;) – the UK's largest arts centre complex outside London, with cinema, concert hall, studio, theatre, image lab and media suite and galleries featuring exhibitions of contemporary photography and modern digital art. Lighthouse boasts a year-round programme of national and international events, dance, music, drama, comedy, film, visual arts, workshops and family theatre. It is home to the Bournemouth Symphony Orchestra. Imminent shows include spooky The Weir (7-11 Nov 2017); tuneful Million Dollar Quartet (14-18 Nov 2017); and seasonal Cinderella (8 Dec 2017 – 6 Jan 2018).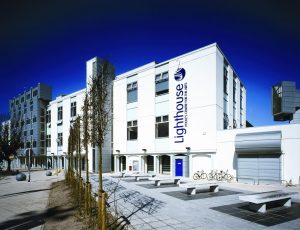 STOP PRESS: 'LIVE ON MARS: David Bowie Tribute' – If you've just missed the Lighthouse Poole stop of this superb nationally touring celebration of pop icon Bowie's "music, artistry, style and showmanship", be sure to get your ticket for when it lands near you! Lifelong Bowie fan and look-alike Alex Thomas, with his cherry-picked top-notch band, working beneath a big screen showing amazing original Bowie video, interview and animation footage, lovingly and exuberantly cover the Bowie back-catalogue, from Space Oddity to Let's Dance and everything in between – including Jean Genie, Life on Mars, Ziggy Stardust, Heroes, Ashes to Ashes, Changes, China Girl, Fashion, Fame, Starman, Rebel Rebel, Modern Love and Young Americans! You are invited to come and dress-up to "express your inner space oddities" but everyone ends up dancing in the aisles! Out of this world!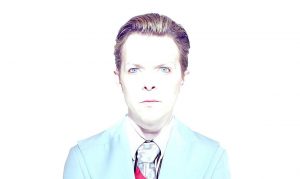 NEARBY BOURNEMOUTH SCENE & PRIDE
There mightn't be a single gay bar in Poole. However, with modern dating aps, the pretty boys are rarely far away; and adjoining Bournemouth's queer quarter is a mere short drive due East!
Of course, you're unlikely to sneak your sprog past the bouncers at the clubs, and – even where its licence permits it – a pub can be a bit of a bore in a child's bigger scheme!
That said, all ages love a party! One of the best UK community Pride fests, Bourne Free (Bournemouth Pride) offers a parade and weekend entertainment every June/July, including family fun, around The Triangle scene.
Poole is just 2 hours direct away from London Waterloo by wonderful South Western Railway.