History, culture and sexy Sussex guys! Adrian Gillan hails homo heaven – in classy Chichester!
Modern Chichester is built slap-bang over its cross-shaped Roman predecessor, Noviomagus. North, South, East and West streets still emanate from tad-more-recent market cross. Encircled by gloriously intact Roman walls and dominated by a medieval Cathedral, this 27,000-populated town is now also celebrated for its nationally and internationally significant art gallery and theatre. Plus: sexy uni lads!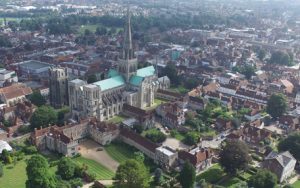 And you too can be here in under 1½ hours direct from London Victoria on Southern, part of the GTR franchise which is in the process of transforming and future-proofing rail services into and across London, with the addition of new trains, modern infrastructure and improved ways-of-working. Southern provides train services for commuters, airport users, business and leisure travellers, moving 165 million passengers every year – an average of 600,000 per day – double the number 12 years ago.
Pallant House Gallery
With its Georgian house and spacious modern annex, Pallant House Gallery (9 North Pallant), has been described by one art critic as "the finest collection of British art outside the Tate", with works by many of the major British artists of the 20th Century including Henry Moore, Walter Sickert, Ben Nicholson, Eduardo Paolozzi and Peter Blake – to name a few!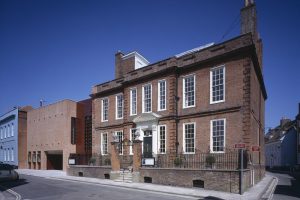 Alongside the permanent collection – in truth a 'collection of collections' – you can also enjoy top temporary exhibitions, the latest of which, on until 4 Feb 2018, is a major review of the life and career of David Bomberg (1890– 1957). Over 70 works, representing all significant periods of the artist's output, brilliantly illustrate key developments in his practice, plus his significance within wider British modernism.
Chichester Festival Theatre
Grade II listed Chichester Festival Theatre opened in 1962 with Laurence Olivier as its inaugural Artistic Director, heading the first National Theatre company, with productions transferring to the Old Vic in London. Subsequently, the smaller and more intimate Minerva Theatre was built next door in 1989.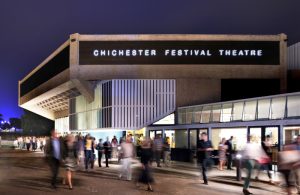 The Festival Season usually runs from April to September/October and includes inhouse productions from classics to contemporary fare and musicals. You might still catch the last productions of the Festival 2017 season – the theatre's first ever 'in-the-round' show, of Alan Ayckbourn's hilarious trio of plays, The Norman Conquests ('til 28 Oct 2017); and James Graham's new play, Quiz ('til 9 Dec 2017).
Directed by Blanche McIntyre, Ayckbourn's trilogy The Norman Conquests consists of Table Manners, Living Together and Round & Round the Garden, all showing synchronous action as viewed from three different parts of a house, and are designed to either be seen together, in any order, or as stand-alone offerings. The talented and hard-working ensemble cast are Jonathan Broadbent, Trystan Gravelle, Sarah Hadland, John Hollingworth, Hattie Ladbury and Jemima Rooper.
The theatre's Winter season 2017/18 is crammed full of touring dramas, comedies and family-friendly shows, offering entertainment for all tastes and ages. Step back to the hey-day of rock 'n' roll or the WW1 trenches; witness surprising friendships; relive an Edwardian scandal; spend a spine-tingling night in an Irish pub; chuckle at slapstick theatrical mayhem; marvel at jungle adventures; or be enchanted by spell-binding fairy tales… all at Chichester Festival Theatre this winter!
Martin Kemp, Belinda Lang and Siân Phillips are among the stars appearing in winter season plays and musicals ranging from Million Dollar Quartet to Driving Miss Daisy plus West End hits The Play That Goes Wrong and The Wipers Times. Rattigan's masterpiece The Winslow Boy sits alongside modern classics Duet for One and The Weir. Favourites such as the Christmas Concerts and Moscow City Ballet return, and there's a wide range of music and performances from a sparkling line-up including Sir Michael Parkinson, Stacey Kent, Omid Djalili and Patricia Routledge. There's lots for families and youngsters, including Chichester Festival Youth Theatre's Beauty and the Beast for Christmas; a new musical adaptation of The Jungle Book; and an acclaimed production of The Little Matchgirl.
Other Top Tips
Beyond these top-notch galleries and theatres, some of the best things in life are completely free…
Chichester Cathedral – With foundations dating from 1075, on the site of a pre-existing Saxon church, this is the only English medieval cathedral to have a separate bell tower, and the only cathedral in England visible from the sea! It is also unique in its collection of 20th Century paintings, sculpture and glass – including a window by Marc Chagall, a tapestry by John Piper and a painting by Graham Sutherland. Free entry and guided tours.
City Walls Trail – Do an hour-long gentle self-guided walk along/around one of the most intact Roman city defences in the south of England. Stroll the tree-lined path atop the walls for stunning views over the city, with info panels en route. Needless to say: free as the birds!
The Novium – Spanking new free-entry museum telling stories of local people and places, through objects and displays. Key Roman highlights are the Bath House excavations, the Jupiter Stone and the Chilgrove Mosaic. Enjoy the current award-winning exhibition on local boy, astronaut Tim Peake; or imminent (Nov 2017 onwards) 'Cutlasses & Contraband; A Smuggler's Tale!'
Chichester Festivities – Annual 4-week music fest, every June/July.
Guys
There mightn't now be a single gay bar in town – you'll need a short ride to Portsmouth for that! Indeed, this isn't Soho, Kemptown or Canal Street, that's true, but gorgeous young locals and uni students abound and, with modern dating aps, the pretty boys are rarely far away!
And gents have been known to muster discretely at facilities on Tower Street; plus at Selsey Beach, due south on the coast, of a balmy summer's day. As ever, beware.
Chichester is under 1½ hours direct from London Victoria by wonderful Southern.