Great Scot! Adrian Gillan takes the high road for a queer cultural treat in Scottish capital, Edinburgh! And all a short aerial hop away, on ab fab Flybe!
From medieval Old Town with Castle, Vaults and Royal Mile, to Georgian New Town with stucco squares, this "Athens of the North" blends historic heritage with living culture and even boasts its very own well-nigh "inner-city mountain" – extinct volcano, Arthur's Seat!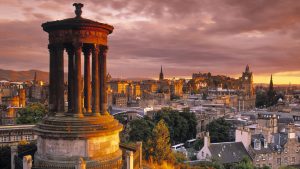 And, with fab low-cost carrier Flybe serving Edinburgh from London City Airport, you too can be here in no time at all – and with extra cash left in your pocket! Punctual, and with highly personal, yet still professional, service, the purr of the propeller engine lives on in many a Flybe hopper route – strangely reawakening the adventurous glamour of a bygone age of travel. We love 'em!
STAY
Stay at great-value Hub by Premier Inn Royal Mile (37 East Market Street, Edinburgh, EH8 8FR;), situated just off one of Scotland's most famous streets – sloping down from the Castle in the Old Town! This spanking new, compact, hi-tech, space-smart urban style hotel connects you to the heart of Edinburgh, since location-location-location and size isn't everything, is it now boys?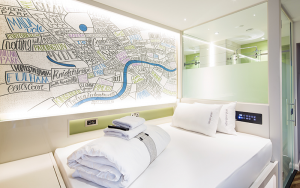 A mere short stroll from Edinburgh Waverley rail station, up Market Street and into East Market Street, you are in the midst of all the Scottish capital's medieval ambience, yet mere minutes by foot from the scene, and all other sights. The auto-check-in and giant foyer wall map will orientate and 'home' you, as will the super-fast Wi-Fi throughout, free tea/coffee and luggage storage.
The air-conditioned Standard rooms are craftily designed around you, still boasting a luxurious Hypnos bed, monsoon shower, 40″ Smart TV, pull-out desk and under-bed storage – all focussed on maximising your comfort and entertainment. Dig the control panel for adjusting lights and temperature! Bigger rooms are… well… a bit bigger, offering a luxurious king-size Hypnos bed!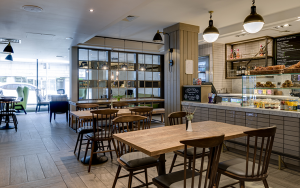 Graze at the in-house deli, ProvenDough, for a fresh selection of breakfasts and light bites – open from 6.30am weekdays, from 7am at weekends, with a full menu available from 11am to 10pm daily.
Hats off, too, to the Royal Mile's sister hub hotel on Rose Street, just over the rail tracks in the Georgian New Town.
SIGHTS
Hanging in the Old Town? Check out the heady Scotch Whisky Experience; lofty Castle, with its ancient chapel, "Honours" regalia and regimental museums; atmospheric St. Giles' Cathedral; eye-teasing Camera Obscura & World of Illusions; or inspirational Writers' Museum. Tour the old Palace of Holyroodhouse and new Scottish Parliament due east; plus check out the vibrant Dynamic Earth exhibition whilst down that way – and even hike up Arthur's Seat!
Twixt Old and New Towns, relax in leafy Princes Street Gardens – seemingly a million miles away from all the shops just up on the road – in which sunken park, if you muster the energy, you can also climb the Scott Monument for views. Or climb nearby Calton Hill, with its Nelson Monument and National Monument, for the ultimate aerial advantage!
Just north of Princes Street, enjoy the Georgian New Town squares, before taking a leafy stroll along the banks of the narrow Water of Leith – stopping off at the picturesque Stockbridge district, plus the splendid Royal Botanic Garden with its mighty trees, hedges and glasshouses – to quaint old Leith itself, home to the majestically moored Royal Yacht Britannia.
For art, visit the Scottish National Gallery, Scottish National Gallery of Modern Art and Scottish National Portrait Gallery. For history, try the National Museum of Scotland, Museum of Edinburgh, People's Story, Museum of Childhood, quirky, tad-gory Surgeons' Hall Museum or any of a wide range of spooky ghost walks all trolling for trade!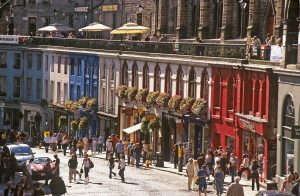 Even outside Festival time, see a show or concert at one of Edinburgh's main venues – like the Festival Theatre, Playhouse, Traverse or Usher Hall.
The King's Theatre is an 1350-seat gem which opened in 1906 and is one of Scotland's most historic and important theatres. Imminent productions include Trainspotting (14-18 Nov 2017); Cinderella (2 Dec 2017 – 21 Jan 2018); Hello Dolly (6-10 March 2018); HMS Pinafore (20-24 March 2018); and Guys & Dolls (2-5 May 2018) – plus many, many more!
Built in 1883, the Royal Lyceum Theatre is a little 650-seat beauty, believed to be haunted! Don't miss the current superb LGBT-themed queer-lamenting studio show Love Song to Lavender Menace (12-21 Oct 2017, then Scottish tour 23-29 Oct 2017), about Edinburgh's real-life ground-breaking LGBT and feminist bookshop back in the heady 1980s – an audaciously playful and quirky plays-within-a-play two-hander, supported by the odd special surprise local star guest, like crime writer Ian Rankin! Imminent productions in the main house and studio include sexy composer and flamenco guitar soloist Daniel Martinez's The Art of Believing (29 Oct 2017); The Arabian Nights (26 Nov 2017 – 6 Jan 2018); and gender-bending Restoration comedy, The Belles Stratagem (15 Feb – 10 March 2018) – plus heaps more 'n all!
SCENE & PRIDE
Most of the gay action happens in the Broughton locale at the foot of Calton Hill, where pubs and bars keep pumping tunes and booze into the wee small hours.
Get your gay bearings over a nice drink or bite in colourful Café Nom de Plume (60 Broughton Street;), above the excellent LGBT Centre.
Check out transparent The Street (2 Picardy Place;); pulsing Planet (6 Baxter's Place;); happy Habana (22 Greenside Place;); two-levelled restaurant-bar-club CC Blooms (23 Greenside Place;); or tad-more-trad The Regent (2 Montrose Terrace; T: 0131 661 8198;) for fine gay ales!
Still restless? We doubt if any of the world's great cruising grounds can boast a classier name than the Royal Terrace Gardens – a long stretch of landscaped slope, brimming with lolling men who also troll the adjoining path that leads up the side of aforementioned Calton Hill.
Alternatively, Steamworks (5 Broughton Market, T: 0131 477 3567) is one of several busy saunas in town.
Parade and party at one of the best community Pride festivals in the UK, Pride Edinburgh next on Sat 16 June 2018!
And Edinburgh does, of course, host another fairly well known "Festival" – in reality, a clutch of fests – every summer! This is arguably the world's largest cultural event – the number of tickets sold exceeded only by Olympics and World Cup!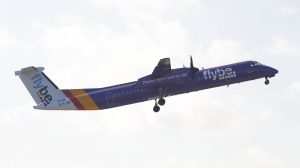 Flybe flies to Edinburgh from London City Airport up to five times daily, with one-way fares from £39.99 including taxes and charges. This brill, great-value airline is punctual, offering friendly yet professional service; and has a fantastic and ever-expanding network of exciting routes, covering much of the UK and Europe.