It gave the world Christopher Columbus, Niccolò Paganini and… pesto sauce! Adrian Gillan savours the odd palazzo 'n piazza, plus a fair few fine fellas – in gay old Genoa!
The capital of the "Italian Riviera" and the region of Liguria in North West Italy, Christopher Columbus' birth city of Genoa ('Genova' in Italian) dates back to Roman times and is now Italy's largest port – a vast horse-shoe harbour set majestically twixt the top end of the Apennine Mountains and the mighty Med.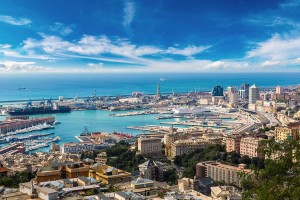 Once the seat of a wealthy trading power, this 600,000-populated gem now boasts a renovated Old Port (Porto Antico), featuring one of Europe's biggest aquaria; an impressive "World Heritage" Old Town, whose alleys brim with renaissance and baroque palaces, jam-packed with art; top-notch fish and seafood cuisine, not to mention homespun pesto pastas; plus several gay haunts, indoor and out.
Yet, despite recent regeneration, Genoa still retains, in parts, an elegant sense of decay; and its relative lack of tourists compared to some other larger Italian cities gifts it a charmingly "authentic" aura.
A shuttle bus ("Volabus") flits to-and-fro' 'tween city centre and airport.
Sights
Make the most of your time in town with a 24/48-hour Genoa Museum Card ("Card Musei di Genova"), granting free admission to 25 municipal, state, and privately-owned museums in the city; discounts on many other attractions; plus complete freedom aboard local public transport! On sale online, plus at participating museums and tourist information offices.
If you'd like a personal walking tour around town then there's no shortage of official city guides; but a top tip, not least for getting the gay lowdown, is charming, knowledgeable, hard-working Fulvio Traversoni (fulviotraversoni@tiscali.it)!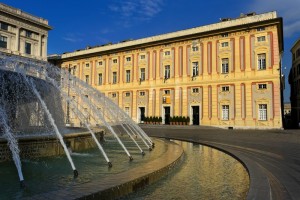 Genoa has one of the largest Old Town areas of any European metropolis – a huge warren of tiny streets and metre-wide alleys called "caruggi". City highlights include:
Christopher Columbus' childhood home (Piazza Dante) – Not the original building, alas, but an ace reconstruction on-the-spot nonetheless! His actual birthplace, just north of Via XX Settembre, has, unfortunately, long since been built over!
Lanterna – Dating back to the early 16th Century and a prominent Genovese symbol, it is the second tallest traditional stone faro in the world, and the third oldest!
Old Harbour (Porto Antico) – Including a new entertainment area with aquarium, museums, cinemas, cafés and seafront promenade!
Aquarium – Europe's second largest! Amazing sharks 'n seals, but the dolphins still steal the show!
Cathedral of San Lorenzo – Note the "miraculously" unexploded British WW2 naval shell just to the right on entry!
Via Garibaldi (a.k.a. Via Aurea or Strada Nuova) – Baroque buildings, many now museums and bank HQs, all UNESCO-listed!
Fine Art Museums, Strada Nuova – Palazzo Bianco (White Palace), Palazzo Rosso (Red Palace) and Palazzo Tursi. Combined ticket for amazing ceiling frescos, paintings by the likes of Van Dyck, Dürer, Caravaggio and El Greco – not to mention city-son Paganini's original fiddles!
Palazzo Ducale – Former home of the Dukes of Genoa, featuring top exhibitions, like the excellent current Vivian Maier photo show, on until 8 Oct 2017!
Palazzo Reale (Royal Palace) – Gloriously sumptuous palace, terrace and gardens!
Chiossone Museum of Oriental Art – Europe's largest such collection! Mainly Japanese, set in an amazing space high on a hill park overlooking the city!
Funicular up to Monte Righi – For fab views and walks on surrounding hills 'n old defensive walls.
Many other attractions, museums, palazzi and galleries are dotted about the city too! Enjoy!
Scene
Genoa's urban regeneration has gone hand-in-hand with its social rebirth, rediscovering the welcoming ethos that long-ago made it the "Gateway to the Mediterranean", and acting as a catalyst for the city's LGBT community, spawning a clutch of new LGBT venues. Note: In Italy, a membership card is required for all gay saunas and cruise bars, usually the Arcigay Card or the Anddos Card, which can be bought at any such venue, requiring photo ID on purchase.
Arcigay L'Approdo (Via al Molo Giano;) – LGBT centre just east of Port.
Lussurian (San Pier d'Arena 112/r;) – Dedicated cruise bar just west of Port, near Virgo and Cinema Eldorado. Reopens 1 Oct 2017 after summer break.
Virgo Discoclub (Via Alfredo Carzino 13/r;) – Genoa's only gay club, just west of Port, near Lussurian and Cinema Eldorado. Every Sat, 12am-5am. Reopens 7 Oct 2017 after summer break.
Cinema Eldorado (Via Buranello 90/r) – Cinema just west of Port, near Lussurian and Virgo.
Cinema Chiabrera (Via Chiabrera 9/r) – Old Town cinema, hidden down alley next to Cathedral!
Cinema Centrale (Via San Vincenzo 15/r) – Cinema east of Old Town near the Brignole rail station!
Aqua Club (Salita Viale Salvatore 15/r;) – Busy Old Town gay sauna hidden up steps off Via XX Settembre!
Cruising – Atop lofty Mura delle Cappuccine by night; or in the Coco Gardens below it by day.
Liguria Pride – All-inclusive annual parade and fest, early July, since 2009.