Delicious food, tasty men! Bent's Adrian Gillan bites off as much as he can possibly chew at the annual Food Zurich fest (7-17 Sept 2017) – in a city that can satisfy all appetites at any time!
Perched alluringly on the banks of a sparkling lake, Zurich naturally hubs history, quality, beauty and global fusion. This undisputed gay HQ of Switzerland also produces some of the finest food, and fittest men – both in especial abundance during the Food Zurich fest, now in its second year!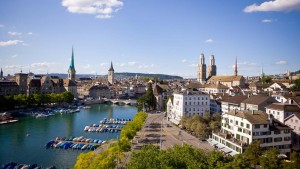 Stay
Located in the lively, gay-frequented nightlife quarter behind Zurich's main railway station, playful, creative, trendy, colourful, chic-and-cheeky 25hours Hotel Langstrasse (Langstrasse 150, Zürich;) strives, and succeeds, to be "a small, independent universe, inspired by the contrasts between the banks and red lights" that hem it in. Thus: fab for work or pleasure!  Designed by Werner Aisslinger, its 170 guestrooms on 7 floors come in 3 categories, from M to XL – plus rock-star 'plaza' and 'trainspotting' suites – all boasting free Wi-Fi, iMac workstations and UE Boom Bluetooth speakers, plus handy feel-free-to-use FREITAG bags! Relax in the fun living room or business lounge; make sweat in the penthouse sauna or fitness centre; browse in the kiosk shop; and drink or sup in the saucy style-set Cinchona bar or at Neni restaurant (see below)! Guests can even rent the hotel's Minis – for free! Professional staff, with personality – always there to lend a helping hand! Near scene 'n sights!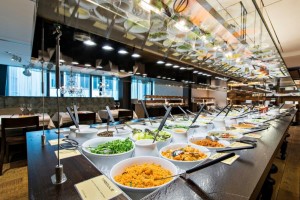 Food Zurich (7-17 Sept 2017)
Experimental Swiss dishes meet traditional recipes meet international trends – at the Food Zurich fest! Over 11 days (7–17 Sept 2017;), 150 or more events showcase Zurich's culinary creds – as a melting pot for chefs and gourmets, for curious foodies and fun-seeking families, for solo, duo or groupie queers – cooking up a feast for all who love good food! Innovative tastes are created and enjoyed in a wide variety of settings across the city – from established restaurants, through pop-ups in museums or castles, to markets and even private homes. Gorge on everything: fine food, social food, street food! Young or old of all persuasions can get hands-on too, to savour cookery courses, workshops or tastings! The reuse of surplus food has also been an especial theme this year!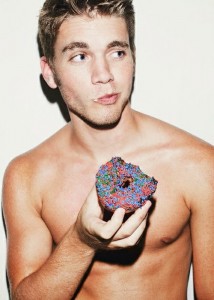 Top tips for a stunning food-slanted gay trip to Zurich, during the food fest – or at any time:
Keen to get your gay gastric bearings? Then put on your walking shoes for a Zurich Food Tour to discover the city's key culinary aspects on a guided walk through the trendy LGBT-wooing Zurich-West district, most Fridays. Visit restaurants and bars that are particularly popular amongst locals, sampling tasty appetizers plus the odd alcoholic drink – perhaps a nice glass of wine or freshly brewed Zurich beer? Gastro-gems visited might well include Middle Eastern-inspired Neni (see below); micro-brewery Steinfels; trendy, arty industrial LaSalle; relaxed Gallo-Bohemian Les Halles; airy, arty, literary sphères; or tasty, snacky Stiftung St. Jakob in the Markthalle under the viaduct. Enjoy!
Browse one of several food markets around Zurich throughout the week! Be sure to check out the weekly Saturday morning Gemüsebrücke Market (Rathausbrücke/Gemüsebrücke) for flower, fruit 'n veg, literally perched atop the swirling Limmat. The young male stall-holders here are as fresh and juicy as the produce they so proudly display!
Rain or shine, visit the vast high-end indoor basement food hall at Jelmoli (Seidengasse 1;) department store.
Enough to make your eyes water, let alone your mouth! When shopping, always keep 'em peeled for top local artisan sausage, Mikas! It's true what they say – every inch of it!
If you really like to work your tongue, stop by for a spot of sensual chocolate tasting or handmade-truffle-shopping at organic Max Chocolatier (Schlüsselgasse 12;); or buy your fresh daily organic breads at sexy John Baker bakery.
Need a relaxed brunch or lunch? You could almost be in Marrakech with a fresh mint tea or lamb tagine, either in the tiled inner or in the secluded rear garden, at great-value, top-quality Moroccan, Maison Blunt (Gasometerstrasse 5;)!
Fancy almost literally rubbing up against hoards of hungry locals? If in town during, or around the time of, the annual Food Zurich fest, head straight for the Street Food Festival to grab quirky outdoor options under Big Tops – from tasty tartlets to Tibetan dumplings!
Night about to begin? Whet your appetite with an apero cocktail at Rooftop Restaurant (6th Floor, modissa, Bahnhofstrasse 74; failing which enter via Uraniastrasse;) above famous fashion store, modissa. Feted for its creative Asian-inspired cuisine – think dumplings in bamboo baskets, drinks awash with sake – kick back on the outdoor terrace, gazing out across the Zurich rooftops, down on all those men as-yet-unknown!
Eat well to fuel the night ahead! Devour world-influenced Middle Eastern cuisine at "relaxed yet celebratory" Neni (25hours Hotel Langstrasse, Langstrasse 150; <) amidst "culinary chaos" as dozens of bowls crowd your table to thrill your senses! Fab place to see and be seen!
Meat on your mind already? Head straight for AuGust (Rennweg 1; ), the classy open-kitchen boucherie-restaurant at 5-star Hotel Widder.
Us queers doubtless high-index on vegetarianism, so you might prefer the "world's first vegetarian restaurant", Hiltl Haus (Sihlstrasse 28;) – founded in 1898 and long in the Hiltl family – with its flagship restaurant, bar, weekly nightclub, take-away, cooking studio, academy and shop, all focused on "healthy enjoyment." Try the famous 'Hiltl Buffet' with over 100 tasty items; or maybe just a freshly-pressed juice! Note: Increasing numbers of cute straight lads are also turning veggie!
For a truly grand culinary finale, head to award-winning Restaurant Saltz (The Dolder Grand, Kurhausstrasse 65;) at the hilltop Dolder Grand hotel, reached by its own funicular, amidst a sophisticated yet relaxed, modern yet uncluttered, ambience. Enjoy the quirky minimalism – dig the wall of salt crystals – echoed in mouth-wateringly fresh cuisine. Panoramic sun terrace and fab service too. Some of the cutest waiters in town will really get you in the mood!
Scene
And so: as one appetite doubtless sates and wanes, another swells and quivers.
A big chunk of Zurich's gaybourhood is located in the older part of town. If you've still tummy space, graze out with queers at Chez Marion (Mühlegasse 22;), or prowl over the street, to the Predigerhof Bistro Bar (Mühlegasse 15;) for a lighter snack or drink.
Old Cafe Odeon (Limmatquai 2;) attracts a young, arty crowd, tho' probably a tad less gay than of yore; and historic Barfüsser (Spitalgasse 14;) is now a sushi bar-cum-lounge, so hip it hurts, but still gay-frequented by many. Mere streets away is fresh-and-fruity, tucked-away two-level gay cocktail palace Cranberry (Metzgergasse 3;). For something friendly yet tad less trendy, walk north to Petra's Tip Top (Seilergraben 13;).
Note: Several long-standing Old Town LGBT haunts have now given up the gay ghost – namely hustler bar Carousel, music hall bar Pigalle, former camp stalwart Dynasty and staunch kitsch T&M Disco, once famed for its 'darker' upper floor! Some might well recall? However, wonderful newer Old Town haunts now include fun Infinity (former 'Dynasty', Zähringerstrasse 11;); street-sprawling Platzhirsch (Spitalgasse 3;); and basement dance club Heaven (Spitalgasse 5;) next door.
Want to just let off steam? Old Town saunas include Paragonya (Mühlegasse 11;), next to Predigerhof; and Apollo (Seilergraben 41;) along from Petra's Tip Top. Or, in summer, by day, sunbathe nude on the more secluded bits of Zurich's very own Werdinsel Island.
But the scene has now expanded well beyond the Old Town! Behind the main train station, near the aforementioned 25hours Hotel Langstrasse, check out this queer quartet – trendy, cosy Les Garçons (Kernstrasse 60;); fetish shop-bar Männerzone (Kernstrasse 57;); cruisy Magnus Bar (Magnusstrasse 29;); and steamy Reno's Relax Sauna (Kernstrasse 57;).
New gay venues have also been opening in hipster Zurich-West too, including ultra-cruisy Rage (Wagistrasse 13; – Note: Strict dress code for one of its three levels).
There are several other saunas, plus erotic shops and "straight" porn cinemas, about town too.
Every June, Zurich Pride Week (next 8-17 June 2018;) attracts 10,000s of visitors to its festival, demo and parties in the city that, in 2009, hosted Europride!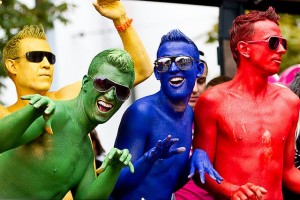 Zurich has always been culturally and politically liberal.
Sights
Of course, if you come to Zurich and you just do gay things, you're not just gay, you're dumb and gay!
Experience more sights for less money with a 24/72-hour ZürichCARD allowing unlimited 2nd class travel on all public transport in the city and surrounding area; free or reduced admission to most of Zurich's museums; plus a wide range of other discounts and surprises!
Reflected in the water of its eponymous Lake, with a magnificent view of the snow-capped Alps on the horizon, 1.2 million-populated Zurich lies at the centre of Switzerland and in the heart of Europe, offering a unique mixture of attractions – over 50 museums and more than 100 art galleries; an Old Town with cute bridges, alleys, squares and churches, like the Romanesque Grossmünster and the Fraumünster with its stained glass choir windows by Marc Chagall; international fashion labels and designs; and the aforementioned most vibrant and lively nightlife in the land.
Some 150 years ago, part of the city's fortifications was transformed into the Bahnhofstrasse – Zürich's "shopping mile", which has contributed largely to the city's reputation as an El Dorado and Mecca for consumers; and is a top go-to address for high-end fashion, jewellery and watches!
You'll also find über-cool urban chic on display in the nearby Langstrasse and Zürich-West districts.
Love art? The Kunsthaus boasts a rich collection of paintings, sculptures, photographs and videos – notably an extensive gallery of works by Swiss genius Alberto Giacometti.
For nearby nature, several lakeside and riverside lidos are located in or near the centre of the city; and the Uetliberg, Zürich's local mountain, is great for hiking!
Yet each street and park in Zurich is an Area of Outstanding Natural Beauty. There they are – living, laughing, lolling. The pretty boys, reared on fresh air, clear water, fine food. So cute you could eat 'em!
Useful contacts
For more information on Switzerland, call the Switzerland Travel Centre on international freephone 00800 100 200 30
SWISS operates regular daily flights from London Heathrow, London City, London Gatwick (seasonal), Birmingham, Manchester and Edinburgh (seasonal) to Zurich. For reservations call 0345 601 0956