England's ultimate 'spa town'? Adrian Gillan gets steamed up by classy Cheltenham's Regency splendour, feisty fests and dishy guys, staying at award-winning gay-run guest house, Butlers!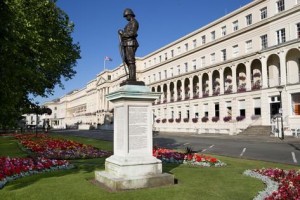 Gateway town to the Cotswolds, Cheltenham's spa water may have long since lost its fizz, but this Regency gem can still boast bubbly boys, not to mention stunning architecture and ornate gardens; world-famous music, literary, science and food festivals; tip-top theatre – and don't frighten those horses!
Indeed, said fests and steeds ensure this already-120,000-populated town – overlooked by Cleeve Hill (330 m), the highest point in Gloucestershire – is always far more swollen than its tiny River Chelt!
It's the spa town that sprang from nowhere – with the discovery of mineral springs in 1716 by the enterprising retired "master mariner" Captain Henry Skillicorne (1678–1763). He built a billiard and ball room next to his first pump house, and designed the first tree-lined promenades and gardens linking the proliferating nearby wells. Gentry were enticed, climaxing in a visit in 1788 by George III himself – crazy!
Lavish central districts arose including affluent and still-buzzing Montpellier, with its Grade-I-listed buildings and Gardens; and Lansdown, complete with celebrated convex Regency crescent. Token spa water can still be tasted at the Pittville Pump Room, completed in 1830 as the centrepiece of Pittville – an extension of Cheltenham northwards, and brainchild of one Joseph Pitt. The advent of the railways brought yet further influx by wealthy health-seekers, the rail station still being called Cheltenham Spa.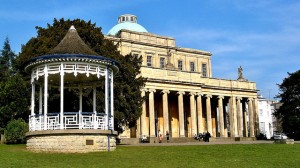 Present in Cheltenham since 1815, horseracing became a major national attraction after "The Festival" was founded in 1902, still drawing vast crowds daily every March, with its Gold Cup climax. Moreover, music and literature festivals emerged after WW2, followed by jazz and science fests in more recent decades (see below) – all more than offsetting the decline in those coming to 'take waters'. Another point of interest: 'The Doughnut', the head office of the British Government Communications Headquarters (a.k.a. GCHQ) is located in Cheltenham, so lots of gay spies – but mum's the word!
Famous people born in Cheltenham include composer Gustav Holst; classical singer Felicity Lott; actor Ralph Richardson; and artist Jake Chapman. Alice Liddell and Lewis Carroll were regular visitors to a house in the suburbs owned by Alice's grandparents, and still containing the mirror which was purportedly the inspiration for Carroll's 1871 novel Through the Looking-Glass. In more recent years, Cheltenham has played backdrop to a number of films and TV series, from Butterflies to Crossroads!
Gay-Stay
Perhaps Sir would care to stay at award-winning gay-run Butlers (Western Road, Cheltenham, Gloucestershire GL50 3RN; 01242 570 771;), a gorgeous 4-star deluxe boutique guest house, situated in a central-yet-quiet area of Cheltenham and providing the perfect base for either visiting or working in the area. A mere short stroll takes you to the Promenade, town centre and lively, trendy Montpellier district!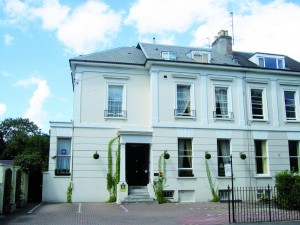 Originally built in 1837 as a Gentleman's Residence, your charming hosts Paul and Shaun work hard to maintain this heritage, and classy service culture, yet with an added fun and stylish twist pervading!
Period gentlemen's hats, valises and assorted sundries tastefully adorn and furnish throughout, watched over by humorous vintage photos, cartoons and illustrations, many butler-related.
The elegant bedrooms are named after well-known butlers from literature or history – from Jeeves to Brabinger. All are en-suite with a range of creature comforts including free wireless broadband; TV/DVD player with Freeview; radio and iPod docking station; candlestick telephone; ironing facilities; and hospitality tray.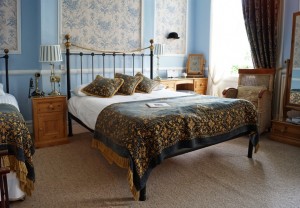 Guests are also welcomed to use the Lounge where one can find a range of items at one's disposal including stationery, books, games and newspapers. A wide choice of delicious breakfasts – including smoked salmon scrambled eggs and poached eggs on a bed of wilted spinach –  is served in the graceful dining room overlooking the pleasant private garden – which Sir is also invited to use!
Excellent value too! Singles £60.00 – £75.00; Standard Doubles/Twins £85.00 – £105.00; and Super Doubles/Triples £95.00 – £120.00.
Although Butlers naturally warmly welcomes everyone, the more discerning gay gent will doubtless feel especially at home here, with such attentive gay hosts, and amidst such an imagined strongly male-slanted environment. Suits you sir! Discretion assured! What ho! That'll be all!
Not-for-profit organisation Cheltenham Festivals (not to be confused with 'The Festival' horserace events in March) brings the arts and sciences to audiences, supports emerging talent and delivers a pioneering year-round educational programme. Apart from all the sexy male locals and uni students, enjoying one of these famous annual fests is quite likely to be your main excuse for being in town!
Held in a tented festival village in Montpellier Gardens, Cheltenham Jazz Festival (every April/May;) was formed in 1996 and has a close relationship with BBC Radio 2, hosting that station's Friday Night is Music Night every year, enticing the biggest names in jazz.
Formed in 2002, Cheltenham Science Festival (every June;) hosts a wide range of events including an international science-based talent competition, FameLab, which lures finalists from over 30 countries worldwide.
Founded in 1945, Cheltenham Music Festival (1-16 July 2017;) soon developed a reputation as a champion of British contemporary music, and as one of the most prestigious music festivals in the world, with concerts in cathedrals, abbeys, country houses and churches across Gloucestershire, not least here in the beautiful Regency town of Cheltenham itself. The Festival's Composer Academy, now in its 5th year continues this legacy. In recent years, the fortnight-long fest has successfully reached out to wider audiences, notably younger people through its education programmes and family concerts. Highlights in 2017 include Welsh bass-baritone Bryn Terfel; the Halle and CBSO orchestras; anniversary Monteverdi; ballet in the Everyman Theatre; and Vaughan Williams' Sea Symphony in Gloucester Cathedral. Star soloists include violinist Tasmin Little. Premieres include work by David Matthews.
Cheltenham Literature Festival (6-15 October 2017;) began in 1949 and is now established as one of the world's principal literary events. Indeed, it is the longest-running literature festival in the world, having attracted most of the great names in modern literature alongside stars from the worlds of culture, politics and sport. It welcomes The Man Booker Prize finalists for a special Booker event every year. This year the Festival will explore the theme of British identity.
Beyond the Festivals
In addition to seasonal festival events and activities, visit these three top attractions, all-year-round:
Holst Birthplace Museum – a memorial to Holst, one of England's most beloved composers, best known for his work The Planets; and one of only two 'composer birthplace museums' in the country. The house, built in 1832, is typical of many smaller Regency terraced houses constructed in Cheltenham at that time. Holst was born here in 1874 and lived here until 1882, just after his mother died. Visitors will learn more of Holst's life, his music, his family and friendships, whilst being reminded of domestic life at the end of the 19th Century. See Holst's piano, plus a working Victorian kitchen and laundry, Regency drawing room and an Edwardian nursery!
The Wilson: Cheltenham Art Gallery & Museum – Gloucestershire's premier art gallery and museum, especially noted for its renowned Arts and Crafts Movement collection. Temporary exhibitions this summer include Queen Victoria in Paris featuring over 40 watercolours from The Royal Collection capturing a historic state visit to Paris. Enjoy the shop and café, plus use Cheltenham Tourist Information Centre, also housed here.
Everyman Theatre – Gloucestershire's premier theatre has been serving the county (and beyond) since 1891. Its main auditorium is an architectural masterpiece designed by Frank Matcham. See ballet, opera, drama, dance, comedy, music events or the traditional family panto; take part in one of the many community projects, education workshops or youth theatre productions; or just drink or eat in the pleasant café or wine bar. Forthcoming productions include New English Ballet (16 July 2017); Picture of Dorian Gray (14-16 Sept 2017); Russian State Ballet (26-28 Oct 2017); and Fastlove, A Tribute to George Michael (11 Jan 2018). If you missed The Watermill Theatre's truly excellent actor-musician-led Shakespeare offerings, Romeo & Juliet and Twelfth Night, recently on at The Everyman, be sure to catch them on tour.
Scene
There mightn't now be a single gay bar in the whole of Gloucestershire but ne'er fear! This isn't Soho, Kemptown or Canal Street, that's true, but gorgeous young locals and uni students abound and, with modern dating aps, the pretty boys are rarely far away!
And gents have oft been known to take airs of an eve in Sandford Park, after dark. As ever, beware.
Gloucestershire Pride is held every June, hubbed in nearby Gloucester.