Horny Herrs! Adrian Gillan enjoys Düsseldorf's colourful history, culture and scene – old and new, side by side on the Rhine!  And all a short aerial hop away, on ab fab Flybe!
Perched on the east bank of the mighty Rhine in western Germany, 600,000-populated Düsseldorf is renowned for its nightlife and carnival, trade fairs and events, shopping and fashion – and sexy men!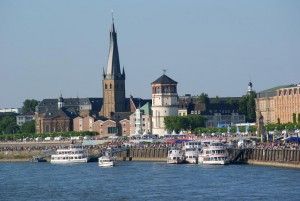 And, with fab low-cost carrier Flybe serving Düsseldorf from London City Airport, you too can be there in no time at all – and with extra cash left in your pocket! Punctual, and with highly personal, yet still professional, service, the purr of the propeller engine lives on in many a Flybe hopper route – strangely reawakening the adventurous glamour of a bygone age of travel. We love 'em!
Why we dig Düsseldorf!
We love the magisterially snaking Rhine and canals; all the city's leafy shady parks and ponds; the dramatic mix of cute, beery Old Town and nearby modern harbour district; the thriving arts scene, from theatres, concert halls and galleries to public street sculptures at almost every turn; the shopping, from artisan markets to high-end stores; the walkability, trams and laid-back way of life; oh, and did we mention all those sexy, friendly local German guys?
Stay
Stay at quiet and centrally-located boutique Sir and Lady Astor Hotel (Kurfürstenstrasse 18;) whose fun, stylish, trendy, quirky, contemporary rooms will leave you well-rested and in a good mood. Great breakfasts and friendly, helpful staff too!
Eat
Drink, chill and fine-dine at spacious, cosy, modern and stylish Meerbar (Neuer Zollhof 1;), enjoying its bar and lounge area with DJ; or its ambient, buzzing restaurant with a fine line in freshly caught fish and lobster, plus meat, mains.
For a nice lunch, grab a sausage snack at the famous food market in Carlsplatz; some sushi in the Japanese Quarter around Immermannstrasse; or a lofty bite at the penthouse bar-eatery atop hotel Me and All.
See & Do
The 1/2/3/4-day DüsseldorfCard is the cheapest and simplest way of getting to know the city, granting unlimited use of trams and buses and many central trains; plus free or reduced entry to sundry museums, attractions and leisure facilities!
Scheduled public guided tours – walking, cycling, Segway, bus – take place regularly too, exploring the main areas and sites of interest.
For a fun watery perspective on the city, hop aboard a great 1-hour KD Düsseldorf Panorama Cruise, on the comfy all-weather MS Warsteiner, with its sundeck and indoor saloon, with up to six daily departures April-Oct from the Rhine Promenade.
Take in the famous Old town (Altstadt) which was rebuilt after being almost completely destroyed during WW2, now brimming with shops and cafes by day, its famous Bolkerstrasse turning into the so-called "longest bar in the world" after dark, boasting around 260 bars and brew houses – home of Altbier dark beer – within a mere square kilometre! Try local brewery-bar-eatery Uerige, either standing outside at tables or seated atmospherically indoors. Visit the birthplace of poet and author Heinrich Heine (1797-1856) at Bolkerstrasse 56. Buy some local mustard or Killepitsch local herbal spirit in one of the many small artisan boutiques; or dip inside hidden gems like Hungarian haunt Zum Csikos, where Günter Graz and Louis Armstrong once hung out, or live jazz joint Em Pöötzke.
Enjoy Burgplatz (Castle Square), where the Old Town meets the Rhine, dominated by a tower (now a shipping museum), the only remnants of the former eponymous castle, plus Cartwheelers' Statue and City Monument in the square below. Note the famous twisted spire of nearby St. Lambertus Basilika, plus the imposing 16th Century City Hall, Johann Wilhelms II Monument and Cast Boy Statue.
Stroll the Rhine Promenade, built over the road tunnel which had now made the riverside a pleasant café-lined pedestrian area and docking point for aforementioned river cruises.
Then at the southern end of the Rhine Promenade, old meets new! The former harbour is now the Media Harbour, a revitalised quarter of cafés, bars, clubs, restaurants and hotels. Protected old features and buildings stand next to modern architecture, perhaps most notably the distinctive curvy work of Frank Gehry. The area, and indeed the whole city, is dominated by the 240m-high Rhine Tower with its a 360-degree-view café and upper restaurant.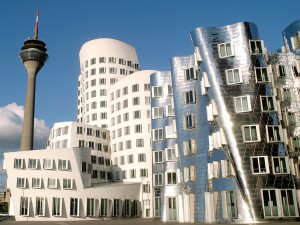 Other points of interest in Düsseldorf include the nine so-called Pillar Saints, the public art sculptures dotted around town; Germany's first public park, the landscaped Hofgarten; the Königsallee (a.k.a. 'Kö') canal-cum-fashion-shopping-district; some funky new subway stations; plus a plethora of excellent museums including the Film-Museum, Theatermuseum and Stadtmuseum!
For art, spoil yourself at the Kunstpalast ('Cranach' exhibition until 30 July 2017); Kunsthalle (20th Century art); or Kunstsammlung NRW modern art museum – comprising the K20 (20th Century art, including fab 'Otto Dix' exhibition until 14 May 2017) and the K21 (contemporary 21st Century art, including current/ongoing breath-taking, heart-stopping installation "Saraceno. In orbit" exhibition, where you will find yourself, quite literary, walking on air).
In a city that the likes of Schumann and Mendelssohn once called home, visit the Deutsche Oper am Rhein for world-class opera or ballet; or the ornate, domed Tonhalle for top classical music and concerts
Catch a fun, jaw-dropping show at Roncalli's Apollo Varieté Theater (Apollo-Platz 1;) offering top-notch escapist, themed variety shows – think song, dance, magic, circus, acrobats – in a drink-and-dine setting. See Carnival in Venice (until 17 April 2017) amidst palaces and gondolas; Berlin (21 April – 9 July 2017) amidst culture, fashion and nightlife; Jubilee in Paris (10 Aug – 22 Oct 2017) where Roncalli's celebrates its 20th anniversary, French-style; or The Winter Wondershow (26 Oct 2017 – 14 Jan 2018) full of glitter, sparkle and shine!
Booze 'n Bop
German boys are just too sexy! Enjoy Düsseldorf's compact, friendly and colourful scene, mostly hubbed in a gaybourhood around Bismarckstrasse near the main railway station!
Cafes & bars
Bar Studio 1 (Jahnstrasse 2a) – Central bar.
K1 Club (Bismarckstrasse 93, entrance Karlstrasse;) – Small, friendly gaybourhood bar-club with good music.
Levent (Grupellostrasse 32;) – Gaybourhood bar.
Ludwigs Bier & Brot (Mertensgasse 11;) – Friendly Old Town café-bar just off Bolkerstrasse.
Musk (Charlottenstrasse 47;) – Gaybourhood leather cruise bar, daily from 10pm.
Nähkörbchen (Hafenstrasse 11;) – Busy bar just off Carlsplatz.
Wilma – Next Generation (Bismarckstrasse/Charlottenstrasse;) – Buzzing gaybourhood bar.
Clubs & parties
Amitabha (Burgplatz 11;) – Monthly Old Town club night, every 3rd Sat, from 11pm.
Mandanzz Gayclub (@ Stahlwerk, Ronsdorfer Strasse 134;) – Large monthly pop and techno club night every 2nd Sat, from 10pm.
Queenz (Charlottenstrasse 62;) – Popular gaybourhood club, every Thurs-Sat.
Schamlos (@ zakk, Fichtenstrasse 40;) – Every 5th Sat, from 10.30pm.
Saunas
Phoenix Sauna (Platanenstrasse 11a;) – Popular gay men's "health complex" just north east of the gaybourhood.
Other
Book & XXX (Bismarckstrasse 88;) – Mags and toys-for-boys shop.
And gents have oft been known to "take airs" of an eve in several of Düsseldorf's many fine public parks, not least around the two lakes just north of the K21 art gallery.
Dusseldorf Pride (a.k.a. Christopher Street Day) runs 26-28 May 2017
Fly high with Flybe
Flybe flies to Düsseldorf from London City Airport up to three times daily, with one-way fares from £59.99 including taxes and charges. This brill, great-value airline is punctual, offering friendly yet professional service; and has a fantastic and ever-expanding network of exciting routes, covering much of the UK and Europe.