Jump for Joy: Swiss Ski Boys!
Mere downhill skiing no longer thrill? Adrian Gillan explores the winter wonderland south of Bern, joining lush local lads to follow Eddie the Eagle down a steep and slippery ski jump slope!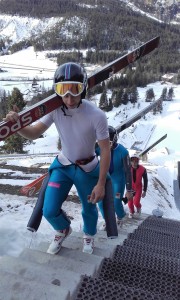 So, the latest series of Channel 4's The Jump is underway! But why just watch the likes of Mega-Olympian Bradley Wiggins, gay former Welsh rugby captain Gareth Thomas or ex England footie star Robbie Fowler braving the snowy ramp?
A mere 1½-hour flight to Zurich, and short Swiss train ride on, and you're in an area of outstanding natural beauty – both mountains and men – in the Bernese Oberland… ready, yourself, for the odd sporting dare! 1300 people live in Kandersteg. Half of those are men. And all of those are gorgeous! Plus: you may be in a remote Alpine valley but, with dating aps, the pretty boys are rarely far away!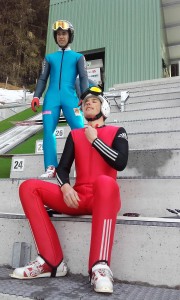 STAY
Stay at the Brit-wooing family-run 4-star superior Waldhotel Doldenhorn (CH-3718 Kandersteg; T: (+41) 033 675 81 81;), perched on a magnificent spot overlooking the soaring peaks of Kandersteg, offering not only spacious rooms with vast balconies but also a unique open-access kitchen – where you can watch the chefs preparing your delicious meals – plus a great spa with heated indoor-outdoor pool, multiple clothes-merely-optional saunas and steam rooms, plus relaxation areas! Charming owners Anne and René oversee proceedings – along with lovely son Patrick!
EAT
For a culinary treat, you scarce have to stroll 200 metres from the Waldhotel Doldenhorn's own fab restaurant to its smaller 250-year-old sister, run by the same fine family. The magical old wooden Landgasthof Ruedihus has a kitchen very much at its heart, serving local cuisine, from raclette to fondue to pot-roasts. Maybe try house-speciality, sliced veal with rösti, washed down with tasty Belle-Epoque label wine, signed off by a Quince Schnapps! All diners, whether staying at the hotel or not, can also roam around to peek inside any quaint old guest rooms not in use!
The nearby Chalet Hotel Adler, run by the friendly family Fetzer since 1906, boasts the cosy, buzzing Restaurant Adler. By the way, if staying here, check out one of the hotel's infamous fun and tad retro "love rooms", many boasting ceiling mirrors or 'mobile hot tubs', including one tub that, at the push of a button, spins out through the wall onto the (hopefully secluded) balcony! We love it! Keep 'em peeled, too, for visionary, life-lusting owner Andreas' planned weekend 60s/70s/80s dance nights! If it's new… it won't be played!
Try lunch at the informal restaurant of 3-star family-run Hotel Ermitage, opposite the cable car station… a renowned hot-spot for spying – and even accidentally brushing up against – any sexy young ski-jumpers in town, all so strong, so slim! The owners' son Joel is himself even a former member of the Swiss national team!
Another favourite place for hanging out with ravishingly ripped ski-jumpers is the bar and restaurant of family-run 3-star Hotel Blümlisalp, where creative chef Christian Wyss and his team conjure up meals for both mouth and eyes to drool for, with fresh and local products in traditional-turned-contemporary surroundings. Wunderbar!
EXPORE
Don't miss the small nature park of Blausee, beautifully nestled in a fairy-tale forest site in between Kandersteg and the nearby village of Frutigen. Enjoy its walkways and eponymous turquoise-blue lake, not to mention the hotel, with restaurant and spa!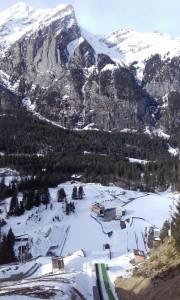 Take a ride in the cable car from Kandersteg up to the stunning UNESCO World Heritage Site of Oeschinensee with its mighty lake – skatably frozen in winter – dramatically surrounded by snowy rocky peaks. Have lunch overlooking the lake on the sunny terrace of the restaurant of historic 125-year-old Hotel Oeschinensee, run by handsome, charming 5th generation mountain-inn-owner, Christoph… and his wife! Then return to Kandersteg, either by cable car or – perhaps emboldened by a schnapps, or three – via the amazing 5km-long toboggan run
SLEDGE, CROSS-COUNTRY &… JUMP!
Sledging, cross-country skiing and ski jumping – you can find all three in Kandersteg. And you can also still get a nice downhill ski rush in nearby Adelboden. But whatever floats your boat, you can meet all your wintery equipment needs at Grossen Sport, with its main store in the village centre plus smaller one at the bottom station of the gondola to Oeschinensee.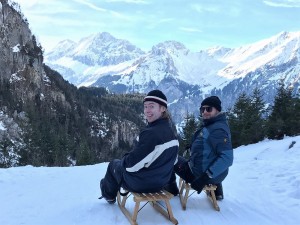 Cross-country skiers can enjoy over 50km of Skating style tracks and over 50km of Classic style tracks, all freshly prepared daily in Kandersteg in season. Cross-country skiing is, of course, just half of the so-called 'Nordic Sports' pairing, the other half being ski jumping!
So for true braggers' rights, seek out the amazingly volunteer-led Nordic Arena, the majestic ski jumping area of Kandersteg that was even one of the summer training spots of Britain's very own world-famous former Olympic athlete, Michael Edwards, a.k.a. "Eddie the Eagle"! The Nordic Arena, with its three main jumping hills, has ambitious plans in coming months and years; and is already Switzerland's only ski jump facility able to cater for both summer and winter training and events.
See practicing ski jumpers soar – including whole gorgeous fresh-faced national youth teams! Take a funicular lift tour to see the view from the top yourself, to well-nigh smell the adrenaline of those about to leap! The brave, with some experience on skis, can even take a short try-out course on the (by comparison, admittedly, rather tiny) "beginners' hill"; or try some serious tubing in summer, sliding down the main slopes on rubber rings!
And anyone can learn top tips on cross-country skiing and/or ski jumping from fab tutors at local Nordic ski school, MyEdelweiss, run by former Olympic athlete Urs Niedhart!
SWISS operates frequent daily flights from London Heathrow, London City, Birmingham and Manchester to Zurich. Full standard fares include free ski equipment baggage allowance. For reservations call 0345 990 9161.