Sounds like a Madonna song? Adrian Gillan samples the natural beauty – human and otherwise – on the sultry Atlantic volcanic paradise of La Palma! A mere short flight away, with fab easyJet!
Most north-westerly, and fifth largest, of the Canaries, 100,000-populated La Palma – nicknamed "La Isla Bonita" ("The Beautiful Island") – is a volcanic up-thrust that rises steeply from the Atlantic's ocean floor, with about three fifths of its height actually below sea level. Formed 3-4 million years ago, La Palma is currently – along with Tenerife – the most volcanically active of the Canary Islands!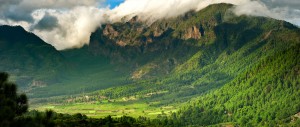 The northern part of the island is dominated by the lofty volcanic crater-rim Caldera de Taburiente National Park, topped above the clouds at 2,426m by the aptly-named Roque de los Muchachos ("Lads' Rock") – second in Canary height only to Mount Teide on neighbouring Tenerife. The southern part of the island consists of the Cumbre Vieja, a relatively recent ridge formed by numerous volcanic cones – some still active, but currently dormant, with the last eruption in 1971.
Known to the Greeks and Romans, and medieval Genoese explorers, the Canaries were conquered, often violently, by the Spanish throughout the 15th Century; and native Canarians (Guanches), thought to be descended from North African Berbers, were either killed, sold into slavery or assimilated into the colonising, broadly Catholic, population, many of whom were themselves drawn from Castile, Majorca, Flanders, Portugal and Catalonia. La Palma flourished as a trading post en route to the New World.
Now, roughly a fifth of its inhabitants live in the capital, Santa Cruz de La Palma (known as just Santa Cruz), on the Island's east coast; and about a fifth in Los Llanos de Aridane, over on the west coast.
La Palma has a good coastal road circuit, plus a good inland road network with twin tunnels through the mountain linking (oft tad sunnier) Los Llanos de Aridane with (oft tad cloudier) capital Santa Cruz. Bus routes link the main towns although a hire car will naturally afford you greater freedom. The island itself is linked to Tenerife via ferry and plane and, to the wider world, by plane.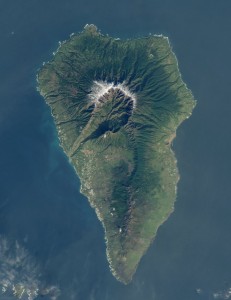 Controlled by a mild and stable subtropical semi-arid climate, agriculture (especially bananas, grapes and other fruit), fishing and tourism now power the island's economy. La Palma has many endemic plant and animal species, including giant lizards and numerous birds. Despite widespread deforestation for farming, much of the upland areas retain ancient laurel forest.
The "sea of clouds" to the east of the mountains condenses moisture onto the forest pine needles, which collects in the ground and is channelled via man-made tunnels to irrigate the island. Due to the location and the height of its mountains, some 2,400m above sea level – and above the clouds – many international observatories have been sited on the Roque de los Muchachos, including the Isaac Newton Group (ING) of telescopes.
And, with ace low-cost carrier easyJet serving La Palma from London Gatwick, you can be on the island in no time at all – and with a little extra cash left in your pocket to spend once here! Punctual, and with highly personal, yet professional, service, easyJet always delivers what it says on the tin! We love 'em!
Stay & Eat
Stay at 4-star H10 Taburiente Playa (Playa de Los Cancajos; T: + 34 922 18 12 77;), slap bang on the seafront, not too far from the airport and capital Santa Cruz de La Palma, and just 200 metres from the renowned fine-black-sanded Los Cancajos beach. Signature feature must be the spectacular high-ceilinged central atrium, complete with volcanic rocks, lush hanging plants, exotic fish pond and gushing waterfall! The hotel also boasts terraces with sea views; 293 comfortable, bright, elegant and functional rooms with sea-view balconies in a range of categories; 2 adult pools (1 heated in winter); 1 children's pool; free Wi-Fi throughout; free tennis court and table tennis; playground; plus (paid) sauna and massages facilities. Whether B&B, half-board or all-inclusive there are a range of fresh food options, including the main show-cooking Alisios Restaurant with its fab terrace and wonderfully efficient service; La Choza Snack Bar (high season only); Taburiente Bar; and Lobby Bar. Regular live evening entertainment too!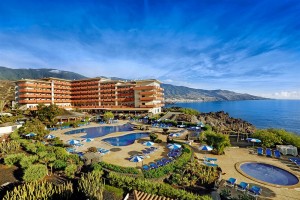 See & Do
The great thing about this gorgeous island is that, once here, almost all its natural splendours are pretty much, well, free! Highlights include:
Driving – The bus schedules are brill but you'll get around far more of the island in a hire car! The roads are excellent and almost all spectacular, configured in convenient circuits, peppered with numerous buena vista 'mirador' parking spots en route – not least the breath-taking literal-high-point of Roque de los Muchachos (affording clear-day views of Mount Teide on Tenerife, plus neighbouring Canaries, La Gomera and El Hierro), or El Time (views out across the vast Aridane Plain)! Heaps of cute little hill villages, black-sandy beaches and rugged coastlines – some with natural sea-water swimming pools like at Charco Azul and La Fajana – to stop off at too!
Hiking & Biking – Buttressed by buses, La Palma is hiking and biking heaven, with an extensive well-signed network of paths and tracks, of all lengths and difficulties, throughout the island! Top hikes include inside the Caldera de Taburiente National Park, just north of Los Llanos; around Los Tilos amidst lush laurel forests; and along the 'Route of Volcanoes' atop the Cumbre Vieja ridge! La Palma's other nickname is "La Isla Verde" ("The Green Island")… soon see why, on foot or wheels!
Astrotourism – Because of the clear air and lack of light pollution, La Palma has fast become one of the world's top hotspots for astronomers, both professional and amateur, with a well-publicised network of explanatory star-gazing points from which to stare into eternity and observe our timeless cosmic splendour! Tours inside the massive pro' peak-top 'scopes can also be prior-arranged!
Festivals – This island loves to party, with regular festivals, including Los Indianos every February, where everyone dresses up in period costumes to celebrate La Palma's rich history of emigration and repatriation; and – in July, albeit only once every five years – fun-yet-religious La Bajada de la Virgen, complete with a troupe of… dancing dwarves!
Santa Cruz de La Palma – If La Palma is arguably (minor quibble re its dearth of dunes permitting) the most beautiful of the Canaries, its capital is likewise generally considered to be the most attractive within these fair isles, with its old balconied residencies and some of the finest renaissance architecture in this part of the world! Savour the church, town hall and houses in little Plaza España; museums galore (of the island generally, of ships and of that crazy Bajada de la Virgen festival); theatres, forts and squares; and even a cute little indoor market. Loads of cafes, bars and restaurants, and a great nightlife, too!
Also: loads of activities from paragliding to whale-watching; delicious cuisine and wine; plus handicrafts like silk and cigars and such! Oh yes, and it's warm and sunny almost all-year-round here too! Ace!
Scene
La Palma has an extremely tolerant and chilled-out atmosphere, not least in the capital, with its lively Old Town bar area. You'll feel welcome everywhere but do especially check out mixed gay-wooing bar-restaurant La Placeta (Placeta de Borrero 1, Santa Cruz de La Palma;)!
It's worth noting that there are also a few excellent smaller gay-run accommodation options in attractive old properties in the capital, such as Hotel San Telmo.
And gay gents have been known to 'take airs' on and above the rocky shore just south of Los Cancajos!
Plus: you may be on a remote island but, with modern dating aps, the pretty boys are rarely far away!

easyJet flies from London Gatwick to La Palma with prices starting from £36.49 per person (one-way, including taxes and based on two people on the same booking). This brill, great-value airline is punctual, offering friendly yet professional service; and boasts a vast and ever-expanding network of other exciting routes, covering much of the UK, Europe and beyond.
By Adrian Gillan for Bent.Com