Stratford Anew: 5 fresh reasons to revisit The Bard's home town!
Think you know gay old Stratford-upon-Avon?! Bent's own little Bard, Adrian Gillan discovers a clutch of new attractions and hotels, plus stunning forthcoming performance seasons and festivals. Never a better time to come take a fresh look!
Still abuzz with last year's celebration of the life and still-very-living work of its most famous son, 400 years after his death, you hardly need another reason to visit Stratford-upon-Avon. Yet here are five!
New Place site reopened
This is the site where Shakespeare lived with his family, writing many of his late great plays including The Tempest – from 1597 until he died here in 1616. Although the original structure was demolished in 1759, it is only now that recent archaeological excavations have been completed that the site has reopened so that visitors can glean the new findings in displays, plus make their own personal connection with Shakespeare as they enjoy the freshly landscaped gardens and commissioned artwork.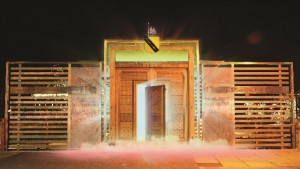 Follow in Shakespeare's footsteps through a new entrance on the site of the original gatehouse and enjoy a contemporary landscape that reveals the footprint, and scale, of the Shakespeare family home. Elements include the restored sunken Knot Garden, with its traditional plants and shrubs; and remnants of the splendidly peaceful Great Garden. Superb indoor exhibition, too, of artefacts found on site or nearby – including what is almost certainly The Bard's very own previously-thought-lost gold signet ring!
Shakespeare's Schoolroom & Guildhall open
Open to the general public for the first time, learn about Shakespeare's education (1571-1578) and explore the building and very room where this bright Midlands schoolboy learnt to read and write, first enjoyed touring professional theatre, and became inspired to become the world's greatest playwright!
King Edward VI School, in Church Street, is where The Bard was almost certainly educated – where else? – when aged 7-14; and where his writing skills doubtless emerged – at the West end of the upper room of the old timber-framed Guildhall, next to the wonderful Guild Chapel!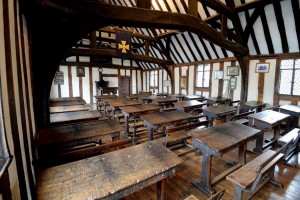 Enjoy an immersive, atmospheric and authentic experience that will give insight into how Shakespeare's outlook and ambitions were formed by the lessons he attended in this very room – English (obviously!), the classics (which influenced many of his plots), the Christian faith (though no regular Churchgoer he), and music (many of his plays have songs); and the plays he saw here. Watch a short film! Try some Tudor homework! Even take part in a live Tudor lesson under the watchful eye of a 'master'!
Long-overdue, this new gem on Stratford's 'Shakespeare Trail' provides a crucial missing chapter: The Bard's education and his inspiration! Pay the (merely suggested) admission fee afterwards – on leaving!
RSC's 2017 season goes Roman
The Royal Shakespeare Company has been attracting some of its best reviews in years under openly gay chief, Greg Doran, who even sometimes directs his partner – the great actor and longstanding RSC stalwart Sir Antony Sher! And those rave critiques look set to continue into 2017, when the RSC marks 2000 years since the death of Ovid, staging Shakespeare's four political thrillers set in and around ancient Rome, all in the main Royal Shakespeare Theatre. Julius Caesar runs 3 March – 9 Sept; Antony & Cleopatra runs 11 March – 7 Sept; Titus Andronicus runs 23 June – 2 Sept; and Coriolanus concludes the season, which is accompanied by a new free exhibition from March to September, looking at 200 years of British political cartoons inspired by Shakespeare. Stop press: If you missed the fab production of Shakespeare's last solo play, The Tempest (ends 21 Jan, Royal Shakespeare Theatre), ne'er fear! This captivating story of magic, spells and spirits sees the skills of theatre-making combine with spectacular hi-tech 'digital power' – the perfect introduction to Shakespeare for families – and will be running throughout summer at the Barbican Theatre in London, 30 June – 18 Aug 2017! Fab gay actor Simon Russell Beale stars as Prospero! Dig the dishy actors playing Ariel and Ferdinand too!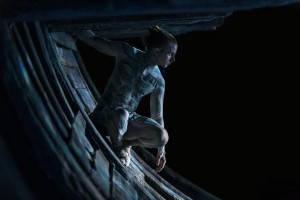 The Swan Theatre sees a new version of Chinese drama, Snow in Midsummer (23 Feb – 25 March); the world premieres of new plays The Hypocrite (by Richard Bean, 30 March – 29 April) and Vice Versa (by Phil Porter, 11 May – 29 Sept); gay great Oscar Wilde's Salomé (2 June – 6 Sept); and Shakespeare's epic poem Venus & Adonis (26 July – 4 Aug), the latter directed by Gregory Doran. A contemporary and sometime rival of Shakespeare, most-likely-gay playwright Christopher Marlowe (1564-1593) might never have visited Stratford-upon-Avon himself, but he'll soon be setting the place alight via the RSC's production of his Dido, Queen of Carthage – again in The Swan. The RSC's first ever permanent exhibition, 'The Play's The Thing', can be enjoyed in the newly restored Swan Wing, showcasing rarely-seen treasures from the archives, with plenty of interactive hands-on fun for all the family, to see how the RSC makes theatre at its best! Stop press: If you can, do try to catch the excellent and rarely-staged The Two Noble Kinsmen (ends 7 Feb, Swan Theatre) which Shakespeare co-wrote with John Fletcher, not least due to how it so comically yet powerfully pitches latent homosexuality and overt feminism against straight male chauvinism!
Ascend the 36m-high RSC Tower, adjoining the theatres, for panoramic views of town and surrounds.
Orchestra of the Swan 2017 season
It's always worth remembering that the RSC, stunning though they are, aren't quite the only show in town! Celebrating its 21st season in 2016/17, Orchestra of the Swan call Stratford home too! Based at the wonderful Stratford ArtsHouse, OOTS is also Associate Orchestra at Town Hall Birmingham with other residencies at Number 8 Pershore, Huntingdon Hall Worcester and Malvern Theatres.
The orchestra gives over 40 concerts annually, not just regionally, but increasingly throughout the UK, and overseas – including to New York, at Carnegie Hall on 26 Feb 2017, with handsome, charming, talented young American pianist, Thomas Nickell, under the baton of energetic OOTS founder and Artistic Director, David Curtis.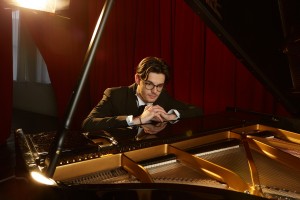 Recordings have been well reviewed and are frequently aired on radio, as are many concerts live. The extensive discography includes repertoire by Barber, Bax, Berlioz, Brahms, Copland, Debussy, Elgar, Finzi, Ireland, Mahler, Mendelssohn, Mozart, Schumann, Strauss, Vaughan Williams and the world premiere recording of the complete symphonies by Hans Gál. World class soloists include clarinettist Emma Johnson MBE, pianist Peter Donohoe, violinist Tasmin Little and cellist Julian Lloyd Webber.
A fistful of fests and sundry such in 2017!
Stratford Literary Festival celebrates its 10th birthday, 23-30 April.
The Stratford Festival of Motoring returns for its 4th consecutive year, over the first May Bank Holiday when the town centre roars with over 300 high performance motors and classic cars.
To coincide with the UK-India Year of Culture, Shakespeare Birthplace Trust will present 'Shakespeare in South Asia' May – Sept, celebrating Shakespeare's influence there.
The 64th Stratford-upon-Avon Poetry Festival runs 11-18 June with a line-up of readings, performances and workshops, mixing the talents of poets with actors and musicians.
The Stratford River Festival returns to the banks of the Avon over the first weekend in July. It is the largest family-friendly free event held in Stratford, with over 70,000 visitors expected to enjoy events on and off the river, including market stalls and entertainment.
The Shakespeare Film Festival takes place in September with screenings to appeal to all.
The Shakespeare Birthplace Trust will celebrate its 170th anniversary on 16 Sept, on which date it was formed in 1847 following the purchase of Shakespeare's Birthplace. You can discover how Charles Dickens spearheaded the campaign to save the Birthplace in a new temporary exhibition.
The Stratford Food Festival takes place 22-24 Sept with 100+ stalls across 3 town centre areas.
Exhibitions this year at The Old Slaughterhouse will explore Stratford's townscape through then-and-now photos; Stratford's Toll House and riverside industry; local Victorian lesbian author and conservationist, Marie Corelli; and Stratford's rich rail heritage.
But naturally, it doesn't all have to be new! You can still – as ever – enjoy the rest of the town's main 'Shakespeare Trail', taking in key sites connected with the great writer's life, and death. For many, Stratford's heart and soul will always be Shakespeare's Birthplace, the half-timbered house-with-garden where Shakespeare was born in 1564, and which stayed first in his family and then in his sister's until 1806 – complete with more recent biographical exhibition attached, and even actors performing famous speeches and scenes from the plays! Hall's Croft, where Shakespeare's eldest daughter, Susanna, may have lived, is mere streets away.
Anne Hathaway's Cottage (where Shakespeare's wife-to-be lived before marrying him) and Mary Arden's House (where Shakespeare's mum lived before marrying his father) are both easily reached via the CitySightseeing bus, with its audio commentary.
Tranquil riverside Holy Trinity Church is where both William Shakespeare and Anne Hathaway are buried, and where Shakespeare was baptised – its gardens bordering the lovely swan-filled Avon.
For an earthy, multisensory slice of Tudor life, visit the vividly atmospheric, ghoulishly entertaining (think 'Horrible Histories') and highly informative Tudor World – housed on the site of an inn whose lusty landlord reputedly inspired Shakespeare's great comic character, Falstaff! For relaxation, take one of the Bancroft Cruisers along the Avon. For something absolutely – arguably well-nigh refreshingly – unconnected with Shakespeare, visit the UK's biggest Butterfly Farm, just over the river.
A mere minutes' walk from the Swan Theatre, down some pre-show pub grub in the "Dirty Duck" (a.k.a. The Black Swan, Waterside, Stratford-upon-Avon; T: 01789 297312;). What with all the theatre crowd, not least post-show, it's probably the closest thing Stratford-upon-Avon has to a gay venue!
Moreover: what's definitely not new in Stratford is the ongoing debate around Shakespeare's sexuality. What a tease: that the private life of the world's most famous and feted writer should remain, 400 years on, so stubbornly shrouded in mystery! But was The Bard bent? Dark horse or Dark Lady – we'll probably never get to the bottom of the ongoing mystery of Will's sonnet-teasing sexuality! The debate will doubtless rage on, and the best, surely only, answer we can hope for, at this distance of time, lies in the sonnets themselves. So read some of the finest poetry ever written, and place your bet!
Stay
Stay at the new Crowne Plaza Stratford-upon-Avon (Bridgefoot, Stratford-upon-Avon, Warwickshire CV37 6YR; 01789 279988;). The former Holiday Inn has undergone refurbishment work to transform it into a Crowne Plaza hotel. Set amid landscaped gardens beside the River Avon, all 259 bedrooms have been upgraded and enhanced, each offering views of the river and/or gardens, plus a work space and free Wi-Fi. Executive rooms provide guests with bathrobes and a minibar too. Take advantage of the hotel's leisure club, working-out in the gym or unwinding in the sauna and heated indoor pool. Enjoy breakfast, lunch or dinner at the Riverside Restaurant, or relax with a drink or light bite to eat in the Terrace Lounge and Bar, or on the heated Terrace. Children aged 12 years and younger eat for free. It's a mere 5 minute stroll along the River Avon to the RSC's theatres; and the town centre is scarce a 2 minute walk away. Ace!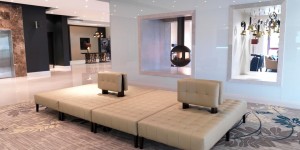 Eat
Just over the road from the site of New Place, the deceptively large 4-star Falcon Hotel (Chapel Street, Stratford-upon-Avon CV37 6HA; T: 01789 279953;) fair reeks of history, parts dating back to about 1500. Fine-dine at its award-winning Will's Place restaurant, with open fire and wooden-panelling; attentive, knowledgeable and friendly staff; plus top wines and gourmet à la carte offerings, from cheeky little amuse bouche right through to tasty desert!
Conveniently perched twixt rail station and town, The Stratford (Arden Street, Stratford-upon-Avon; T: 01789 271000;) is a 4-star hotel whose award-winning Quills Restaurant delivers exciting and tasty breakfasts, lunches or dinners, in a chic-yet-relaxed setting, with an excellent pre-theatre menu, extensive wine list and attentive-yet-friendly service.
Stratford-upon-Avon is just 2 hours away from London Marylebone by Chiltern Railways, and even closer to other major UK cities.