Capital of the proud region of Brittany in northwest France, Adrian Gillan enjoys the history, culture and feisty scene in student-brimming Rennes – a short aerial hop away, on fab Flybe!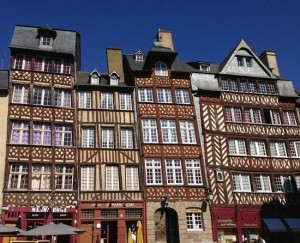 At the confluence of the timelessly-flowing Ille and Vilaine rivers, Rennes is the capital of Brittany in northwest France – a region heaped in history! From Prehistoric standing stones, through Gauls and Romans, to Britons from over here repelling invading Vikings, forging an independent power; from a gutsy Duchy tackling the invading English during the 100 Years War, to increasing integration into France; from resistance to the French Revolution, through subjugation during and after WW1, to more recent reassertion of a Breton identity and autonomy.
A great fire in 1720 destroyed all old timber-framed houses in much of central Rennes, an area which was duly rebuilt grandly in stone, on a grid plan. Since the 1950s – powered by auto, IT and agro-food industries – the city has grown rapidly to become the tenth largest in France, with 210,000 in its inner core, or 700,000 including the wider metropolitan area. 70,000 students gloriously swell two main universities – Université de Rennes 1 (science/economics) and Université de Rennes 2 (arts/languages).
In addition to now prevalent French, regional language Breton is increasingly being revived and spoken, although only very rarely heard in Rennes itself. Local food specialties include galette (filled savoury crêpe), washed down with cider.
And, with fab low-cost carrier Flybe serving Rennes from London Southend airport, you can be right there, in no time at all – and with extra cash left in your pocket! Punctual, and with highly personal, yet still professional, service, the purr of the propeller engine lives on in many a Flybe hopper route – strangely reawakening the adventurous glamour of a bygone age of travel. We love 'em!
Stay
Whether for business or pleasure, fun new quirky boutique hotel Le Magic Hall (17 rue de la Quintaine; T: +33 2 99 66 21 83; www.lemagichall.com) offers a welcome antidote to other more corporate and clinical affairs, in a quiet residential tree-lined street slap-bang in Rennes town centre! With the building's colourful and dramatic history – a former soldiers' barracks and art house cinema – it is only fitting that each of the 19 rooms has been creatively performance-themed qua music, dance, cinema or theatre. All have flat-screen TV, private bathroom, Bluetooth speaker, telephone and free Wi-Fi. Charming owner Guillaume and his fantastic team ensure this is a friendly, relaxed yet still vibrant place, with surprising touches around every corner! It even boasts a small auditorium devoted to all types of live music and events. Enjoy the ambient bar or pleasant summer terrace, plus fab buffet breakfasts either around a nice big sociable table or in the more intimate sofa-lounge area. A kitchenette is also available for a fee on prior request. 24-hour reception. For laid-back inner rock stars – and those in tow!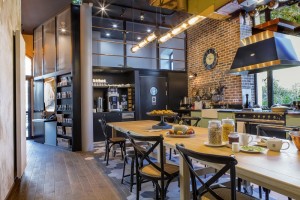 See
Rennes' main sights are all easily reached on foot…
Saint-Yves Chapel – Characterful Gothic renovated 15th Century chapel originally built for the Saint-Yves Hospital; then a 19th Century ironmongery; and now home to Rennes' Tourist Office – providing free tourist maps and info about a very wide range of scheduled guided walking tours (from city secrets, through food heaven, to cheeky street art), plus the excellent permanent exhibition "Rennes, a City of Art & History".
Saint-Pierre Cathedral – Rebuilt and redecorated in the second half of the 19th Century, it has hosted some of Brittany's, not to mention France's, most important moments, including the crowning of the Dukes and Duchesses of Brittany!
Portes Mordelaises – Rebuilt in the 15th Century, the fortified city's main entrance boasts two symmetrical towers and a double draw-bridge.
Place des Lices – Former jousting field, then home to the Lices market since 1622, with 17th Century mansions to the north and two metal stall halls to the south! One of France's biggest markets, bursting with smells, sounds and sights, especially every Saturday!
Brittany Parliament building – 17th Century gem that survived the great fire of 1720, but burnt down in 1994, now restored to its original splendour. Tours available all year, via the tourist office.
City Hall – Built after the 1720 fire, combining Town Hall, Presidential court and clock tower, all in a new square! Tours available throughout summer, via the tourist office.
Opera (a.k.a. "Le Théâtre") – Complementing the curved lines of the Town Hall just opposite, this is one of the smallest opera houses in France, but what a beauty!
Thabor Gardens – Former abbey grounds, landscaped in the 19th Century into a pleasant 10-hectare park with French gardens, English gardens, grotto, music pavilion, aviary and rose garden!
Musée des Beaux Arts (mbar.org) – Founded in 1794, now showcasing fine art from Antiquity to modern times. Great contemporary exhibitions too!
Champs Libres (leschampslibres.fr) – Lively cultural centre combining the wonderfully informative and well-designed Brittany Museum, the Science Centre and the Metropolis Library.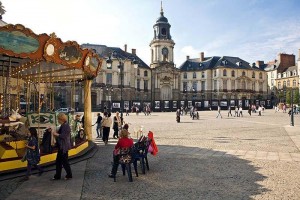 Scene
Rennes has a small, discreet uni-fuelled scene, hubbed around a community centre, a bar, a club plus a couple of saunas…
Centre Gay, Lesbien, Bi et Trans, CGLBT (23 rue d'Aiguillon; cglbtrennes.org) – LGBT community centre.
Le Cosmos (21 rue de Saint-Malo) – Men-only cruise bar just northwest of centre.
Le Batchi (34 rue Vasselot; batchi.com) – Central gay club; Thurs/Fri/Sat, 12.30am-7am.
Sauna Carré Rouge (15 Rue de la Donelière; xn--carrrouge-e4a.com) – Gay sauna, just north of centre.
Sauna California (7 rue de Léon; saunacalifornia.com) – Central 3-level mixed/gay sauna.
For more info on Rennes: www.tourisme-rennes.com/en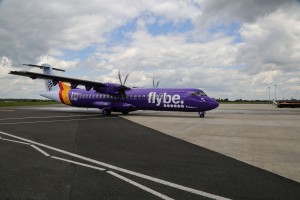 Fly high with Flybe
Flybe flies from London Southend to Rennes up to ten times a week with fares starting from just £29.99 each way. This brilliant, great-value airline is punctual, offering friendly yet professional service; and has a fantastic and ever-expanding network of exciting routes, covering much of the UK and Europe. For more info or to book: www.flybe.com
by Adrian Gillan
Comments via Facebook
comments