Detroit: the "Comeback City" you'll wanna come back to!
The lowdown on Motown! With a proud heritage of music, sport and culture, dynamic resurgent Downtown plus friendly gay scene, Adrian Gillan flies Virgin Atlantic, to take on "the Big D"…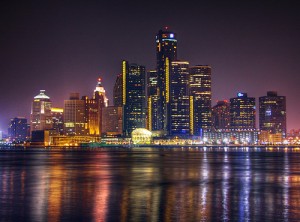 The largest city on the US–Canada border, and in the US state of Michigan, the Midwest powerhouse of Detroit (French for "the straights", between two lakes) has risen from the banks of its eponymous river, for a 300-year rollercoaster ride from fur-trading to Ford and – thankfully, post-automotive-slump – beyond! This prize asset of the Great Lakes region has witnessed French and British rule; a multicultural influx of workers to serve its emerging industries; university expansion; regeneration and renewal.
STAY
Set in the gloriously refurbished landmark 1915 David Whitney Building, amidst grand Downtown boulevards, the 136-room Aloft Hotel (1 Park Avenue) boasts one of the most dramatic central foyers of any hotel anywhere – both elegant and chic, yet infused with a constant urban bustle – and even has its own People Mover stop to help get you around.
A great fusion of the old with the new, the Aloft's stunningly lofty gold-leafed atrium is home to a friendly reception; spacious lounge; handy 24/7 Re:fuel grab-and-go light-bites store; funky W XYZ music and cocktails spins-and-sips bar; and (opening soon) even a high-end restaurant, Grand Cirque Brasserie. Roomy guest rooms boast ultra-high ceilings, extra-large windows, comfy spacious signature beds, and amazing bathrooms with Bliss® Spa amenities. Also work up a sweat in the 24/7 Re:charge gym, or enjoy the fab free Wi-Fi throughout the building and in rooms. Kid and pet friendly too! Brilliant!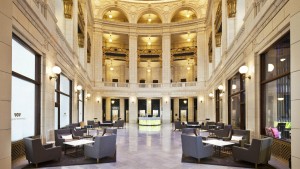 By splendid contrast in both scale and atmosphere, if basing yourself in Detroit's historic arty, student-thronging Midtown, The Inn on Ferry Street (84 East Ferry Street) is just a couple of miles north, but a whole wide world away. Mere steps from a clutch of top museums, this intimate late-19th Century affair – set across four restored Victorian homes, and two carriage houses – combines period charm with modern luxury.
All rooms are spacious yet homely, with a work area, TV and CD player, iron and hairdryer, free Wi-Fi and private whirlpool bath. Enjoy the generous in-house buffet breakfast, secure on-site parking, complimentary 5-mile-radius shuttle service, honour bar and 24/7 front desk agent. A gem!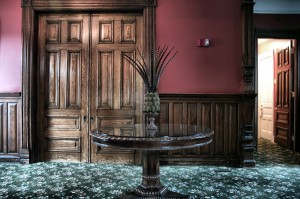 EAT
Detroit's spectacular downtown regeneration includes numerous top new trendy eateries – just like buzzing atmospheric Wright & Company (Floor 2, 1500 Woodward Ave) which serves modern American small plate cuisine, craft cocktails, plus a wide range of international beer and wine. Great for hanging with friends at tables under swirling rotor fans; or for grabbing a drink and a bite sat at the bar, chatting to characterful, friendly staff!
SEE 'N DO
For a cheap, fun way to explore Downtown, use the Detroit People Mover – the 3-mile-long, 13-stop, 1980s monorail – which even runs 'til 2am on Fri/Sat nights. We love it!
But to see Detroit up close, at least its more central areas, use your feet. Try any of a wide range of free 'experiential tours' given daily by Detroit Experience Factory whose energetic guides can teach even locals a thing or two – explaining the broad history and main sights, alongside hidden nooks, plus latest developments, and plans for the future! Dazzling! They cover Downtown, Midtown and Riverfront areas, and have specialist tours on topics from architecture to pubs! Downtown highlights include the Guardian Building, with its stupendous interior; the iconic Spirit of Detroit statue; the Renaissance Centre ("Ren Cen"), home of General Motors; and the tour's starting point itself, the Campus Martius – sandy beach in summer, ice rink in winter!
But there are many parts of town you'll want to spend more time in, solo. Check out the historic Detroit institution that is Eastern Market – quite possibly the oldest open air market in the United States. Sprawled over half a dozen roofed areas, blissfully browse and buy local fruit, veg and other foods on Saturdays all-year-round; and arts and crafts on Sundays in summer months. Savour the colour and character of stalls and stallholders alike, not to mention the locals. Break for lunch on one of the many small independent eateries around the market's edge!
The Detroit Historical Museum (5401 Woodward Ave) is dedicated to chronicling the city's history. Permanent displays include Frontiers to Factories, 1701-1901 (from furs to the mass-production industries that would eventually give rise to the likes of Ford); Streets of Old Detroit (19th and early 20th Century streets and stores); Kid Rock Music Lab (100 years of Detroit music); Doorway to Freedom – Detroit and the Underground Railroad (helping slaves escape to Canada); and America's Motor City (including a recreation of a Ford production line). Outside, Legends Plaza contains the handprints and signatures of prominent men and women linked to the city, like Alice Cooper. All free!
The vast, world-class Detroit Institute of Arts (5200 Woodward Avenue;) is among the top six art museums in the US. The 100-gallery multicultural collection covers from prehistory to now. Must see: Mexican artist Diego Rivera's Detroit Industry fresco hall, which Rivera himself considered his most successful work. Fab canteen too! Plus atmospheric neo-Renaissance Kresge Court café-bar!
Motown Records may have started in 1959, but tens of thousands of visitors still pass through Hitsville U.S.A. each year – on a Motown Museum Tour (2648 W. Grand Blvd;). Animated guides walk-and-talk you through its extensive array of Motown artefacts and photos; through the restored upper flat where Motown founder Berry Gordy lived with his young family; and – finally – into legendary Studio A. Literally follow in the footsteps of Diana Ross, Michael Jackson (Jackson 5), Stevie Wonder, Marvin Gaye, Smokey Robinson and Lionel Richie!
The vast Henry Ford Museum (Dearborn;) explores and displays what Americans, past and present, have imagined and invented. The sweeping, single-floor, 9-acre space is dedicated to showcasing the finest collection of its kind ever assembled… cars, trains, planes and homes… alongside exhibits related to American history and its struggle for human rights. Highlights include the limo JFK was assassinated in; the Ford's Theatre chair that Lincoln was assassinated in; George Washington's camp bed; and the bus in which Rosa Parks simply kept her seat!
The outdoor living history museum section of the Henry Ford complex, Greenfield Village (Dearborn;) comprises a hundred historical buildings, transplanted from their original locations and arranged in a "village" setting – to show how Americans have lived and worked since the founding of the country. Many are staffed by costumed interpreters who conduct period tasks like farming, sewing and cooking. Pottery and glass-blowing demos too! Highlights include the Wright brothers' bicycle shop; a replica of Thomas Edison's lab complex; a whole main street; and even a working farm! There are also various historic modes of transport for visitors, in Ford Model Ts, a 1931 Ford bus, horse-drawn omnibuses, even steam trains! Period eateries too, serving historic grub!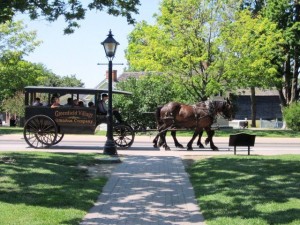 Catch a concert or show at top entertainment venues such as the Fox Theatre, Music Hall, Detroit Opera House, Fisher Theatre and Orchestra Hall – home of the renowned Detroit Symphony Orchestra!
Fancy a break from the big city – without really leaving it? Hire a bike to take in the Riverfront district, all the way out to Belle Isle, with its island park in the Detroit River, between the US mainland and Canada – home to an aquarium, botanical conservatory, zoo and casino!
BOOZE 'N BOP
Detroit's main gay districts are out in, and on the way to, Ferndale and nearby Royal Oak, about 8-10 miles north of Downtown; plus in Warrendale, the same distance west  That said, some gay-friendly Midtown and Downtown haunts do also attract their fair queer quota.
IN AND EN-ROUTE TO FERNDALE & ROYAL OAK (UP NORTH)
Body Zone (1617 E McNichols) – gay sauna with student nights.
Club Coast – Sin in Detroit (2971 E 7 Mile) – nightly gay club with dance, drag and strippers.
Escape Lounge(19404 Sherwood St) – small DJ lounge, after-hours 'til 6am at weekends.
Innuendo (744 E Savannah) – small but busy club, mainly hip-hop and R&B.
Menjo's (928 W McNichols) – large complex with club, shows and leather/bear nights.
Soho (205 W 9 Mile, Ferndale) – cocktail/martini lounge with something for everyone.
WARRENDALE & BEYOND (OUT WEST)
Adam's Apple (18931 W Warren) – bar, with jukebox and karaoke.
Gigi's (16920 W Warren) – cabaret bar, young crowd.
Hayloft Saloon (8070 Greenfield) – men's cruise bar.
Inferno (1641 Middlebelt) – gay nightclub about 3-4 miles west of Warrendale, in Inkster.
MIDTOWN/DOWNTOWN (CENTRE)
Woodward (6426 Woodward) – Midtown video bar with dance floor, mainly R&B/hip-hop/house.
Centaur (2233 Park Ave) – gay-friendly Downtown cocktail bar.
Briggs (519 Jefferson) – gay-friendly/owned sport bar… nearest thing to queer Downtown!
GETTING THERE
Virgin Atlantic (08705 747 747) flies between London Heathrow and Detroit direct daily, with Economy fares from as low as around £587 return, including taxes, offering the best in-flight entertainment and service in the business. Or why not pay that bit extra to stretch your legs in award-winning Premium Economy? Or really splash out to upgrade yourself to their legendary Upper Class – thereby also gaining access to Heathrow's massive multi-million pound flagship Virgin Clubhouse lounge!
by Adrian Gillan for Bent