Brighton in May: a Fistful of Fests!
Bent's Adrian Gillan hits the UK's queerest seaside resort for the 50th Brighton Festival (7-29 May 2016), England's largest arts fest, plus Brighton Fringe, Pink Fringe and more besides!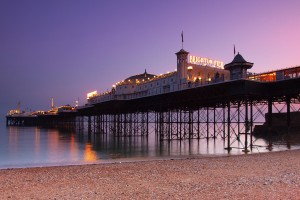 Randy royal raver, the Prince Regent, escaped London back in the 1770s. Though straight – and no port or sailors here – he brought with him an air of flamboyance and devil-may-care that made Brighton a natural colony for rich queers in tow. The word got out and in time thousands flocked to a pleasant place by a southern sea, a stone's throw from London but seemingly a million miles away. Yet it is only with legality in recent decades that a visible gay quarter has emerged: around St James Street and Old Steine, stretching along the front from the Palace Pier into Kemptown, or "Camptown" as now truly is.
And there's no better time to visit Brighton than now, throughout May, for its 50th Brighton Festival – the UK's second largest annual arts festival after Edinburgh – coinciding with the 10th Brighton Fringe, not to mention Pink Fringe, House plus Artists Open Houses…
STAY
The 4-star New Steine Hotel (10-11 New Steine;) is an elegant 5-story Georgian townhouse with contemporary boutique design oozing warmth and style, plus a soupçon of French class! Nice rooms, some of which look out onto the grassy 'square' and down to the all-giving sea. Excellent, friendly and professional staff serve both the hotel and its hip Bar and Bistro, whose skilled kitchen creates delicious modern Anglo-French cuisine. Fab breakfasts too!
EAT
Tucked away in the Brighton Lanes, the open kitchen of multi-award-winning little 64 Degrees (53 Meeting House Lane; T: 01273 770115;) dishes up tasty small plates using fresh, local produce for lunch and dinner daily. Delicious waiters. The Market (42 Western Road; T: 01273 823707;) offers big unfussy flavours to share on small plates, influenced by Southern Europe, the USA and indeed the British Isles – either at the bar or around a table, daily. Beautiful shiny green tiled interior, plus top service too. Slap-bang on the front, with sea views and terrace, The Salt Room (106 King's Road; T: 01273 929488;) offers modern British takes on seafood and grilled meat in a chic space. Ace.
SEE & DO
Browse the rambling cutsie cafés and shops in The Lanes quarter; gawp at the splendour of the Royal Pavilion; or take in a show or play at the ornate former-stables Dome, or 1807-built 950-capacity Theatre Royal (New Road;). Visit the fascinating Brighton Museum & Art Gallery's exquisite displays. Then head down to the waterfront to enjoy the fish in the Sea Life aquarium; stroll the Pier with its funfair; take a voyage on the little old Volks Electric Railway; or just loll on the famous pebble beach. If in town for a bit longer, explore historic, haunted Preston Manor; or venture along to the shops, bars and restaurants of Brighton Marina; or further out into the glorious surrounding Sussex countryside. Summer 2016 sees bye-bye to the Brighton Wheel, after its successful 5-year spin, and hello to the tad-controversial Brighton i360 (dubbed by some 'The Glass Donut'), supposedly the world's tallest (150 metres) moving observation tower!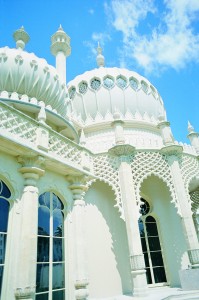 BRIGHTON FESTIVAL (7-29 May 2016)
Adventurous artists, adventurous audiences! With Guest Director, New York-based experimental musician and performance artist, Laurie Anderson at the helm, 2016 sees Brighton Festival celebrate 50 years of commissioning and producing innovative music, theatre, dance, circus, art, film, literature, debate, outdoor and family events – in venues both familiar and unusual across Brighton & Hove.
The theme of this year's festival being "Home and Place", Anderson's own offerings include a short film, a monologue, even a concert for dogs! Other commissions, co-commissions, exclusives and such include dancer-choreographer Akram Khan's 'Until the Lions' and electro-folk artist Beth Orton. Other highlights include Baroque music specialists, La Nuova Musica, presenting Purcell's 'Dido and Aeneas', plus the London Symphony Orchestra; comedian Alexei Sayle; authors Marlon James, Mark Haddon and Howard Jacobson; even former Greek finance man Yanis Varoufakis! Marking the 400th anniversary of Shakespeare's death, also catch Spymonkey & Tim Crouch's 'Shakespeare: The Complete Deaths'; and Marc Rees' promenade piece 'Digging for Shakespeare' at the Roedale Allotments!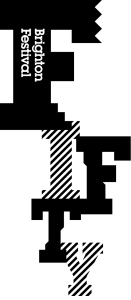 BRIGHTON FRINGE (6 May – 5 June 2016.)
Now in its 10th year, the vast open-access Brighton Fringe takes place every May, showcasing home-grown and wider talent. Over 900 theatre, dance, music, comedy and literature events will take place in 165 venues, including the new Fringe All Nighter where shows run 'til dawn! Theatre highlights include the world premiere of the Tim Burton-esque 'The Girl Who Fell in Love With the Moon' from award-winning company, The Human Zoo. Cabaret highlights include festival favourites Meow Meow, and surreal baritone artist Le Gateau Chocolat. Comedy includes Scottish Comedian of the Year, Larry Dean. Music includes electro Cassetteboy and DJ Rubbish, nu-folk star Martha Tilston and Herbie's Jazz Breakfast at the magical pop-up Spiegeltent.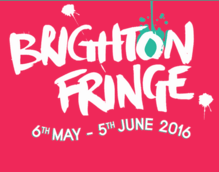 PINK FRINGE (all-year-round)
Based at tiny 70-seater Marlborough Theatre (4 Princes Street), Pink Fringe produces challenging theatre, cabaret, comedy, dance, immersive art and entertainment by queer artists in Brighton all-year-round; and has presented successful open-access seasons within Brighton Fringe since 2011. Highlights this year include Laurie Brown's solo show 'The Daily Grind' exploring the impact of dating apps and social media; and 'Funeral Doom Spiritual for Male Soprano Piano & Electronics' by Negrographic Productions, exploring "slavery, segregation and neo-segregation".
HOUSE (30 April – 29 May 2016)
Now in its 8th year, HOUSE is a curated, part-commissioned contemporary visual arts fest, which takes place in Brighton and Hove during the May festival period. Always focused on "the threshold between private and public space", this year's specific curatorial theme is 'Home / Sense of Place'. Turner Prize winner Gillian Wearing OBE is HOUSE 2016's Invited Artist, offering 'A Room With Your Views' – a collaborative film project capturing a snapshot of 'views' from homes across the world, connecting people and countries – at University of Brighton Galleries, Grand Parade. Also: new co-commissions from Felicity Hammond (Photoworks) and Thompson Hall (Outside In).
ARTISTS OPEN HOUSES (30 April – 30 May 2016)
The Artists Open Houses festival covers the five May-spanning weekends – closing on Bank Holiday Monday 30 May. Each weekend, artists in Brighton, Hove, Ditchling, Rottingdean and the Ouse valley throw open their homes and studios to bring you everything from sculpture and painting to jewellery, ceramics and textiles. More than 1,200 artists exhibit their work in around 200 venues citywide and in the surrounding area, also providing art lovers with the opportunity to buy work and chat directly with the creators. Most Open House venues belong to one of 14 geographically grouped Open House Trails covering different areas of the city and beyond. The Brunswick Trail includes Constable's Studio and and The Dog Show, both in lovely Sillwood Road. Free entry.
SCENE
The Bulldog Tavern (31 St James Street;), on St James Street itself, is the oldest gay venue in town still functioning, a stalwart community hub. Or try the A-Bar (@ Amsterdam, 11-12 Marine Parade;) on the seafront, featuring regular drag shows. To rev up, the Queen's Arms (7 George Street;) – over on George Street across St James' – is still one of the campest pubs in town with regular drag and karaoke, for a drunken cheery mob. Bears abound at the still strangely stylish Camelford Arms (30-31 Camelford Street;). The buzzing Marlborough (4 Princes Street;) is, with its little 60-seat theatre, home to the Pink Fringe (see above). Bar Revenge (7 Marine Parade;) ups style stakes with top views of pier and sea. Next door, Charles Street Bar (8 Marine Parade;) is the real style-meister.
There are several devotedly-gay clubs in Brighton, each offering varied nightly flavours to suit all tastes. Legends (Basement @ 31-34 Marine Parade;) is a bar-club-hotel combo-complex, right on Brighton's seafront. Revenge (32 Old Steine;) is just about the biggest club in the south of England outside London – not that we want to compare ourselves with that place do we boys? – playing to a young, mainstream crowd across multi-floors; and vying with a host of regular rival nights at sundry venues elsewhere across town.
If you still need to let off steam – or get restless after Sunday lunch – The Boiler Room Sauna (formerly TBS2 Sauna, 86 Denmark Villas, Hove;) near Hove train station is a buzzing "male health" complex; or maybe try Brighton Sauna (75 Grand Parade;) up opposite the Pavilion. On a sunny day West Beach, between the two piers is the obvious place to bare nearly all. But more fun by far is the official, male-dominated nudist beach about a ten minute jaunt along the front towards the marina. And just back from said beach are the infamous Duke's Mound bushes. As ever, beware, not least at night.
Uniquely cosmopolitan amongst British seaside resorts, Brighton is a kind of mini London-on-sea, with none of your Blackpool tat! And – amidst a quintessentially English backdrop of mile upon mile of aqua-pastel promenade paint and a ghostly, burnt-out West Pier moored offshore against the blinding sun – G-A-Y truly runs through its soul as through a sticky pink six inch stick of candy rock!
Brighton Festival is England's largest arts festival, 7-29 May 2016
Brighton Fringe, 6 May – 5 June 2016
Brighton Pink Fringe, all-year-round, including during Brighton Fringe
Brighton HOUSE, 30 April – 29 May 2016
Brighton Artists Open Houses Festival, 30 April – 30 May 2016
Brighton Pride, 5-7 August 2016
Brighton is under an hour from London Victoria by Southern Railway
Adrian Gillan