Man Mountain: where two Swiss gay ski weeks occur!
by Adrian Gillan for Bent
How gay is your valley? Adrian Gillan does a homo-recce on the neighbouring, newly-linked resorts hosting Switzerland's two annual gay ski weeks: arousing Arosa & laddish Lenzerheide!
You know what it's like! You wait all whole year for a good gay ski week, and two come along, almost on the same mountain! At least Arosa's is in January, and nearby Lenzerheide's ('Swing') is in late Feb, early March – so you can carve it up with the snow-mosexuals on both, and still be home for Easter! That said, what with the fresh air, and even fresher guys, there's no shortage of sexy young locals here all-year-round! And there are some amazing spas and lots of other, non-downhill, winter sports 'n all!
Both resorts lie in the hilly homo-heart of the largest Swiss canton, Graubünden – think 1000 mountains, 150 valleys and 615 lakes – scarce a couple of hours east of Zurich!
Arosa-Lenzerheide! A cable car now links these two physically spectacular locations so you don't have to go all round the mountains, and you can get around all pistes on a single pass! This recent mountain-marriage made in Alpine heaven has given the canton's arguably more famous piste-pairing, Davos-Klösters, a good run for its gay money!
So what better time, then, to look at each resort in its own right, as well as looking ahead a little to their respective gay ski weeks early next year?
Arosa
Nestling amidst soaring peaks at around 1,800m, between two (oft frozen) lakes, lovely little Arosa is already a cut above the rest! And beware: this bar-bustling, boy-teeming village is very far from sleepy!
Since the union with Lenzerheide, you can now enjoy over 225 km of fab ski and snowboard runs. Feeling rusty on the powder? Get a lesson from the hunks at Swiss Ski & Snowboard School– these bad boys'll soon have you in splits on the daredevil jumps down the snowpark!
Lunch on gourmet burgers at SIT-Hütte. Enjoy Après-Ski, pressed up hard against sweaty local lads, at the heaving Tschuggenhütte, not least in its Kuhbar or whilst basking out on the sun chair terrace. Likewise at the Carmenna-Hütte!
Nearer the village, the open-air ice rink makes a nice change from all things down-hill. Or take a walk on the 'Squirrel Route' where you can feed the cutsie little mammals – just don't forget your nuts!
Stay at the classy 4-star (feels like 5!) Waldhotel National (CH-7050 Arosa; T: +41 (0)81 378 55 55;), combining the magically old with the stylishly new in its imposing sanatorium building, parts of which date from 1910. Kick back in spacious Swiss-pine-panelled rooms affording valley or forest views, many from balconies. Pig out on the complimentary luxurious breakfast buffet come morn. Hire ski stuff at the conveniently on-site rental shop. Strip off, post-piste, in the Aqua Silva "textile free" sauna area, plus discretely troll the nearby 18+ Spa Salus heath zone for yet more no-clothes thrills. Man-watch and chill pre-bed with a glass or two of fine wine in the cosy fire-lit piano bar.
Alternatively, stay at tad-cheaper, friendly 3-star Hotel Streiff (Sonnenbergstrasse, CH-7050 Arosa; T: +41 (0)81 378 71 71;), likewise boasting modern rooms with mountain-view balconies, a fab breakfast buffet and great in-house restaurant, plus a cosy bar with fire. Pets and kids are also welcome, with indoor and outdoor play areas. And be sure to get your kit off to let it all hang out in the Streiff's brand new Edelweiss spa with its lovely sauna, steam room and relaxation area.
Perhaps dine high up one night on typical local 'Grison' specialities at buzzing chalet-style Burestübli Arlenwald (Burestübli Arosa, CH-7050 Arosa; T: +41 (0)81 377 18 38;) before a schnapps-fuelled night sled race back down to Arosa and a night-cap or three at the cute-boy-brimming Wandelbar in the buzzing Kursaal club-bar-lounge complex.
Prefer something more explicitly gay and well-organised, whether you are single, a couple or a group? Soon to be in its 13th year (lucky for some), the Arosa Gay Ski Week (21-28 Jan 2017), attracts hundreds of queer skiers of all ages and from all over the world (30 countries and counting) every January to an avalanche of wintry sport – both the outdoor and indoor variety! Apart from all the hot skiing with your new ski-fit pals, enjoy torch-lit sledge-runs; organised walks; big-prize drag queen races; classical concerts; plus dinner, pool and peak-top parties galore! Hitsch and the whole ski week team look forward to welcoming you. Book early to avoid disappointment! Arosa has long been a gay-friendly destination! Tellingly, the rainbow flag flies proudly in the village centre all winter, not just during the gay ski week!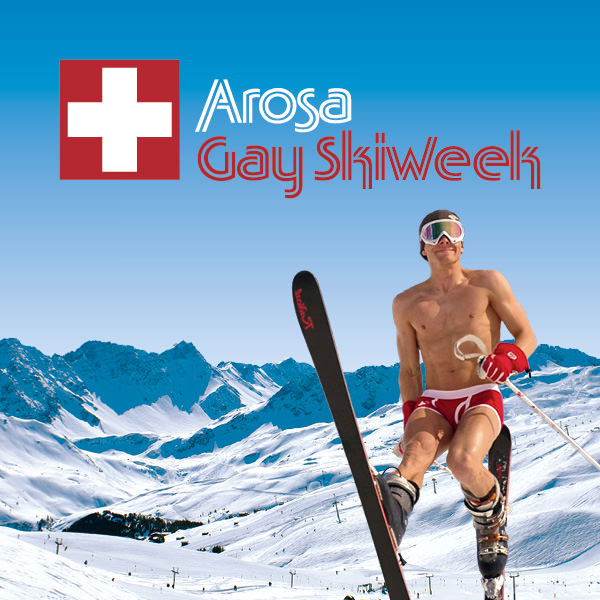 Lenzerheide
Lush little Lenzerheide (1,470m) could well gain much from its recent physical union with tad taller mountainous mate Arosa, over the hill. Before the cable car, they had to take a bus and train to meet!
Having rented gear from the friendly, teasingly fit staff at Pesko Sportshop, carve up a few more pistes pre or post lunch at a table-with-view at peak-top Panoramarestaurant Rothorngipfel – great service there too!
Back in the village, why not try out a spot of biathlon (cross-country ski plus rifle shooting) for a change! Hire the special ski clobber at activ Sport Baselgia (Voa Sporz 19, CH-7078 Lenzerheide/Lai; T: +41 (0)81 384 25 34;) then have a ski-and-rifle lesson at the Biathlon Arena just out of town. Ace!
Post-ski, of whatever variety, steam away at "the biggest Hamam in the Alps" at central Hotel Schweizerhof (7078 Lenzerheide; T: +41 (0)81 385 25 25;), incidentally usually also the main partner hotel for Lenzerheide's own Swing Gay Ski Week (see below) – Lord help its unsuspecting straight guests having a steam then, doubtless the closest they'll ever get to frequenting a gay sauna!
Otherwise, stay at quirky, fun, funky Hotel Kurhaus (Voa Principala 40, CH-7078 Lenzerheide; T: +41 (0)81 384 11 34;) slap-bang in the middle of Lenzerheide. From the welcome drink and a quick go on the foyer swing, to the Wi-Fi lobby with honesty bar, plus nice breakfast buffet, Corner restaurant and atmospheric winter evening tapas lounge, this joint cleverly combines spa-simplicity with bohemian chic.
For a slightly different dining experience one night, maybe earn your schnapps and fondue by taking a guided snowshoe tour/hike to some lofty eatery such as the Alphütte Fops (T: +41 (0)78 797 08 06).
Actually running for a decade longer than the Arosa Gay Ski Week, Lenzerheide's own Swing Gay Ski Week (5-12 March 2017) well-nigh prides itself on still being a significantly smaller affair than its bigger gay bruv over the hill – think dozens of participants rather than hundreds – and on being "different from large, commercial events". Founded in 1993, gay ski pioneer Swing was one of the first events of its kind, invariably hubbed around the aforementioned Hotel Schweizerhof. A splendid heady mix of skiing, dinners, hikes, movies, races, parties and… the hotel hamam!

That said, like Arosa, LGBTs will love Lenzerheide at any time of year, not just during gay ski weeks!
The next Arosa Gay Ski Week runs 21-28 Jan 2017
The next Swing Gay Ski Week (Lenzerheide) runs 5-12 March 2017
SWISS operates frequent daily flights from London Heathrow, London City, Birmingham and Manchester to Zurich (for Arosa and Lenzerheide). For reservations call 0345 990 9161 or visit swiss.com
For details of getting around Switzerland on its legendary rail system, not to mention bus and boat – including the great-value Swiss Transfer Ticket or Swiss Pass – call the Switzerland Travel Centre on 00800 100 200 30.