Stratford-upon-Gayvon: 400 years on and queerer than ever!
by Adrian Gillan for Bent.Com
Bent's own little Bard, Adrian Gillan, gives five good gay reasons to visit Stratford-upon-Avon as it gears up for the 400th anniversary of Shakespeare's death (23 April 1616).
With Stratford-upon-Avon all set to celebrate the life and still-very-living work of its most famous son four hundred years after his death – cue long awaited public opening of Shakespeare's old classroom, plus a new commemorative garden on the site of New Place where he latterly lived and breathed his last – you hardly need yet another reason to visit. But here are five – and all of them GAY!
Dark horse or Dark Lady? – The ongoing mystery of Will's sonnet-teasing sexuality!
What a tease: that the private life of the world's most famous and feted writer should remain, 400 years on, so stubbornly shrouded in mystery! But was The Bard bent?
The so-called 'Chandos' portrait, purportedly painted during Shakespeare's lifetime, depicts the poet wearing at least one earring – on the left side, so alas no, albeit anachronistic, gay code to crack there – arguably representing a man at least keen to show the world he did not entirely conform to her norms.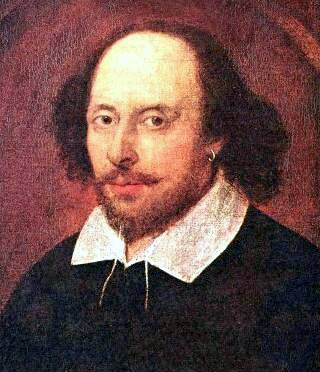 Well-nigh the sole source of speculation and debate around Shakespeare's sexual orientation – straight, gay or bi, not that such terms would have been used in those days – are his love poems, the sonnets. Shakespeare wrote 154 – quite possibly not intended for their 1609 publication by a notoriously unscrupulous publisher. The vast majority (126) do seemingly, prima facia, concern the poet-narrator's (oft pained) love for a young man, 'the Fair Lord', assumed by many to be the 'Mr W.H.' to whom the sonnets are dedicated: perhaps one of Shakespeare's patrons – either Henry Wriothesley, 3rd Earl of Southampton, or William Herbert, 3rd Earl of Pembroke, both considered handsome in their youth.
So, surely Shakespeare was gay? Was he not hopelessly, helplessly besotted with another man – the sonnets thus being his heartfelt, oft-anguished and well-nigh obsessive love-letters to his beloved male?
Well, against this, the only completely explicit references to sexual acts or physical lust occur in sonnets that address 'the Dark Lady', which unambiguously state that the poet-narrator and this woman are indeed lovers. Moreover, Shakespeare himself was, of course, straight-married with several children, although that often was – for many closeted individuals around the world, still is – rather the 'norm'!
So perhaps the sonnets suggest Shakespeare was, at the very least, bi, if not full-on gay.
Yet, against this, others counter that Shakespeare was not in fact expressing his own feelings in these poems at all, but those of a character, 'the poet'; or, if he was, that many of the frequent tender gushing expressions of love for, and admiration for the beauty of, the Fair Lord (most famously, 'Shall I compare thee to a summer's day?') are made on a purely platonic, non-sexual, level, in a manner now alien to us.
The debate will doubtless rage on, and the best, surely only, answer we can hope for, at this distance of time, lies in the sonnets themselves. So read some of the finest poetry ever written, and place your bet!
Stratford's definitely gay writer: Marie Corelli – take the 'Corelli Trail'!
Alright, so Shakespeare may or may not have been bi or gay! But there is far less "to be or not to be" about now largely-forgotten eccentric Victorian Stratford-based writer, Marie Corelli (1855-1924) – incidentally, also one of the town's key "saviours"!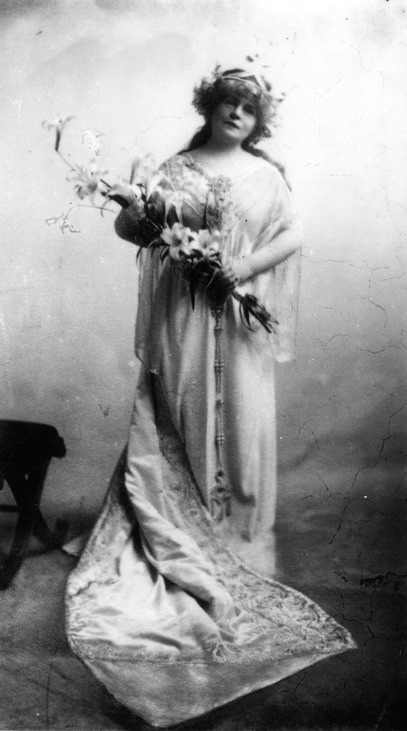 All but forgotten today, Queen Victoria's favourite novelist, Marie Corelli, once outsold contemporaries Arthur Conan Doyle, H. G. Wells and Rudyard Kipling – combined; and lived her final decades, together with her long-standing female partner, in her beloved Stratford-upon-Avon, before being buried here, the town whose built heritage she also campaigned so tirelessly to restore and preserve.
Despite outselling all her rivals and being a darling of the British Royal Family, Corelli was oft derided by critics as being melodramatic, overly-obsessed with the mystical and the occult, and "the favourite of the common multitude" – an opinion only increased by her own somewhat unconventional behaviour, and by her unmasked contempt for the press. She was, in a sense, very much her own fictional creation.
Corelli spent her final decades (1899-1924) in Stratford-upon-Avon, mainly living at Mason Croft (now The Shakespeare Institute, complete with commemorative blue plaque) on Church Street, together with her female companion of over forty years, former childhood friend Bertha Vyver. She fought hard to preserve Stratford's 17th Century buildings, even donating money to help owners remove the plaster or brickwork that so often masked the original timber-frames.
Perhaps Corelli's biggest single conservational coup was the saving of Harvard House in the High Street, which had been built in 1596 by a wealthy butcher whose grandson, John Harvard, emigrated to North America and whose wealth founded Harvard University. In a state of utter ruin, Corelli bought the property and co-funded its restoration before co-gifting it back to Harvard University who own it to this day and who have themselves, just in the last year or so, fully re-opened it to the public as a fine example of an Elizabethan shop and town house. A new tourist landmark on the Stratford map!
Corelli died, and is buried, in Stratford – just inside the entrance to the Evesham Road Cemetery, scarce 10 minutes' walk out-of-town.
She left everything to partner Vyver. Although never self-identifying as lesbian – even expressing an (unrequited) passion for the artist Arthur Severn – many have noted the erotic descriptions of female beauty that are a hallmark of Corelli's novels; and contemporaries describe the seeming closeness and intimacy of the Vyver relationship, one newspaper obituary stating that "Vyver mourns the loss of one who was nearer and tenderer to her than a sister". Over the main fireplace at Mason Croft, the carved initials M. C. and B. V. can still be seen, entwined. Vyver was buried next to Corelli in 1941.
Today, both Corelli and her work have become largely – fans may plead, unjustifiably – forgotten. One thing should definitely not be forgotten, however, as you stroll down Stratford's 'Historic Spine' (Henley Street; High street; Chapel Street; Church Street; Old Town): many of its oldest buildings might not have survived, or their frontages been kept hidden from view, were it not for crazy, cranky Corelli!
RSC on a high in gay hands – Greg, Tony & Co!
The RSC has been attracting some of its best reviews in years under new openly gay chief, Greg Doran!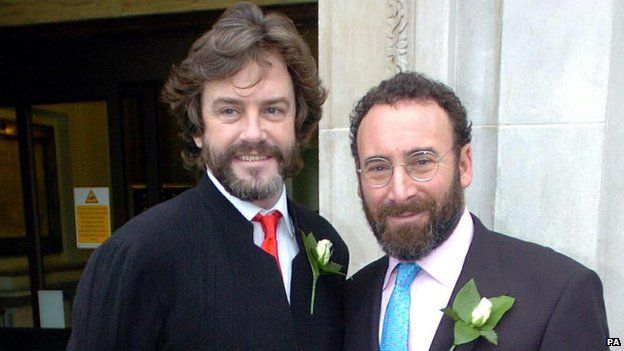 Directing at the RSC since the late 1980s, Doran took over as its Artistic Director in 2012 and his own recent productions, and those of his associate directors, have generally been very well received indeed! He has directed his partner, the great actor and longstanding RSC stalwart Sir Antony Sher, as a fab Falstaff in Henry IV Parts 1&2, and the two pair up again for King Lear which opens in August 2016.
Together since 1987, and having entered into a civil partnership in 2005, both Doran and Sher can oft be spotted out, strolling Stratford's streets!
Marlowe mayhem – Shakespeare's contemporary gay hell-raiser hits town!
A contemporary and sometime rival of Shakespeare, most-likely-gay playwright Christopher Marlowe (1564-1593) might never have visited Stratford-upon-Avon himself, but he's setting the place alight right now via the RSC's production of his soul-selling show-stopping masterpiece Doctor Faustus, on until August 2016.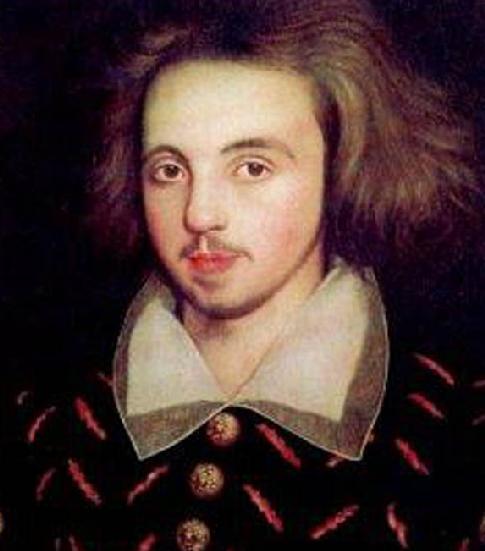 Marlowe's life and untimely early death in a pub stabbing in Deptford, are the stuff of legend. As well as being a dramatic and brave writer – not least in his unfashionably sympathetic portrayal, in Edward II, of the king and his male lover Gaveston – he may well have been acting as a government spy. Yet it could also have been his apparent atheism and/or his close relationship with aristocrat Thomas Walsingham, rather than a mere drunken brawl, that led to his being fatally stabbed above the right eye, aged just 29. Buried in an unmarked grave, his remains lie somewhere in the churchyard of St. Nicholas' in Deptford.
In the RSC's current lively and darkly atmospheric production, actors Sandy Grierson and Oliver Ryan share the roles of the embittered academic Faustus and his demonic nemesis alter-ego Mephistophilis. Amazingly, each night, the decision as to who plays Doctor Faustus and who plays Mephistophilis is made live on stage! Both actors enter, dressed identically, light a match and watch it burn. Whoever's match goes out first 'loses' and will play the damned Doctor! Who'll play Faustus when you see it?
Gay-family-friendly Stratford – great for LGBT parents and their kids!
Stratford-upon-Avon offers lots for the increasing number of gay families who have kids – all-year-round, and not least during school holidays when many special events and activities are put on just for children.
The whole family will love the town's main 'Shakespeare Trail', taking in key sites connected with the great writer's life, and death. For many, Stratford's heart and soul will always be Shakespeare's Birthplace, the half-timbered house-with-garden where Shakespeare was born in 1564, and which stayed first in his family and then in his sister's until 1806 – complete with more recent biographical exhibition attached, and even actors performing famous speeches and scenes from the plays!
King Edward VI School, in Church Street, is where The Bard was most likely educated and where his writing skills doubtless emerged – in its old timber-framed Guildhall, itself attached to the wonderful Guild Chapel. Long overdue, Guildhall and schoolroom will open to the public for the first time in April 2016, as part of the 400th anniversary of Shakespeare's death, complete with a lively interactive display. A crucial, exciting and much-anticipated addition to the 'trail'!
Beautifully-furnished Nash's House (Thomas Nash was first husband of Shakespeare's granddaughter, Elizabeth Hall) and the adjoining site of New Place (Shakespeare's Stratford home from 1597 until his death in 1616) have been undergoing excavation, restoration and redevelopment, pending reopening of a commemorative garden and exhibition in July 2016, also part of the 400th anniversary celebrations. Hall's Croft, where Shakespeare's eldest daughter, Susanna, may have lived, is just around the corner.
Anne Hathaway's Cottage (where Shakespeare's wife-to-be lived before marrying him) and Mary Arden's House (where Shakespeare's mum lived before marrying his father) are both easily reached via the CitySightseeing bus, with its audio commentary, great for kids.
Tranquil riverside Holy Trinity Church is where both William Shakespeare and Anne Hathaway are buried, and where Shakespeare was baptised – its gardens bordering the lovely swan-filled Avon, as do the spectacularly successfully revamped Royal Shakespeare Theatre and Swan Theatre, home to the world-famous Royal Shakespeare Company! Kids will enjoy interacting with the curious swans, and ascending the new 36m-high RSC Tower, adjoining the theatres, for panoramic views of the town and surrounding countryside. And what better play than magical A Midsummer Night's Dream to take kids to – touring the UK, and on at Stratford, itself until July 2016. The RSC also run frequent highly-interactive play-themed workshops for children, and their parents, mostly at the wonderful Clore Learning Centre over the road from the main theatres.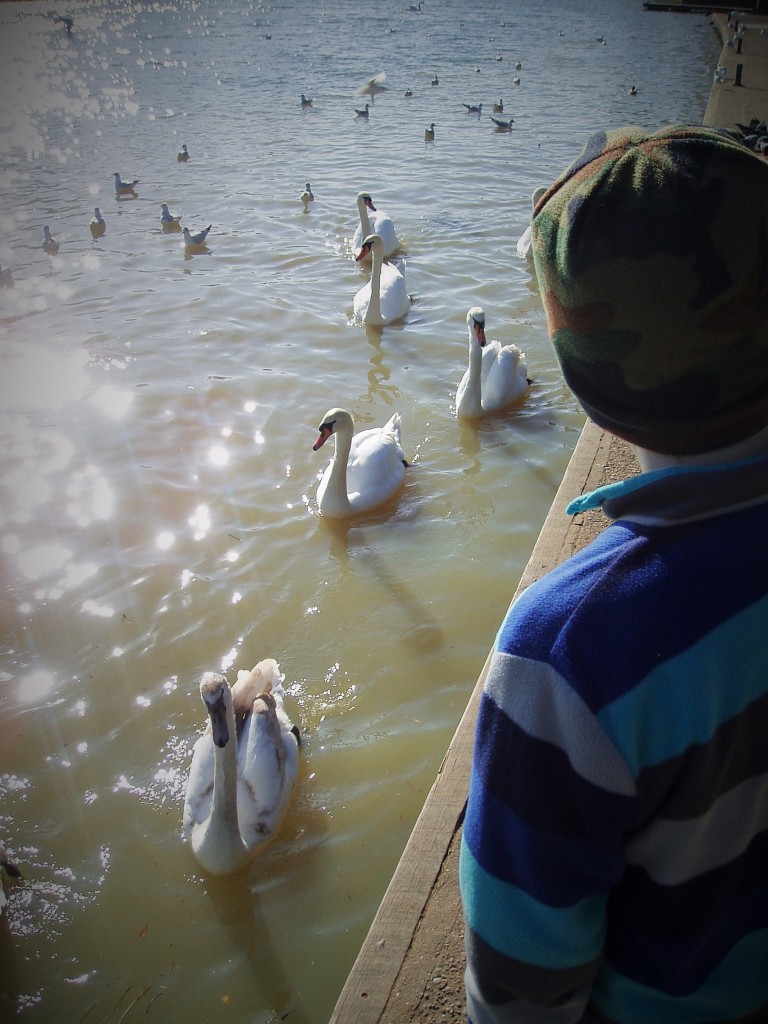 For an earthy, multisensory slice of Tudor life, visit the vividly atmospheric, ghoulishly entertaining (think 'Horrible Histories') and highly informative Tudor World – housed on the site of an inn whose lusty landlord reputedly inspired Shakespeare's great comic character, Falstaff! For relaxation, take one of the Bancroft Cruisers along the Avon. For something absolutely – arguably well-nigh refreshingly – unconnected with Shakespeare, visit the UK's biggest Butterfly Farm, just over the river.
A mere minutes' walk from the Swan Theatre, kids will love some pre-show pub grub in the "Dirty Duck" (a.k.a. The Black Swan, Waterside, Stratford-upon-Avon; T: 01789 297312;). What with all the theatre crowd, not least post-show, it's probably the closest thing Stratford-upon-Avon has to a gay venue!
Stay
Stay in the heart of Stratford-upon-Avon, at the atmospheric Mercure Shakespeare Hotel (Chapel Street, CV37 6ER; 0118 971 4700;), in a Grade I-listed Tudor building, with its 70 guest rooms – all en suite and many named after characters from The Bard's numerous plays. In addition to the comfy, cosy Quil Bar & Lounge, fine dine at Marco Pierre White's eponymous Marco's for Italian food with a New York twist!