Huge effigy of David Cameron with a Pigs head to be burned in Guy Fawkes night celebration.
Remember, remember, that story about David Cameron placing "a private part of his anatomy" inside the head of a dead pig? Well the organisers of the Lewes Bonfire Celebrations certainly do!
A huge effigy of a the Prime Minister on a golden throne, with a severed Pigs head in his lap and a fox climbing his leg, while wearing nothing but a pair of union flag briefs, if to be set ablaze in the Sussex town tonight.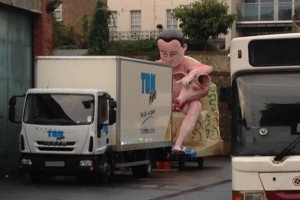 A second effigy of Sepp Blatter, the currently suspended president of FIFA, is also due to be burned.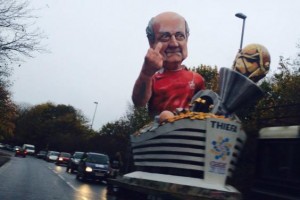 Lewes Bonfire Celebrations is one of the biggest Guy Fawkes Night events in the country, and has a history of burning controversial effigies.
In the past these have included Rebecca Brooks, Vladimir Putin, Colonel Muammar Gaddafi and Kim Jong-Un.