Homotopia 2015 ART = LIFE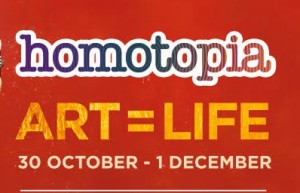 Throughout November and in cultural institutions across Liverpool, Homotopia will be presenting yet another packed programme of art and culture reflecting the LGBT experience. The theme of this year's festival is ART = LIFE.
Festival Director Gary Everett explained; "If silence equals death as it did at the start of the AIDS crisis then we believe art equals life. Art is a joyous expression of all that makes us human and for lesbians, gays and Trans people who continue to be marginalised, criminalised and persecuted around the world, art is often their only means of self-expression."
Photography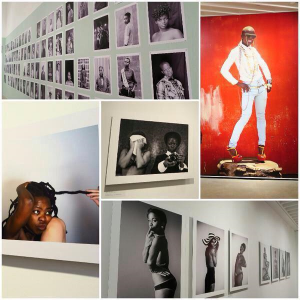 VUKANI/RISE is an exhibition by Zanele Muholi a photographer whose images exploring gender, race and sexuality in relation to South African society were nominated for this year's Deutsche Borse prize. The exhibition, supported by Homotopia, opens at the Open Eye Gallery on now and runs until 29th November.
Heritage
Transformation: One Man's Cross-Dressing Wardrobe represents another collaboration for Homotopia with National Museums Liverpool – this time at the Walker Art gallery. Opening on 24 October this exhibition will be the first of its kind in a British museum and celebrates the personal historic dress collection of Peter Farrer. The exhibition runs until 2017.
Art Installation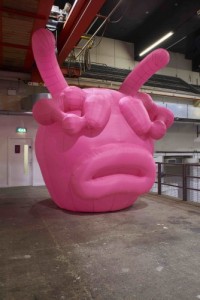 Alien Sex Club (30 Oct – 29 Nov at Camp & Furnace) is a major multimedia project by British artist John Walter, which explores the relationship between visual culture and HIV today. The exhibition consists of a large-scale installation based on the shapes of cruise mazes, found in sex clubs and gay saunas. It comprises sculpture, painting, video, performance and installation. Visitors are immersed in a multisensory world in which they can watch videos and live performances, get lost in the maze and have a drink in the performance bar. Using hospitality, fortune-telling, comedy and the aesthetic of carnivals and festivals Alien Sex Club introduces issues to a wide audience and makes the subject palatable, interesting and fun. The project is part of Walter's PhD and his research in epidemiology is grounded in a collaboration with Dr Alison Rodger, Senior Lecturer and Honorary Consultant in Infectious Diseases and HIV at University College London.
Alien Sex Club will involve artists, activists and HIV specialists, clinical academics and scientists in collaborations for a public programme of talks and performances that will provide audiences with a new vocabulary for understanding and talking about HIV and the factors contributing to its transmission.
Live Performance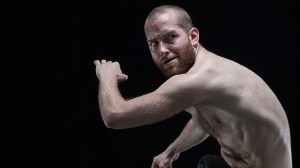 The programme of live performance based at the Unity Theatre begins on 3 November with 3 scratch performances of new work from Keddy Sutton with Andrew J Norris, Ashleigh Owen and Jamal Gerald.
Then for 3 nights starting on 5 November Nick Phillips, formerly of Bloolips, presents his camp and glamorous autobiographical musical review Ecce Homo!
On Friday 6 November the lesbians roll into town in the shape of The Butch Monologues a powerful and humorous collection of stories exploring sexuality, vulnerability and desire taken from interviews with butches, masculine women and transmen living world-wide.
Commissioned by Contact theatre, winner of Brighton Fringe LGBTQ Award 2015 and created in collaboration with Olivier Award-winning director Mark Whitelaw Big Girl's Blouse on 7 November is Kate O'Donnell's story of her path to becoming a woman.
Hopping across town to the Bluecoat on 20 November for a Homotopia commission Scandinavia Has Been Good To Me, a multi-media solo show from transgender performance artist Mandy Romero. This completes the autobiographical trilogy begun in 2010 with 'Stevenage'.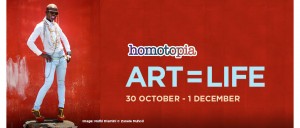 Literature
Polari – as part of the national literary tour authors and hosts Paul Burston and VG Lee bring Diana Souhami, Dr Ellen Storm, Andrew McMillan and Gerry Potter to the Unity on 4 November.
Returning to literature on Friday 13 November Sarah Waters comes to the Unity to discuss her Baileys shortlisted novel The Paying Guests.
Dance
Physical theatre company PanicLab explore masculinity, competition and pain thresholds in their new show Theseus Beefcake on 10 & 11 November. See Joseph Mercier and Jordan Lennie test their friendship and themselves with wrestling and mixed martial arts thrown in!
Brazilian choreographer and performer Jean Abreu explores the interior workings of his body in Blood, a piece originally commissioned by the Royal Opera House, inspired by Gilbert & George and featuring projections of microscopic details of blood, semen, urine and sweat from their series The Fundamental Pictures – Unity Theatre 12 November.
Comedy/Satire
On 14 November Homotopia favourite David Hoyle teams up with Bourgeois & Maurice to celebrate the beige and mediocre in Middle of the Road. After wasting years of their lives battling the system, they are turning their backs on all that weirdo queer sh*t and toeing the party line!
The grand finale of Homotopia's live performances this year is Panti Bliss at the Epstein Theatre on 21 November. Panti landed herself in the middle of a media storm christened 'Pantigate' that rocked Ireland in 2014. Soon after, she became a Youtube sensation when a speech she made about homophobia, described as "the most eloquent Irish speech" in 200 years by Irish Times columnist Fintan O'Toole, went viral, was broadcast around the world, debated in parliament and even remixed by the Pet Shop Boys – sparking a powerful conversation about equality and feeding into Ireland's recent Marriage Equality referendum success. High Heels in Low Places is her riotous stand-up show about life after 'Pantigate'.