First GB Track and Field athlete comes out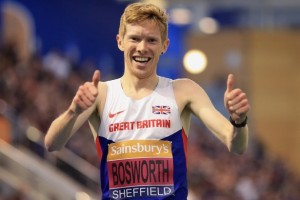 There has been a recent spate of sportsmen coming out in the British media and today, in an exclusive interview, race walker Tom Bosworth told BBC's Victoria Derbyshire why he has decided to be the first Team GB athlete to come out as gay.
The 25 year-old, who's been in a same sex relationship for four and half years, says that he wanted to come out now as he prepared for the Rio Olympics in 2016. He didn't want it be some kind of revelation nearer the event and become a distraction but that his family and colleagues have known his sexuality for some time and it hadn't been a problem.
"99% has been positive" the athlete told Derbyshire, "those who were negative, a few club athletes, are no longer part of my life… I don't know if they are still competing."
He went on to say that an athlete coming out shouldn't be news but, as he was doing an interview for TV, it still was.
"I'm really lucky, I've got a loving partner, a great family behind me … I'm in a sport that is supportive and welcoming to everyone anyway… but that's not the same for everybody else.
He went on to say that in sport he didn't think being gay was a normal thing, and when asked why, he had to admit that he didn't know and had no answer.
"In sport to succeed you've got to look and be strong… any sort of weakness that someone could use is…" he shrugs "but to me it isn't a weakness."
Bosworth, praises diver Tom Daley's bravery for coming out, says Mo Farah has been very supportive and hopes his announcement will help more athletes feel comfortable enough to reveal their sexuality.
Catch the full interview at: BBC News