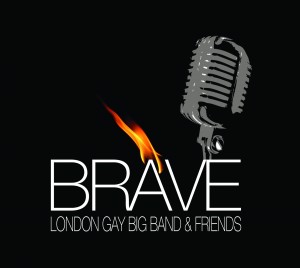 The London Gay Big Band (LGBB) has teamed up with thirteen of the UK's leading vocalists to record their debut album 'Brave' at Abbey Road Studios. Tipped to be one of the most exciting jazz releases of the year, the album is a unique collaboration between the LGBT community group and some of the UK's finest voices from the jazz scene, West End stage and TV. This is the first time this group of leading singers feature together on one album.
Entitled BRAVE, the album will be released on Sunday 25 October 2015 on the independent label, Mood Indigo Productions, and features thirteen vocal tracks, each performed by the LGBB and a different vocalist including:
Clare Teal, Claire Martin, Ian Shaw, Emma Hatton, Sharon D. Clarke, La Voix, Ria Jones, Paul Robinson, Sarah Moule, Rachel Weston, Stephen Duffy, Lara De Belder & Crawford McInally-Kier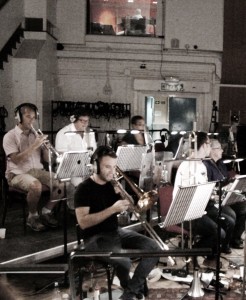 Produced by veteran award-winning producer Chris Marshall, from Rhythmshop Productions, the album is intended to bring the concept of 'London Gay Big Band & Friends' to life in an exciting and modern production, allowing each singer's distinct tone and personality to shine through, whilst partnering with the signature rich and sumptuous sound of the LGBB.
Stefan Doering, the LGBB's manager said: "Recording at Abbey Road, in the world-famous Studio 2, was like a dream come true for the band. To be able to work on such a project is something we could never have imagined when we founded the group four years ago. Working in an environment so steeped in musical history, standing on the shoulders of some of the greatest artists of all time, this album recording firmly puts the LGBB on the map and is a momentous milestone in our journey."
Peter Jay, Musical Director of the LGBB commented: "The idea behind the album was to create an entirely unique offering that has never been done before on the traditional jazz scene. Bringing together vocalists from so many different genres and musical backgrounds on one album has resulted in a completely fresh and distinct record, unlike anything else on the market today."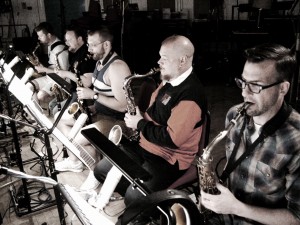 BRAVE will be available for download from Sunday 25 October on iTunes, Apple Music, Spotify, Amazon, Google Play and other leading online retailers
The album will be launched at a special launch show with performances from the London Gay Big Band and some of the vocalists featuring on the recording, on Sunday 25 October at The Electric Carousel, 215 Piccadilly, London W1J 9HN. Show time 8pm. Tickets are on sale from £15 & VIP £25.