Travel – Cyprus: playground of the gods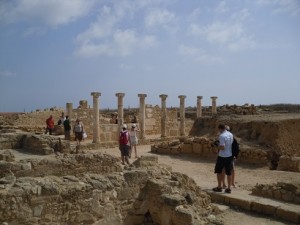 It bore Aphrodite but won't bore you! Adrian Gillan samples the ancient history and present pleasures on the Eastern side of this island idyll, from capital Nicosia to in-and-around Larnaca!
For the last five millennia, Cyprus has been jealously sought for its strategic position at the junction between Europe, Africa and Asia – engendering an immensely rich blend of influences and cultures.
Past rulers of this sun-drenched 250 by 90 miles isle, topped off by the central Troodos Mountains, have included the Ancient Greeks, Romans, Ottomans and us Brits (1878-1960, leaving behind our left-hand-driving and sovereign military bases) – to name a few! An independent republic since 1960, the Turks have nonetheless illegally occupied the north since 1974, nominally in response to political instability precipitated by the military Junta in Greece – their land claim unrecognised by any other nation. Mercifully, since 2003, it is now pretty easy to cross the once-divisive yet still-monitored "Green Line".
80% of the island's 800,000-strong population are Greek Cypriot, the remainder split between Turkish Cypriots and others. An EU member since 2004, Cyprus joined the Euro in 2008.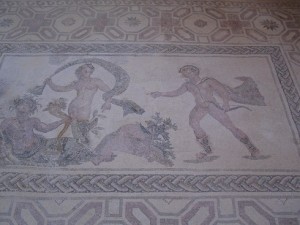 Paphos, to the west, contains a UNESCO World Heritage Site, boasting stunning Roman residences and mosaics in the old Kato Paphos district, plus a fine fort in the picturesque harbour; and hotel-brimming Limassol, to the south, makes a perfect base for exploring other historic riches, including Kourion (theatre and palace) and Kolossi (castle)
Age of Consent is 17 for all on Cyprus. Sex or nudity in public is strictly illegal, so if you meet someone nice outdoors, do head somewhere private. Overt public displays of homosexuality, including holding hands, can prompt unwelcome attention in this still-Greek-Orthodox-Church-swayed society, so be discreet; although attitudes are changing – as so often, spearheaded by the young.
Capital: Nicosia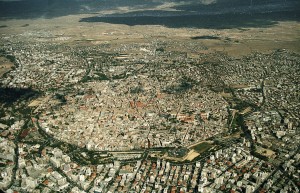 A mere 45 minute drive from Larnaca Airport takes you to the walled Cypriot capital, Nicosia.
Stay at the central, modern, 4-star Classic Hotel (94 Rigenis St, Nicosia; T: + 357 22664006;) – close to Solomos square and the main bus terminal – with its 57 comfortable and calming rooms, '59 Knives' restaurant, 'Blue' wine bar and lounge, plus gym. Great buffet breakfast!
Walk in the Old Town, taking in the buzzing labyrinthine Laiki Gitonia area; the icon-brimming Orthodox Trypiotis Church; the quietly hip Chrysaliniotissa area; chunky Venetian Walls and Famagusta Gate, plus nearby Liberty Monument; and glimpses of the infamous 'Green Line' down the occasional lane. Visit the wonderful new Centre of Visual Arts & Research (CVAR), for a pan-cultural peace-positive perspective on Nicosia and the wider island, with its fascinating displays and rich collection of related art work, plus research centre, café and gift shop. If you've time, do chill out or have a treatment at the atmospheric 16th Century and still-steaming Hamam Omerye, not least at men-only times!
Have a spot of fine Greek-Cypriot cuisine at friendly, central yet tucked-away To Anamma (89 Ledra Street, Nicosia; T: + 357 22 210200;), perhaps in its pleasant rear courtyard.
If you want to hang out in an overtly gay-friendly joint one evening, try either earthy Ithaki (Nikiforou Foka 33, Nicosia) or chic Bastione (Athinas Avenue 6, Nicosia), both just within the old walls, to the eastern side of the Old Town, right next to the Famagusta Gate!
Eastern Resort: Larnaca
Enjoy the sights, beach and buzz of resort Larnaca itself, complemented by forays into the rural idyll in nearby hills or the dramatic coast still further east, around Ayia Napa.
Stay at modern luxury boutique 4-star E Hotel Spa & Resort (1 Faros Road, E336, Perivolia, Larnaca; T: +357 24 747000), an eco-friendly base in the secluded Perivolia district just south of Larnaca, the other side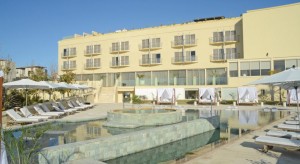 of the airport. Overlooking a pristine beach and lighthouse, on the sparkling Mediterranean Sea, the hotel's stylish rooms offer Plasma HD TVs, luxurious high-thread-count linens and rain showerheads; whilst its spacious studios boast large baths and balconies, and its villas offer patio-gardens with their own pools! Plunge in the hotel's main, rejuvenating Oxygen Pool; relax at its Eden Spa, complete with sauna, hamam and indoor pool; or bask by the sea on fully-serviced Faros Beach. Gorge traditional cuisine with a modern twist at the E Hotel's Franke restaurant and bar; or chill and jive at the spectacularly positioned rooftop Sky Lounge Bar, complete with cool al fresco loos!
In Larnaca itself, visit Orthodox St. Lazarus' Church with its adjoining Byzantine Museum, and nearby tiny Larnaca Fort, before strolling along the expansive Phinikoudes ('Palm Trees') promenade.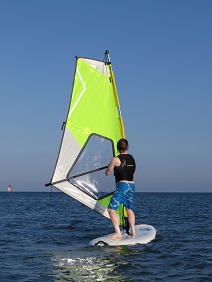 Jörg Grether, WindsurfCity Cyprus'
Soak up sun or try your hand at water sports on Mackenzie Beach, just south of the town centre. Jörg and his ace team at wonderful WindsurfCity Cyprus (Mackenzie Beach Watersports, Pyale Pasa Street, Larnaca) have a range of great-value hire and lesson packages mainly covering windsurfing, plus some SUP (stand-up paddle surfing)! The experienced teaching here is so clear and confidence-building, that you're most likely up and away, harnessing wave and/or wind, in no time at all! Great facilities! Fantastic professional attitude and ethos!
To try out the thrilling adrenaline-rush sport of kitesurfing, or at least get a few introductory lessons, head south, out of town, to the tad-more-remote beaches near Mazotos, and specifically to the aptly-named Kahuna Surfhouse, run by 'water-dude' Elias and his sexy young polylingual team who all seem to have as much fun lounging and larking about in the bar/shop area as skimming out over the breezy Med. And if your kahunas don't quite feel up to it that day, or the wind drops, don't squeeze your melons, man – there's always that uber-chilled Stand Up Paddle Board!
Experience Larnaca night life at Cyprus' only full-on LGBT club, vibrant Secrets (67 Artemidos Ave (Airport Rd), Larnaca; – closed Mon/Tues, with main 'show night' on Sat); or at one of the many youth-brimming bars at Mackenzie Beach, like Ammos or Lush.
Eastern rural idyll
Had your fill of city or resort? A short drive inland from Larnaca and you soon discover a rural haven.
Based at lovely, hilly Tochni village, gay-wooing Cyprus Villages offer a wide range of self-catering apartments or villas, with a hill-top hub at the Tochni Tavern, all overseen by charismatic Sophronis. They can also arrange local activities ranging from walking, biking or horse riding to fruit-picking and cookery! Or you can just hang out by a pool, do yoga or have a spa treatment. Fab!
For biking in and around Tochni, use Bikin'Cyprus Adventures, to discover the natural and manmade beauty of the island from the saddle of a bike, via rentals and/or tailored guided tours for all levels – from hard-core roadies and mountainbikers to tad more lazy e-bikers!
Visit the 15th Century St. Minas Convent a bit further inland, consisting of a church, cloisters and other monastic buildings. Besides performing their religious rites, the nuns here also paint amazing icons.
Check out the Bee & Embroidery Museum at the nearby picturesque village of Kato Drys where days-gone-by are brought to life via a collection of agricultural, livestock and apian tools, alongside seasonal activities such as the production of olive oil, honey and wine. You can also watch the making of homemade products like bread, dry figs and fig pies.
Not far away, close to Lefkara Village, fast-evolving Dafermou Winery fuses new world and old world aesthetics – its modern building surrounded by rolling hills and vineyards.
In Lefkara itself, enjoy lunch high up, overlooking the other hills, at Ι Drosia tis Marias, hosted by no less than eponymous friendly Maria herself, before visiting the workshops (Lefkara Handicraft Centre, 7 Agiou Georgiou, Pano Lefkara) making and selling the village's famous UNESCO-recognised embroideries, plus silverware, jewellery and 'loukoumia sweets' (Cyprus Delight, 37 T. Stavrou Street, Pano Lefkara), all of which crafts have placed the village firmly on the Cyprus map!
Far eastern peninsula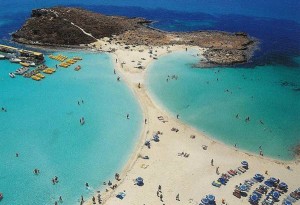 Heading north east out of Larnaca, you soon reach the vibrant resort of Ayia Napa. Have a fresh fish platter at excellent Vassos Tavern, in the sparkling harbour, before visiting the famous monastery ruins, plus Thalassa Museum, brimming with marine archaeology and natural history, explaining Cyprus' relationship to, and with, the sea over the ages.
With Captain Andreas and his sexy crew manning the decks, take an amazing Aphrodite Cruise from nearby Protaras, cruising up the coast as far as where the 'Green Line' meets the sea to view the UN Buffer Zone and ghostly Famagusta in the distance; before cruising back down the coast to the spectacular rock formations around Cape Greco for a dip in the turquoise sea. Watch out for pods of dolphins too!
Or for something gayer, try Nissi Beach, just west of Ayia Napa!
OTHER USEFUL CONTACTS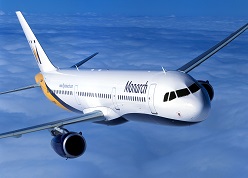 Monarch, the scheduled leisure airline, operates year-round flights to Larnaca from Birmingham, London Luton, London Gatwick and Leeds Bradford airports with fares, including taxes, starting from £86.99 one way (£152.98 return).
You really need a car to get around Cyprus. For a highly personal service, try Ascot Rent-a-car – T: +357 99 687085; ascot@cytanet.com.cy