Government Department signs Stonewall's #NoBystanders Campaign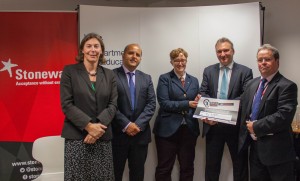 The Department for Education (DfE) has committed to challenge and stamp out bullying at work, at home, at school and in our communities by signing Stonewall's #NoBystanders campaign.
DfE Permanent Secretary Chris Wormald made the announcement and signed the #NoBystanders pledge at a networking event hosted by the Department's LGBT and black and minority ethnic staff networks.
Nearly 17,000 people have pledged to stand up for fairness and kindness by signing up to Stonewall's #NoBystanders campaign. Since the campaign was launched in March 2014, it has reached 200,000 primary and secondary school pupils. Hundreds of workplaces, from the police to universities have also signed up to the pledge.
The #NoBystanders campaign features a hard-hitting film that demonstrates how abusive language heard by children in the playground – if left unchallenged – can stay with them into adulthood. The film, narrated by Sir Ian McKellen, asks people to unite against all forms of bullying. The campaign also offers practical tips on how individuals and institutions can take action.
Chris Wormald said: "I'm committed to ensuring that every member of the department feels valued and supported, and that no one is working in an environment where there is fear of discrimination or bullying.
"This also needs to be a culture that we embed in our schools, which should make sure that every teacher feels confident and supported in tackling all forms of bullying, creating an environment where children thrive."
The Department for Education has an active LGBT network which has gone from strength to strength over the last few years. The network is looking to increase the number of visible LGBT staff at senior levels, and to ensure that support for LGBT people, on all sites, is thoroughly embedded in the HR system. Signing the pledge also marks the launch of the network's Straight Allies programme, with the Permanent Secretary as the Network's first formal ally.
Ruth Hunt, Stonewall's Chief Executive, said: "We're delighted the Department for Education have made this commitment. Our #NoBystanders campaign empowers organisations and individuals to challenge all forms of bullying in order to create kind and fair environments. We need to work together to create a world where all lesbian, gay, bi and trans people can participate fully in society; where everyone can be accepted without exception.'
Commenting on her department's commitment, Secretary of State for Education and Minister for Women and Equalities Nicky Morgan said: "No one should face discrimination in their school or place of work. I am proud that the Department for Education is leading the way in both these areas by being the first central government department to publicly sign up to the #NoBystanders pledge.
"All children should be free to learn in a safe and supportive environment, which is why this year we launched the homophobic, biphobic and transphobic bullying fund. We must ensure that schools have the knowledge and tools they need to tackle bullying effectively and ensure that all students can reach their full potential."
To view the #NoBystanders film, sign the pledge and learn more about the campaign, please visit .nobystanders.org.uk