Travel – All aboard: the Grand Train Tour of Switzerland!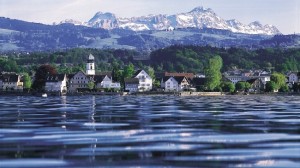 Switzerland's trains are almost as famous as the country itself! Bent's Adrian Gillan enjoys both, choosing to rail it through the gorgeous cantons North East of Zurich, around Schaffhausen, St. Gallen and Appenzell, as part of a larger suggested 'Grand Train Tour of Switzerland'!
Two perfections: the natural wonders of Switzerland itself, and the world-renowned dependable man-made marvel that is its railway system! So what better than to experience both – on any or all of eight different suggested routes that together comprise the 'Grand Train Tour of Switzerland'?
Grand Train Tour of Switzerland
A unique all-in-one-ticket solution, the Swiss Travel Pass (3/4/8/15-consecutive-day versions, plus corresponding Flex versions allowing travel on any 3/4/8/15 days within a 1 month period) already enables you to travel the length and breadth of Switzerland by train, bus and boat, including on (mainly pre-reserved) "panoramic" train routes such as the Glacier Express, Bernina Express, GoldenPass Line or Wilhelm Tell Express – not to mention the public transportation in more than 75 Swiss cities, a 50% price reduction on most mountain railways and free admission to over 480 museums nationwide!
Armed with this pass, why not take all or part of a suggested Grand Train Tour of Switzerland, experiencing some of the country's most scenic rail routes, all year round, whilst making excursions to explore cities, villages and natural wonders en route!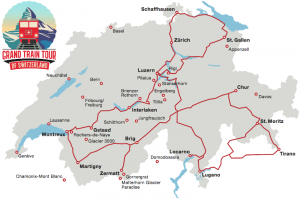 The Grand Train Tour of Switzerland (see map) suggests 8 spectacular rail routes, which together span the whole country, taking in 1200 contrasting and breath-taking kilometres (745 miles) and highlighting the best of the nation's public transport system. It can be started from any point and there is no prescribed travel of direction; and, naturally, you can do just part of the suggested itinerary (see sample 'Mini Grand Train Tour' below), or go 'off piste' (so-to-speak) ad lib! That said, Zurich – Switzerland's largest city, with its major international airport – is likely to be a popular departure/destination point.
For the truly adventurous, who want it all, you'll probably need to give yourself at least 10-14 days! From Zurich, you would head to St. Gallen; then on to Lucerne on the Pre-Alpine Express, where you would take the GoldenPass Line via Interlaken to Montreux. Then, you would head on to Zermatt to catch the Glacier Express to St. Moritz; followed by the Bernina Express (summer) to Lugano; followed by the Willhelm Tell Express to Lucerne, before heading back to Zurich. Lots of excursions along the way too – perhaps taking in cities like Geneva, Lausanne, Basel or capital Bern; villages like Appenzell or Arosa; or mountains like Säntis or Titlis!
But, as said, you don't have to do the whole lot! The flexibility of a Swiss Travel Pass means you can tailor your very own Grand Train Tour – large or small! Maybe even splash out on spacious 1st Class!
SAMPLE 'MINI GRAND TRAIN TOUR': 5-Day round-trip in/out of Zurich, taking in the Rhine, Lake Constance, St. Gallen and Mount Säntis.
Explore the gorgeous cantons North East of Zurich, around Schaffhausen, St. Gallen and Appenzell – taking in rivers, waterfalls, lakes, mountains, villages and big city vibes!
DAY 1
Catch the train for a ¾-hour journey from Zurich Airport direct to pleasant Schaffhausen for a stay at the 4-star Hotel Arcona LIVING SCHAFFHAUSEN (Bleicheplatz 1, Schaffhausen; T: +41 (0)52 63100-00;), with its 112 modern, stylish rooms; massive Asia Spa; and buzzing, funky, informal yet chic "Weinwirtschaft" lounge and restaurant, complete with show kitchen and sun terrace, plus a fine stock of local Swiss and more international wines.
Schaffhausen itself is capital of a canton of the same name, with an atmospheric Old Town leading down to the Rhine, dominated by the Munot castle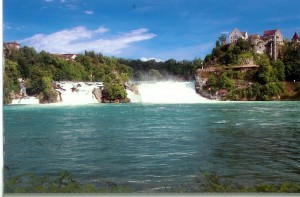 It's an easy public bus ride from Schaffhausen to Neuhausen am Rheinfall, where one can experience the magnificent Rhine Falls, the biggest waterfall in Europe – passing around 700,000 litres of water each and every second, through a width of 150 metres and down a 23 metre drop. A flat-bottomed boat takes you on a watery pilgrimage to the iconic rock in the centre of the falls where you can mount steps for misty vistas beneath a proudly fluttering Swiss flag! A range of other viewing platforms allow you to yet more fully appreciate the sheer power and majesty of the falls right up close! And don't forget to ascend by lift to the lofty Schloss Laufen that overlooks the whole lot. Quite literally: awesome!
DAY 2
Fancy heading 'off the rails'? Take a rivercruise from Schaffhausen, up the unwittingly peaceful stretch of the Rhine just above those mighty falls, to the tiny town of Stein am Rhein, at the start of the lower 'Untersee' of Lake Constance (a.k.a. Bodensee).
A short walk or cab ride brings you up to well-nigh fairy-tale Castle "Burg Hohenklingen" , for breath-taking views down over Lake Constance and the Rhine; plus a spot of delicious lunch at the fabulous lofty eatery up there.
Descend again for a walk, or guided tour, through the famous medieval Old Town of Stein am Rhein, with its lovely alleys, narrative painted murals, plus old abbey with massive ancient wooden wine press!
Take the train back to Schaffhausen, perhaps for a nice cosy dinner at Restaurant Kronenhof (Kirchhofplatz 7, Schaffhausen; T: +41 (0)52 635 75 75;) in the Old Town, with its hearty, informal ambience and steak-focused dishes using quality regional produce and fine local wines.
DAY 3
Rail it to Rorschach on the southern shore of the main vast upper 'Obersee' of Lake Constance for yet another switch of transport – an invigorating 8km (5 mile) bike ride along the water's edge, perhaps all the more effortless on a motor-assisted e-bike! Lunch on the relaxed terrace at "Hotel Rotes Kreuz" in Arbon (Hafenstrasse 3, Arbon; T: +41 (0)71 446 19 18;).
Refreshed, cycle back to Rorschach – or perhaps return (with bikes) by boat – dropping off bikes and taking the train on to historic-yet-student-brimming St. Gallen – capital of the canton of the same name.
Stay at the comfortable Radisson Blue Hotel (St. Jakob Strasse 55, St. Gallen; T: +41 (0)71 242 12 12;), with its 120 modern rooms, plus casino attached!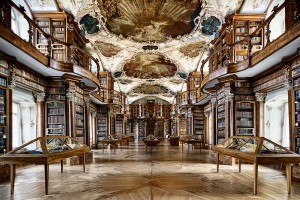 Walk through St. Gallen's UNESCO World Heritage Abbey District, with its beautiful baroque Cathedral and the spectacularly ornate Abbey Library, containing books dating back to the 9th Century! Visit the Textiles Museum and lofty "Drei Weieren" (three ponds) recreation area for stunning views.
Don't miss out on a lunch or dinner at the classy, baroque Gaststuben zum Schlössli (Zeughausgasse 17, St. Gallen; T: +41 (0)71 222 12 56;), almost literally the 'restaurant in the little castle', overseen by charming host Ambrose. Enjoy hearty gourmet fare in an ornate, historic setting!
For gay nightlife, check out stylish Prinz (Linsebühlstrasse 37-39, St. Gallen;) which opens evenings, Thursday – Saturday; or steam away your manly tensions all-week-round at aptly-titled modern Mann-o-Mann (St. Jakobstrasse 91, St. Gallen;) sauna!
DAY 4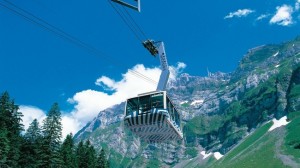 Take the train, once more, to Säntis, where you can effortlessly glide for 10 minutes by cable car up to the top of Mount Säntis (2502 m) for a clear-day look out over six countries; and for the ultimate lunch-with-a-view at the table-service Panorama-Restaurant Säntisgipfel, or the tad-cheaper buffet Terrace Restaurant below. Just watch the schnapps doesn't go to your head up here!
Then descend on the cable car to take a train-bus-train combo for a stroll around, or guided tour of, lovely Appenzell – capital of the canton of Appenzell Innerhoden – surrounded by a beautiful landscape of rolling hills, in a region well-known for rural customs and traditions like the ceremonial descent of the cattle in autumn, plus its magical folk music and rustic dances.
Rail it back to St.Gallen for dinner at uber-cool Restaurant LOKAL (Grünbergstrasse 7, St. Gallen; T +41 (0)71 272 25 70;), set in a massive airy former train-turning roundhouse, now a vibrant glass-and-concrete arts centre with gallery, theatre and cinema!
DAY 5
Take the Pre-Alpine Express from St. Gallen to Lucerne – capital of the canton of the same name – for lunch at cosy old-world Nix's in der Laterne (Reusssteg 9, Luzern; T: +41 (0)41 240 25 43;) before a walking tour of the 'City of Lights', home to countless annual festivals. Enjoy the famous covered wooden foot bridges, lofty city walls, old town squares, lakeside promenades, KKL arts complex, indoor panoramas and Lion Monument. Ascend nearby mountains, Rigi (1800m) and Pilatus (2120m), before the hour-long direct train ride back to Zurich Airport!
Naturally, there is also a small gay scene in Lucerne, and a more sizable one in Zurich, to top and/or tail your trip!